Mom's Monkey Bread – small dough balls rolled in cinnamon sugar, put into a bundt pan and sprinkled with brown sugar and butter. The perfect treat for breakfast or an afternoon snack. Everyone loves the fun of pulling it apart!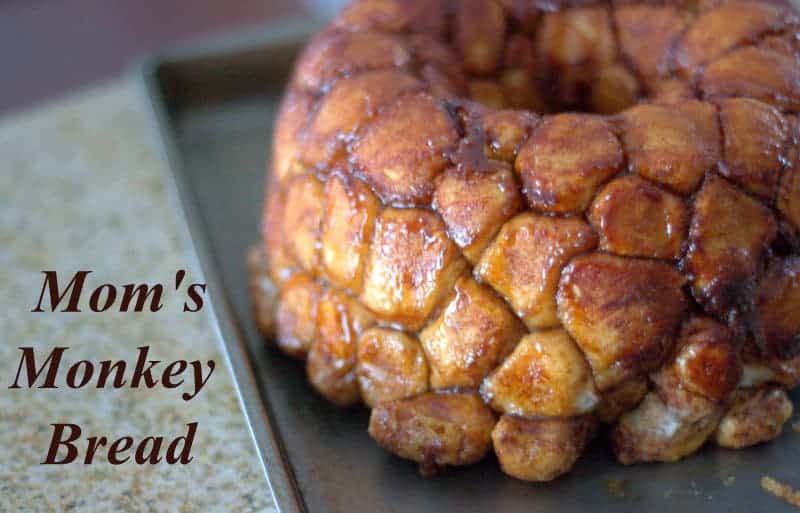 Yesterday, Day 40 was not a very good day in the 365 kitchen.
I'm going to be honest. I was not having fun!
I made this Monkey Bread and put WAAAAAYYYYY too much dough in the pan. Consequently, it overflowed a bit, dropping pieces to the bottom of the oven and you know what happens when food and such hits the bottom of a hot oven, don't you?
Visit my Instagram page to see the fun! While you're there, follow me so you don't miss any of my kitchen antics!
Yeah, so I was frustrated.
Smoke started billowing out the oven.
Then when I opened the oven door, the smoke alarm went off with a woman saying, "Fire. Fire. Fire." in a non-threatening, non-emergency sort of way. To clear the kitchen of the smoke, I opened the kitchen door during storm Vulcan our oldest dog shot out of the house not wanting to return anytime soon. He sat as far away from the house as possible in the midst of the snowstorm.
He hates the fire alarm and yes, he's heard them a few times before.
You can see all of that on Instagram as well.
SAVE THIS MONKEY BREAD RECIPE TO YOUR FAVORITE PINTEREST BOARD!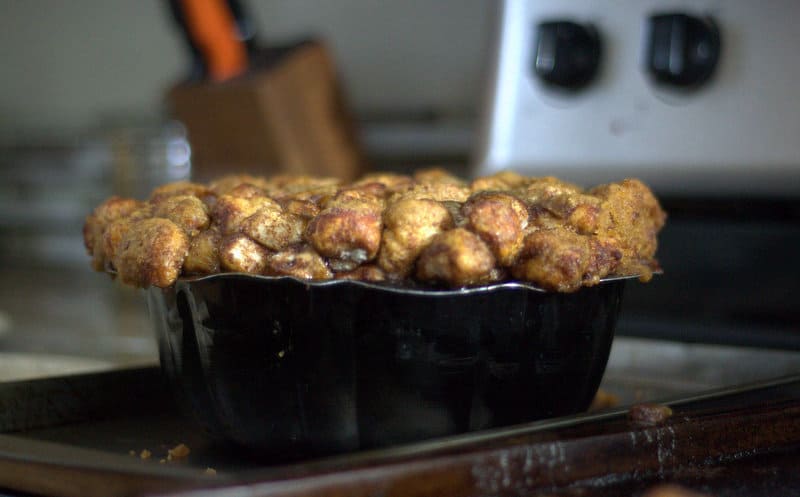 Yeah, too much bread. I used three loaves of the Rhodes Bake-N-Serve bread, but two would have been sufficient and that is what I'm writing in the recipe. That should spare you from any smoky kitchen experience.
I found this recipe in my mother's recipe box years ago after she passed away and I can't believe I'd never made it until now.
I also used real butter instead of the margarine mom's called for. Margarine, really?
Why not just go for the good stuff? haha
Her recipe also said to use three cans of the processed buttermilk biscuits (with 10 in each can) and to cut them into quarters, but I really wanted to make something with the Rhodes Bake-N-Serv bread since I had never used it before.
And I'll use them again for it, too!
It's such a fun recipe for kids because they (and the adults who eat it – mainly me) LOVE to pull the pieces of bread apart. It's just so much fun and your fingers get all sticky from the cinnamon sugar and butter and not only that, but it's pretty awesomely delicious!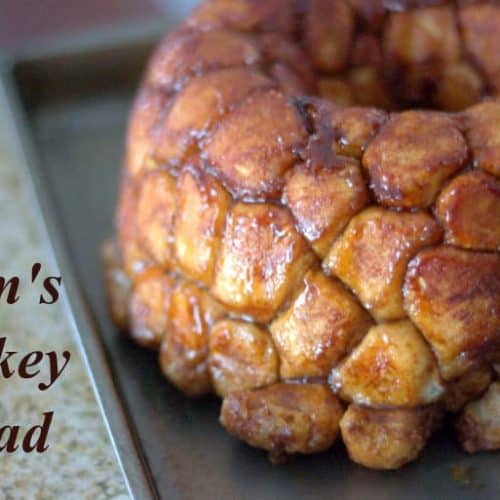 Ingredients
2 loves of Rhodes Bake-N-Serv Bread thawed in refrigerator
1 cup granulated sugar
4 tablespoons cinnamon
1 cup packed brown sugar
1 stick unsalted butter melted
Instructions
Preheat oven to 375 degrees F.

Generously coat a Bundt pan with cooking spray and set aside.

In a medium bowl, mix together the granulated sugar and cinnamon.

Cut bread loves into 1-inch pieces.

Toss the dough pieces into the cinnamon sugar mixture and coat thoroughly.

Distribute pieces evenly into prepared Bundt pan. It doesn't have to be neat, but make sure they're all arranged in an even layer. You don't want a lopsided Monkey Bread! (or maybe you do) 😉

After you have created the bottom layer, sprinkle 4 tablespoons of cinnamon sugar over them. Sprinkle more cinnamon sugar on top of each consecutive layer until no more remains.

Sprinkle brown sugar on top of the last layer.

Spoon butter over the top.

Bake for 30-35 minutes.

Place pan on a wire rack to cool upright for 2-3 minutes.

Tip over onto a large serving plate or tray and allow to sit for an additional 2-3 minutes before removing the pan.
Did you make this recipe?
Share it with me on Instagram and make sure to follow me on Pinterest for more recipes.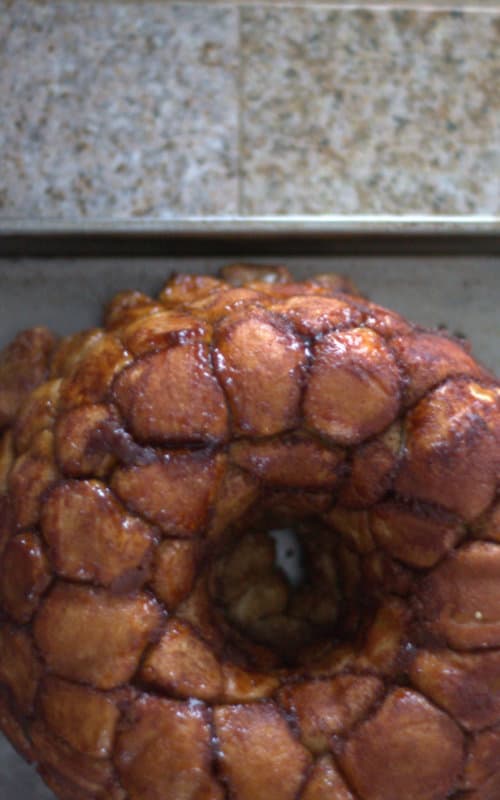 I rate everything I bake on a scale of 1-4 with 4 being the best and Mom's Monkey Bread on Day 40 of my 365 Days of Baking earned 4 rolling pins!!
It was super delicious, fun to eat and was a great snack to hold us over since ridding the smoke from the kitchen delayed me in preparing a timely dinner. I will definitely be making it again soon since the whole family not only loved it but devoured it!
Get that pen and paper out! I know you don't want to skip on these awesome recipes.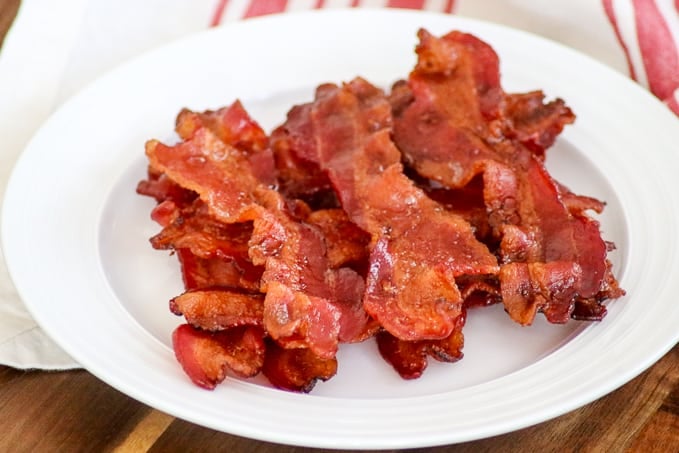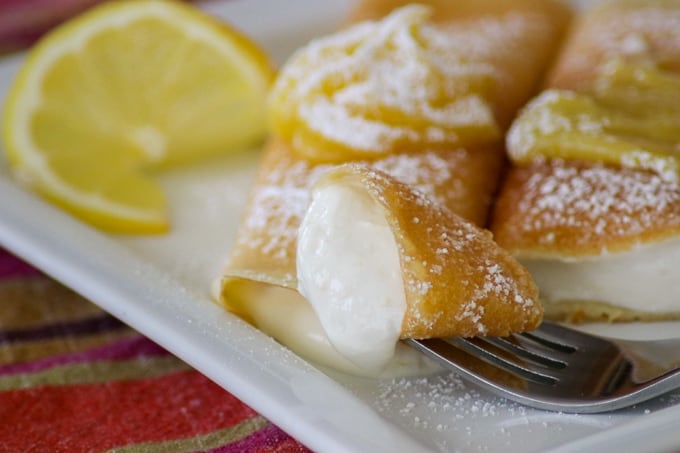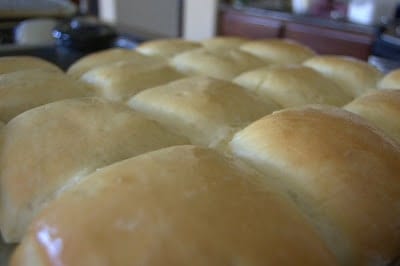 I'm sure you'll enjoy it as well!
Just remember, TWO loaves, not three! 😉
Reader Interactions