Peanut Butter Bread is soft, moist quick bread loaded with creamy peanut butter. A big slice of this easy bread with a glass of milk makes a perfect after-school snack for the kids, especially toasted with some jelly on top!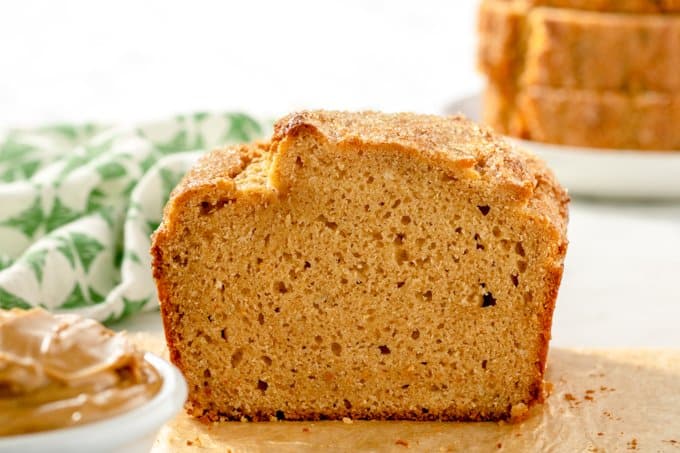 Can you believe it took me this long to bake bread with peanut butter?
At last, Peanut Butter Bread is part of my life. And it's not going anywhere.
SAVE THIS EASY PEANUT BUTTER BREAD RECIPE TO YOUR FAVORITE PINTEREST BOARD!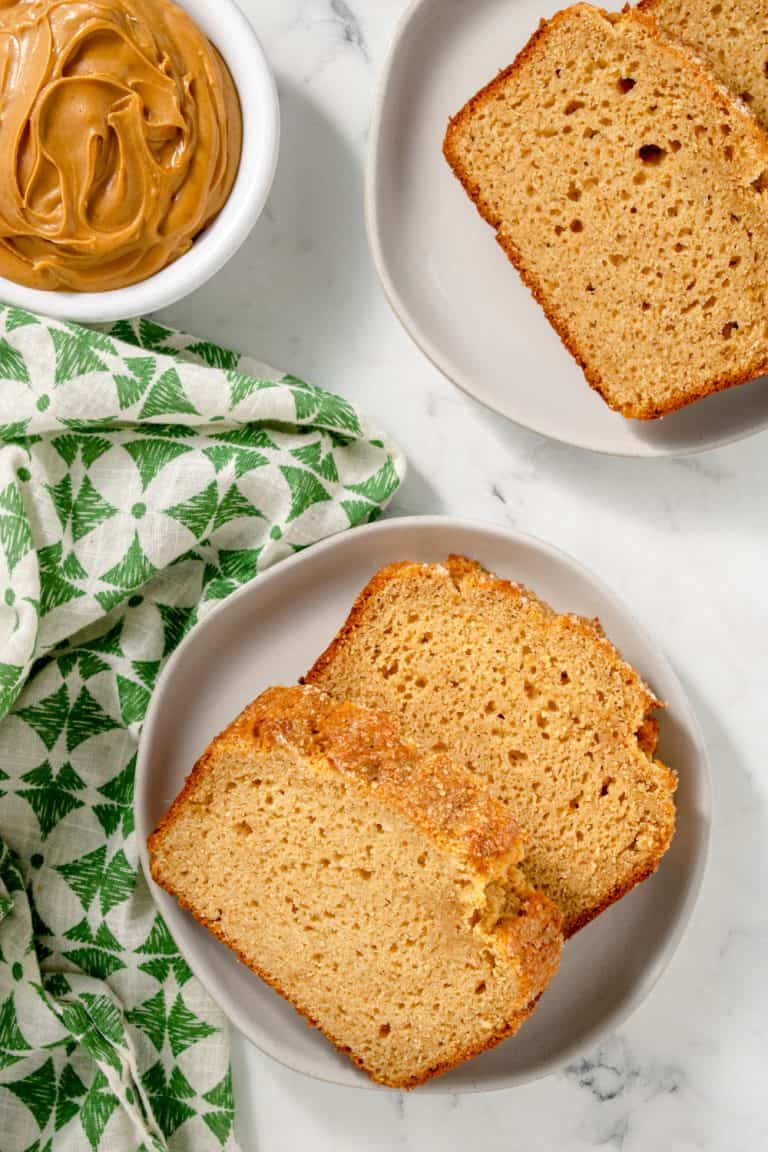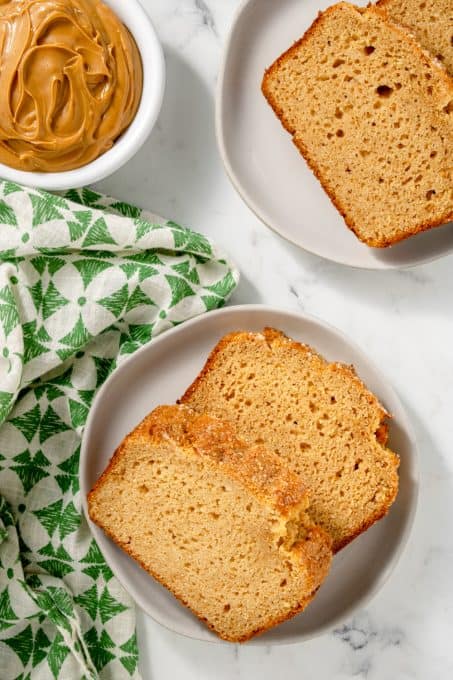 With all the peanut butter cookie and cake recipes I've shared over the years, you'd think I would have thought to try a peanut butter quick bread sooner. It makes sense, right?
Peanut Butter is delicious spread ON bread. So why wouldn't it be just as delicious baked INSIDE? This one-bowl quick bread recipe is easy to make and produces an ultra moist loaf brimming sweet, nutty peanut flavor.
Peanut Butter Bread incredible on its own, but you can spread it with jam, honey or softened butter for even more deliciousness! The rich flavor makes it ideal for pairing with a hot cup of coffee or cold glass of milk.
What do I need?
I used these ingredients to make the peanut butter loaf.
Peanut butter
Kosher salt
Baking powder
Unsalted butter
Light brown sugar
Egg
All-purpose flour
Buttermilk – Buttermilk substitute works too!
Turbinado sugar – Also called "sugar in the raw. This is sprinkled on top to give the bread a sweet coating with a slight crunch.
Can I use crunchy peanut butter?
I only tested this recipe with smooth peanut butter. Chunky peanut butter will work just fine if you'd like to have some crunchy nut pieces in your bread!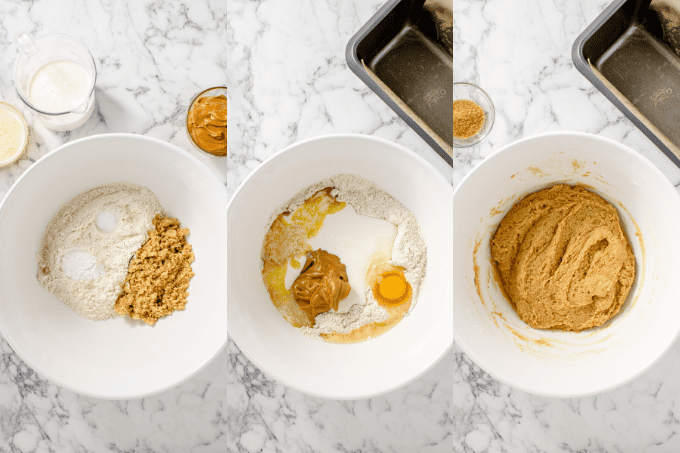 Can this quick bread be frozen?
Yes. You can freeze the sliced or unsliced bread and re-warm it in the microwave or toast slices in the air fryer or toaster oven. Keep in mind, your sugar sprinkled on top may dissolve as it thaws and the bread won't have that nice crunch from the coarse sugar.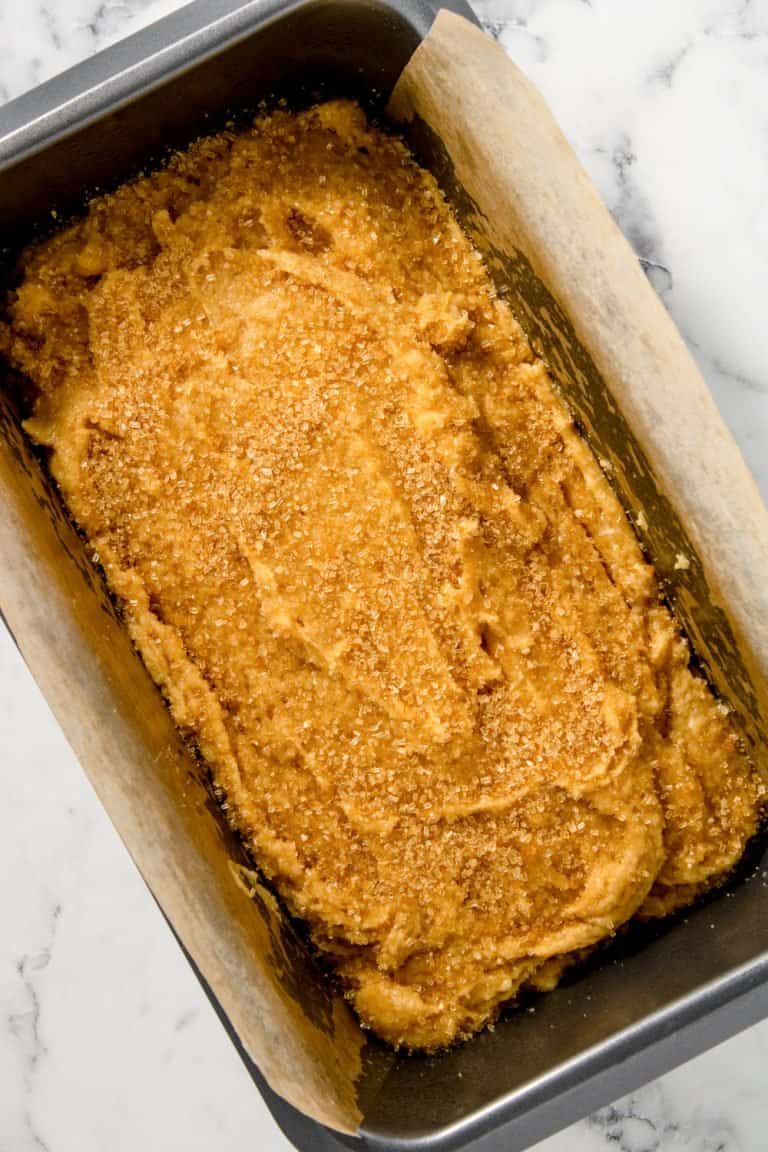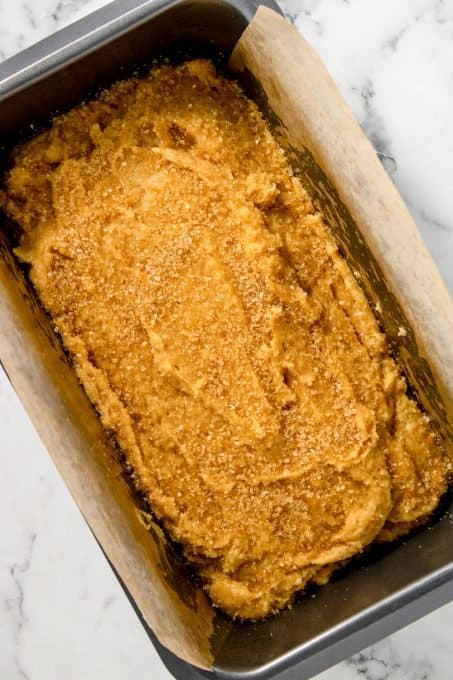 Can dogs eat peanut butter bread?
Dogs should not eat peanut butter bread. Many peanut butters contain xylitol which can be fatal for dogs to consume. This recipe also contains more sugar than is ideal for your dog to consume.
Instead, bake up a batch of these Chicken and Cheese Dog Treats for your pup to enjoy while you eat this bread! Or find a dog safe peanut butter and make these Peanut Butter & Oatmeal Dog Biscuits to spoil your furry companion.
Tips & Tricks
Serving suggestions: We especially love the way this peanut butter bread tastes when it's warm! After the bread cools, microwave slices for 15 – 20 seconds before serving.
Turbinado Sugar Substitutions: You can use any sugar with coarse crystals, like sparkling sugar, for the topping instead.
Peanut Butter Substitutions: Feel free to try this recipe with other nut butters like cashew butter, or almond butter. I can't vouch for the results but let me know how the bread comes out if you do swap out the nut butter.
Buttermilk Substitutions: Make your own buttermilk by mixing 1 cup of regular milk with 1 tablespoon of white vinegar or lemon juice.
Storing: Store this bread tightly wrapped at room temperature. Or freeze for longer storage!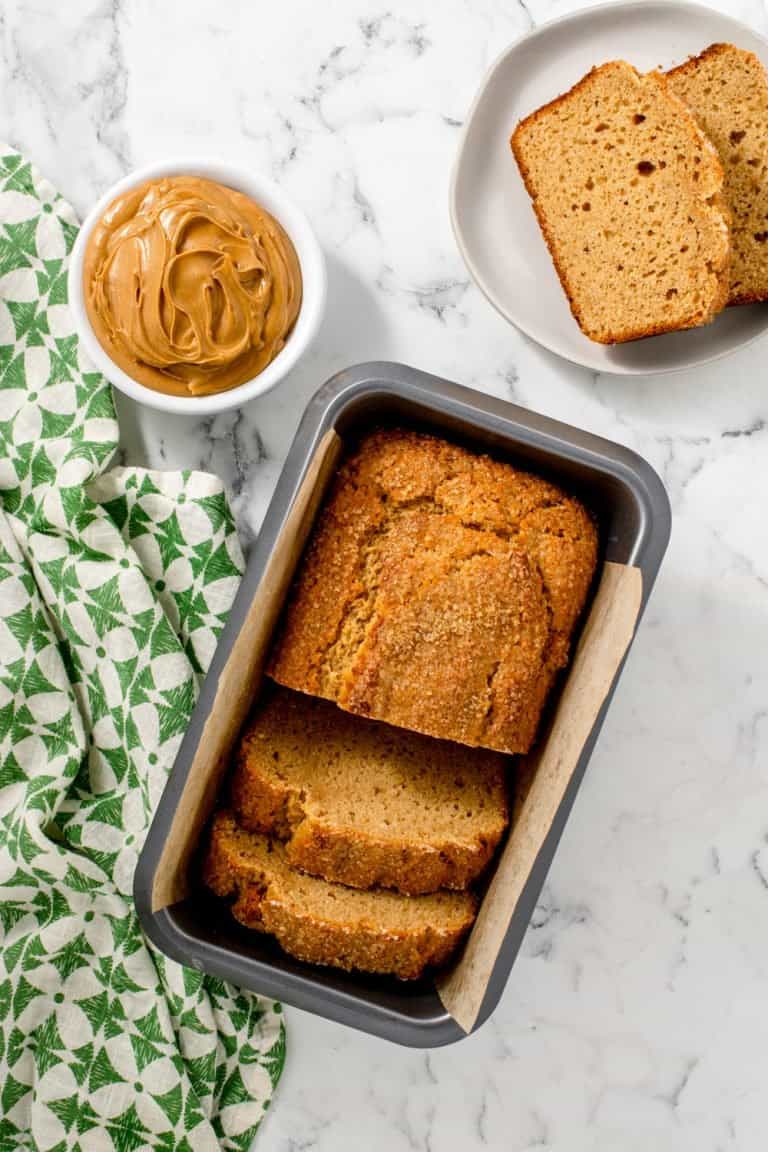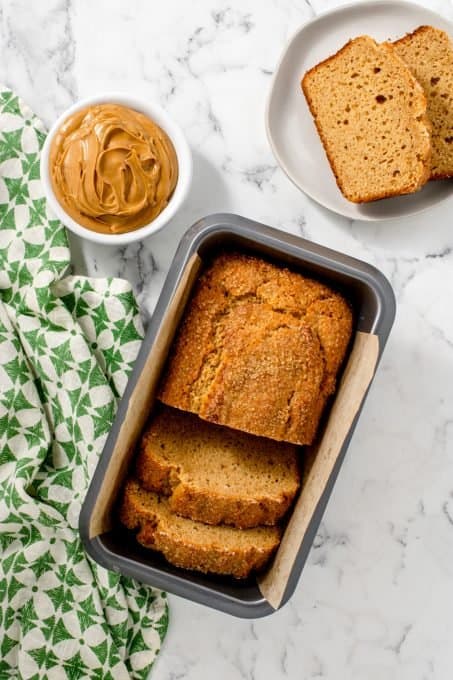 Peanut Butter Recipes
You may have figured out by now that I have a tiny (okay maybe more than tiny) obsession with peanut butter. From Fluffernutter Sandwiches to Peanut Butter Popcorn Balls, I love this nut butter in all its forms!
If you share my devotion to peanut butter, you'll love these other easy recipes with peanut butter too:
Bread Recipes
Whether you're a seasoned baker or new to making bread, we have plenty of foolproof recipes to help you achieve homemade bread success!
Pineapple Bread is another quick bread that's a little different from the norm. This Chai Banana Bread is a classic banana quick bread enhanced by warming chai tea spices.
Looking for more bread recipes with peanut butter? This Peanut Butter Chocolate Chip Banana Bread should be next on your list.
Fill your kitchen with the irresistible aroma of freshly baked bread with our most popular bread recipes!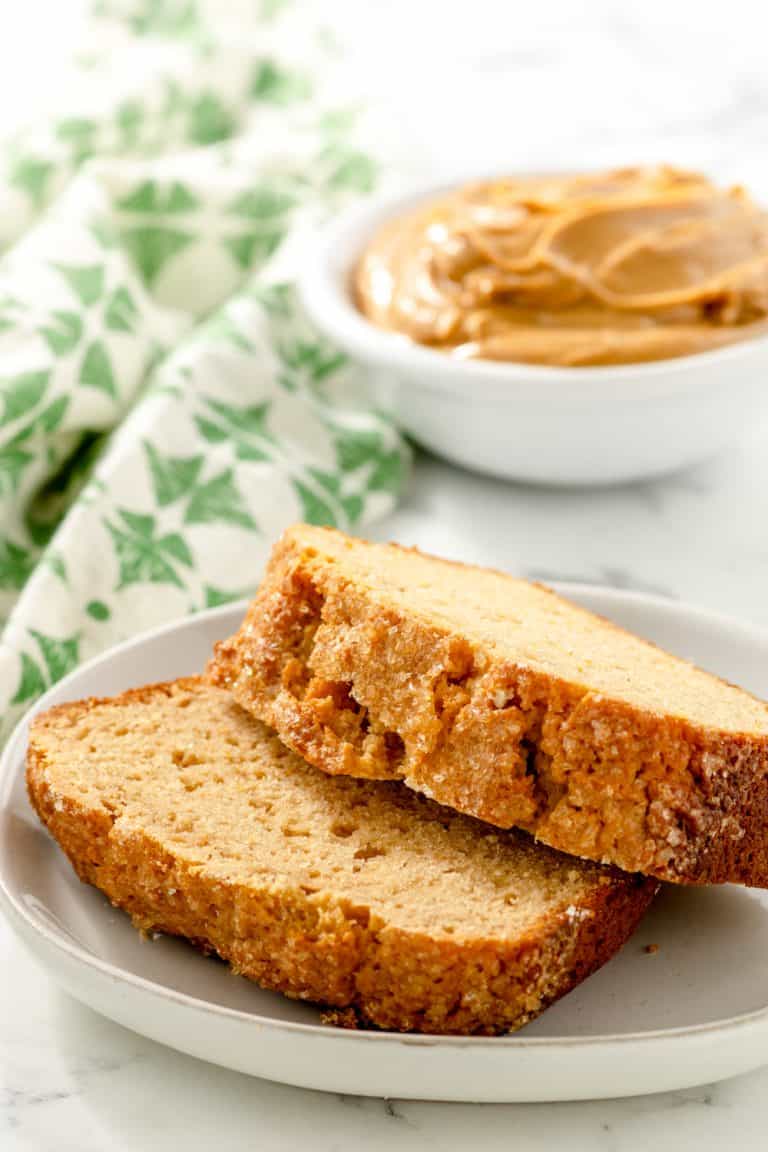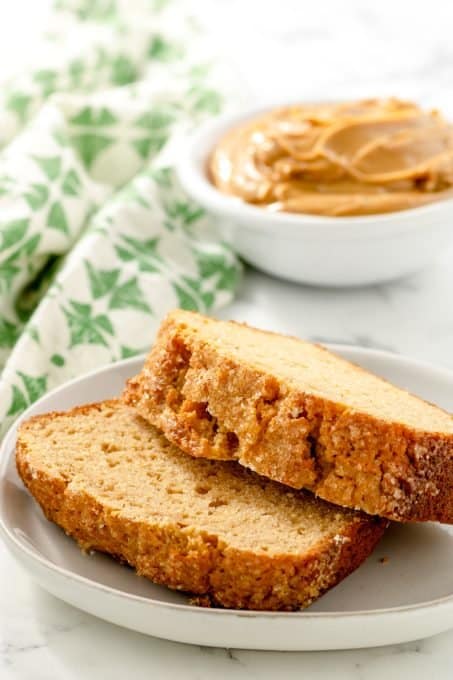 Peanut Butter meets quick bread in this out-of-this-world easy recipe! Moist and sweet, this peanutty loaf might just become your new favorite bread.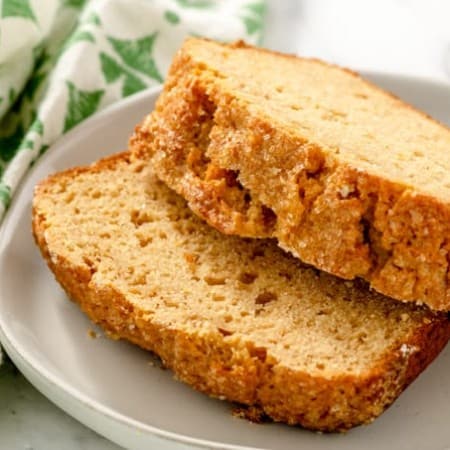 Peanut Butter Bread is soft, moist quick bread loaded with creamy peanut butter. A big slice of this easy bread with a glass of milk makes a perfect after-school snack for the kids, especially toasted with some jelly on top!
Ingredients
2 cups all-purpose flour measured using the scoop and sweep method – see Note.
⅔ cup packed light brown sugar
1 tablespoon baking powder
1 teaspoon kosher salt
1 cup buttermilk
¾ cup creamy peanut butter
1 large egg beaten
¼ cup unsalted butter melted
1 tablespoon turbinado sugar (sugar in the raw)
Instructions
Prepare a 9 x 5-inch loaf pan by spraying it with cooking spray, lining it with parchment and then spraying it again.

In a large mixing bowl, whisk together the flour, brown sugar, baking powder, and salt.

Add the buttermilk, peanut butter, egg, and melted butter. Stir everything together with a stiff spatula or wooden spoon until all ingredients are thoroughly combined.

Pour the batter into the prepared pan and let sit for 15 minutes. While batter is resting, preheat oven to 350° F.

Sprinkle the turbinado sugar evenly on top of the batter, and then bake for 50-55 minutes or until a toothpick inserted into the center comes out clean.

Cool completely before slicing with a serrated knife.
Notes
For this recipe, instead of spooning the flour into the measuring cup and leveling it off, this time we're scooping the measuring cup directly into the flour to gather it, and then leveling it off with a knife. 
Nutrition
Serving: 1slice | Calories: 275kcal | Carbohydrates: 34g | Protein: 7g | Fat: 13g | Saturated Fat: 5g | Polyunsaturated Fat: 2g | Monounsaturated Fat: 5g | Trans Fat: 1g | Cholesterol: 26mg | Sodium: 294mg | Potassium: 264mg | Fiber: 1g | Sugar: 16g | Vitamin A: 171IU | Calcium: 91mg | Iron: 1mg
Did you make this recipe?
Share it with me on Instagram and make sure to follow me on Pinterest for more recipes.
Reader Interactions