Your dog will go nuts for these homemade Chicken and Cheese Dog Treats! They're made with delicious ingredients like ground chicken, mozzarella cheese, and flaxseed. It's an easy dog treat recipe to show you love them just as using PetArmor Plus to protect them from fleas and ticks will help you do the same.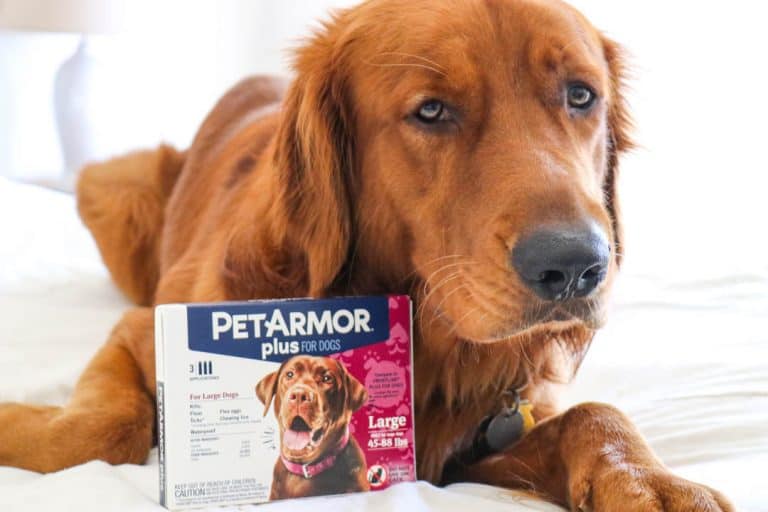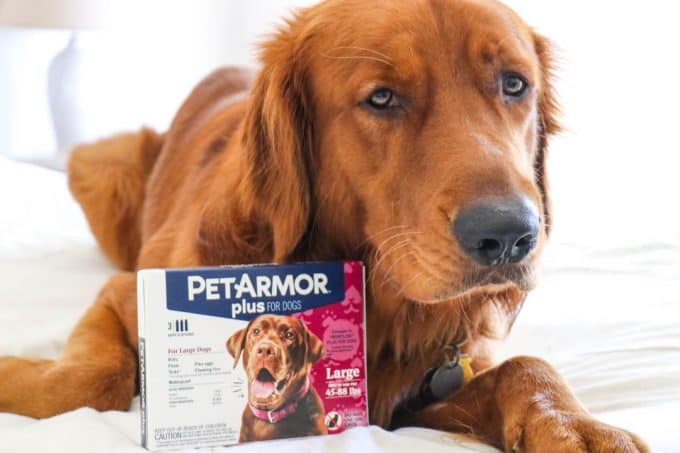 It never ceases to amaze me how our pets become such a huge part of our lives.
*This post contains an affiliate link(s).
Growing up, I never had a dog or a cat.
Only a hamster named Costello.
When I was going to college, I bought a cat and named him Romeo.
But I always wanted a dog.
SAVE THIS EASY CHICKEN AND CHEESE DOG TREAT RECIPE TO YOUR FAVORITE PINTEREST BOARD!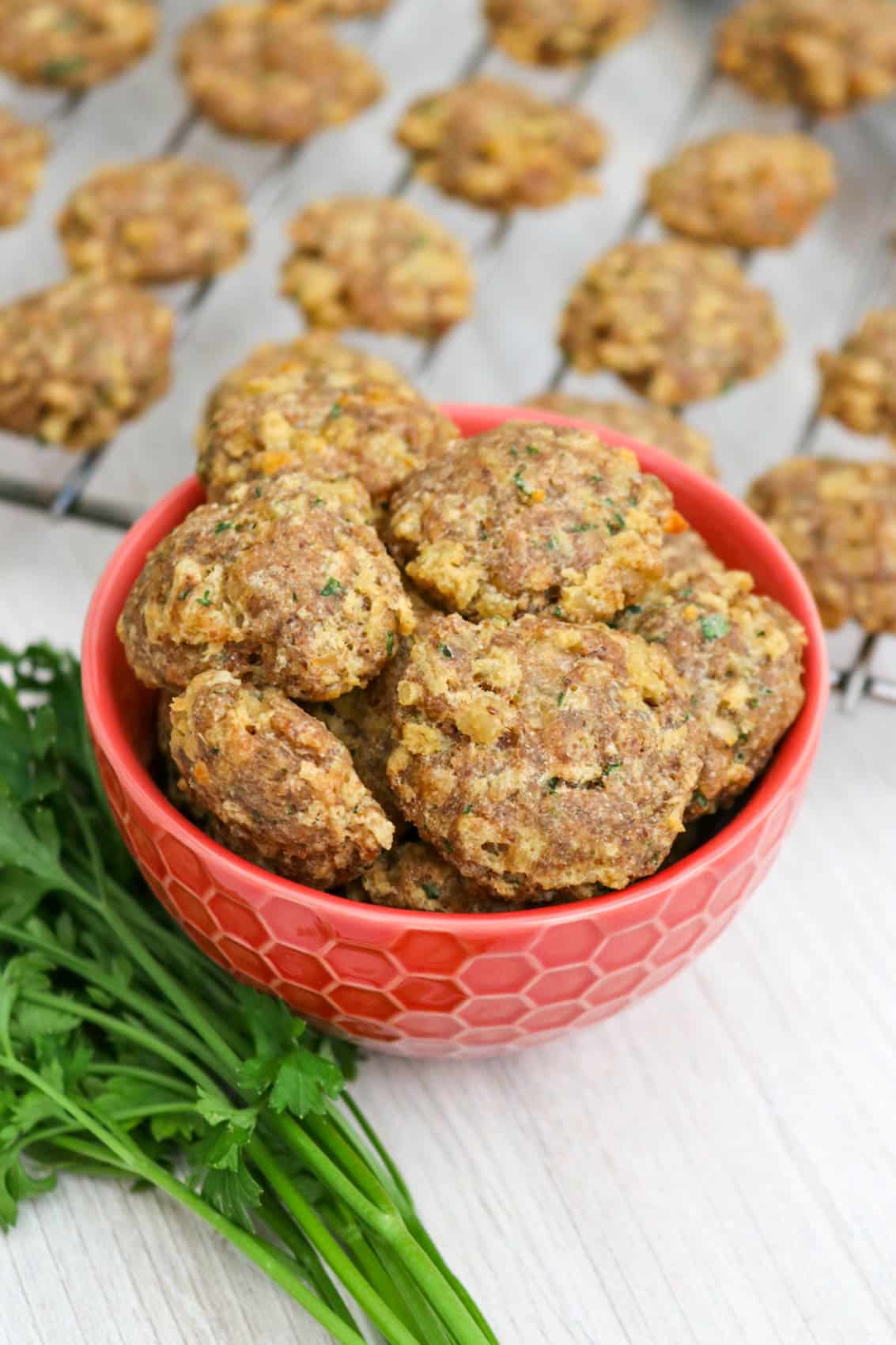 When our kids were younger they begged and begged and begged, yet I resisted not wanting the responsibility.
Then I caved and life hasn't been the same since.
Making homemade dog treats is something I've done in the past. Yes, the ones at the store are good, but I think it's much more fun to spoil your pup by making them in your own kitchen, too.
When we had our dog, Brady, the first recipe I made were these Doggie Peanut Butter Treats. He loved them!
Then when I made the Peanut Butter Banana Treats he loved those just as much.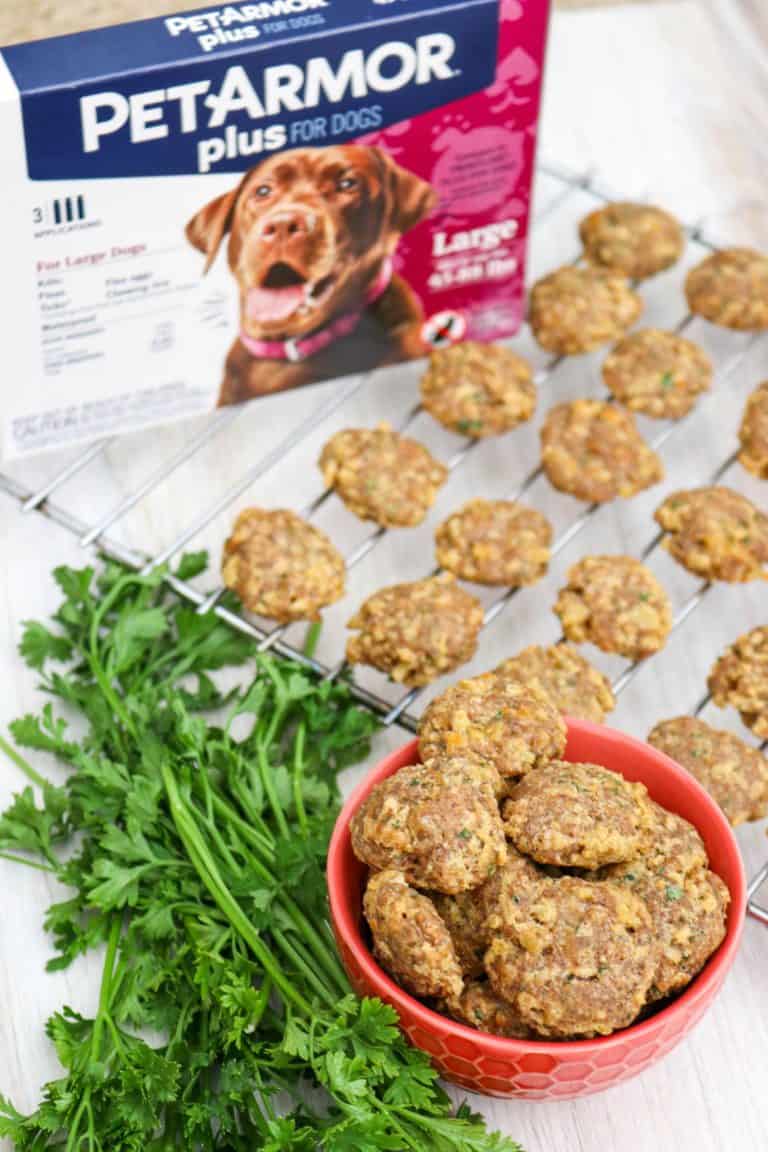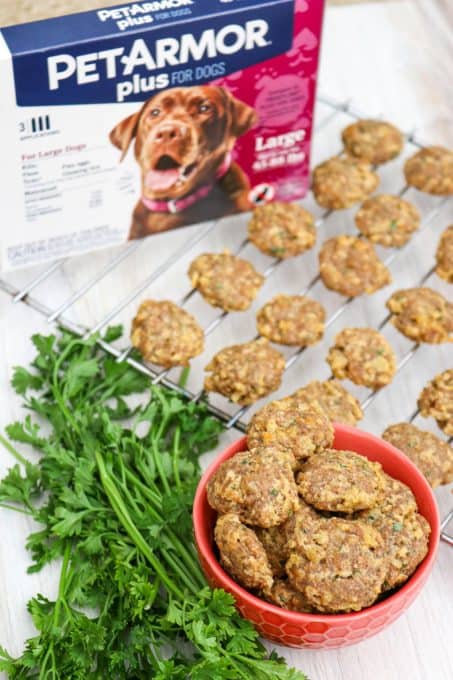 When Brady was 8 years old, our daughter, Emma, bought a Golden Retriever and named him Keiser.
Needless to say, they were best buds.
They even enjoyed eating these Peanut Butter and Oatmeal Dog Biscuits together.
Sadly, we had to say goodbye to Keiser when he was not yet two. He was having seizures and was prescribed medication.
Needless to say my recipe for homemade Dog Pill Pockets came in handy.
Unfortunately, there was nothing we could do to prevent them and wanted him to be at peace.
We sure still miss that crazy guy.
And then a couple of years ago we said goodbye to Brady.
Now we have Logan, who just turned a year a few weeks ago. It's funny because he seems to be a good combination of both Brady and Keiser.
He looks more like Brady and learns commands quickly like he did, but he's goofy like Keiser and makes those gumbly noises when he's happy.
He's been a super addition to our family.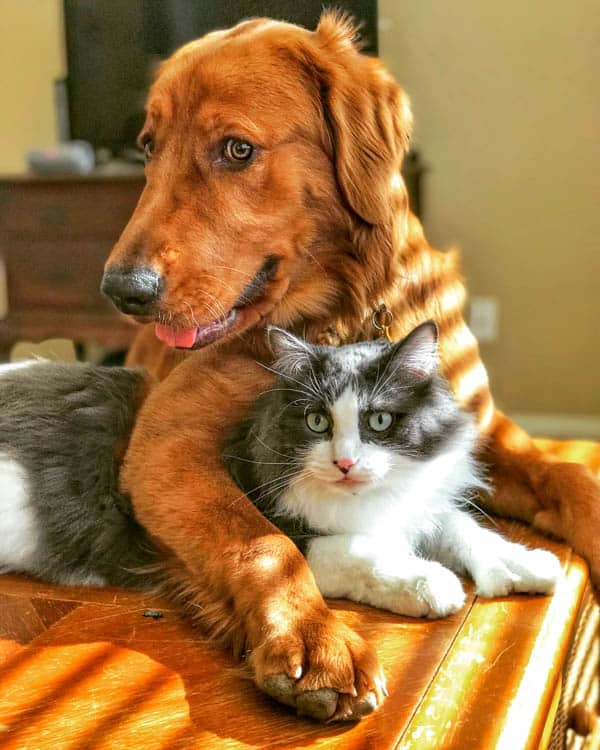 You can follow Logan and Winnie, and their antics HERE on their own Instagram!
If you're a dog owner, I know how much you love him/her and how important it is for you to take good care of them.
While we can't be with them 24/7, we can be sure that we're doing things to give them the best life possible.
That includes making sure they're protected from flea and ticks.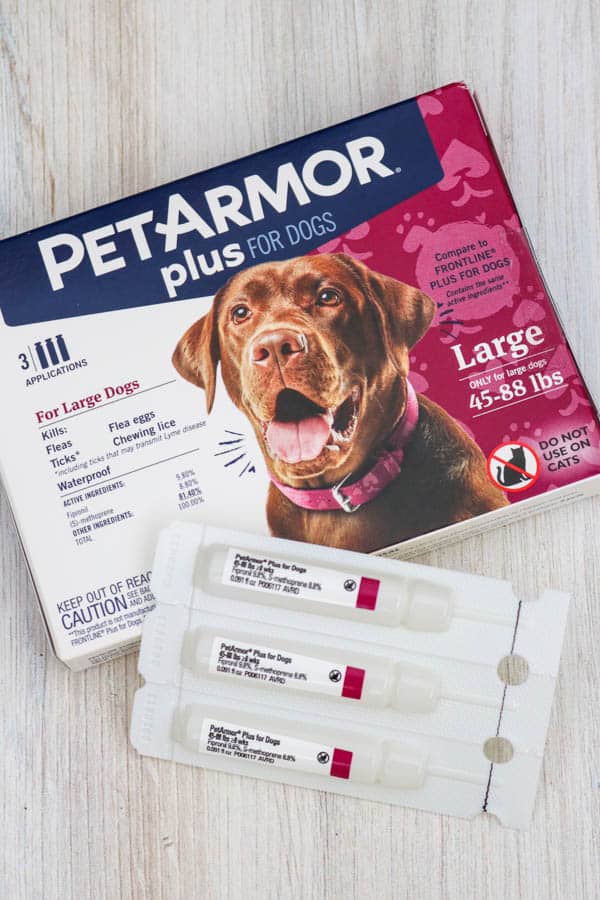 Just like when our kids were little, I didn't want to run them to the doctor every time they had a cold or stomach ache.
The same holds true for Logan.
While I know vet care is extremely important, I don't want to take him in for the same care I know can be provided at a lower cost and at my convenience.
That's why when I head to Walmart to pick up any groceries or household items, I pick up Logan's PetArmor Plus flea and tick treatment at the same time.
It's trusted by over million pet parents who, like me, know it's so important that we protect them from those nasty little critters.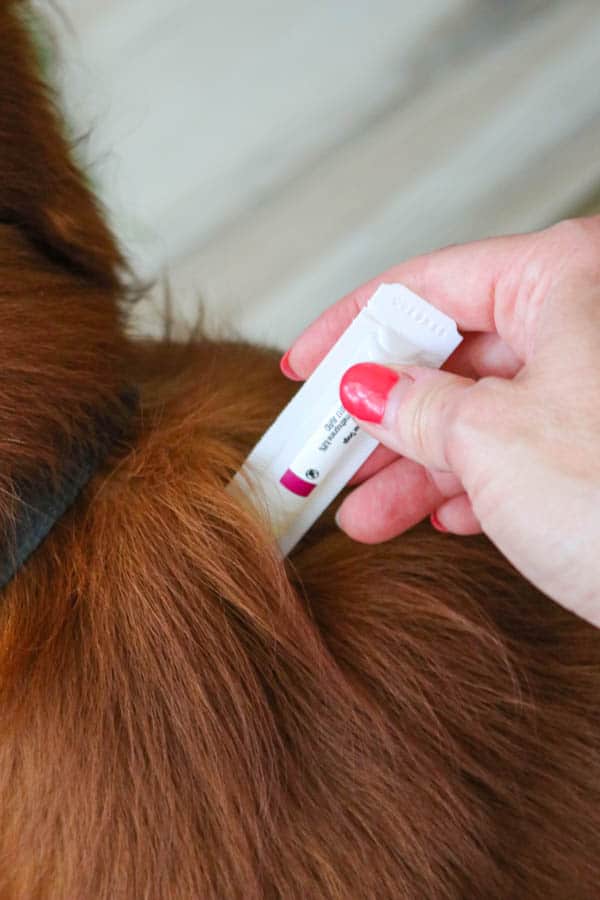 Living here in New England, ticks are a real problem because they can carry Lyme disease which is no joke.
I want to make sure I do everything I can to prevent Logan from both fleas and ticks year round.
And it's essential even in the colder months when they can lay dormant before hatching.
I also feel confident that his PetArmor Plus is still working while he's swimming.
It's waterproof, so it helps to stop the flea cycle by killing flea eggs and larvae for up to 12 weeks no matter how active he is.
Used as directed, PetArmor Plus will help with the protection, prevention and/or treatment of your fluffy best friend.
On your next trip to Walmart, pick up the ingredients you need to make these Chicken and Cheese Dog Treats and a box of PetArmor Plus for Fido.
It's available in four different weight ranges and can even be purchased at Walmart.com.
SIGN UP FOR THE WEEKLY
365 DAYS OF BAKING & MORE
WEEKLY NEWSLETTER DOWN BELOW!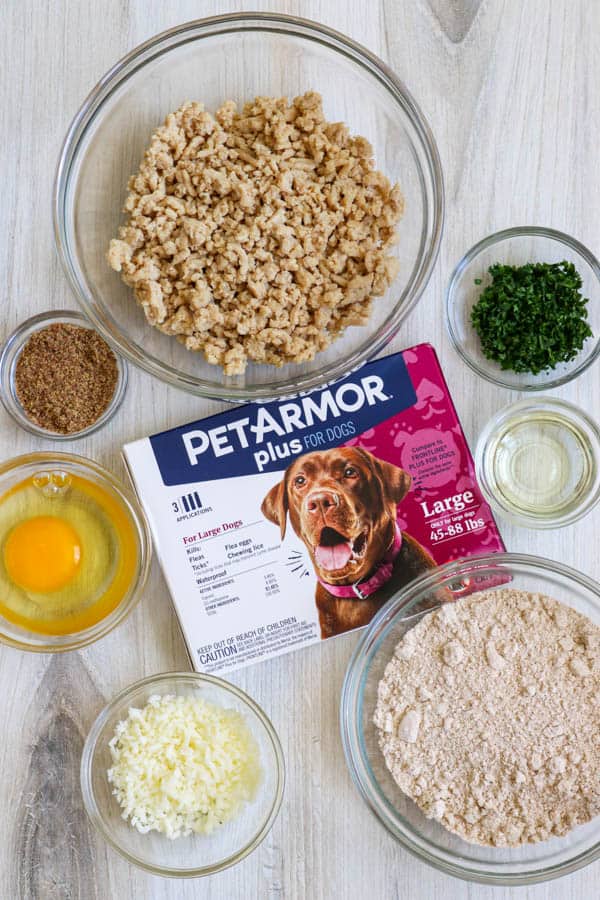 What ingredients are in DIY Dog Treats?
Ground chicken – good source of protein.
You can use ground turkey as well. Leftover cooked chicken or turkey can also be substituted, but just make sure it isn't seasoned as we wouldn't want our pups to have tummy troubles.
Mozzarella Cheese – cheese contains protein, calcium, vitamin A, essential fatty acids, and B-complex vitamins.
Some grated Parmesan is another option.
Mozzarella is a low-fat cheese, but if your dog is lactose intolerant, you may want to omit it.
Curly Parsley – it is a natural source of Vitamins A,C, and K.
Vitamin A is important for your pet's growth, vision and their immunity.
Vitamin C is an antioxidant and helps with immune support.
Vitamin K promotes liver health and helps with the blood's ability to clot.
So yes, use the kind of parsley you really only ever see as a plate decoration at restaurants.
Flaxseed Meal – high in Omega-3's, flaxseed is good for skin and hair, joints, the immune system, digestion and the kidneys.
Eggs – another good protein source.
Whole Wheat Flour – contains fiber and protein.
Vegetable oil – contains Omega-6 fatty acids which will help with your dog's skin and coat, can help with itching.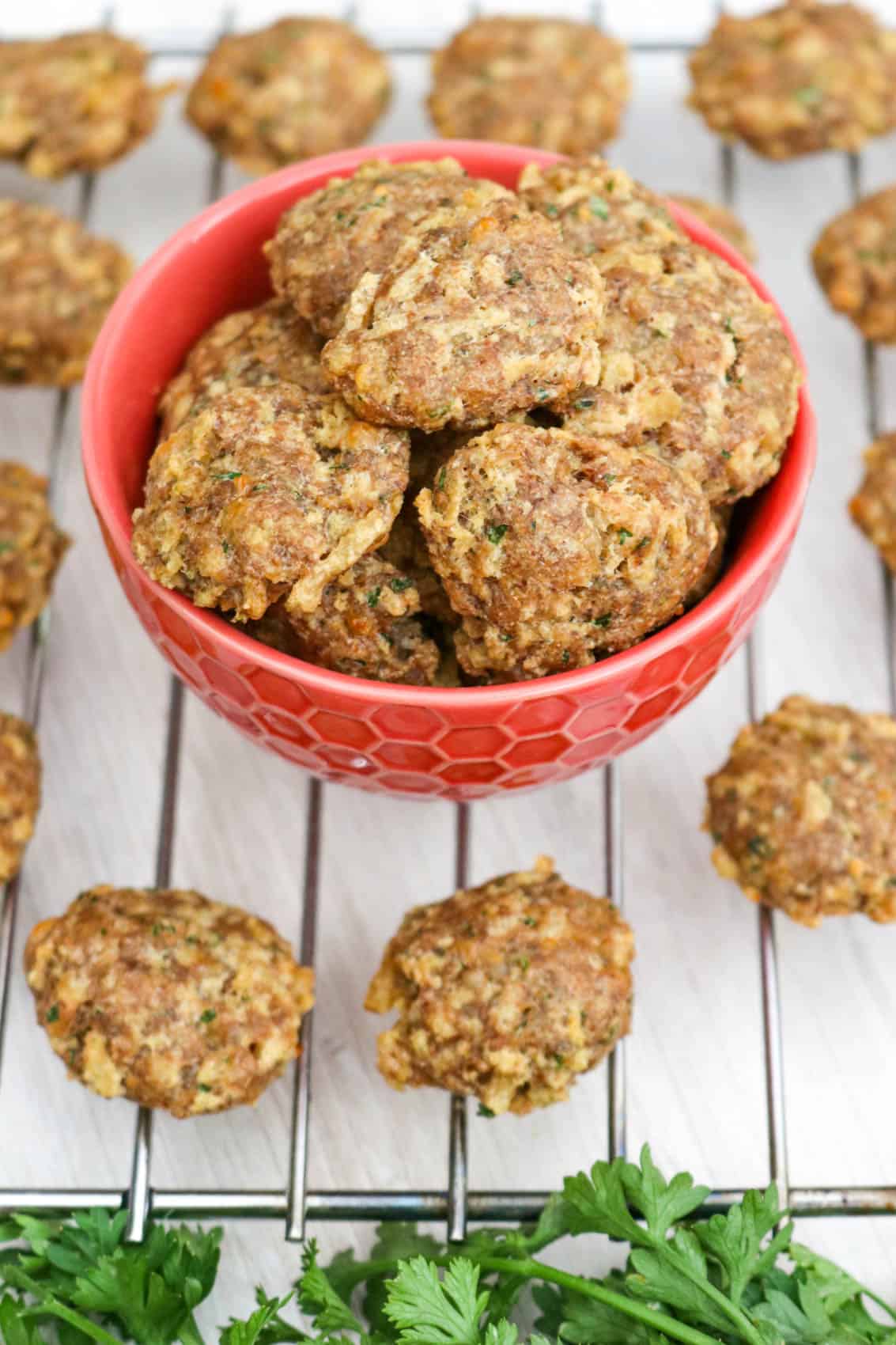 How do you make these dog treats?
Preheat your oven and use a baking sheet. No need to grease it.
Use a skillet to cook the ground chicken or turkey.
Mix the ingredients together.
I found it easiest to mix the chicken, cheese, parsley and flaxseed together before adding the flour and wet ingredients.
Use a teaspoonful of dough and place onto baking sheet.
Then I wet my hands and flattened each ball into a small disc.
Bake for 20 minutes. Cool completely on a wire rack before giving to your pup.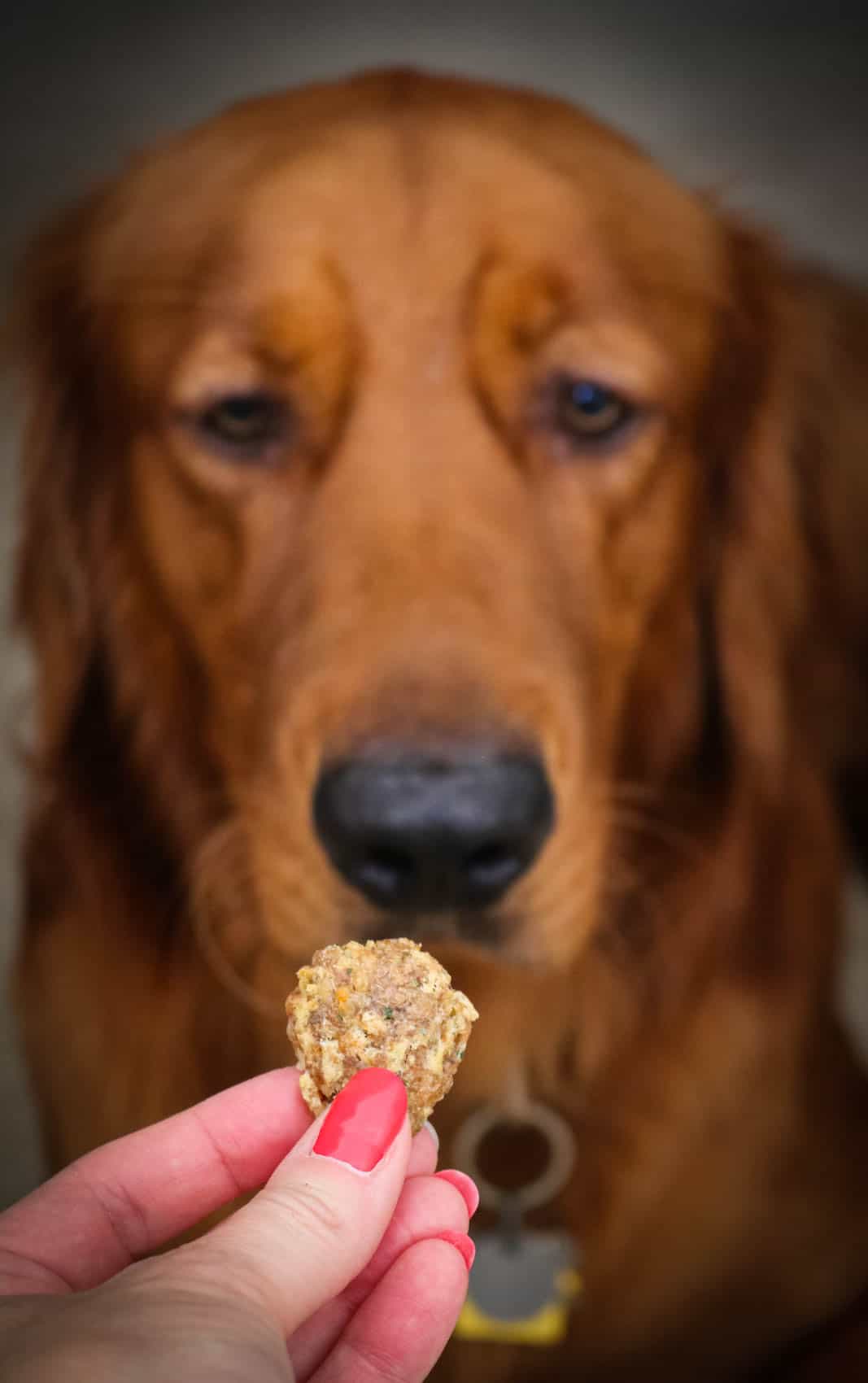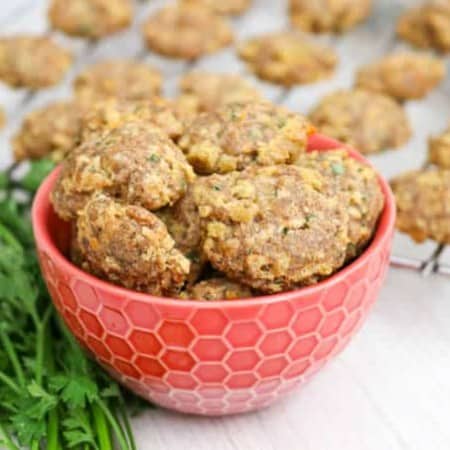 Chicken and Cheese Dog Treats
Your dog will go nuts for these homemade Chicken and Cheese Dog Treats! They're made with delicious ingredients like ground chicken, mozzarella cheese, and flaxseed. It's an easy dog treat recipe to show you love them.
Equipment
Nonstick Skillet

Large Mixing Bowl

Baking Sheet
Ingredients
8 ounces ground chicken
2 tablespoons shredded mozzarella cheese chopped
1 tablespoon curly parsley chopped
1 tablespoon flaxseed meal
2 eggs beaten
1 cup whole wheat flour
1 tablespoon vegetable oil
Instructions
Preheat oven to 350°F.

In a nonstick skillet, cook the ground chicken over medium heat until completely cooked through, about 10 minutes.

In a medium bowl, mix the chicken, cheese, parsley, and flaxseed meal with a rubber spatula.

Add the egg, flour, and oil and mix until completely combined.

Using a teaspoonful of batter, place onto a cookie sheet. With wet hands, flatten each ball of dough into a small disc.

Bake for 20 minutes.

They are best stored in the refrigerator in a sealed bag or airtight container up to a week.
Nutrition
Serving: 1g | Calories: 21kcal | Carbohydrates: 2g | Protein: 1g | Fat: 1g | Saturated Fat: 1g | Cholesterol: 10mg | Sodium: 9mg | Potassium: 34mg | Fiber: 1g | Sugar: 1g | Vitamin A: 19IU | Vitamin C: 1mg | Calcium: 5mg | Iron: 1mg
Did you make this recipe?
Share it with me on Instagram and make sure to follow me on Pinterest for more recipes.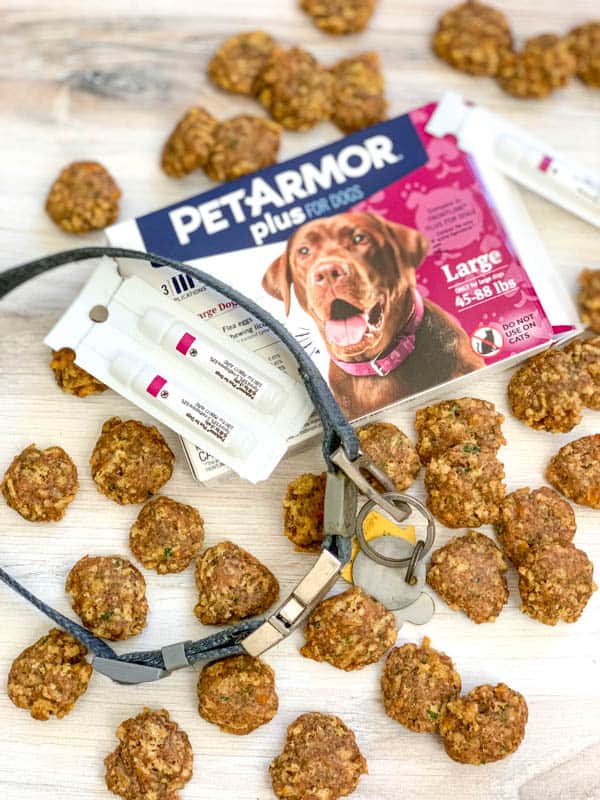 *We are a participant in the Amazon Services LLC Associates Program, an affiliate advertising program designed to provide a means for us to earn fees by linking to Amazon.com and affiliated sites.
These are links that can take you to a product (or products) that I recommend. I do receive a portion of the sales or credit for my future purchases from any items purchased through those links. Your purchases encourage my baking, cooking and butter habit, and contribute to the life of this blog. I thank you so very much for your support. Let's keep having fun in the kitchen!!
Reader Interactions