Meat Lover's Pizza Frittata is full of all the pizza goodness you love. Eggs, Italian sausage, cheese, and tomatoes come together in this easy ultimate frittata recipe.

Frittata is a classic brunch food. Pizza is a classic ANYTIME food, in my book. This Pizza Lover's Frittata takes two great things and puts them together to make an even greater thing.
This frittata recipe has all my favorite pizza toppings folded together to make a frittata that's worth waking up for. Pepperoni, sausage and plenty of cheese plus spinach, tomatoes and plenty of Italian herbs and spices take ordinary eggs to an insanely delicious level.
We love breakfast food in my family so while this easy egg recipe is an ideal breakfast or brunch, it would also make for a fabulous lunch or dinner. (Breakfast for dinner anyone?)
I actually made it for dinner the other night and Kurt raved about it yet again!
SAVE THIS MEAT LOVER'S PIZZA FRITTATA RECIPE TO YOUR FAVORITE PINTEREST BOARD!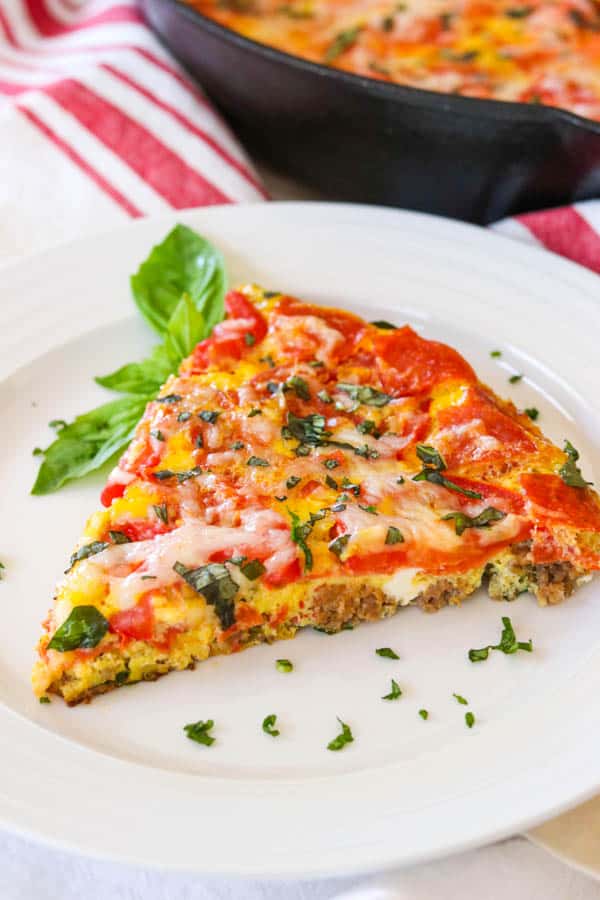 Pizza is a must-have food around here. We can't get enough of it.
We're always on the hunt for the best pizza around. It's kind of been our family thing, even when we travel.
If pizza isn't on the dinner menu at least once a week at my house, something is terribly wrong. But sometimes as much as we love a traditional cheesy slice, I'm in the mood for a different way to enjoy my favorite pizza flavors.
If you've been reading my recipes for a while you may have gathered that I can find a way to work pizza into just about anything! I've made Pepperoni Pizza Stuffed Pasta Shells, Pepperoni Pizza Pasta, and a pizza inspired Spinach Pepperoni Bread.
It's high time I found a way to work pizza into breakfast, right?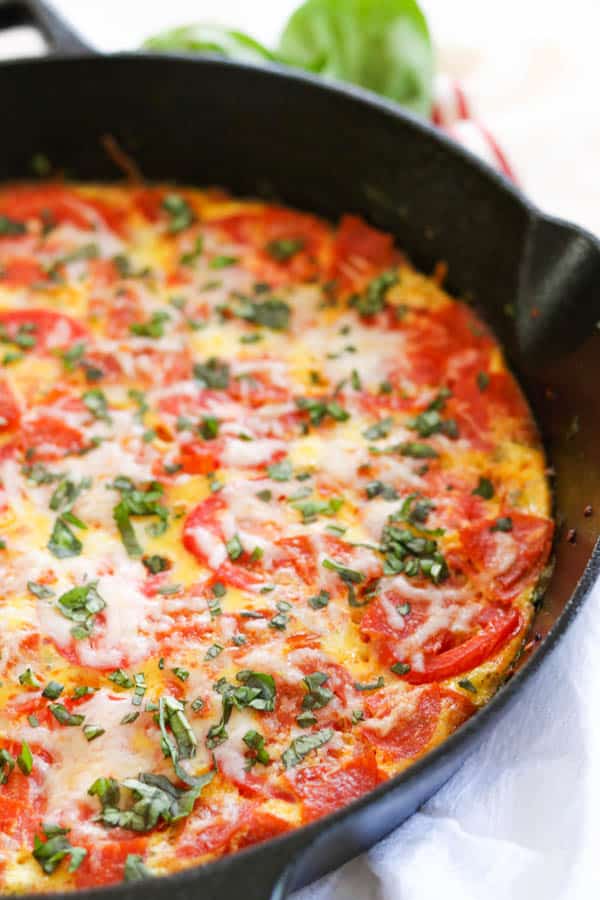 Pizza Frittata
"But wait! Pizza isn't a breakfast food!" some might say.
To them I say, "Oh ye of little faith!"
Pizza is a breakfast food, a lunch food, a dinner food, a snack food, a 3 AM food . . . you get my drift.
And who among us hasn't enjoyed a slice of cold leftover pizza from the night before first thing in the morning?
This Pizza Frittata recipe is everything I adore about pizza–tangy tomatoes, melty cheesy goodness and spicy pepperoni and sausage–cooked with eggs for a hearty, satisfying and completely delicious frittata.
Frittata Recipe
If you're not familiar with frittatas, they're sort of like the Italian answer to omelettes. A perfect cross between fluffy scrambled eggs and baked quiche, frittatas can be filled with just about any vegetable, meat and cheese filling you can think of.
Unlike most omelette recipes, you actually cook the vegetables and meat in with eggs in a pan. And, also unlike an omelette, there's no folding and flipping involved in making frittatas.
I'm not kidding when I say this is a meat lover's recipe, folks. My family definitely falls into this category. When I couldn't decide whether to try sausage or pepperoni in this recipe first, I thought, "Why not both?"
Yes! Sausage AND Pepperoni!
The result is a breakfast food that's loaded with tender bites of sausage and zesty pepperoni in every bite. You'll get more than your share of veggies in this recipe too, thanks to the fresh spinach and tomatoes that balance everything out.
Meat Lover's Pizza Frittata is a one pan recipe! I cooked the Italian sausage, garlic, and spinach in an oven proof skillet to get things started.
Then I beat a few eggs and added them to the pan along with shredded mozzarella cheese and pepperoni. Once the egg mixture was spread evenly to the sides of the skillet, I added sliced tomatoes, fresh basil and even more cheese on top.
After about 15 minutes in the oven to bake, we were all more than ready to dig in.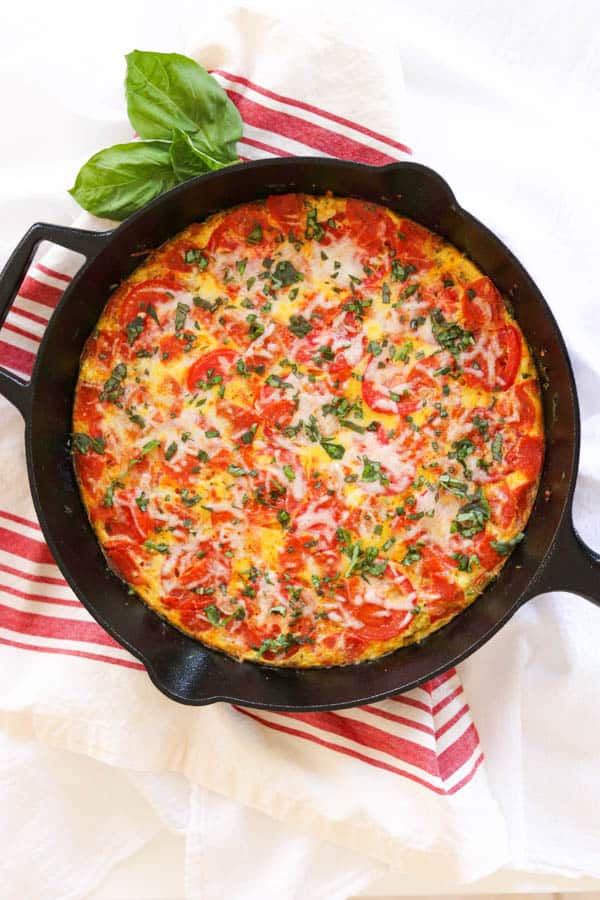 It was INCREDIBLE.
Each and every bite of the frittata was full of melty-cheesy-meaty-pizza flavor. There's no way I wasn't going to like something called a "pizza frittata" but I was still surprised by how delicious it turned out.
The mozzarella cheese is just perfect in this frittata recipe, I think. If you have another favorite cheese you love on your pizza, feel free to give that a try!
You could also experiment with any other veggies or pizza toppings you enjoy. One of the fun things about omelettes and frittatas is that there's really no shortage of ways to customize them to your tastes.
Originally, I served slices of this frittata with a side of fresh fruit. It made a wonderful meal that my family has already requested again.
Pizza Frittata would also be delicious served with slices of toasted French Bread or English Muffin Bread with butter and Homemade Jam. Keep things Italian with Italian Bread served with an herbed dipping oil.
However you serve this frittata, you're sure to find it delicious and completely satisfying.
It took just 30 minutes from start to finish to have a hearty homemade breakfast on the table! I absolutely love that I can serve this dish to both kids and adults and know that everyone will enjoy it.
It's PIZZA FOR BREAKFAST! WOO HOO!
How to make this easy Meat Lover's Pizza Frittata –
Use an oven-proof skillet.
I love to use my 12-inch cast iron skillet. It conducts the heat well and can easily go from stove top to oven without any problem. Just remember that it stays hot for a long time, so be sure to use an oven mitt on the handle when transferring it to the table for serving as well as removing the frittata from the pan.
I remove the sausage from the casings if there are any because I find it's easier to cook it that way.
Prep all of your ingredients. Have everything sliced – the pepperoni, basil, tomatoes, before you start otherwise it could definitely alter the outcome of the recipe. You don't want your egg to cook in the pan before you even add any of your toppings!
Before adding the egg mixture, be sure to spread the spinach and sausage around the pan. If you have all of the contents in the middle, or in one area of the pan the frittata won't cook evenly and not everyone will be able to enjoy all of the ingredients.
After adding the egg, gently shake the pan to spread the egg to the edges. You can also spread with a spatula, taking care not to move the sausage around too much.
Allow the frittata to cool for just a few minutes after removing it from the oven and before serving.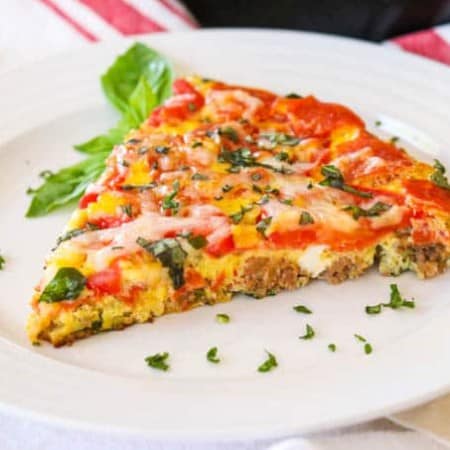 Meat Lover's Pizza Frittata
With this easy Meat Lover's Pizza Frittata made of eggs, Italian sausage, tomatoes, and cheese. it's like having one of your favorite dinners for breakfast!
Equipment
12-inch oven proof skillet
Ingredients
1 tablespoon butter
2 cloves garlic minced
8 ounces Italian sausage
1 cup chopped fresh spinach
8 eggs beaten
3 tablespoons unsweetened almond milk or can use any milk
½ teaspoon Italian seasoning
½ cup finely shredded mozzarella cheese divided
2 Roma tomatoes sliced
4 ounces pepperoni cut in quarters
1 tablespoon chopped fresh basil
Instructions
Preheat oven to 400°F.

In a 12-inch oven-proof skillet, melt the tablespoon of butter on the stovetop over medium heat.

Add garlic and sauté until fragrant, about 1 minute.

Add the Italian sausage and cook until browned. Add the chopped spinach and cook until just wilted. Remove from heat.

In a medium bowl, mix together the eggs, milk, and Italian seasoning.

Add to the skillet and gently jiggle the pan and or use a spatula to spread mixture to the edges.

Sprinkle in 1/4 cup of the shredded mozzarella cheese.

Add pepperoni, top with tomato, remaining cheese and basil.

Bake for 15-20 minutes or until the eggs are set in the middle and the edges are slightly golden.
Nutrition
Serving: 1g | Calories: 535kcal | Carbohydrates: 4g | Protein: 30g | Fat: 44g | Saturated Fat: 17g | Cholesterol: 417mg | Sodium: 1174mg | Potassium: 471mg | Fiber: 1g | Sugar: 1g | Vitamin A: 1618IU | Vitamin C: 8mg | Calcium: 207mg | Iron: 3mg
Did you make this recipe?
Share it with me on Instagram and make sure to follow me on Pinterest for more recipes.
Brunch Recipes
Looking for more out-of-the-box ideas for your next brunch gathering? I love this Baked Blueberry Cream Cheese French Toast as a sweet way to start the day.
Another savory dish that's sure to impress is my Denver Scrambled Breakfast Braid. It's so tasty and looks so fancy that no one else at your table will be able to guess how easy it is to put together!
And speaking of easy egg recipes, did you know you can make hardboiled eggs in the oven? Baked eggs take so much of the work out of breakfast and I'll probably never go back to the old stove top method again.
You've also got to try these incredible sounding frittatas and egg recipes. . . .
This Vegetable Frittata from Amanda's Cookin' looks like it'll make anyone happy, vegetarian or not. I love my meat (thus this Meat Lover's Pizza Frittata), but fresh vegetables cooked with eggs are always a wining combo.
Bacon, Broccoli and Potato Frittata from Foodie Crush brings some of the ultimate breakfast foods together with broccoli.
Loaded Huevos Rancheros is a Mexican breakfast full of eggs, potatoes and beans all served on a crisp fried tortilla that makes me dance with happiness.
All this talk about breakfast food and brunch recipes means breakfast for dinner might have to be on the menu tonight, don't ya think?
Reader Interactions