Hard Boiled Eggs in the Oven? YES! Eggs baked in the oven yield the same result as placing them in a pot of water brought to a boil. Who knew?!

YES, it's possible to make hard-boiled eggs without any boiling at all!
I feel like I just wrote my opening sentences for my conclusion of a science fair project.
The concept of hard boiled eggs baked in the oven does sound a little science experiment-y, right?
But I promise there's nothing too complicated about this recipe!
Now, let's not get confused here. You're not going to place them in a pot of water and then stick that in the oven. You don't even NEED water (until right at the end).
I guess they're not technically "hard-boiled" eggs since we take out the boiling step. But the resulting eggs taste almost identical to the hard boiled eggs made the usual way.
I've heard about this method on Pinterest for a while and was curious. Because we're baking every day, I just had to put the baked hard-boiled eggs recipe to the test to see if it worked.

SAVE THIS HARD-BOILED BAKED EGG RECIPE TO YOUR FAVORITE PINTEREST BOARD!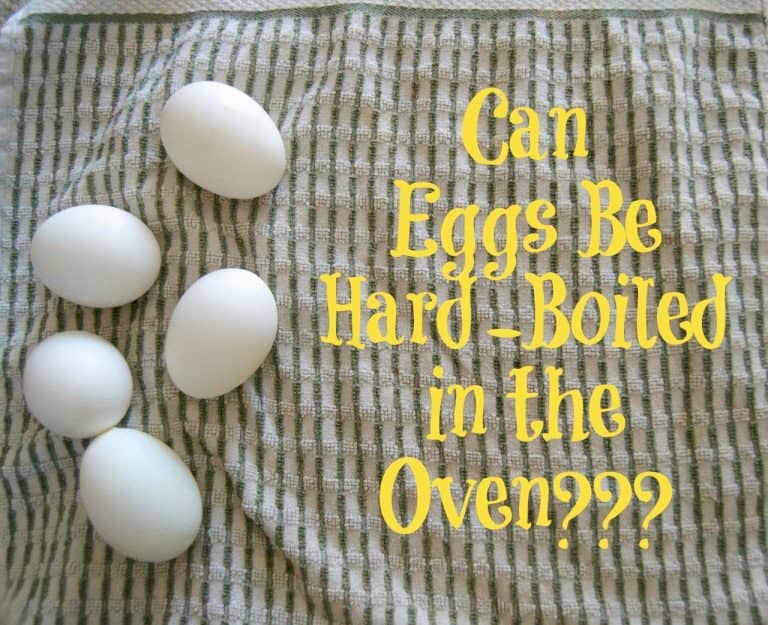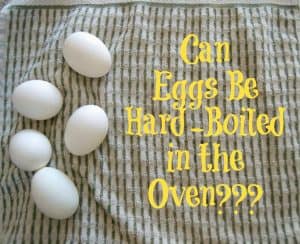 I asked myself, "Self, can I really get the same result from baking the eggs in the oven as I do when I put them into a pot of boiling water?"
Actually, I don't ever put eggs into a pot of boiling water when I make hard-boiled eggs.
When you make hard-boiled eggs the typical way, you start by placing the eggs in a pot of cold tap water. After bringing the pot to boil, you remove it from heat, cover and let sit for 12 minutes before submerging the eggs into a bowl of ice water.
Yada yada yada. I don't know about you but that's WAY too many steps for my brain.
Especially when I'm hungry and have a zillion other tasks to complete before the next meal time!
Ok, it's not really THAT many steps. You have to admit that it is quite a bit more involved than just plopping some eggs into the oven, going about your business (because you DO have a life, am I right?) and then putting them in cold water.
These hard-boiled eggs cook without needing your attention every step of the way. I love that I could just put the whole eggs into the oven and use the time while they baked to cross a few more items off my to-do list (or, you know, take a nap).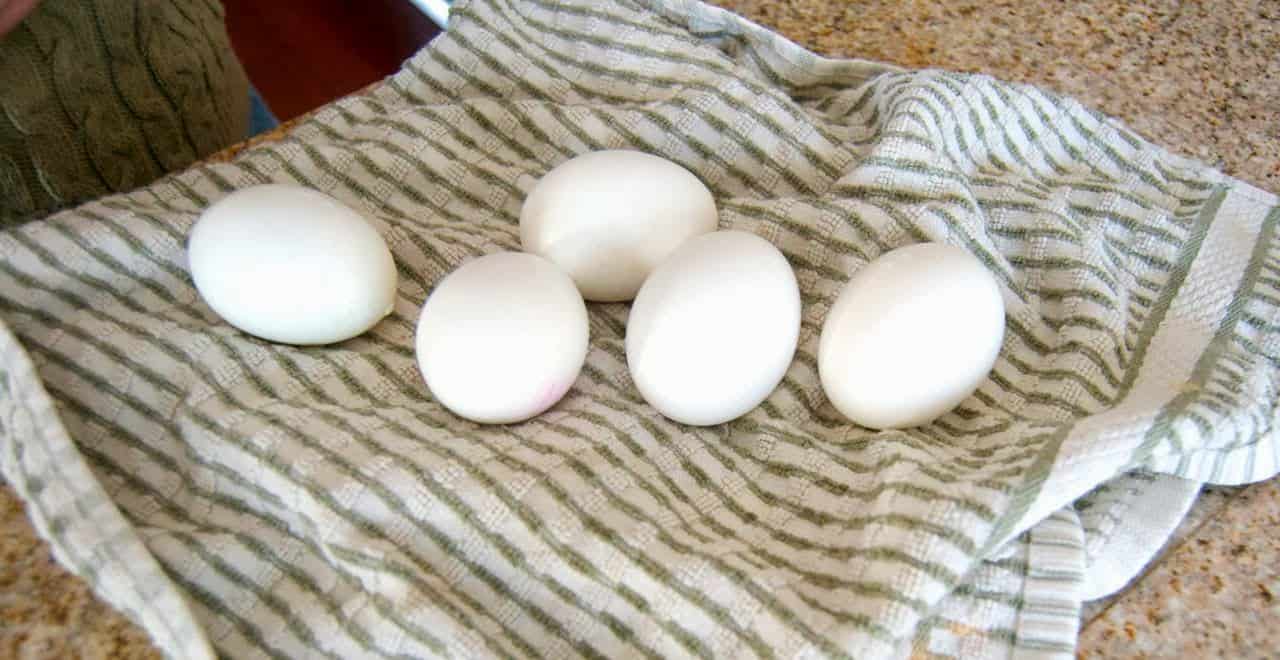 In just about half an hour, you have hard boiled eggs ready to turn into Dill Pickle Egg Salad Dip or Ultimate Egg Salad Sandwiches.
Hard boiled eggs are so perfect on a Chef's Salad, in a classic mayo-based egg salad or just as a protein packed snack. The only reason I don't eat them just about every day is that I rarely want to go through the hassle of boiling, rinsing and peeling the eggs.
This method requires little more effort than placing eggs in an oven and rinsing them with cold water.
And just a warning–don't PLOP your eggs into the oven. These are raw eggs we're talking about, people. Fragile. Breakable. Potentially very messy if not handled with care!
You're going to have a nasty mess in the bottom of your oven if you plop raw eggs onto your oven rack. Yikes. Imagine cleaning that up after your oven's been on for 30 minutes. Ick.
Back to my hard-boiled–I mean baked–eggy experiment (egg-speriment? Sorry.).
I loved how these "hard-boiled" eggs tasted! They turned out just as perfect as any hard boiled egg I've eaten, if not even tastier.
SIGN UP FOR THE WEEKLY
365 DAYS OF BAKING & MORE
WEEKLY NEWSLETTER BELOW!
Hard Boiled Eggs in the Oven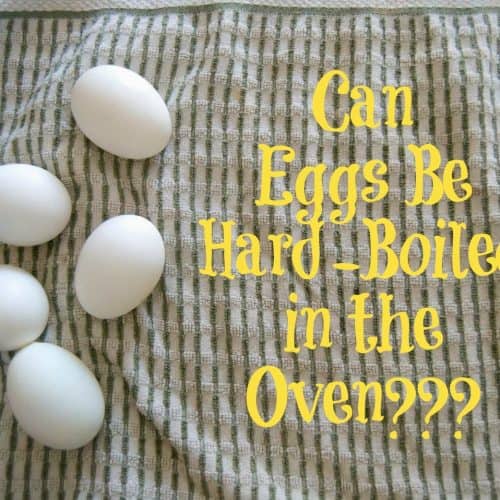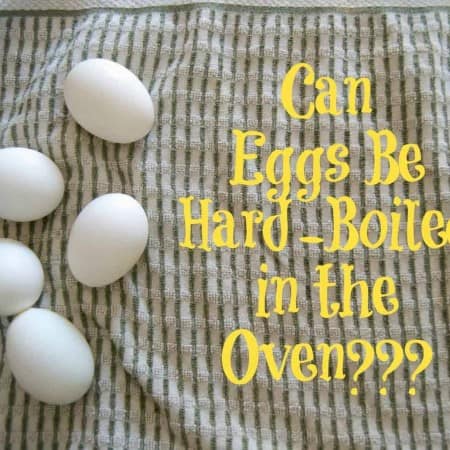 Hard-Boiled Eggs in the Oven? Yes, you can! It's simple and they're easy AND delicious, too!
Instructions
Preheat oven to 325 Degrees F. Place eggs in a standard muffin tin to keep them contained.

Put eggs into the oven and bake them for 30 minutes. When they are removed, use tongs to place them into a medium bowl filled with ice water.

Allow them to sit for 10 minutes to stop the baking process. Peel and eat or use as desired.
Nutrition
Serving: 1g | Calories: 7kcal | Carbohydrates: 1g | Protein: 1g | Fat: 1g | Saturated Fat: 1g | Cholesterol: 18mg | Sodium: 7mg | Potassium: 7mg | Sugar: 1g | Vitamin A: 25IU | Calcium: 3mg | Iron: 1mg
Did you make this recipe?
Share it with me on Instagram and make sure to follow me on Pinterest for more recipes.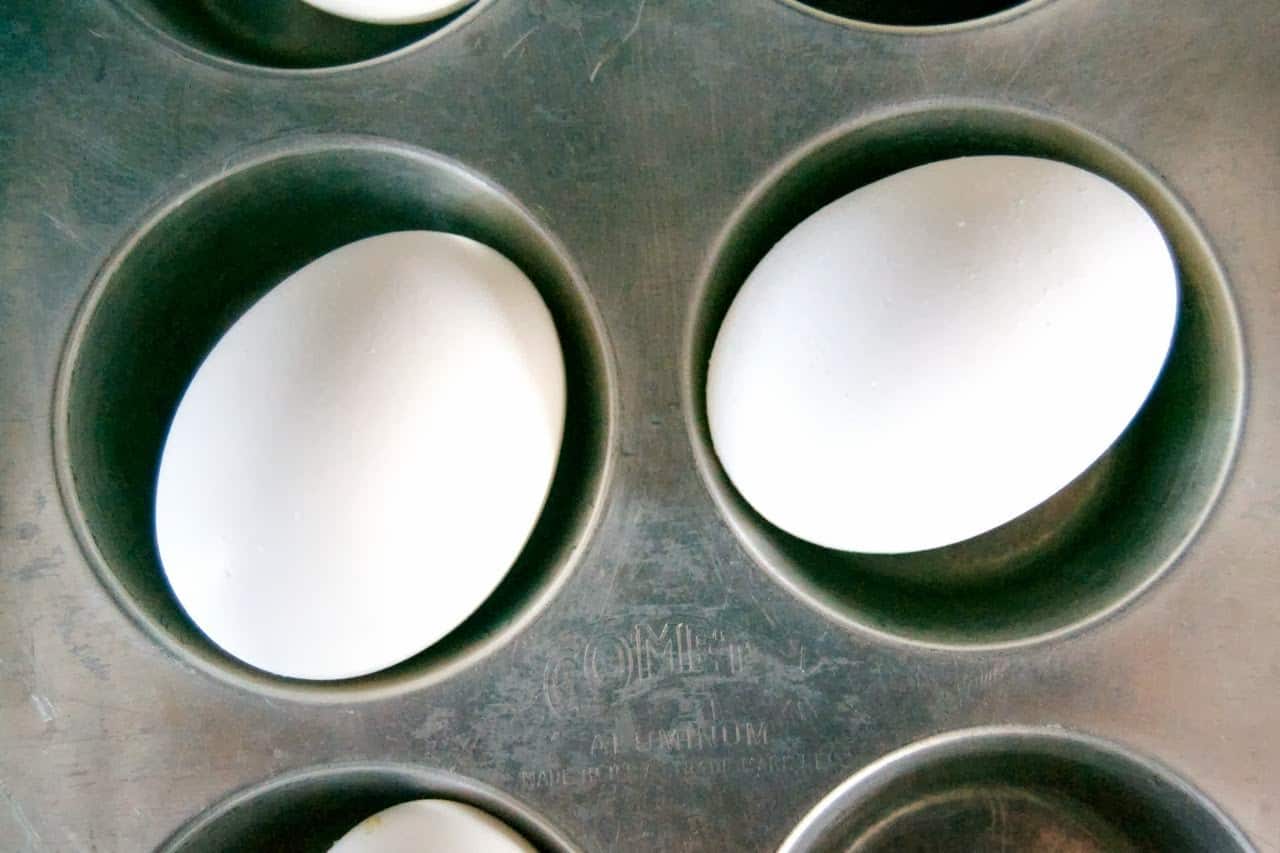 I found I like this way of cooking the eggs MUCH better than the stove top boiling method.
I rate everything I bake on a scale of 1-4 with 4 being the best. These Hard-Boiled Eggs in the Oven earned a whopping 4 rolling pins! SO easy peasy!!!

Oh, my goodness was it so much simpler than that whole boiling water rigmarole!
AND not only was it easier to make hard boiled eggs in the oven…get THIS. Peeling them was a whole heck of a lot easier, too! 4 out of the 5 egg shells came off in large, almost whole egg-sized pieces instead of those crappy-little-hoo-has-and-tiny-little-bits-that-do-not-like-to-come-off-the-eggs-to-save-their-life pieces.
Whoa, that wasn't easy to write. I HATE THOSE!!!! And it takes forever to unwrap the egg! SO not fair! And it really does deter me from boiling eggs because it's just so dang frustrating.
So, pot of water, you've met your match and you've done been retired. No more top-of-the-stove egg cooking for this girl. No siree. I'm sticking to the BAKED method! (Maybe they should be referred to as Hard Baked Eggs?)
This makes them not only easier to cook but easier to eat! Perfect for those of us who don't want to have to work too hard everytime we want eggs for breakfast or lunch.
The only thing that I noticed that was different than boiling them was that there were just a few small brown spots on some of the eggs. Were they burn spots from sitting in the muffin tin? Could be. . . well, at least that's my guess anyway.
It wasn't a big deal. We just removed those spots and ate the eggs. The brown spots didn't make a difference at all in the way the eggs tasted. No biggie at all!
If you've never tried baking your eggs in the oven, what are you waiting for? I wouldn't lead you astray, I promise.
Give this Hard-Boiled Eggs recipe a try and let me know if you found it as easy and tasty as I did. I'll probably never make boiled eggs the old way again!
Speaking of easy breakfasts and Hard-Boiled Eggs in the oven, these other recipes are sure to help when the family is ready to eat!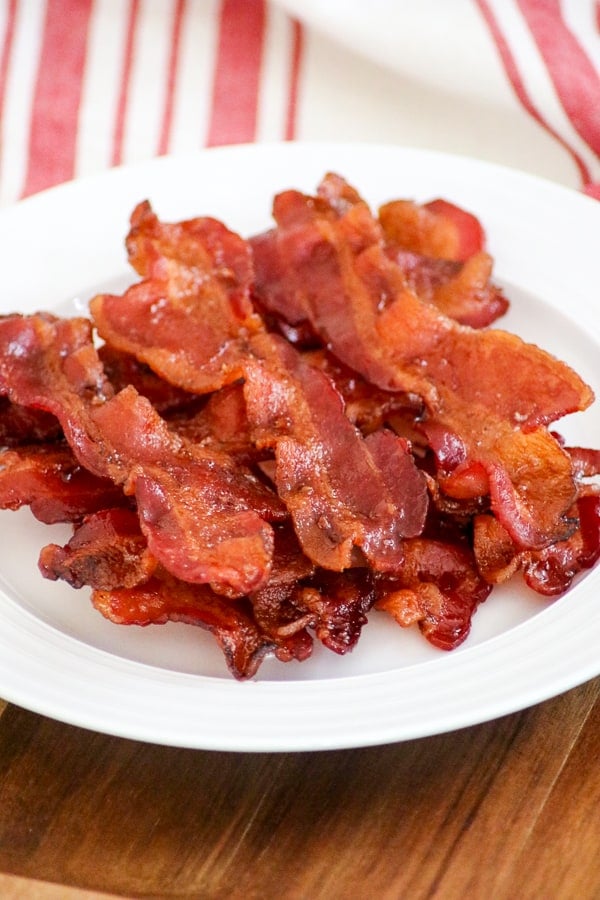 Just like oven baked hard boiled eggs, Baking Bacon is an easier way to make your favorite breakfast food! When you bake bacon in the oven, you get INCREDIBLE crisp strips of bacon without standing over the stove top getting splashed with hot grease (yuck).
With these hard boiled eggs and that bacon, plus a few pieces of toast, you'd have a full home cooked breakfast without putting a single pan on the stove!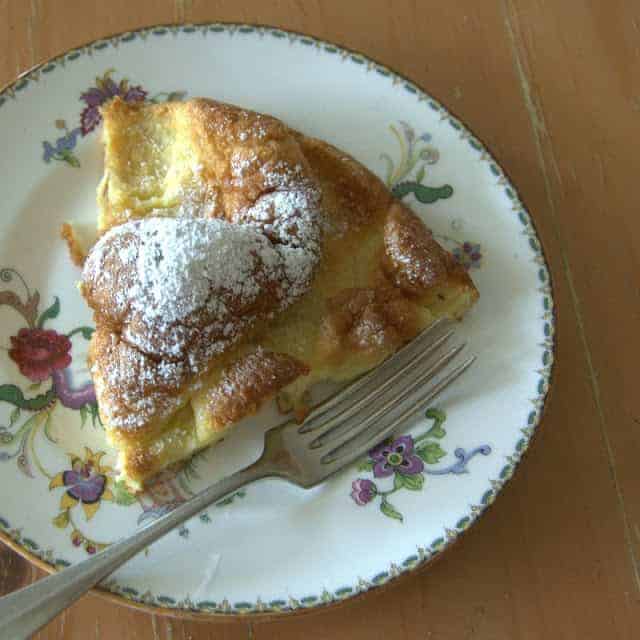 German Pancake (yes, pancake, singular–you'll see why!) is an impressive, tasty and surprisingly easy sweet breakfast.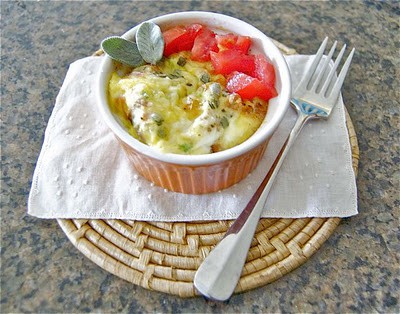 If you love eggs in the morning (or any time of day), also be sure to check out Sage and Ham Baked Eggs.
And, oh my goodness, I cannot talk about amazing breakfast foods without reminding you about Bruschetta Fried Egg Avocado Toast. This recipe is the king of all avocado toast with juicy bits of tomato, herbs, fried egg and avocado on your favorite toasted bread.
Are you excited for breakfast yet? I know I am!
Reader Interactions