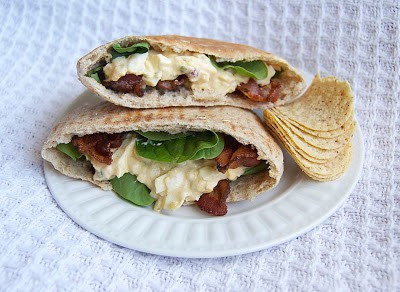 It's Tiiiiiiimmmmmeeeeee for….
(sorry folks, I can't get those really neat Secret Recipe Club buttons to work today :-/ )
Have you played Secret Santa? Ok, well I guess you don't "play" Secret Santa, it's something you participate in, I suppose. Everyone who signs up is assigned a blog each month to "secretly stalk". When we stalk this blog, we are looking for a recipe to make and then blog about on our assigned reveal day! It is a lot of fun getting to know fellow bloggers and seeing all of the different recipes they have created. It's even more fun eating them (not the bloggers, silly, the FOOD we make from the recipes!! Sheesh!)!!
I've loved participating each month because I've "met" so many wonderful people and have tasted so much great food! I highly suggest you take a look at
The Secret Recipe Club
's website if it's something you might be interested in. You can go to the "Join the SRC" tab on the home page.
For the month of September, I was assigned the wonderful blog…
And oh, believe me, there were plenty more!
One thing I love about
Feast on the Cheap
is that the ladies tell you the approximate cost of how much each dish will be when you make it depending on how well stocked your pantry is. They want their recipes to be wallet-friendly and have a tab on their home page called
Well Stocked
where they list items that you should always have in your pantry.
I've found by experience that it is much better to have these items on hand so that when you see a recipe for a dinner you want to make, you aren't running to the store 4 different times in a day because you're out of something.
Yeah, I did that. No joke.
So, stock up. It's a very smart idea.
I did make a few changes to
their recipe
which I'll tell you about after.
Ingredients
6 large eggs
3 tablespoons mayonnaise
2 1/2 teaspoons Dijon Mustard
1/4 teaspoon paprika
1/4 teaspoon salt
generous grind of fresh black pepper
2 tablespoons minced red onion
1 tablespoon finely chopped green onion
4 large pitas, sliced in half
4 strips of bacon, cooked crispy
2-3 cups lightly packed fresh spinach
Oops, and I'm just realizing that I forgot the cucumber
Directions
In a medium saucepan, place the six eggs. Cover with cold water and bring to boil over high heat.
Cover, turn heat off and allow eggs to sit for 12 minutes.
Remove eggs from water with tongs and set in a bowl filled with ice water for 5 minutes.
Peel and coarsely chop.
In a medium bowl, mix together mayonnaise, mustard, paprika, salt and pepper.
Add both onions.
Fold in chopped eggs.
Slice the pitas in half and place some spinach, and a strip of bacon inside each.
Add the egg salad.
With tongs, remove eggs and transfer to a bath of ice water. Have them sit for 5 minutes, then peel and coarsely chop. *It is SO easy to remove the shell this way ~ it just slides right off!*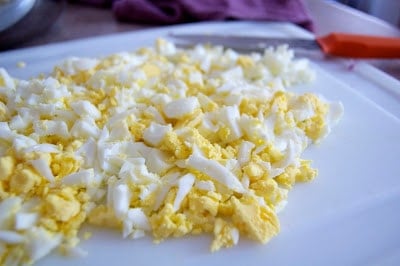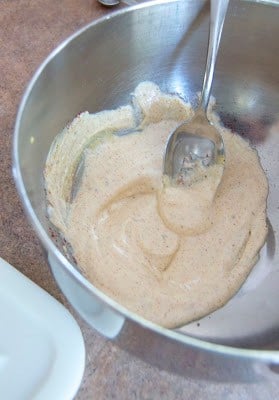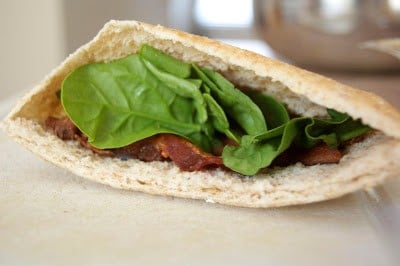 Finish by adding some egg salad. If you don't, what's the point of an egg salad sandwich?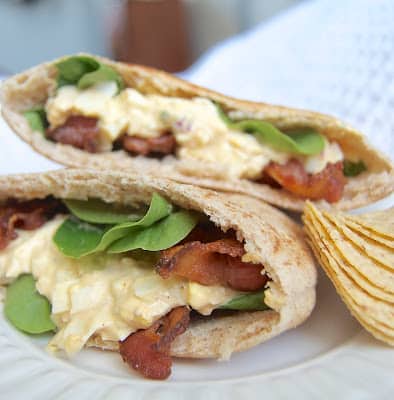 I rate everything I make on a scale of 1-4 with 4 being the best and The Ultimate Egg Salad Sandwich earned…ah, I'm teetering between a 3 1/2 and 4. The thing that's holding me back from a 4 is the bacon. I think I'd much prefer it without it. The saltiness was good, but I think it'd be better on the side.
Overall, the sandwich was a winner and the family liked them a lot, so I'll definitely be adding them to our menu again!
My one complaint was that I would have added at least another half of the recipe because there wasn't enough for four of us to eat it for dinner and we aren't very big eaters. I tasted it, but ate something else for dinner. 🙁
Because that's what momma bear does.
My daughter also thought it was "very sneaky" sticking the spinach into it.
I told her it wasn't my doing that that was what was called for.
I'm just not that smart.
Oh yeah, the changes I made…instead of light mayonnaise, I used regular; substituted red onion for sweet onion; green onions for chives only because the store I went to was out; forgot the cucumber; used spinach instead of lettuce; and used Pocket-Thins Flatbreads instead of pitas.
A BIG baking hug to Mary Anne and Mariel for a great recipe and wonderful site! It was great to get to know them and I look forward to trying more of their recipes and following their posts!
On another note, if you don't already know, we're having a 12 Days of Cookies Party over on the 365 Days of Baking FB page. You need to come by and visit and see what WONDERFUL recipes friends are sharing!! LOTS of great ideas to help you plan your baking for the holidays which aren't that far away!!!
I give you BIG baking hugs and muffins!!