Miso Chicken Salad is an easy and flavorful option for your standard chicken salad. Made with shredded chicken, miso, fresh ginger, mayo, and other simple ingredients, it might just become your new favorite.
Incorporating soy into your diet through the use of the miso and with other products is a great way to add more protein and enjoy its' other nutritional benefits as well!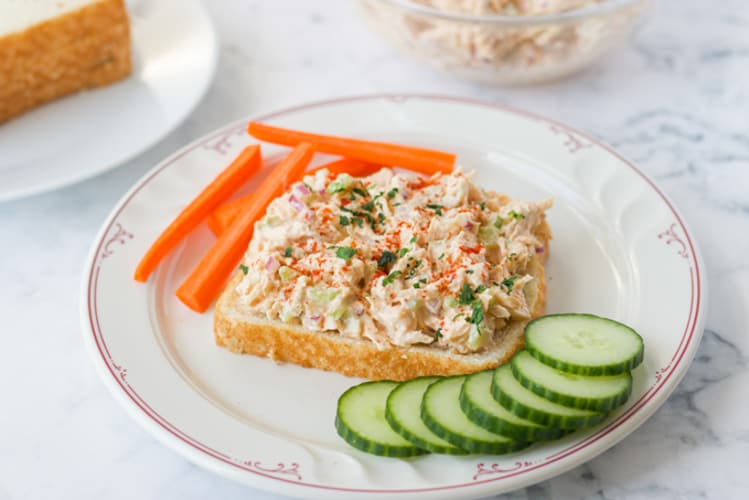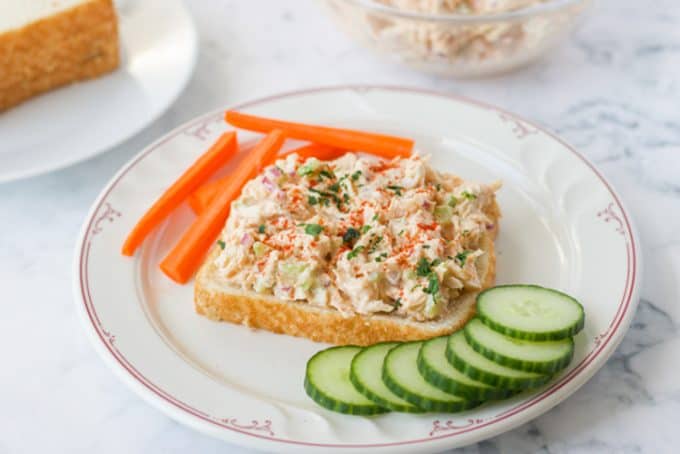 If you've been following me for a while, then you know that I have an absolute love of not only food, but the farmers who provide us with it.
I am proud to be partnering with Best Food Facts and the United Soybean Board to bring you this post. As always, all opinions are 100% my own.
I mean, face it, without our incredible farmers and their families, there would be no food!
The hours they put in, their work ethic, and because they absolutely love and have a passion for what they do, truly makes them some of THE greatest people you'll ever meet.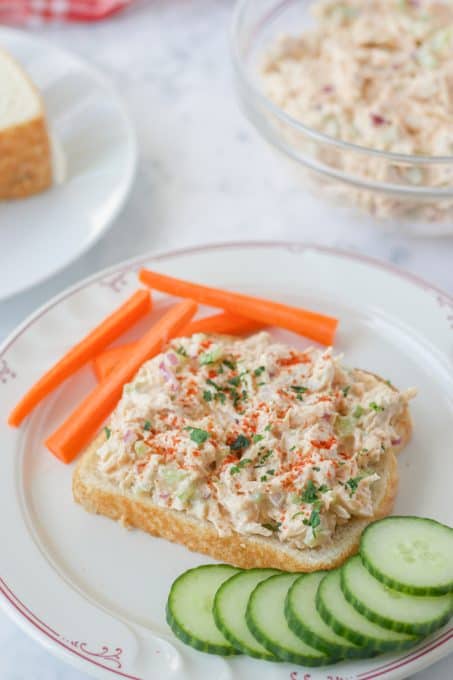 I, along with some fellow bloggers, had the opportunity at the end of June to go to Iowa. There we learned about soy from experts, visited a soy farm, and were able to talk to farmers about their practices and sustainability. We also visited the World Prize Food Hall of Laureates and cooked with soy in different forms (keep reading and you'll see what we made!). Needless to say we were able to eat it all, too!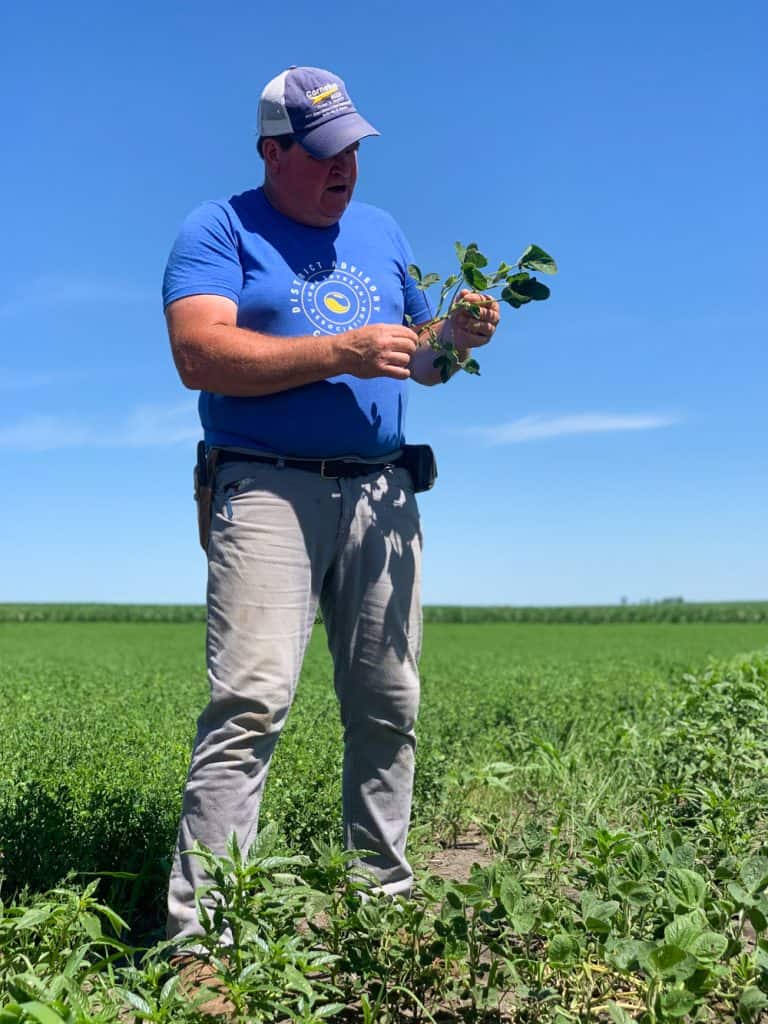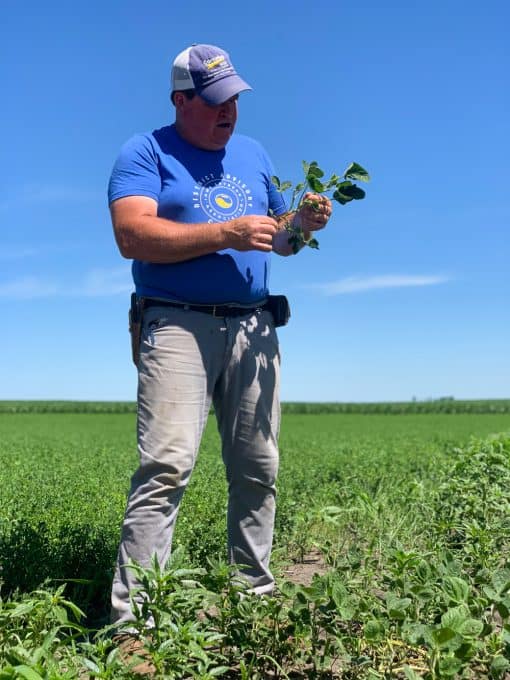 Struthers Farm
Dave Struthers and his family have a farm in Collins, Iowa. They split their 1,100 acres between growing soy and corn, and the entire farm is manned by only 3 employees!
There are 33 cows and 5,500 pigs which they raise annually and are able to use the manure for fertilizer.
Did you know that 1 tablespoon of soil can have over 1 million microbes in it.
Soy planted in the beginning of June will be harvested mid-October, and there's always a big concern about planting soybeans too early as a frost will kill the crop off. We all know how unpredictable Mother Nature can be, so it's something they must really be aware of every year.
A cover crop of rye is planted in between the plantings of other crops partly for erosion, to improve soil health, and to prevent weeds. After that cover crop is harvested, he uses the rest of the plant for pig bedding.
At a dinner we attended on our last night in Iowa, I was able to talk more about soy with farmer Ethan Crow. He told me that "from a production standpoint, soy is a very hardy plant and can be grown in adverse conditions. When a cover crop is planted before the soy, it promotes sustainability."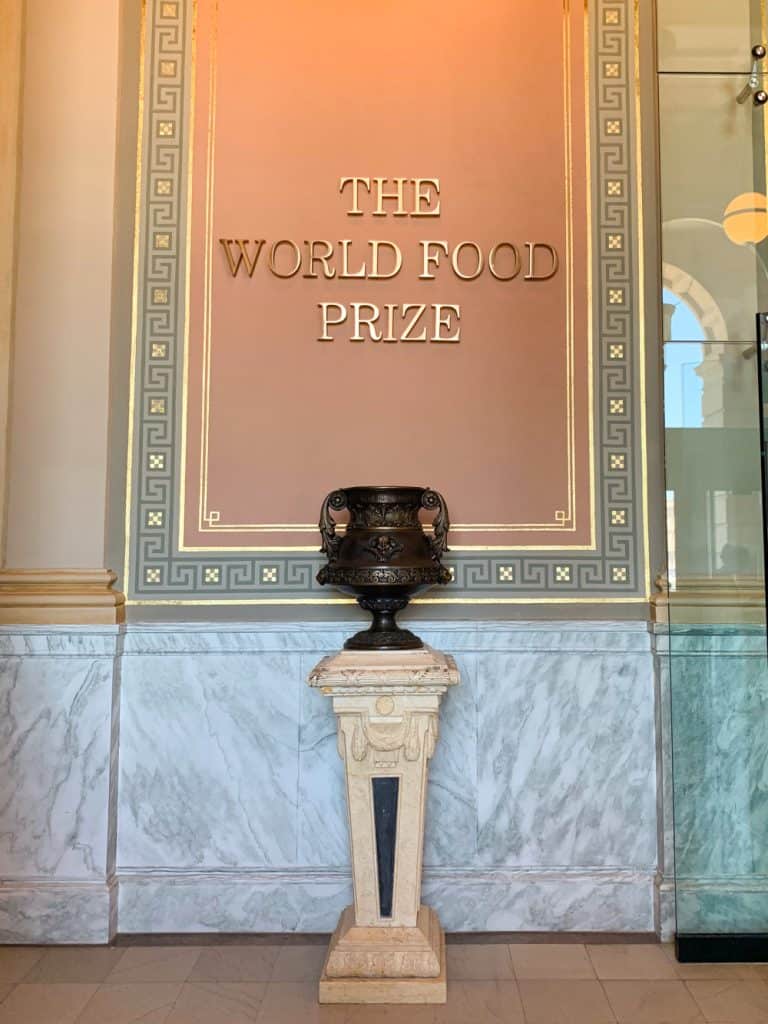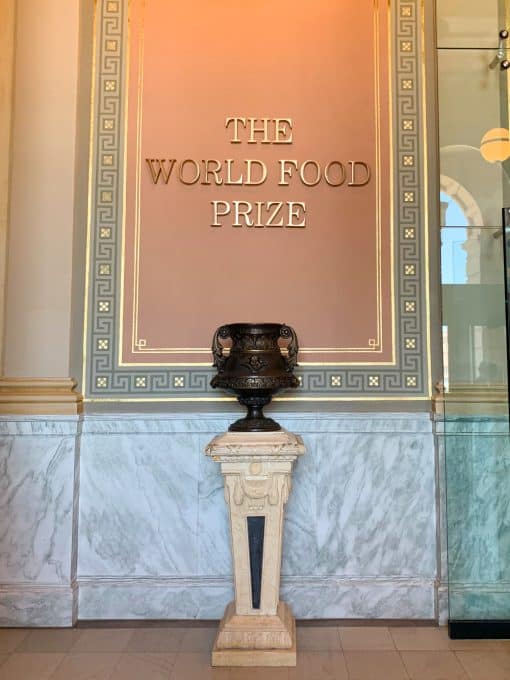 World Prize Food Hall of Laureates
While we were in Iowa, we were given a tour of the Home of the World Food Prize Foundation. It's the Nobel Prize of the food world and is so very interesting.
There is a hall dedicated to the past laureates, as well as a beautiful mural on the food and cultural history of Des Moines.
As you enter the rotunda, and look up, you'll see a beautiful dome with 7500 pieces of stained glass. The four corners in the rotunda are each dedicated to the 4 grain crops that feed civilization:
Wheat
Corn
Soy
Rice
In each corner you'll see the name of the grain in a different language, and a sculpture depicting it from root to fully grown plant.
It's all so very fascinating to see.
If you're interested in food and agriculture, I highly recommend it putting it on your list of things to see in Des Moines, Iowa!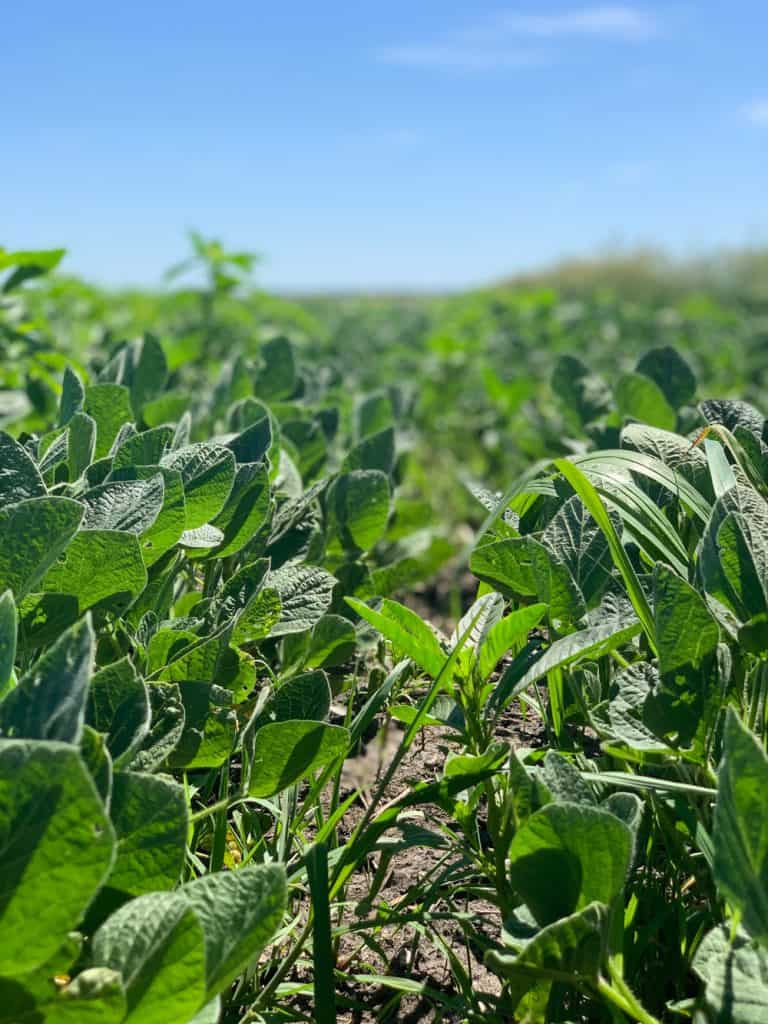 Information about Soy
Did you know that most vegetable oil is really soybean oil? You'll see when looking at the ingredient label that soybean oil will be listed as the sole or primary ingredient.
Eating about 1 ½ tablespoons daily of soybean oil may reduce your risk of coronary heart disease, and it may also reduce your blood pressure!

Soybeans are a heart-healthy plant protein that is high in fiber, folate, and phosphorus.
If you are following a specific diet and in need of protein, soy is a good option because it is a high quality protein.
It is a complete protein which is essential for our bodies because we don't produce it.
There is a lot of concern about soy "because of the concern of allergenicity, in reality only some of the products have a minimal effect on a small percentage of the population", says Dr. Andreas Altemueller, a contractor to the United Soybean Board. "…There needs to be a better understanding of
the benefits that are inherent in soy (such as high quality protein and universally applicable oil – both of which have a FDA approved health claim)."
May alleviate your hot flashes – who wouldn't be happy with that?!
May decrease your risk of breast cancer and other hormone dependent cancers.
It may also decrease your fatigue is you are a breast cancer survivor.
Soy Isoflavones and Protein for Men –
Studies have found that there is no effect of soy on estrogen levels.
It is possible that soy foods or foods containing soy may reduce the risk of developing prostate cancer.
When practicing resistance exercise training, an increase in strength and lean tissue was found to that similar to whey supplementation.
Looking for a plant-based dairy option for your child? Fortified soymilk can be it!
Soy infant formula is a great alternative to human milk.
Foods with soy or soy foods provide a high-quality protein allowing you to rest easy knowing that your child's growth and development are supported.

As previously stated for women, it may reduce their risk of breast cancer. You can also find more great information on soy on these websites: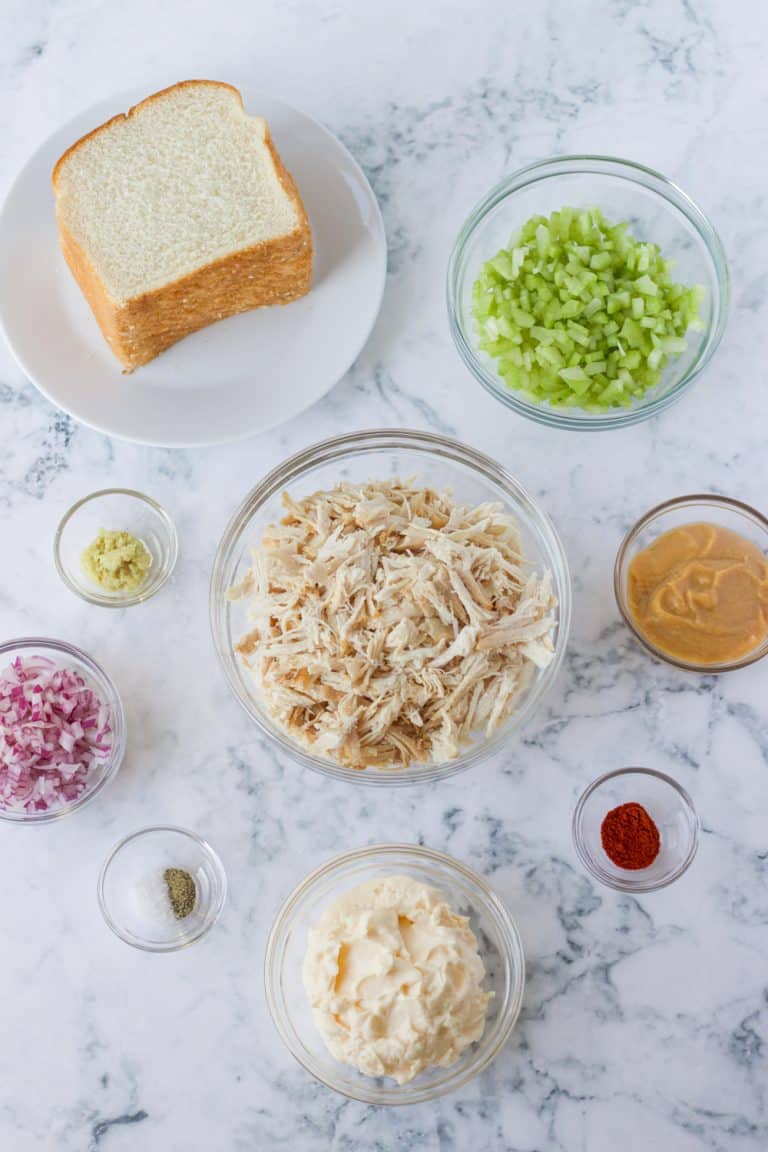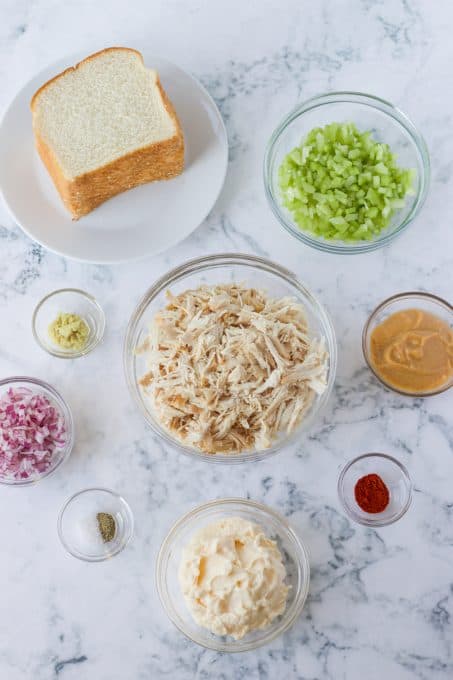 Chicken Recipe
Now onto the recipe.
If you haven't tried cooking or baking with soy, I highly recommend it! Not only is it a good source of protein, but it's delicious in many forms.
Looking for an easy and delicious appetizer?
This Garlic Edamame rivals what you'll find in your favorite Asian restaurant, and it's SO easy, too!
Love guacamole? Me, too!
That's why I made this recipe with edamame.
It's easy, flavorful and fun for potlucks and game day.
What is Miso?
Miso is fermented soy paste with such an umami richness that it will absolutely wow your taste buds.
It can be used in a variety of recipes such as the very popular miso soup, with chicken, fish, and so much more!
It is extremely popular in Japanese cooking.
There are three types and this easy recipe uses the white miso which is the mildest and sweetest.

Combined with the fresh ginger in this chicken recipe, you'll love the flavor, and it might just become a new favorite recipe.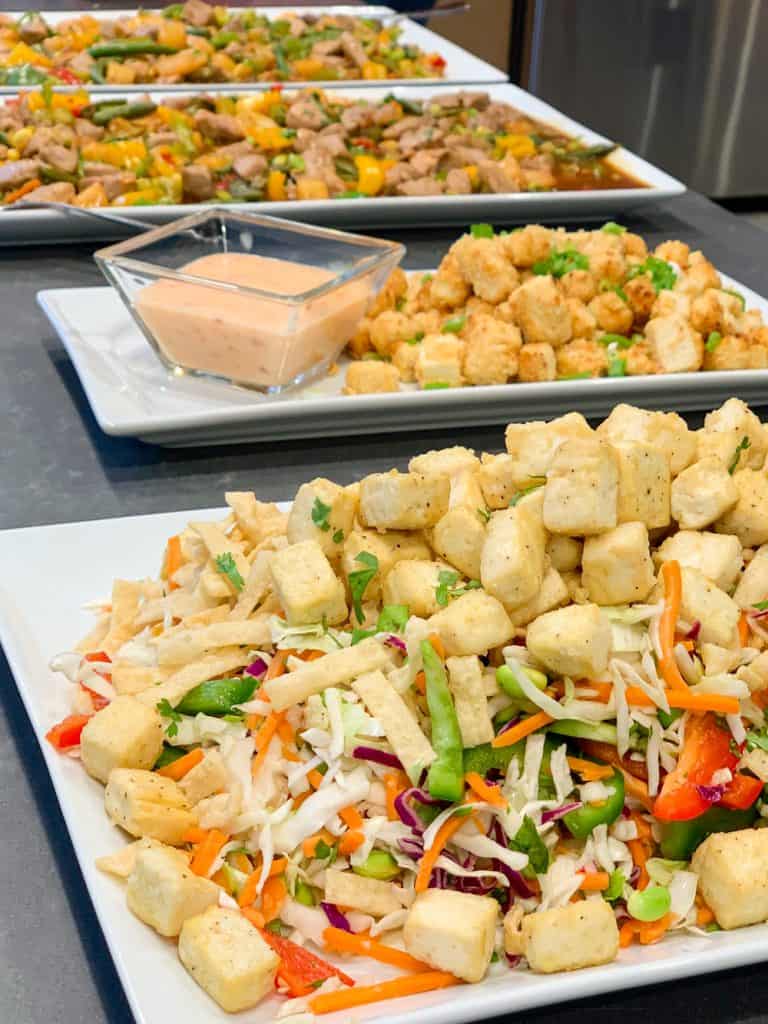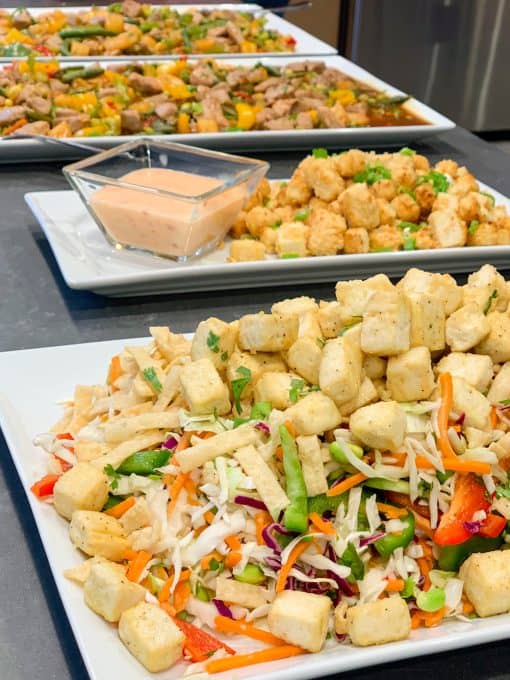 Soy Recipes
As I have in the past, I strongly encourage you to join your local CSA (Community Supported Agriculture) to support your local farmers, AND you'll be receiving shares in fresh produce and other items those farmers provide.

Also, farmers LOVE to tell their story and will happily explain their practices, what they do, and why they do it. You would be fascinated by all that they do and what it takes for them to provide food both for their family and us as consumers.
They work hard to make their farms sustainable and to use the best practices they can to improve their farms, farming practices, and work their hardest to be good stewards for both their communities and the land around them.
Let's face it, they want to provide the best products they can for us because they're also feeding their own families with the food they grow and the livestock they raise. Plus, they live where they spray fertilizers and pesticides, so you can be sure that they are super conscious and concerned for the health of those they love, too.

If you know one, PLEASE give them a hug for me. They are truly incredible people and less than 2% of the population are farmers. They deserve ALL the love and appreciation that they can be showered with.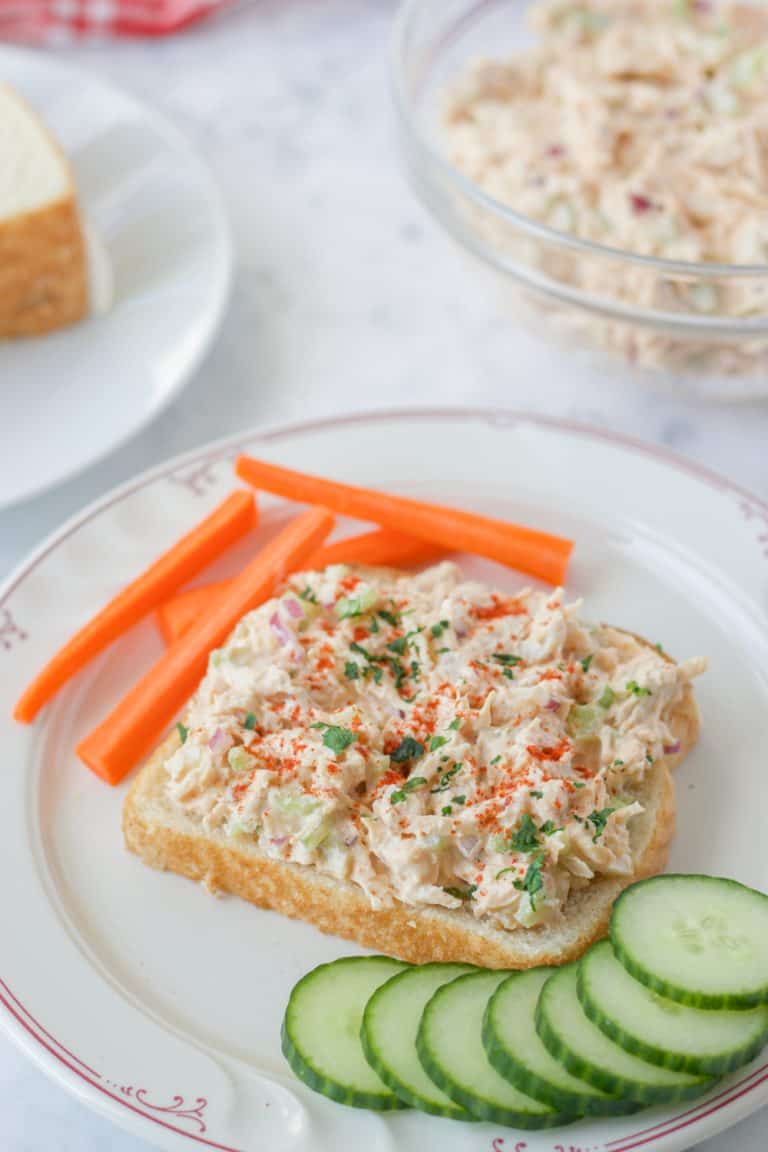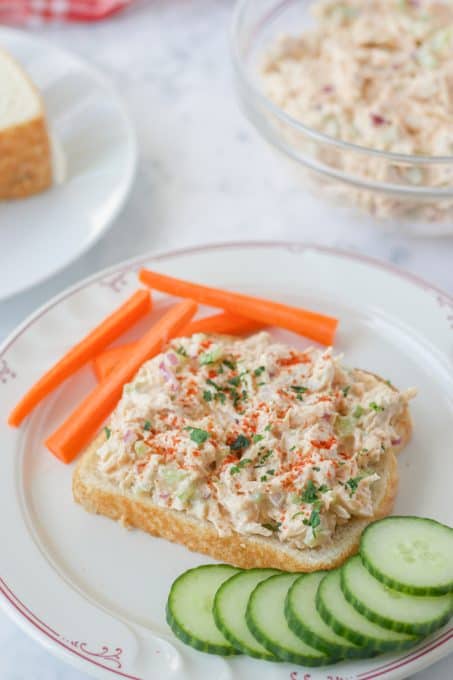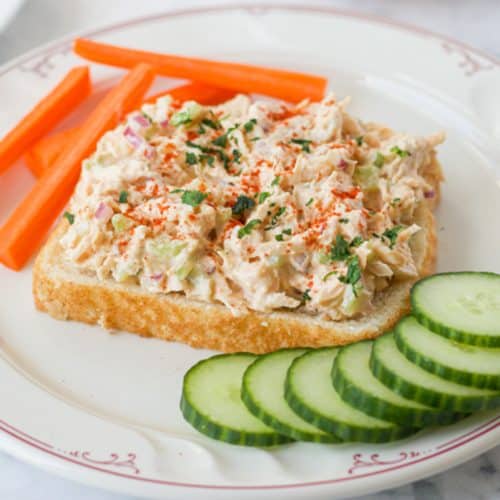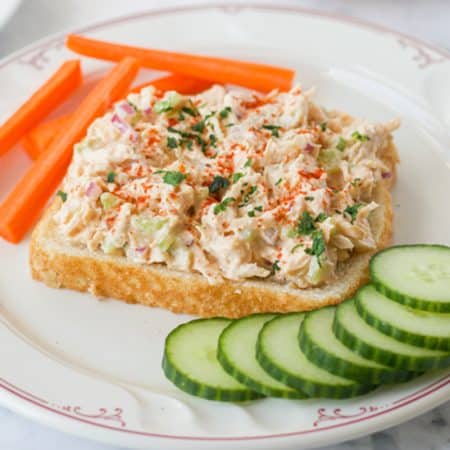 Miso Chicken Salad is an easy and flavorful option for your standard chicken salad. Made with shredded chicken, miso, fresh ginger, mayo, and other simple ingredients, it might just become your new favorite.
Ingredients
3 cups cooked shredded chicken
⅔ cup mayonnaise
¼ cup miso
1 teaspoon freshly grated ginger
2 celery stalks diced
⅓ cup chopped red onion
½ teaspoon paprika
¼ teaspoon kosher salt
⅛ teaspoon pepper
Instructions
Place all ingredients into the mixing bowl and stir well to combine.

Serve on bread or on top of lettuce.
Nutrition
Serving: 1person | Calories: 470kcal | Carbohydrates: 6g | Protein: 29g | Fat: 36g | Saturated Fat: 6g | Polyunsaturated Fat: 19g | Monounsaturated Fat: 9g | Trans Fat: 0.1g | Cholesterol: 94mg | Sodium: 1105mg | Potassium: 317mg | Fiber: 1g | Sugar: 2g | Vitamin A: 215IU | Vitamin C: 1mg | Calcium: 30mg | Iron: 2mg
Did you make this recipe?
Share it with me on Instagram and make sure to follow me on Pinterest for more recipes.
Reader Interactions