Take your appetizer game to the next level with this easy Garlic Edamame recipe. Edamame pods are sautéed with garlic and ginger for the perfect start to any Asian meal.
You won't be able to eat just one of these savory garlicky soy beans.
This Garlic Edamame recipe is by far my favorite way to prepare edamame. Quick, easy and so delicious!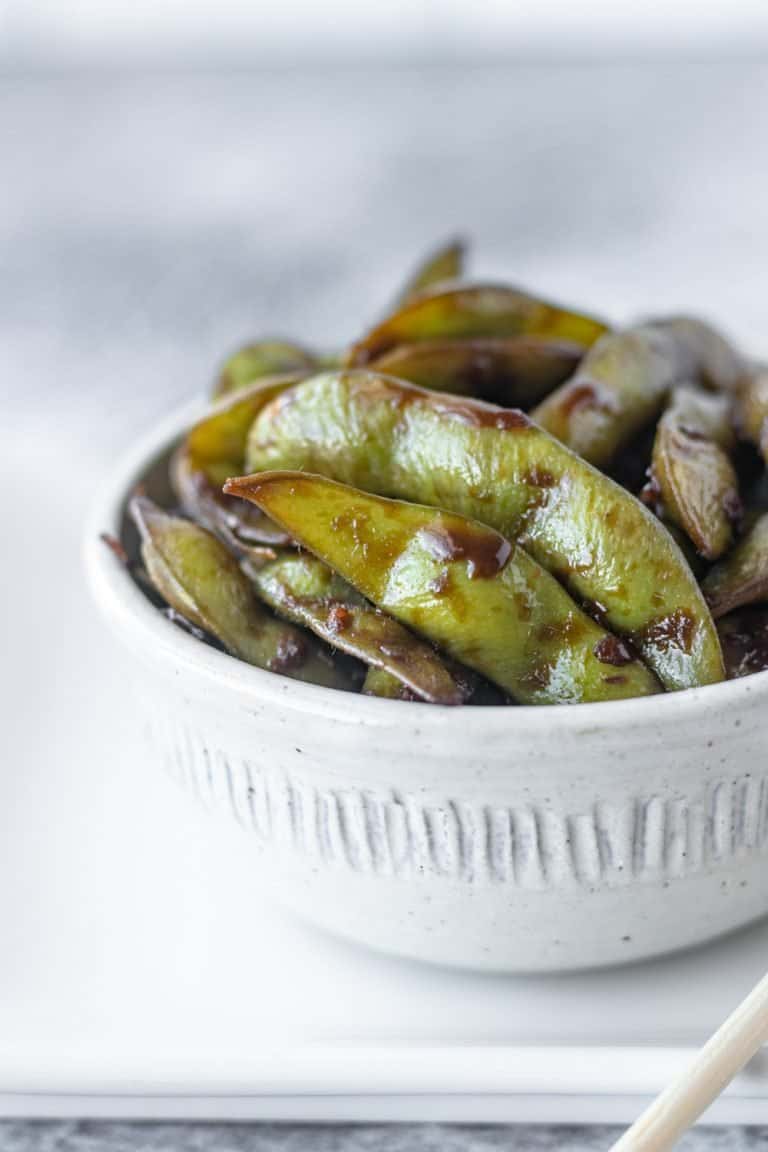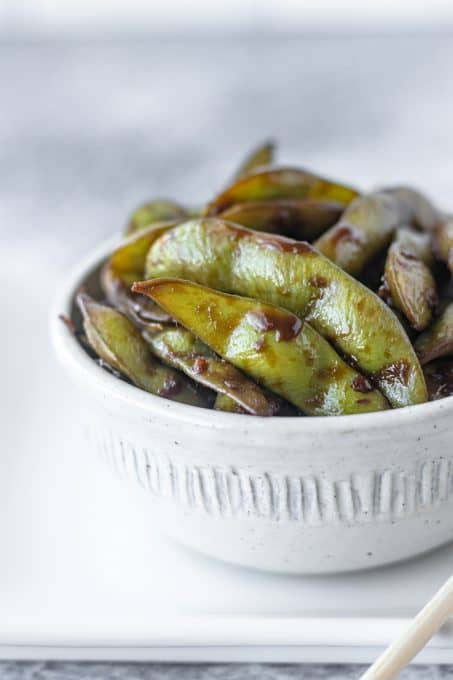 If you have 10 minutes, you can turn Edamame bean pods into an appetizer or party snack that everyone will rave over.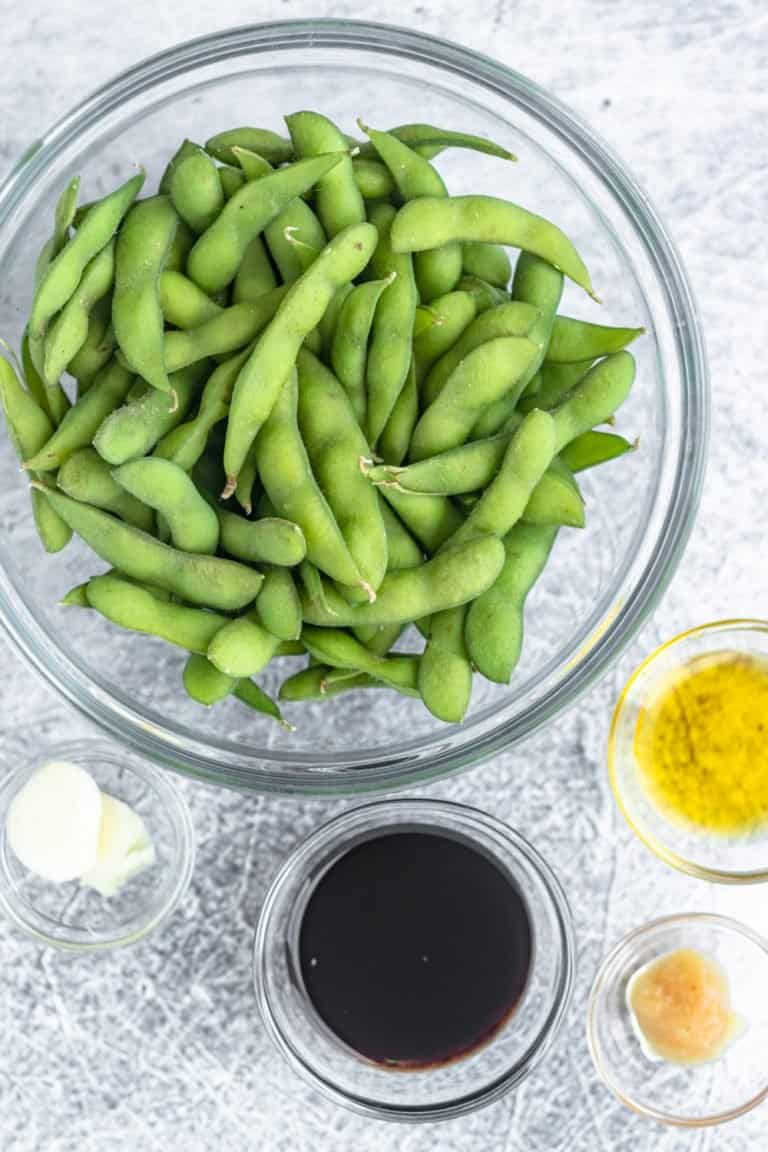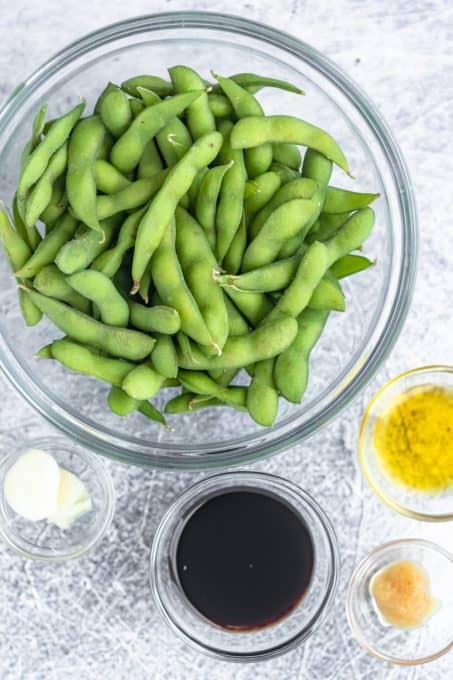 What do I need?
'This recipe elevates the edamame appetizer by combining it with a few other staples of Asian cooking. Here's what you'll need:
Edamame in pods – We use frozen edamame thawed overnight in the fridge or several hours on the counter.
Garlic
Ginger
Olive oil
Salt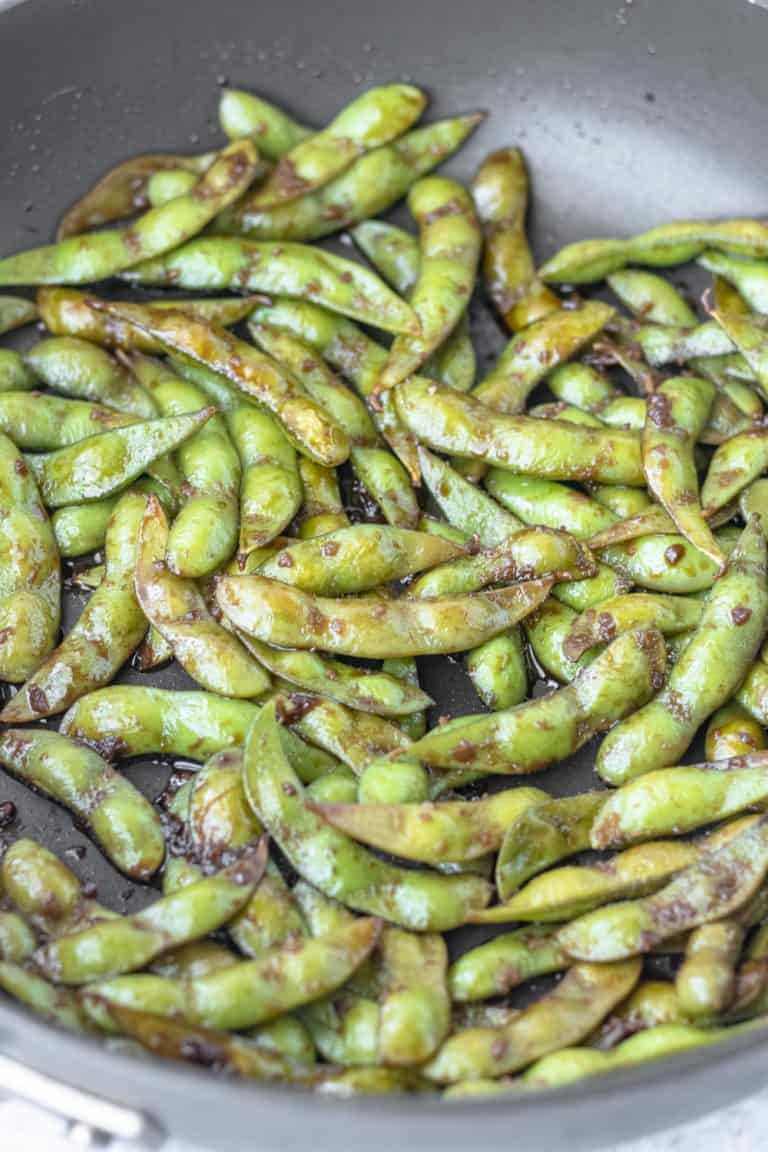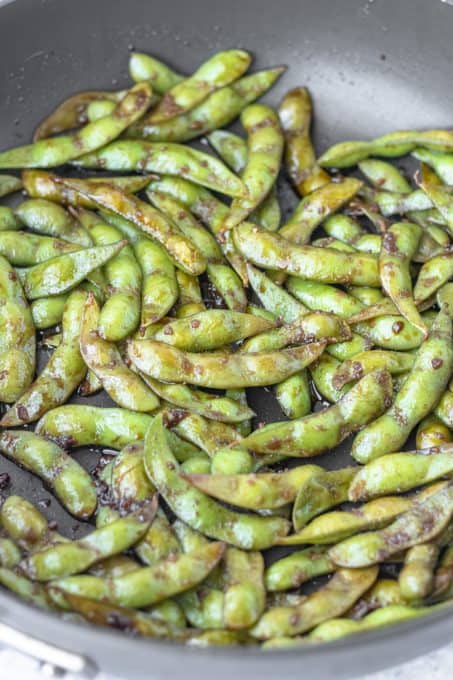 What are Edamame?
Edamame are soybeans harvested while young and green. In Japanese, the word edamame means "branch beans" or "stem beans", which makes complete sense when you see how the beans grow–in pods that grow outward from a branch-like stem.
The pods contain small green beans which can be eaten directly from the pod or removed and added to other recipes. Edamame are most popular in Asia and East Asia in particular, where they're a popular snack. You can find frozen edamame in pods in most well stocked grocery stores.
The mildly nutty flavor and tender bite of edamame beans don't need much dressing up to taste delicious. That's why they're so often enjoyed steamed with nothing more than a little salt sprinkled on top of the pod. As delicious as edamame beans taste plain, this garlic edamame is even better!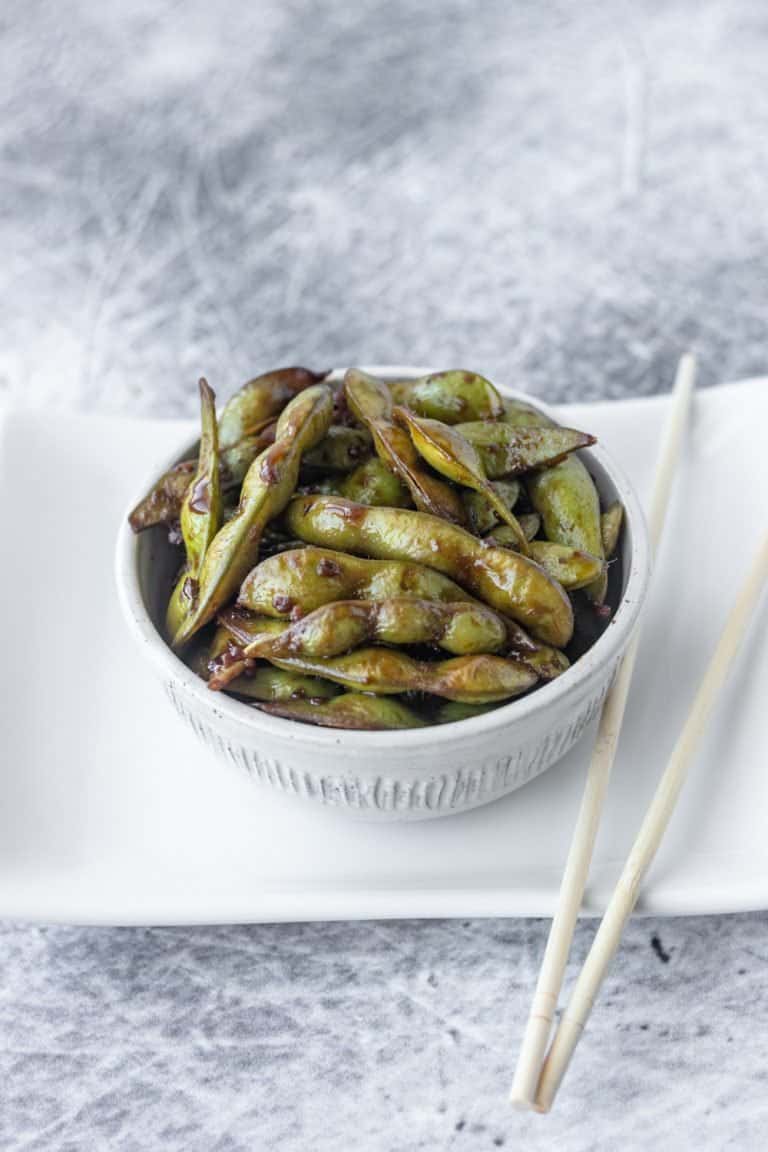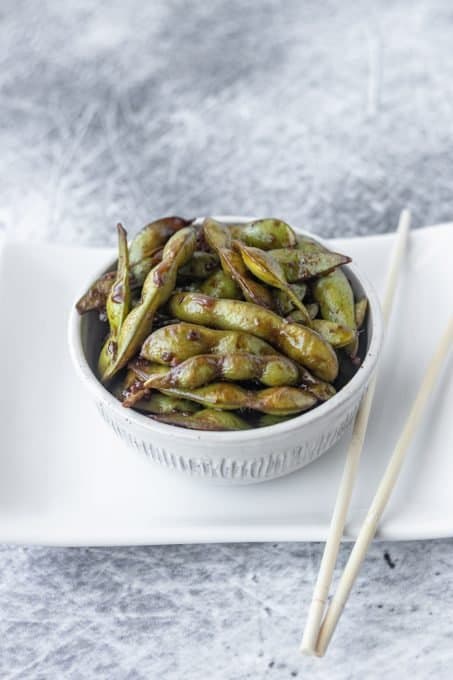 How do you eat edamame in pods?
Since the edamame beans are served in the pod for this recipe, you might be wondering: do I eat the skin from the edamame pod too?
While the shell of the edamame bean is technically edible, it's tough, bitter and generally unpleasant to chew. So, no, please don't ruin your garlic edamame appetizer by trying to eat the whole pod!
To eat edamame from the pod, squeeze the beans out of the pod directly into your mouth. Then discard or compost the pods. I tend to place my teeth over each bean and use my teeth to extract it from the pod. This is the best way to enjoy all the garlic soy flavor that clings to the outside of the shell!
Soy Recipes
Is there anything soy beans can't do?
In this recipe, soy beans are enjoyed in their whole unprocessed form. But most of the time you eat soy, you might not even realize it! These mighty beans are pressed into vegetable oils, used to fortify cereal, and processed into plant-based proteins like tofu and tempeh.

You can learn more about soy beans by reading this post I wrote after visiting a soy bean farm and processing plant a few years ago. It was a fascinating trip!
The salty umami flavor of soy sauce provides the base for countless sauces and marinades. We love it in dishes like Pad See Ew and these Orange, Honey, Soy Baked Chicken Thighs.
Asian soy beans meet Mexican flavors in this Edamame Guacamole Recipe. It's worth buying a couple of bags of frozen edamame so you can make that guac recipe AND this garlic edamame recipe too.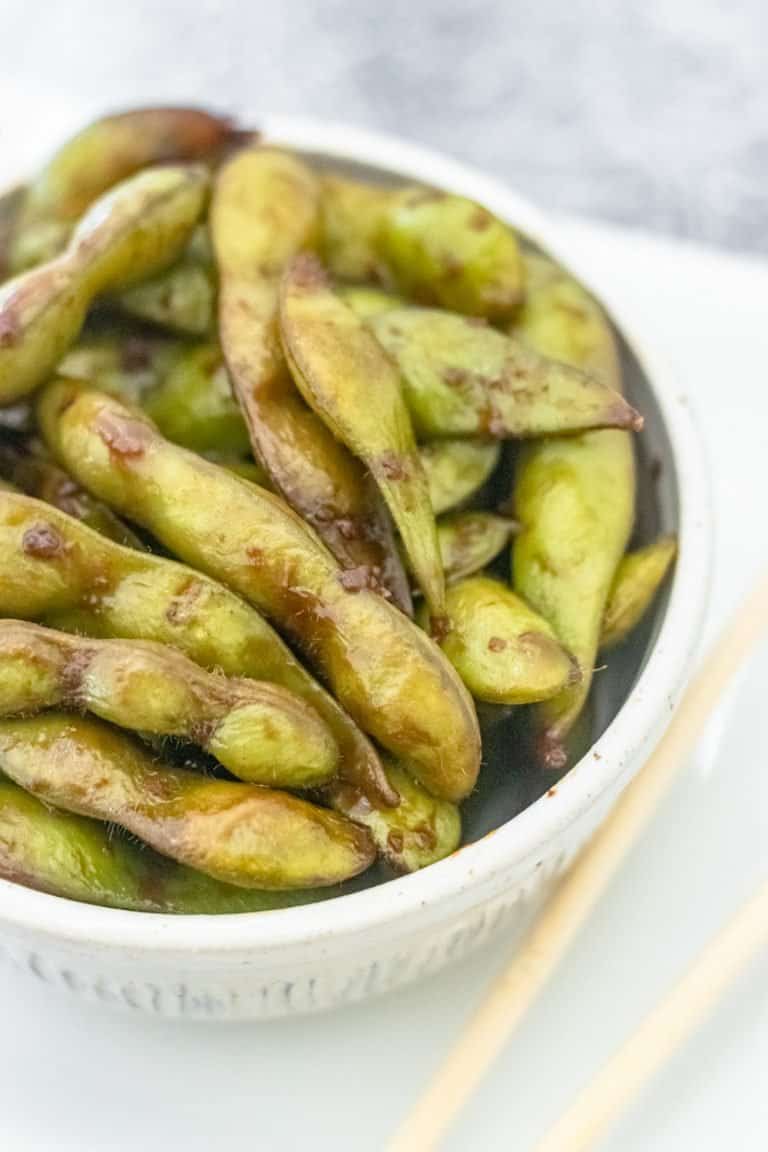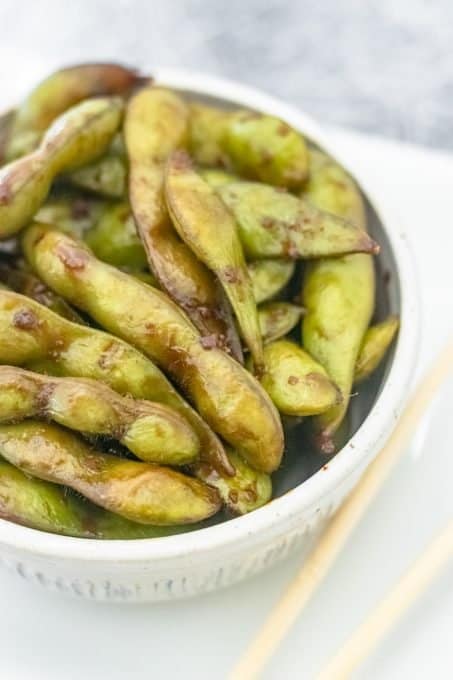 Appetizer Recipes
We consider ourselves appetizer enthusiasts around here! Whether you're looking for a fun finger food for game day or an elegant appetizer for a dinner party, we have the perfect recipe to tantalize your taste buds.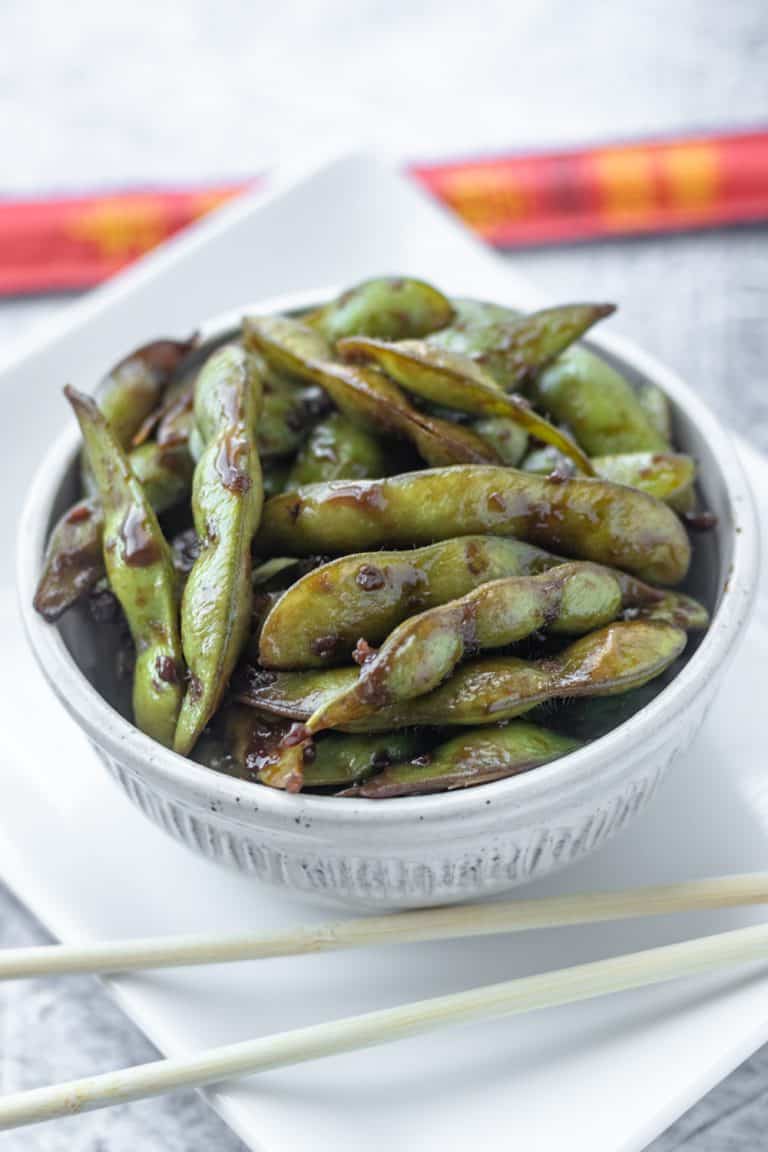 This Garlic Edamame is ready in 10 minutes! You'll love this quick and easy soy bean dish as an appetizer, snack or finger food to share with the family.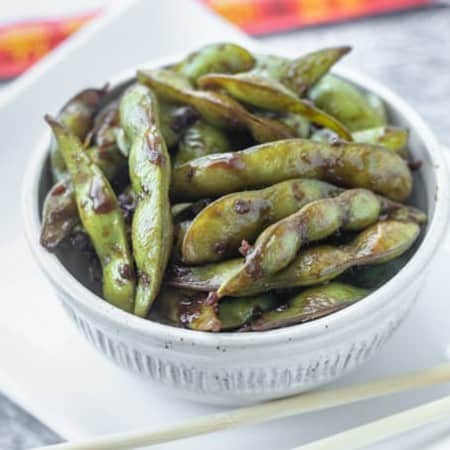 Take your appetizer game to the next level with this easy Garlic Edamame recipe. Edamame pods are sautéed with garlic and ginger for the perfect start to any Asian meal.
Ingredients
1 tablespoon olive oil
2 cloves garlic minced
1 teaspoon fresh grated ginger
¼ cup low sodium soy sauce
16 ounces frozen edamame in pods thawed
½ teaspoon kosher salt can reduce if desired
Instructions
Heat a large skillet over medium heat and add olive oil. Add garlic and heat until fragrant, about a minute.

Add ginger, soy sauce, and edamame. Cook undisturbed over medium heat for 5 minutes.

Add salt. Stir well. Cover and cook an additional 5 minutes.
Nutrition
Serving: 1person | Calories: 181kcal | Carbohydrates: 13g | Protein: 14g | Fat: 9g | Saturated Fat: 1g | Polyunsaturated Fat: 3g | Monounsaturated Fat: 4g | Trans Fat: 1g | Sodium: 872mg | Potassium: 559mg | Fiber: 6g | Sugar: 3g | Vitamin A: 1IU | Vitamin C: 7mg | Calcium: 79mg | Iron: 3mg
Did you make this recipe?
Share it with me on Instagram and make sure to follow me on Pinterest for more recipes.
Reader Interactions