Tater Tot Nachos are oven baked and loaded with homemade queso! Layers of gooey cheese, spicy jalapeño and tangy tomatoes turn frozen tater tots into amazing loaded totchos!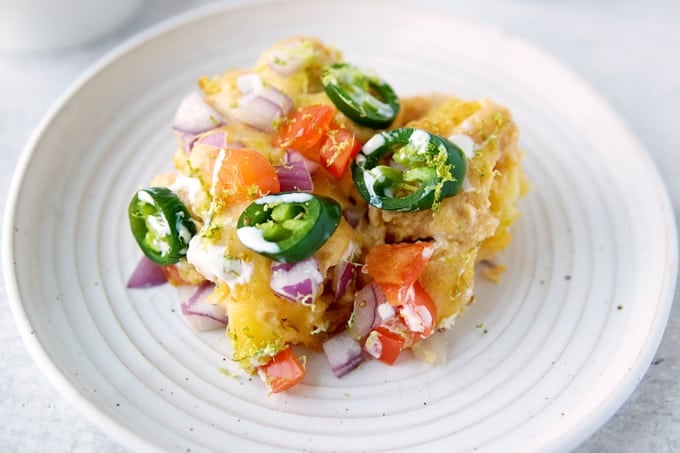 As if it were possible for tater tots to get any better.
Who says tater tots are only for kids? These Tater Tot Nachos are a fun and potato-y twist on nachos with queso.
SAVE THIS EASY LOADED TOTCHOS RECIPE TO YOUR FAVORITE PINTEREST BOARD!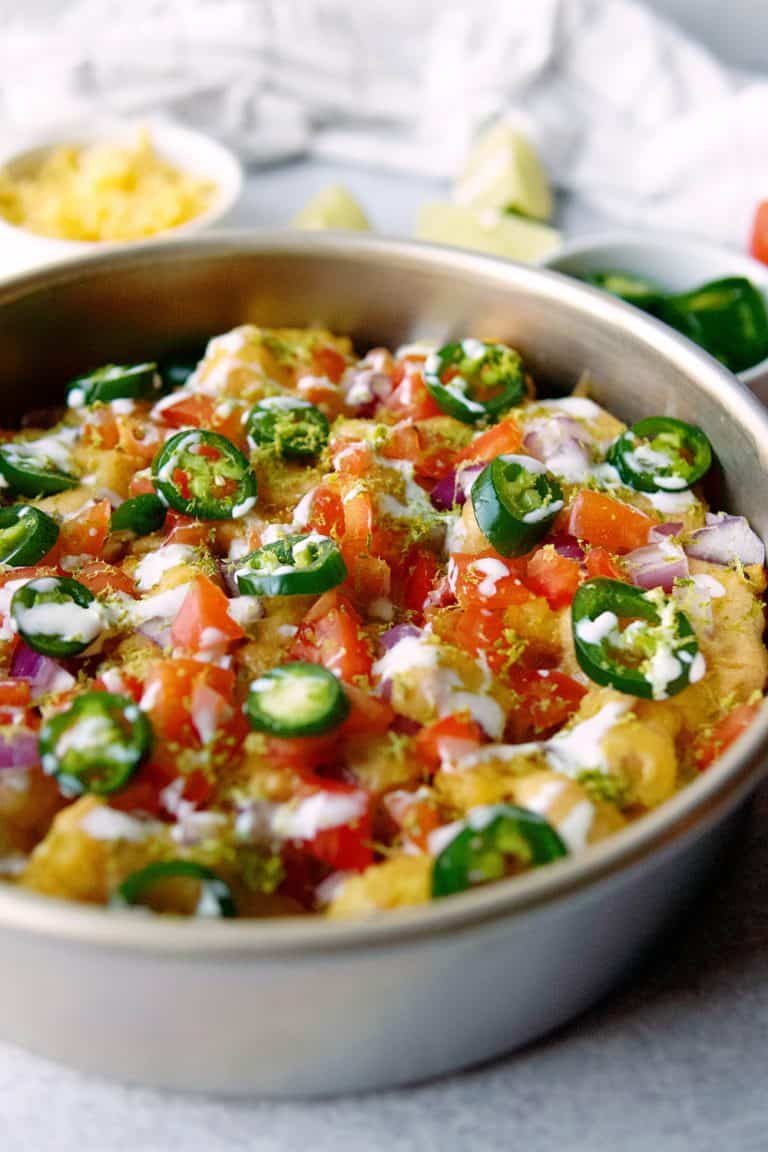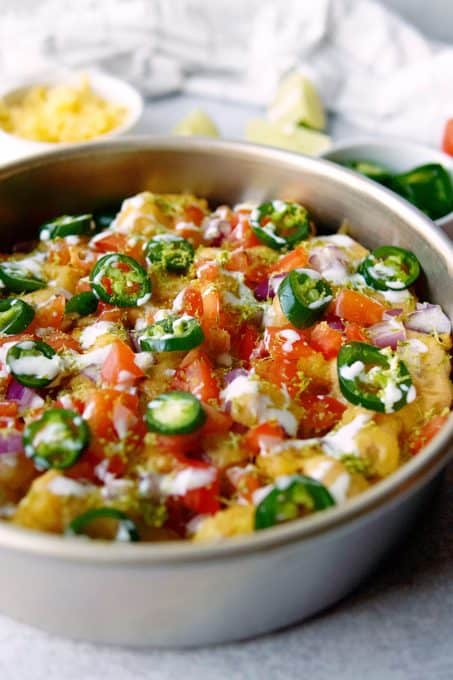 This recipe replaces the tortilla chips in traditional nachos with baked tater tots! The result is a borderline addictive comfort food dubbed totchos.
Get it? Tots + Nachos = Totchos! Or tatchos. Spell it however you want–it's still a recipe you have to try at least once.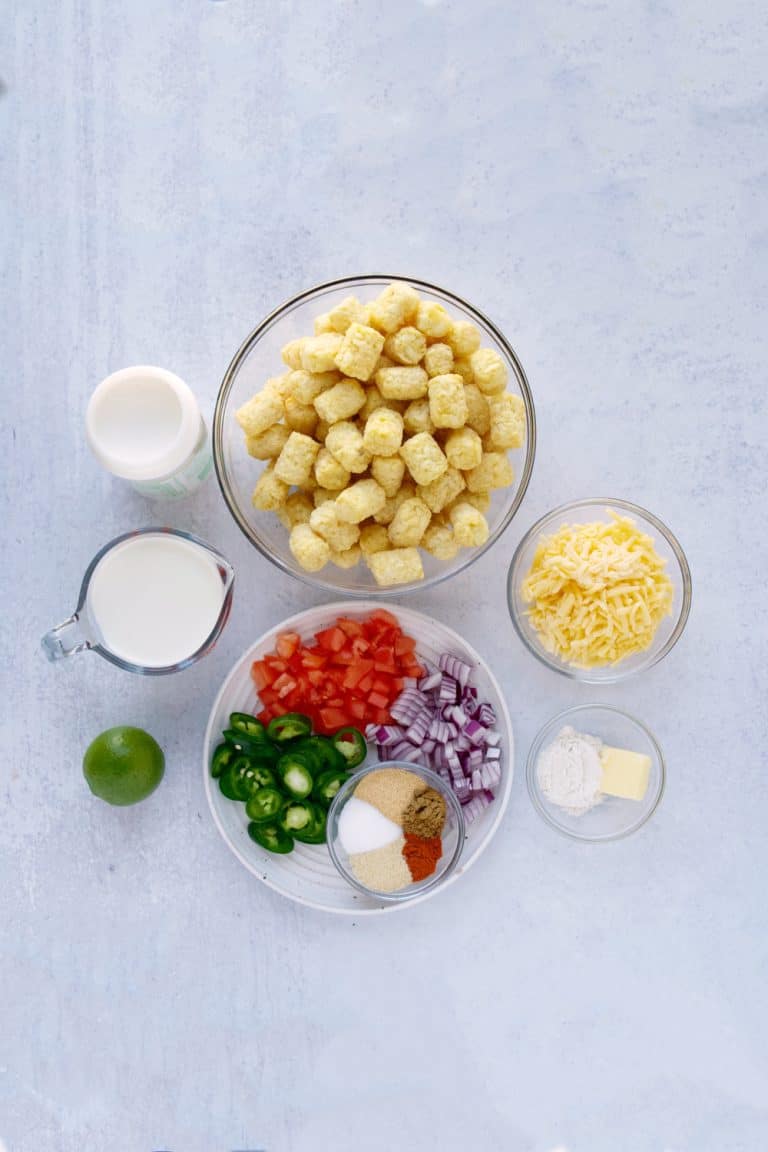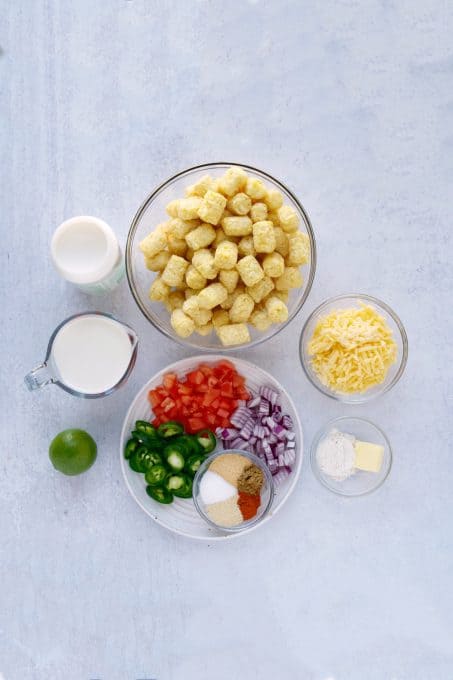 What do I need?
There are virtually endless topping options for tater tot nachos. To make today's loaded totchos, I added both a creamy queso sauce AND shredded cheese for the ultimate cheesy tater tot dish.
For the queso you will need:
butter
flour
salt
whole milk
quesadilla cheese
garlic powder
onion powder
cumin
cayenne
Once you make the queso sauce, you'll need these ingredients to assemble the totchos:
frozen tater tots
more quesadilla cheese
diced tomatoes
sliced jalapeño
diced red onion
fresh lime juice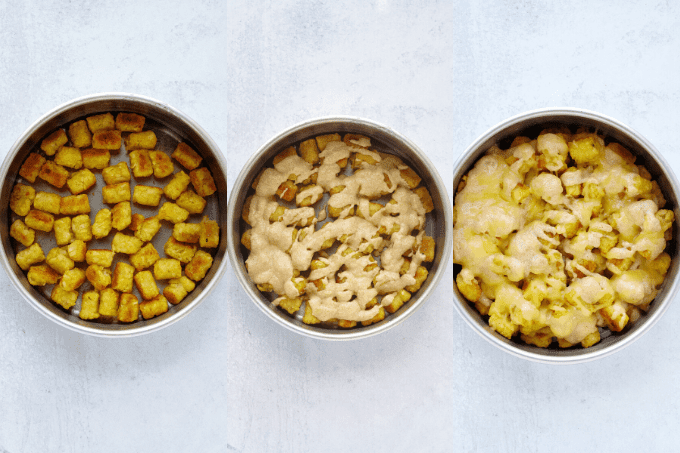 How to make tater tot nachos?
STEP 1. Start by baking frozen tater tots in the oven according to the package directions.
STEP 2. Make the queso. First melt butter in a skillet. Whisk in flour. The butter will become foamy. Slowly add milk and cook until thick and creamy. Stir in the cheese then add the spices.
STEP 3. Layer tater tots in a baking dish with queso. Sprinkle more shredded cheese on top.
STEP 4. Bake until the cheese is melted and bubbly.
STEP 5. Garnish the loaded totchos with diced tomato, red onion and jalapeno. Drizzle a little extra queso on top just before serving.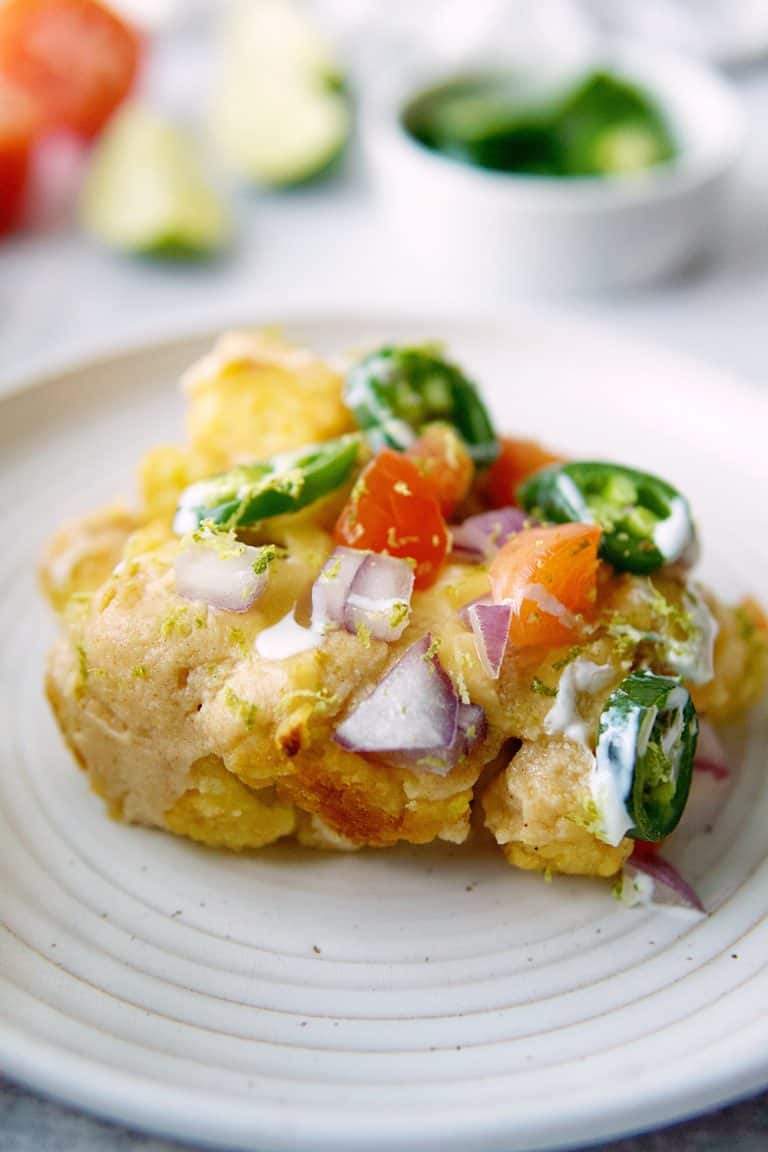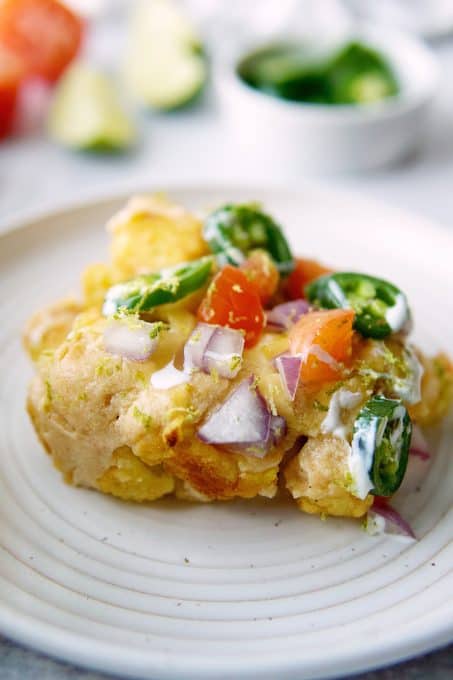 Can I make totchos ahead of time?
It's always best to serve your tater tot nachos hot just after baking. The crispy tots topped with warm melted cheese and sauce is absolute perfection!
You can totally prep the queso and vegetables in advance to make totcho assembly easier at meal time. Store the prepared queso and diced vegetables in separate containers in the fridge. When hunger strikes, you'll have delicious cheesy totchos ready in minutes.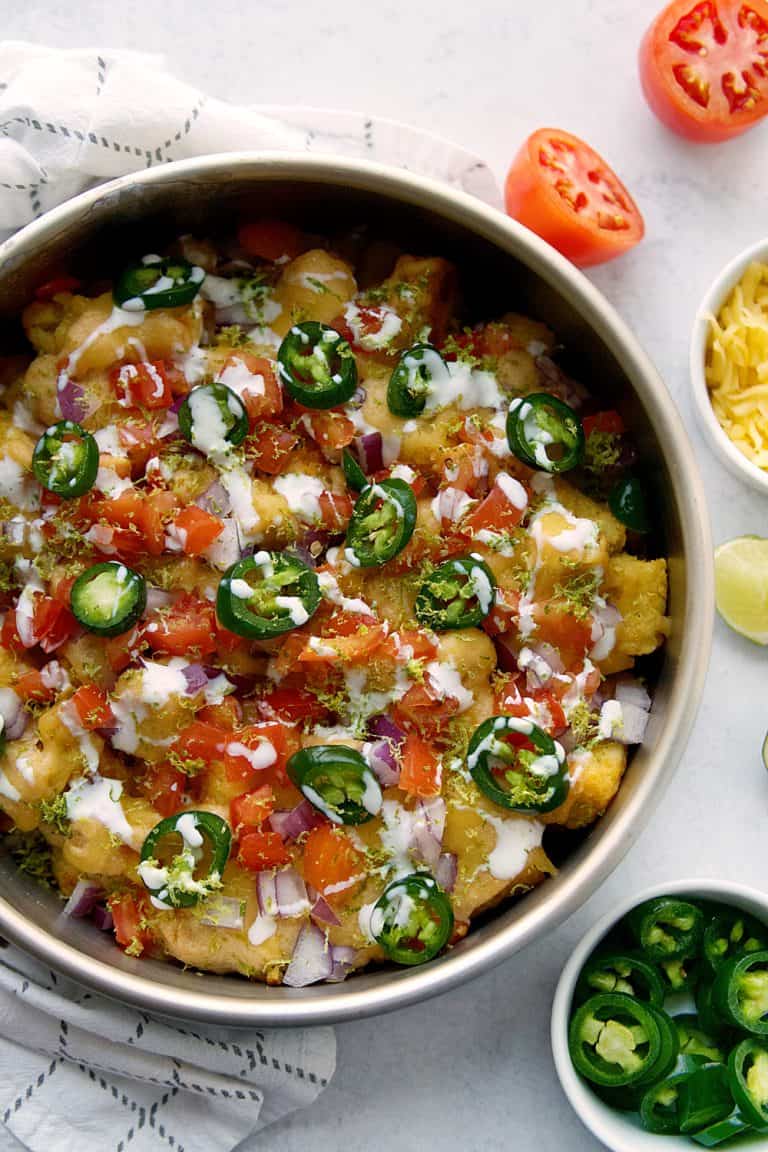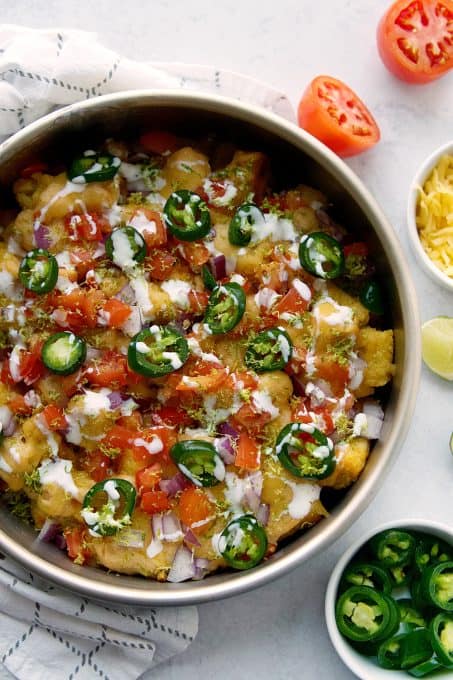 Tips & Tricks
The crispier your tater tots, the crispier your tater tot nachos will be. I like to add a few minutes to the instructed baking time on the tater tot package. This helps the tots stay crispy when they're loaded with sauce and cheese.
These loaded totchos are also delicious with the queso served on the side as a dipping sauce! It's a little easier to serve them for a crowd that way too.
Feel free to add other nacho toppings you love to this tater tot nachos recipe. A little fresh cilantro or some black olives would be delicious, too!
Appetizer Recipes
We love appetizers in these parts, especially when cheese is involved. Every time I serve these Loaded BBQ Chicken Nachos as an appetizer we end up deciding to skip the main course and eat more nachos!
The great thing about appetizers like nachos and this Chicken Taco Dip is that they get everyone gathered around the table together to share. You can't dig into a bowl of chips and Taco Dip from the other side of the room, so everyone in the family ends up getting some quality time together. It's a win-win!
Try these other amazing appetizer recipes that will get the whole family together around the table!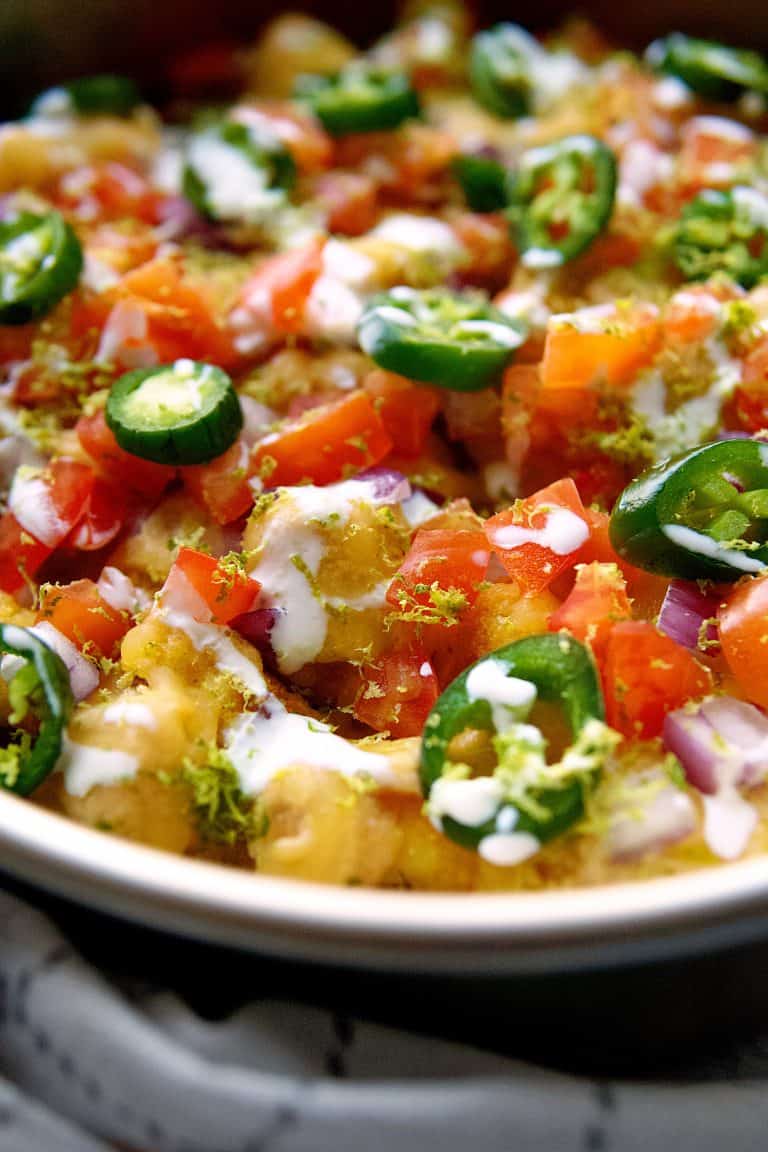 Side Dish Recipes
Need a little inspiration for your dinner table? Here are some of my very favorite side dishes to complete your meal!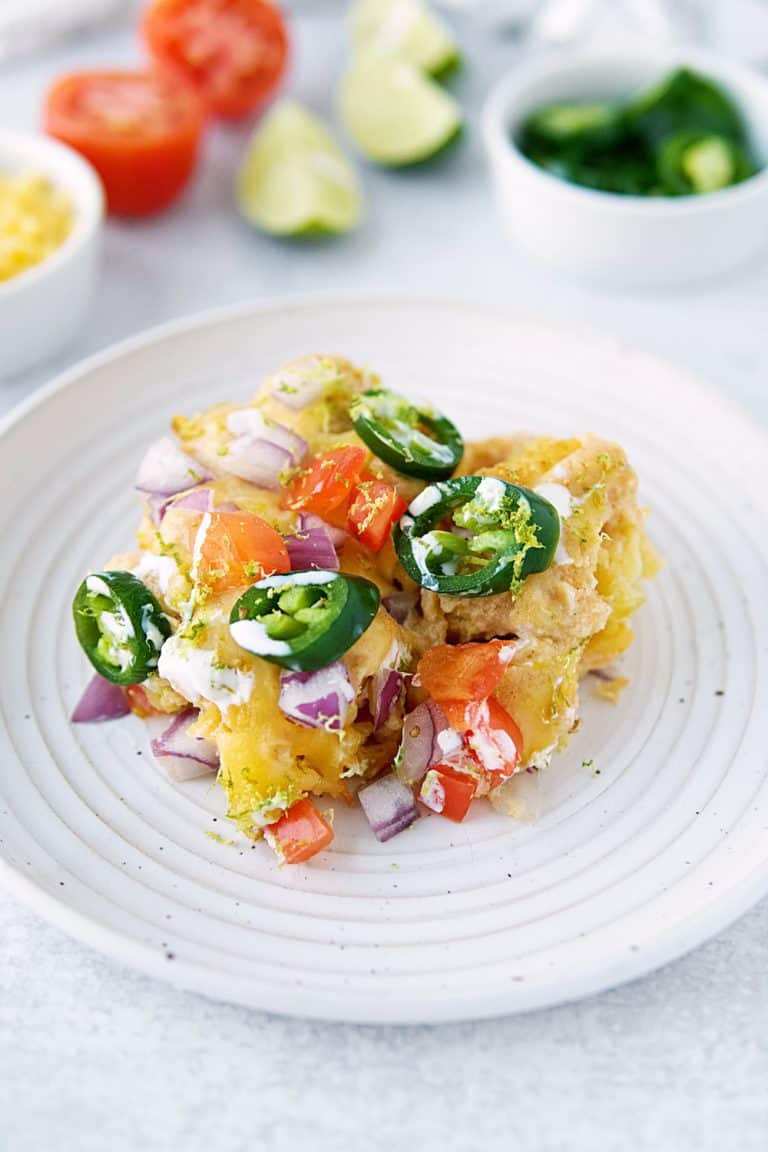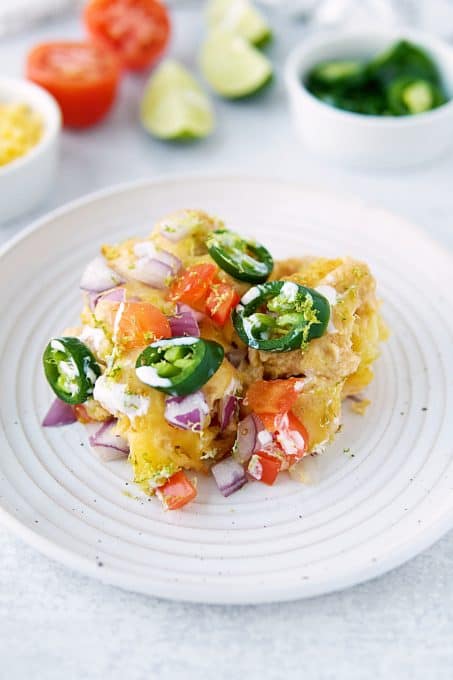 Tater Tots meet queso in this easy Tater Tot Nachos recipe! These cheesy tots are the perfect appetizer, side dish or snack for your next family movie night.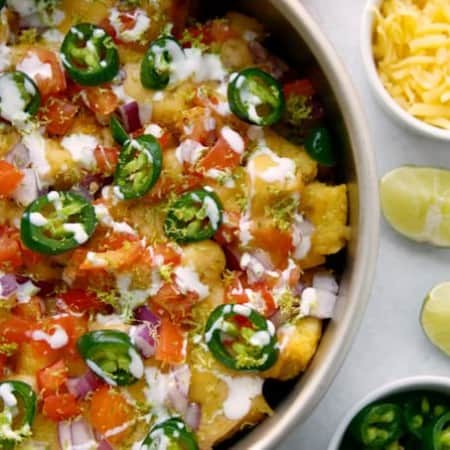 Tater Tot Nachos are oven baked and loaded with homemade queso! Layers of gooey cheese, spicy jalapeño and tangy tomatoes turn frozen tater tots into amazing loaded totchos!
Equipment
1 Large skillet

8 X 8-inch baking dish
Ingredients
Queso
1 tablespoon butter
1 tablespoon all-purpose flour
1 ½ cups whole milk
1 cup queso quesadilla cheese
1 teaspoon salt
1 teaspoon garlic powder
1 teaspoon onion powder
1 teaspoon cumin
½ teaspoon cayenne
Tater Tots
6.5 cups tater tots
½ cup shredded queso quesadilla cheese
2 Roma tomatoes diced small
2 jalapeños sliced and seeded
¼ cup finely diced red onion
zest of one lime
2 tablespoon crema (above recipe) for garnish
Instructions
Bake tater tots according to package instructions.

Remove tater tots from the oven and set aside. Set oven temperature to 375°F.

Melt butter in a skillet over medium heat.

Sprinkle flour over butter and whisk until foamy.

Gradually add the milk, continuing to whisk until mixture is smooth.

Continue to cook until the mixture thickens enough so that it coats the back of a spoon. Once thickened, remove pan from heat.

Add in 1 cup of the shredded queso quesadilla cheese and mix until melted.

Mix in salt, garlic powder, onion powder, cumin and cayenne. Cover the queso while preparing the tater tots.

Lightly spray an 8 x 8-inch baking dish with cooking spray and place a single layer of tater tots on the bottom. *SEE NOTE.

Spoon some queso over the tater tots, then sprinkle the ½ cup of queso quesadilla cheese over the tots.

Bake for 7-9 minutes until warmed through and cheese is melted.

Remove from oven and garnish with tomato, red onion, and sliced jalapeños. Drizzle with crema. Sprinkle with lime zest and serve immediately.
Notes
You can opt to make two layers instead of just one. 
Nutrition
Serving: 1person | Calories: 759kcal | Carbohydrates: 62g | Protein: 30g | Fat: 46g | Saturated Fat: 21g | Polyunsaturated Fat: 5g | Monounsaturated Fat: 10g | Trans Fat: 1g | Cholesterol: 112mg | Sodium: 1983mg | Potassium: 808mg | Fiber: 5g | Sugar: 7g | Vitamin A: 688IU | Vitamin C: 29mg | Calcium: 779mg | Iron: 2mg
Did you make this recipe?
Share it with me on Instagram and make sure to follow me on Pinterest for more recipes.
Reader Interactions