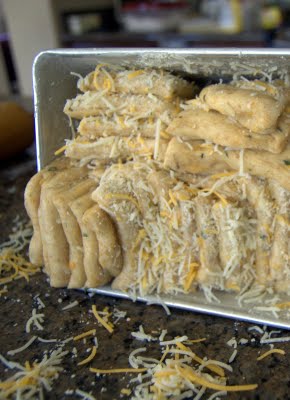 Today's recipe was inspired by Jessica at How Sweet It Is. This is her recipe for Cheesy Puff Pull Apart Bread. She was inspired by Joy when she made her Cinnamon Sugar Pull-Apart Bread. I was awfully inspired by that, too, but haven't made it yet. I think it was meant to be that I was holding out for this one. And Joy was inspired by Cindy's Meyer Lemon Pull_Apart Bread at HungryGirlPorVida. I also found this recipe on The Pastry Affair for Garlic Parmesan Pull-Apart Bread from Kristin. I originally saw her picture for it on TasteSpotting and it looked divine!
See where I'm going with this?
Someone creates a recipe and people adapt it to make it their own and really cool stuff comes out in the process.
Or not.
I don't know how it's going to taste, but it smelled pretty darn good before I put it into the oven and the house smell really good now while it's baking!
This whole food blogging thing is so much fun, trying new things and making new friends. Who knew when I started college as a theater major with a focus in stage management that this is where I'd be.
You just never know what life has in store, do you?
It's awfully exciting!
Cheesy Garlic Pull-Apart Bread
1 3/4 cups bread flour
1 cup whole wheat flour
1 tablespoon sugar
2 1/4 teaspoons yeast (or 1 envelope)
1/2 teaspoon salt
1 tsp. dried oregano
2 teaspoons fresh chopped basil
1/3 cup milk
1/2 cup butter
1/4 cup water
2 eggs, room temperature
12 ounces finely shredded Mexican Cheese
3 cloves garlic
1/4 cup Parmesan cheese
Butter and flour a 9 X 5-inch loaf pan; set aside.
In a mixing bowl, combine 1 cup of the bread flour and the cup of whole wheat flour. Add the sugar, salt, yeast, oregano, and basil. Mix well.
Heat the milk and 1/4 cup of the butter in a small saucepan over low until butter is just melted. Remove from heat and wait 1 minute before adding the water.
Add the milk mixture to the flour mixture and using the paddle attachment of the mixer, stir.
Add eggs, one at a time, mixing well after each until thoroughly combined.
Add 8 ounces of the shredded cheese and using your hands, mix well into the dough.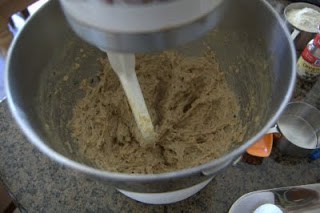 Add the remaining flour and knead until combined. Resist the temptation to add more flour even if the dough is sticky.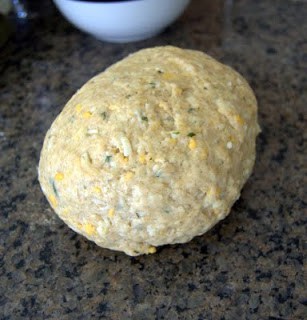 Place dough in a lightly oiled bowl, cover with a towel or plastic wrap and put in a warm place to rise for one hour.
After one hour, punch dough down. Using a lightly floured surface, roll the dough into a rectangle 12 X 17-inches. At this point, I highly recommend rolling the dough into a square 12 X 12-inches. The reason: you will have rectangles to put into the pan instead of squares and they won't fit as they are supposed to (see first picture). But, even if you make a rectangle, it all bakes up together and doesn't really make a difference anyway. Just giving you options.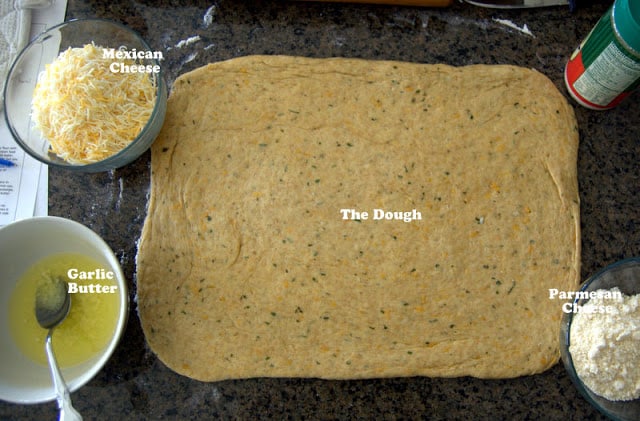 Melt remaining 1/4 cup of butter and add minced garlic. Brush garlic butter over the dough. Sprinkle with Parmesan cheese and sprinkle with remaining shredded cheese.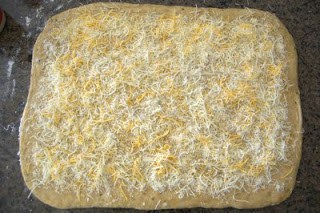 Using a pizza cutter, slice the dough from top to bottom into 6 even strips. Then cut dough lengthwise into 6 even strips. Using a spatula stack dough squares/rectangles on top of one another and place into prepared loaf pan.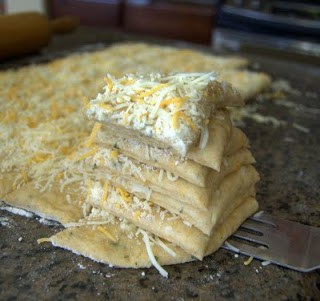 Place the pan on a baking sheet, cover with a towel and let rise again in a warm place for one hour.
Preheat oven to 350ºF. Bake for 30 minutes until golden brown.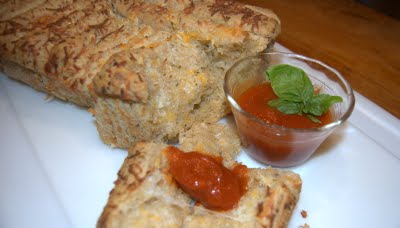 I really wish we had had an Italian dinner tonight instead of going out for sushi so we could have eaten this bread with it.
It was still good to eat when we came home though.
I rate everything I bake on a scale of 1-4 with 4 being the best and this loaf of bread earned 3 rolling pins.
It was quite tasty, the only thing I didn't like was the well-browned cheese on the top – no flavor. I had sprinkled the remnants of cheese that had fallen off when I was stacking. I think I should have saved it until the last 5 minutes of baking and then put it on.
This would be REALLY good with some awesome marinara. I only had jarred spaghetti sauce. Still yummy though.
Now I am dying to try Joy's cinnamon bread and Cindy's lemon bread. After the year is over maybe I'll add those to the collection.
Happy baking!