I hope everyone had an enjoyable day or if you are on the other side of the world as I know some of you are, I hope your day is wonderful today.
I would love to come visit you wherever you are.
I love to travel – go to new places, see things I've never seen before and try new delicious food…to a certain extent.
At this moment, I'm watching Anthony Bourdain – No Reservations. Some of the food looks wonderful even if it is seafood.
I think the best food experience I've had so far was when my husband and I went to San Francisco last August for our anniversary. It was just absolutely incredible and I would absolutely LOVE to go there again.
Also on the top of my list are Greece and Italy, but I don't know if I'll ever make it.
If I do get to wherever you are maybe we can have lunch and you can show me some of the best places to eat or at least direct me to them.
I would absolutely LOVE and be very grateful if you would take the time to leave me a comment no matter where you're living and tell me where your favorite hangout is, what your favorite meal is and why you like it.
I'll go first.
Here in Phoenix there are so many wonderful places to eat and we've found a few that have become our favorites but there is this one little place called Carolina's that we go to whenever we're in that part of town. It's a little hole in the wall (as most great food places are, don't you think?) that serves delicious Mexican food. The atmosphere could definitely be improved because it's really not a formal sit-down place, but you're not going for the ambiance. The food is fantastic, the tortillas are made fresh and you can see them making them, and the price really cannot be beat for the quality.
If you are ever in Phoenix, AZ, give it a try. I'm sure you'll be pleased.
This dinner is from my Fannie Farmer Cookbook Thirteenth Edition, p. 171; author, Marion Cunningham; publisher, Alfred A. Knopf, Inc., a division of Random House, Inc.; ISBN 0-394-56788-9.
Beef and Corn Casserole
2 tablespoons oil
1 green pepper, chopped
1 onion, chopped
1 lb. lean ground beef
2 cups corn kernels
salt
freshly ground pepper
2 firm ripe tomatoes, peeled and sliced
4 tablespoons butter
1 cup fine Italian style bread crumbs
¼ cup Parmesan cheese
Preheat the oven to 350ºF.
Heat the oil in a large skillet, add the green pepper and onion, and cook, stirring often, until the onion is soft.
Add the ground beef, breaking it up into small bits, and cook until it loses its redness.
Stir in the corn. Add salt and freshly ground pepper to taste.
Mix well.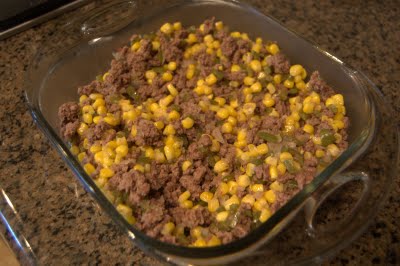 Place in an 8 X 8-inch baking dish, and cover with tomato slices.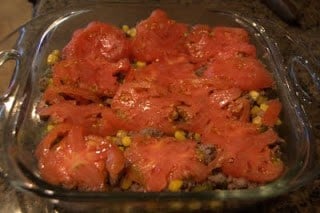 In a small skillet, melt butter. Add bread crumbs and cheese. Mix and just lightly brown. Sprinkle over the tops of the tomatoes.
Bake for 25 minutes or until crumbs have browned.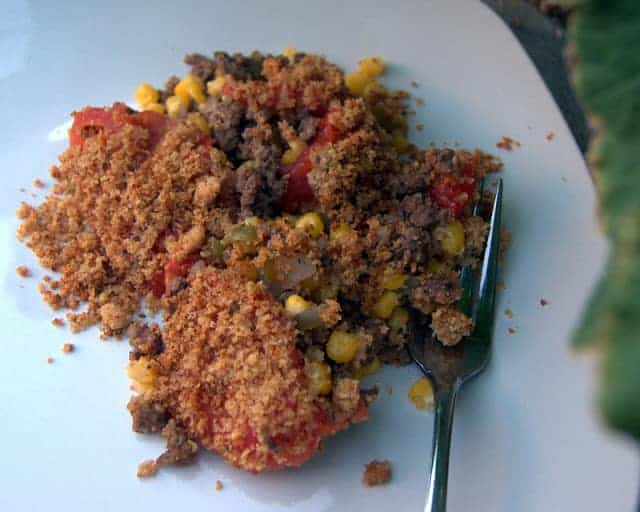 I was REALLY uninterested in eating this. As I was making it, I have to say it was pretty unappealing, the beef with the corn and without some type of sauce.
Just wasn't feeling it.
Now Shepherd's Pie I'll eat and I like it quite a bit. This beef and corn casserole, I wasn't too sure what I was going to think of it.
And…
It wasn't bad actually. Definitely not what I was in the mood for, but taking a bite of the tomato and the bread crumbs combined with the beef and corn proved to be pretty tasty. Eating the beef alone was too much.
My husband would like me to make it again, but I'm thinking it may need a little bit of tweeking to make it more Lynne friendly. We'll see.
I rate my everyday bakings on a scale of 1-4 with a being the absolute best a dish can get. Two family members voted it should earn a 3 (those would be the men), and my daughter and I voted for a 2. So, I'll give it a final score of 2 1/2 rolling pins.
Remember, leave me a comment about your favorite food place. It can even be a food truck – that'd be so cool! I've haven't eaten from a food truck yet, but I hear some of them are fantastic and others are referred to as "Roach Coaches"!! Eeeeewwww!
I think this would be great for everyone to see because you never know when someone might be visiting your town, city or where you grew up and need a really great place to eat.
And besides, who DOESN'T love great food?!
Happy baking!