A Father's day thumbprint cookie just for him, because he deserves one. With this chocolate cookie, he won't need any other Father's day gifts.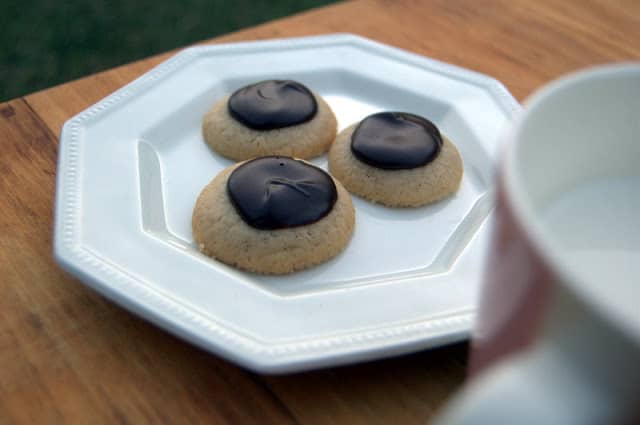 Simple, quick and perfect for a day of relaxing with the family on the annual Father's day.
Happy Father's Day to all of you fathers out there and to the mothers who are both mom and dad. I hope you all enjoyed your day! We had a nice quiet day here at home. Mr. 365 doesn't like to celebrate Father's Day because he wants our children to show him that they love him 365 days a year by their actions and not because they have to on one special day. LOL! That's why he's called Mr. 365! I just got that. Ok, no… I agree with him…to a certain extent.
What else can a day like this have? I would say barbeque but I'm not that type of gal. I leave that to the hubby of course. He's a wizard at that, and I think the cookies will make him just as happy, if not more. Cookies have been his go-to for who knows how long now.
Throughout the year my kids are gracious, always thanking us for taking them places, eating out, and purchasing things for them. They also thank me every night that I cook them dinner even when it may not be what they want to eat or it doesn't turn out right. The one thing they need work on – is their initiative to help around the house.
I understand that this may largely be due to fact that I'm not a strict chore enforcer. Yes, they'll do things when I tell them, but over the past year or so (Hmmm…come to think of it, it's been since I've been home full time) I been quite a bit more lax on them pitching in and helping out.
I know, I know, it's better for their self-esteem and I'm not doing them any good by not having them be responsible for certain things around the house.. Yeah, I can hear my mother saying that now,… but I grew up the same way.
No specific duties and only did things when asked (and then I complained and sometimes threw a fit).
I'm being honest. Think whatever you want, just telling you the way it was and now is. I'm an only child, remember?
SAVE THIS CHOCOLATE THUMBPRINT COOKIE TO YOUR FAVORITE PINTEREST BOARD!
Needless to say, when it all comes down to it, I turned out ok (at least I think so). In most, if not all of my job situations I went above and beyond what was required of me and was promoted or highly respected by my bosses. Now I keep house, do the laundry, cook, clean (though definitely not as often as I should or as my husband would probably like me to) and spend quality time with my family. Which, when it comes right down to it, is the most important thing I could possibly be doing for everyone involved. We're not living in squalor, I have a happy, stable 20+ year marriage, and our children are healthy, happy and well-adjusted.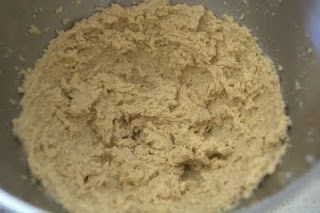 This is what matters. Do we celebrate Mother's Day? Oh! Don't even get me started on THAT one!
So, anyway, it was a nice quiet day with family time consisting of channel flipping between a Red Sox game and the U.S. Open, hanging out, and then in the afternoon father and son going to play in a golf tournament in which they came in third. Life is good.
This is adapted from The Martha Stewart Living Cookbook, and I'll tell you why after the recipe.
Chocolate Thumbprints – makes approximately 3 dozen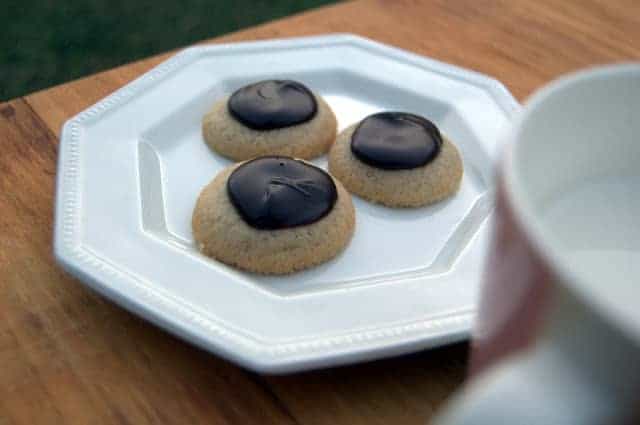 Chocolate Thumbprint Cookies
Ingredients
12 tablespoons unsalted butter
½ cup granulated sugar
¼ teaspoon salt
1 teaspoon vanilla extract
1 ¼ cups all-purpose flour
½ teaspoon cinnamon
1 egg
4 ounces semi-sweet chocolate, chopped
1 ½ teaspoons corn syrup
Instructions
Preheat the oven to 350 degrees.

In a small bowl, combine flour and cinnamon. Mix well and set aside.

In an electric mixer fitted with the paddle attachment, cream 8 tablespoons of butter, the sugar, salt, and vanilla on medium-high speed until smooth.

Beat flour and cinnamon mixture, beginning on low speed and increasing to medium-high.

Add the eggs and beat until well combined. Roll the dough by teaspoonfuls into balls, and place 1-inch apart on an ungreased baking sheet.

Bake for 10 minutes, remove from the oven and press thumb or small object to make an indent on top.

Return to the oven and bake for 7 more minutes. Transfer to wire rack.

Combine the chocolate, rest of the butter and the corn syrup in a small heat-proof over a pot of simmering water. Stir occasionally.

Cool slightly, then pour thumbprints with chocolate mixture.
Nutrition
Calories: 759kcal | Carbohydrates: 77g | Protein: 7g | Fat: 47g | Saturated Fat: 29g | Cholesterol: 174mg | Sodium: 225mg | Potassium: 89mg | Fiber: 1g | Sugar: 37g | Vitamin A: 1480IU | Calcium: 29mg | Iron: 2.7mg
Did you make this recipe?
Share it with me on Instagram and make sure to follow me on Pinterest for more recipes.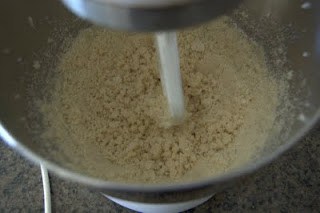 Another cookie recipe the MR. loves are these 13-minute 3 ingredient peanut butter cookies. I can't tell you how many times he's downed these in one sitting.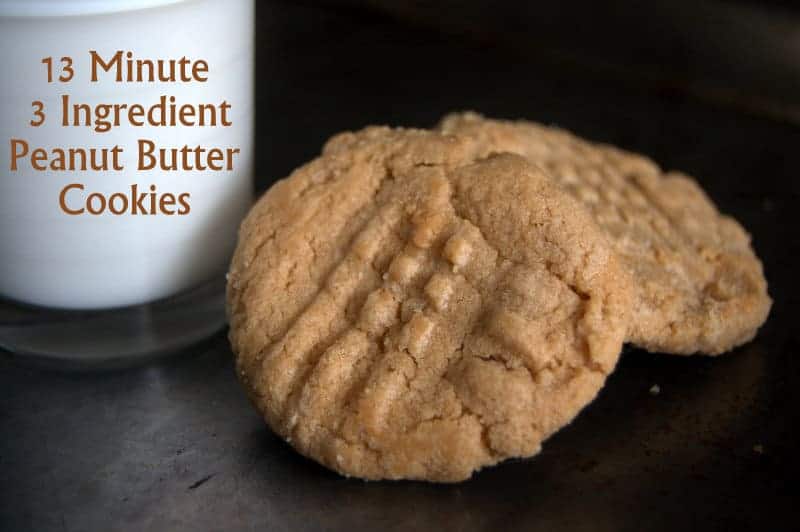 A great little breakfast recipe really can start off the day or weekend right. Why not try this bruschetta fried egg avocado toast?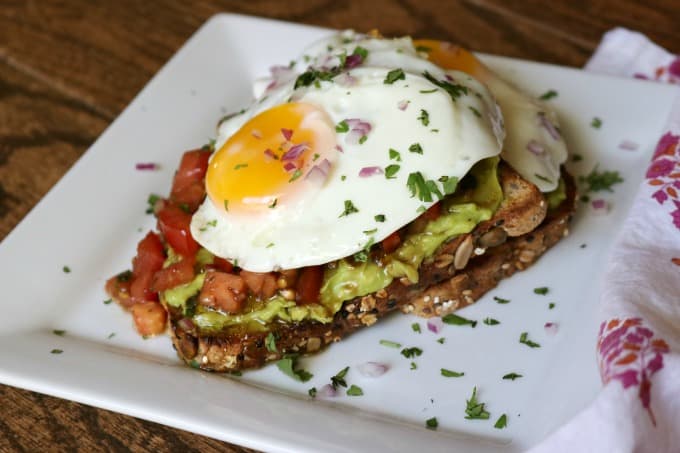 I had another brain fart while baking today. I don't know what it is with me lately, but this has been happening
way
too often! God help my family when I'm really old and senile. I think they'll be eating out a lot. Actually, it'll just be my poor husband. I just have to make sure his life insurance is kept up to date.

My error occurred when Martha's recipe called for confectioners' sugar and I just saw "sugar", not the WHOLE important word before it. Duh. Hence the coarse looking mealy type dough in the first picture.
But, I'm happy to report that because I've been baking for 139 days, I've learned that eggs can act like glue and will hold the necessary ingredients together. Since Martha didn't use an egg in the recipe and I screwed up, I figured it wouldn't hurt to add one. VOILA! Success!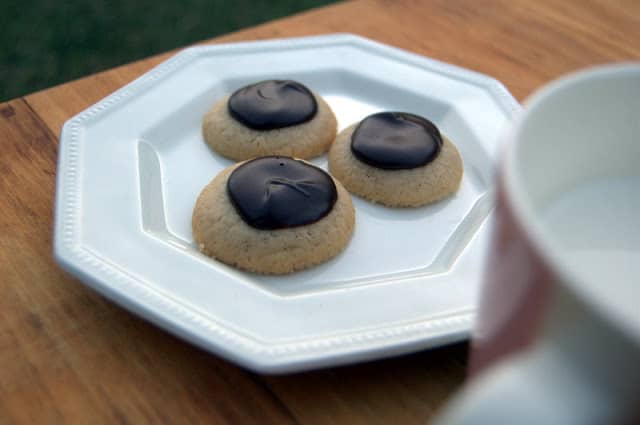 Since I'd changed the sugar and had the addition of the egg, I figured what the heck, let's add something else to make it more Lynne's and not Martha's. That's where the cinnamon came in. I was originally going to use chili powder, but my daughter looked at me with a scrunched up face, so I chickened out.
So then I followed the recipe as directed until I pulled the cookies out of the oven to make the thumb imprints. DANG! Those suckers are HOT!!!! What the heck?!?!?! She wants me to put my thumb into these to make a dent. I'm burning my flippin' FINGER!!!! Stupid! And they're not staying down, those stupid imprints just keep popping back up. What the heck?! (Mind you I'm saying this all out loud, mumbling and talking to myself.)
My other daughter comes over and says, "Mom, why don't you just use the end of the knife?" I LOVE that she is so intelligent! She didn't get that from me… Dang, girl! Why didn't I think of that? Again,… another DUH moment.
So really these should be called " Cinnamon Chocolate Knifeprints". AND as a bonus, you get almost 12 more cookies out of the deal because Martha's only made about 2 dozen! I rate what I bake on a scale of 1-4 with 4 being the best and these cookies earned 3 rolling pins. My daughters liked the addition of the cinnamon and really liked the "well" of chocolate in the middle. I thought they were really good, too and especially liked that they were nearly bite-sized.
Reader Interactions