Hmmm…I'm really stumped as to what to name this dish tonight. It's not really a casserole, but it kinda is. Yet, I don't like calling it one.
You think of a name and let me know.

Chicken Tortilla Bake – 6 servings
2 boneless, skinless chicken breasts
1 tablespoon cornmeal
1 teaspoon cumin
1/2 teaspoon coriander
1/2 teaspoon salt
1/4 teaspoon chili powder
1/4 teaspoon freshly ground pepper
2 cloves garlic, minced
1 medium onion, finely chopped
1 tablespoon olive oil
4 8-inch flour tortillas
1 14.5 oz. can diced tomatoes, drained
1 16 oz. can refried beans
2 cups shredded Mexican cheese
2 tablespoons fresh Cilantro, chopped (for garnish)
Preheat the oven to 400F.
Using an 8-inch spring-form pan, grease with cooking spray; set aside.
Combine cornmeal, cumin, coriander, salt, chili powder, and pepper in a medium bowl. Stir to combine.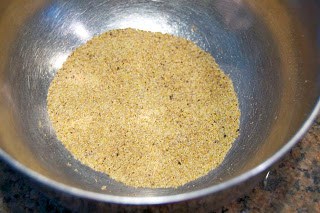 Cut chicken into 1/2-inch cubes and put into bowl.
Toss chicken in spices so that it is completely covered.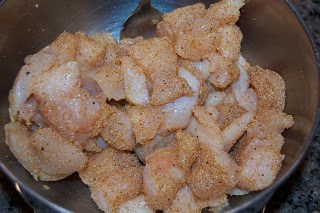 Heat olive oil in large skillet over medium high heat. Add chicken followed by garlic and onion.
Continue cooking til chicken is browned on all sides, about 6-7 minutes.
Place a tortilla on a plate and spread 1/4 cup of the refried beans over it.
Put tortilla in 8-inch spring-form pan.
Cover tortilla with 1/3 of the chicken. Spread so that it is evenly distributed.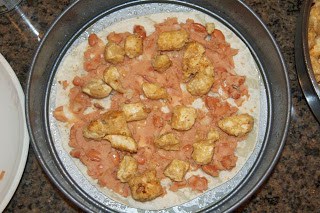 Place 1/3 of the tomatoes over the chicken.
Sprinkle 1/4 cup of cheese over the tomatoes, and chicken.
Continue the process by spreading a second tortilla with refried beans on a plate. Place on top of ingredients in spring-form pan.
Cover with chicken, tomatoes, and 1/4 cup of cheese.
Continue with third tortilla, and cover with remaining chicken and tomatoes. Sprinkle with 1/4 cup of cheese.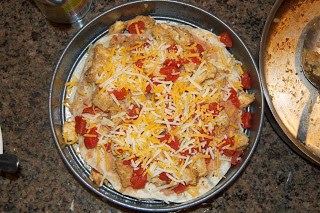 Cover with final tortilla, and sprinkle with remaining cheese.
Place pan in oven and bake for 25-30 minutes.
Remove from oven and transfer to a wire rack.
Release the spring-form and remove the sides.
Sprinkle with cilantro and serve.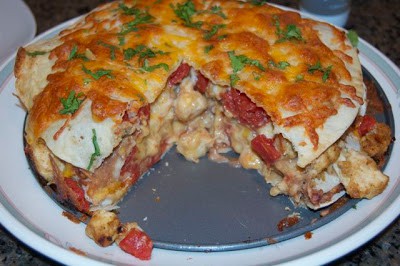 I should have added the cilantro to each layer instead of using it as a garnish, but I forgot I had it in the fridge until I went into the drawer for a cucumber. I think it would have added some nice flavor to it.
Also, this would probably be really good with two finely diced jalapenos with seeds removed. I just didn't add them because we've had some pretty spicy things lately, so I decided I'd give the family a break.
My husband said I could make this again. He and I really liked it, especially the way the chicken was spiced. The kids had various complaints about it though, one doesn't like tomatoes and another doesn't like the refried beans.
I rate everything I bake on a scale of 1-4 with 4 being the best. This chicken tortilla bake earned 3 1/2 rolling pins. I will definitely make this again.
Happy baking!