I found myself becoming a wee bit too anxious today with things that needed to be done around the house, deadlines I've imposed on myself, and others wanting me to do things.
It's that same feeling I get when I've taken two Excedrin and haven't had anything to eat. I start to get jittery and the heart starts racing.
I don't like it.
At all.
So, I actually delegated and removed one thing off my plate – sent my daughter to the grocery store.
I cannot tell you how much that really helped.
Sometimes as mothers, instead of trying to "do it all" and be supermom, it's better for all that we just take a step back and at times have someone else step in or actually say, "I'm sorry, but I'm not going to be able to do that for you because I have some other things that I'm IN THE MIDDLE OF RIGHT NOW!"
Haha
No, we don't need to yell – just need to say it politely and gently so that we make sure the other person hears us.
I don't like being stressed out. It's not healthy and I have a tendency to take it out on my family which isn't good.
I love them. Sometimes I just need to step back and…
~BREATHE~
This chocolate dessert (and who says chocolate isn't going to help on a stressful day?) is from The Martha Stewart Living Cookbook, p. 42; authors, Martha Stewart and Martha Stewart Living Editors; publisher, Clarkson Potter/Publishers, a division of Random House, Inc.; ISBN 978-0-307-39382-1.
Warm Brownie Cups – serves 5
4 ounces semisweet chocolate
8 tablespoons (1 stick) unsalted butter
½ cup all-purpose flour
½ teaspoon baking powder
pinch of salt
½ cup cocoa powder
4 large eggs, brought to room temperature
1 teaspoon pure vanilla extract
1 cup granulated sugar
Confectioners' sugar for dusting (I omitted)
Preheat the oven to 350ºF.
Place a baking pan half full of water on a lower rack in the oven.
Bring a saucepan of water to a simmer.
Place the chocolate and butter in a heat-proof bowl.
Place over water and stir with a rubber spatula until almost melted.
Remove bowl from heat and let cool, stirring occasionally.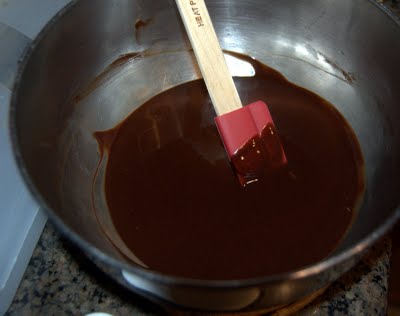 Sift together twice all the dry ingredients except the sugars. Set aside.
In an electric mixer fitted with the whisk attachment, beat the eggs and vanilla until foamy and light.
Add the granulated sugar and beat until fluffy.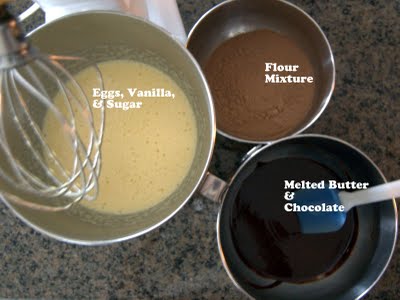 Stir in the chocolate-butter mixture.
Fold in the dry ingredients.
Pour into five 8-ounce custard cups, filling each nearly to the rim.
Place in the prepared baking pan; water should come halfway up sides of cups.
Bake for 30 minutes or until brownies have risen to just above the rim and tops are cracked. They should be firm.
Let cool for 5 minutes.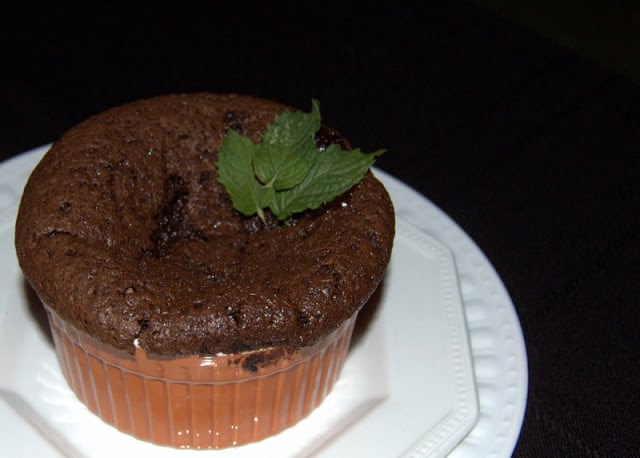 I really had a hard time deciding how I was going to get these cups out of the pan of water without damaging the brownie that was just hanging over the edges.
I couldn't lift them out with my hands – too hot.
I couldn't use tongs – make a mess of the brownie.
I couldn't use the oven mitt or hot pads – too bulky and too much water in the pan.
Eureka!
Why the heck did it take me so long to figure this out?!
A metal spatula!
Which was all fine and good until I went to set the most perfect one down on the plate and it slid off a little too quickly and toppled upside down…
Oh well.
I rate everything that I bake on a scale of 1-4 with 4 being the best and these Warm Brownie Cups earned 3 rolling pins. They are very good and very rich. It was hard on the top and the inside was soft and gooey, like a thick pudding. I think it would be delicious with some vanilla ice cream in the middle which reminds me of the
Frgookie
I made on Day 44.
Chocolate can always make me feel better, especially when it's warm and gooey.
And knowing you're out there makes me feel better, too.
Thank you!
Hugs!!
Happy baking!