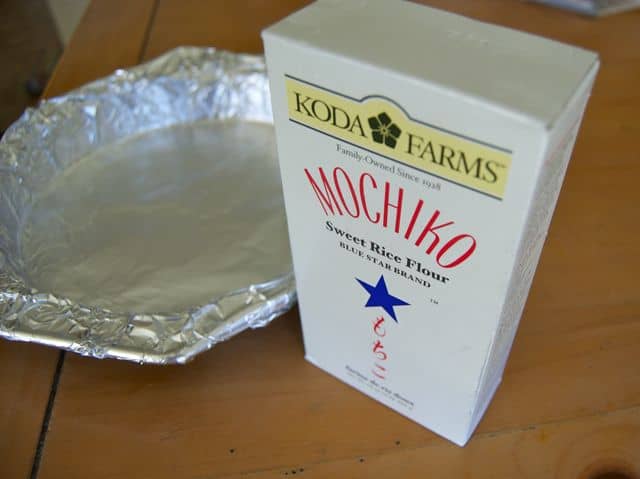 I found this recipe on Krissy's Creations after I saw her beautiful picture on Tastespotting. Her picture is the third one with the red mochi. I really had a very strong desire to make this today, so after working out at the gym my daughter and I headed to the Asiana Market.
It was amazing!!! It wasn't the cleanest place on the face of the earth and there are some things that I cannot possibly imagine purchasing there like the food from the fish counter.
I don't like fish anyway, but I've never seen a WHOLE Tilapia before and I wasn't too keen on the way it was looking at me even though it was dead.
It had a fantastic variety of foreign foods, but so much so that I was wondering what the turnover and expiration was on most of the products.
It was just SO cool seeing all those different types of food – Japanese, Korean, and they had Greek, German, Polish, and food from other countries, too.
We even got to see a bag of Japanese Cheetos and Korean Nesquick!
And did you know, we saw 5 types of eggplant! I didn't even realize there were that many and I was so wishing that I had had my camera so I could take a picture and show you. There was the eggplant we are familiar with, Japanese, Chinese, Indian and Thai.
Now I'm excited to travel to other foreign markets in the area.
There is a whole 'nother world out there! Sometimes it's very easy to forget that when I'm so wrapped up in my own little baking world. It just never ceases to amaze me how many people there are on this earth and how when we're having family time in our own home that there are MILLIONS of people doing a million of other things at the very same moment. Oh, here I go… off on a tangent again.
I'm done. Onto the recipe. Thank you, Krissy, for sharing this with us!
Mochi – makes about 100 1-inch squares
1 lb. (16 oz.) glutinous rice flour (Mochiko)
2 1/2 cups sugar
12 oz. coconut milk
1 3/4 cups water
food coloring (optional)
potato starch for dusting (cornstarch can also be used)
Preheat the oven to 325 F.
Sift the flour into a large bowl.
Add the sugar to the flour and mix to combine.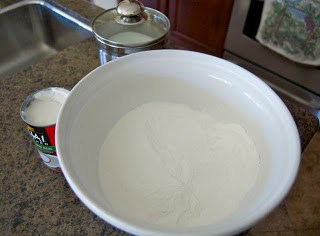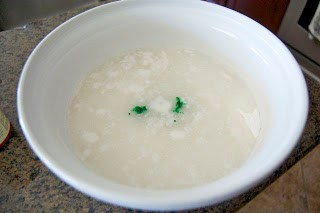 Add the coconut milk and
do not stir.
Add the water and a few drops of food coloring, if desired.

Mix together with a whisk until the mixture is smooth and has no lumps.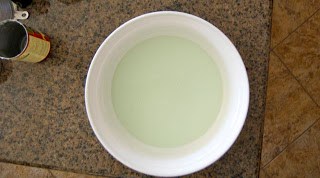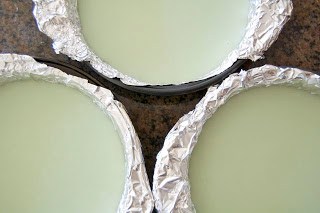 Line both the sides and bottoms of 3 9-inch round cake pans with foil.
Generously grease the foil with oil or cooking spray.
Using a ladle, pour the same amount of batter into all three pans.

Place another piece of greased foil on top of each pan. Make sure that the foil is touching the batter.
Bake for exactly one hour in on the middle rack of the oven. When finished, allow the mochi to cool in the covered pans for another hour.
When ready to cut the mochi, dust a clean work surface with the potato starch.
Take the top foil off of one pan and invert the mochi onto the surface.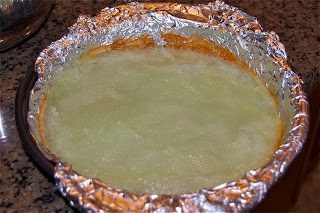 Slowly and carefully pull the foil away. The mochi will be sticky, so be sure to take the foil off very carefully.
Sprinkle some potato starch on the top.
Cut the mochi into 1-inch squares.
After cutting each square, roll the mochi in potato starch so all sides are covered. Continue with 2 remaining pans of mochi.
* It is recommended that you store it in an airtight container in the refrigerator for up to two weeks. It can also be frozen for a couple of months.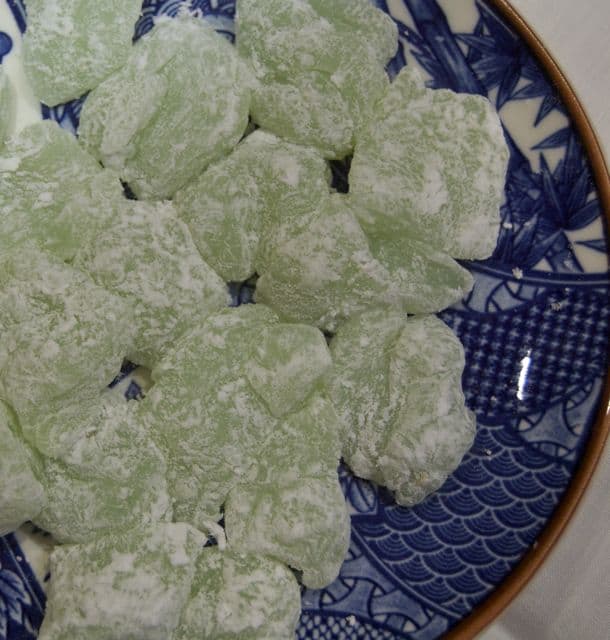 Personally, I LOVE this stuff! I had a dessert mochi with a red bean paste at a Korean restaurant in New York City and that was divine.
If you've never had mochi before you are in for an experience. I can't really even compare it to anything because I can't think if anything that it might be similar to.
It's sweet and the texture is squishy and well, glutinous.
A lot of the self-serve yogurt stores carry it as a topping and it can be white or multi-colored. I have to get it everytime we go.
I rate everything I bake on a scale of 1-4 with 4 being the best. Today's mochi earned 3 rolling pins. I love the stuff, other family members are not so nuts about it. I think it's one of those things that you're either going to love or not like at all.
I will be making this again, only I'll be greasing next time.
I have to tell you that I had some MAJOR brain farts while making this today! I have no idea what happened. It was like my brain cells decided to check out on me at the most inappropriate time.
First, the can of coconut milk was not 12 oz., but 13.6something, and I poured it right out of the can instead of measuring it. So, I took a small amount out of the bowl.
Also, I forgot to GREASE the tin foil in the pan. BIG MISTAKE! There was not way I was gently peeling the foil off of these babies. It was stuck like glue. Please make sure you generously grease the tin foil.
I used a spatula and scraped it off into blobs of mochi instead of cutting it into squares.
It all tastes the same anyway.
And since when do I leave something in for the exact amount of baking time and my oven overcooks it?!
What's up with that?
I'm always having to leave things in longer because they're undercooked, but this time it was very close to being burnt. That would have been gross.

Craziness.
Happy Baking!