Big day here at 365. We've reached our 75th "like"er on Facebook!
YEE HA!
75 is a great number, but I like the number 100 better. It holds a special place in my heart because 36 posts ago was Day 100 with Surprise Cookies…and we had a giveaway.
Know what I'm getting at?
Tell your friends, share the site and if you haven't yet, ""Like" us on Facebook!
Don't ask.
I don't have any explanation as to why this cake is called Thelma's 1,2,3,4 cake.
Oh wait, Yes I do! I just don't know the Thelma part of it.
You'll find out in the ingredients.
It took me well over 4 hours to make this cake.
It won't take you that long, promise.
I was intermittently putting ingredients together and taking major breaks while watching the 7th game of Lord Stanley's Cup.
BRUINS WIN!!!!!!!
Da da da da da DUH! (Lynne's doin' a Bruin dance)
Being born and bred a New England fan, you can take the girl out of New England, but not New England out of the girl. After all, we named our son after a Bruin's player.
It's wonderful to celebrate even if we are 2000 miles away.
So now the cake is cooling and it smells really good. I wonder how it will taste.
I found this in my New Doubleday Cookbook, p. 804; authors, Jean Anderson and Elaine Hanna; publisher, Doubleday, a division of Random House, Inc.; ISBN 0-385-19577-X.
Thelma's 1,2,3,4 Cake 1 (9″) tube cake (16 servings)
3 cups sifted flour
2 teaspoons baking powder
¼ teaspoon salt
1 cup milk
1 teaspoon vanilla
1 cup butter softened to room temperature
2 cups sugar
4 eggs, separated
(Do you see the 1,2,3,4? I still really don't know who Thelma is.)
Preheat oven to 350ºF.
Sift flour with baking powder and salt, and set aside; combine milk and vanilla.
Cream butter until light; add sugar gradually, continuing to cream until fluffy.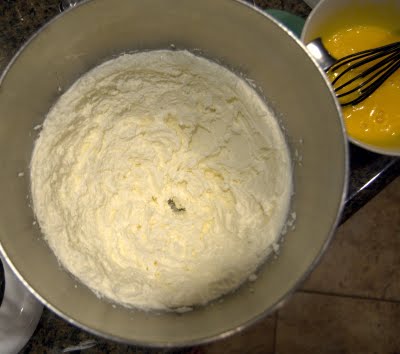 Beat egg yolks until thick and pale yellow; mix into creamed mixture.
Add dry ingredients alternately with milk, beginning and ending with the dry and adding about one third the total at a time. Beat just until smooth.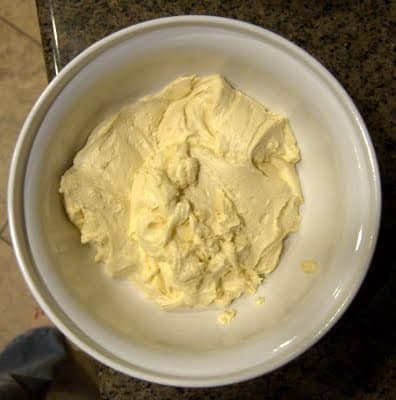 Beat egg whites until soft peaks form and gently fold into batter.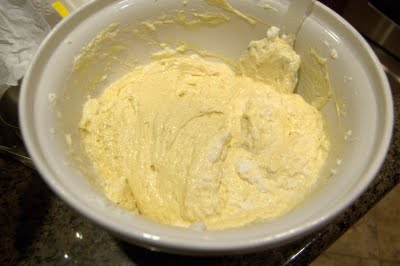 Spoon into a greased and floured 9″ tube pan and bake about 1 hour until cake shrinks slightly from sides of pan and is springy to the touch.
Cool cake upright in its pan on a wire rack for 25-30 minutes; loosen edges, invert on rack, and cool thoroughly.
Serve plain or frost with a butter cream frosting.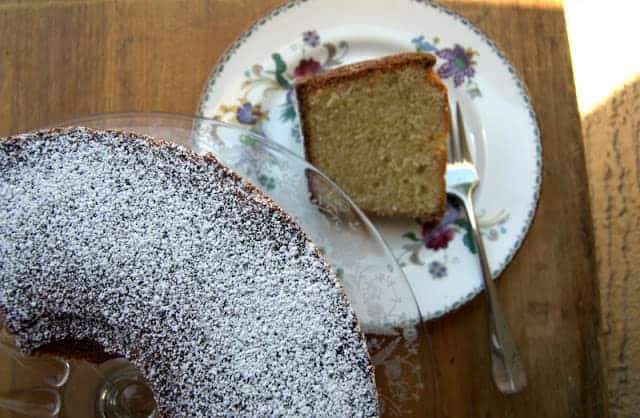 This cake keeps well if wrapped airtight; it also freezes well.
I served it plain with confectiooners' sugar on top.
It is a nice simple cake reminiscent of a pound cake, but not as dense.
I immediately thought that it would be delicious with some fresh strawberries as I popped a piece into my mouth.
You could also change the flavor by substituting the vanilla for a teaspoon of almond, lemon or orange extract.
I rate my daily bakings on a scale of 1-4 with 4 being the best and Thelma's 1,2,3,4 Cake earned 3 rolling pins.
This would make a nice welcome gift for a new neighbor (do people still do that?) or if you need to bring a dessert to a potluck, but start baking early because it will take you at least 4 hours! Just kidding!
Happy baking!