It's that day of the week again – Wednesday and the weekly weigh-in. It's been updated, in case you're curious.
This side dish is from The Martha Stewart Living Cookbook, p. 340; author, Martha Stewart; publisher, Clarkson Potter/Publishers, and imprint of The Crown Publishing Group, a division of Random House, Inc.; ISBN 978-0-307-39382-1.
The original recipe served 8, so with there only being 4 of us, I halved the recipe.
Individual Corn Puddings – serves 4


2 1/2 tablespoons unsalted butter
1 tablespoons all-purpose flour
1 cup canned or frozen corn or 2 ears fresh with kernels shaved from the cob
(I used canned)
1 large eggs, separated
1/2 cup + 6 tablespoons milk
1/2 teaspoon salt
1/8 teaspoon freshly ground black pepper
pinch of ground nutmeg
pinch of cayenne pepper


Preheat the oven to 325F.
Use 1/2 tablespoon of the butter to butter (4) 6 ounce ramekins; set aside.
Melt the 2 remaining tablespoons of butter in a small saucepan and whisk in the flour.
Put the corn, egg yolk, milk, salt, black pepper, nutmeg, and cayenne pepper in a bowl. Whisk until thoroughly combined.
Add the melted butter/flour and mix well.
In a small bowl, whisk the egg white until soft peaks form, and fold it into the corn mixture.
Bring a full kettle of water to a boil.
Ladle the corn mixture into each of the four ramekins evenly, leaving about 3/4 of an inch from the top to allow for rising.
Place the ramekins in a 9 X 13-inch baking dish.
Place dish in oven and fill pan with boiling water so that it comes halfway up the sides of the ramekins.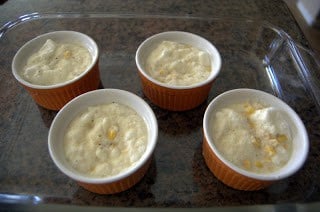 Bake about 50-55 minutes until puddings are puffed and golden brown.
Remove and serve immediately. The dishes will be extremely hot.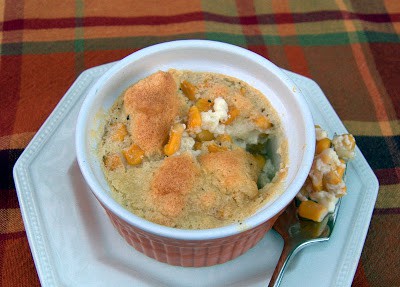 I have to admit that I'm not much of a corn fan.
That sounds funny – "corn fan".
And I REALLY don't like canned corn. I don't think I've used that for the family since our very first year of marriage when I couldn't cook.
I prefer corn on the cob or frozen to canned, but I didn't go to the store, so just used 1/2 of the can we had.
My puddings didn't rise as they were supposed to. I'm sure it was because I opened the oven mid-bake to retrieve last night's bread which I was warming up.
Everything I make I rate on a scale of 1-4 with a 4 being the best. This corn pudding earned 2 rolling pins. They were eh. I really don't feel the need to make them again. I DO think that they would be MUCH better with fresh corn from the cob.
I leave you with a BIG baking hug!!
Happy Baking!