First of all, I'd like to say a BIG welcome and send out BIG baker hugs to all of my new readers. There are a lot of you and that makes me excited! If you like what you see, please leave a comment or tell your friends, OR please feel free to do both! I'd love that! You can also like 365 on Facebook. I'll also take comments good or bad (I'm an adult, I can handle the constructive criticism.). I LOVE to hear from my readers!!
I also know I have some new followers and I'd like to thank you all for doing so. It means a lot, and I'm very grateful.
I need to let you all know that I left something important out of yesterday's post on Coca Bread.
I strongly believe things don't happen accidentally and that God (or whatever you choose to call or not to call that Higher Power) had me witness that "event" for a reason. He truly opened my eyes.
I say this because it was just way too coincidental that as the woman sat herself down on the bike the next song to come onto my iPod was this:
Martina McBride – Blessed
It is my all-time favorite song.
I know what I want for my birthday! Cool looking plates, cups, glasses, napkins, and kitchen stuff. I know the iPad is not in my foreseeable future, but this other stuff can be gotten for CHEAP at the Goodwill store and is SO cool! I stopped in there today and picked up two drinking glasses and only paid $.69 cents for both because they were each half off! And to a food blogger, this stuff is gold! So anyone reading this, make sure you drop some subtle hints to my kids.
I love shopping there because they have such a wide variety and the inventory is always changing. I never know what I'll be coming home with.
I have to share that I heard something EXTREMELY disturbing today. So much so, that when Mr. 365 told me, I couldn't stop shaking. The story goes that this morning at 6 a.m., a woman left the same community center I talked about yesterday and was confronted by a man with a gun when she went to get out of her car at her home. He had followed her from the community center. He got into the back seat of her car and instructed her to drive to a local bank where she was told to withdraw a large amount of money. He then had her drive to a meeting place where his accomplice was waiting. He took her cell phone, and the two men took off. THANK GOD she was not injured or worse. People (ok, not all) are STUPID and especially now, there are a lot more desperate people.
PLEASE ladies,
ALWAYS BE AWARE OF YOUR SURROUNDINGS!!
I know it's easy to become lax and carefree going from store to car, taking a walk, or even texting while walking. I know there are many, many times I take my security for granted and unfortunately it takes something like this to jolt me into reality.
Times have definitely changed from when I was growing up and there is too much going on in the world to not be precautious and to err on the side of caution. I told my daughter after hearing this to not EVER, EVER get into a car with someone who has a gun you don't know because the odds are that you aren't coming back. I told her to run in the other direction, SCREAMING, do anything you can to get away, even crash the car into something to cause an accident. Your life is too precious.
So disturbing.
I love you all.
Please, please be aware, and pass the word to those you love to be aware. Life is too short.
Today's recipe was adapted from The New Doubleday Cookbook.
Blackberry Peach Streusel Pie
1 pie crust (I used the
Crisco recipe
because I like that the best)
Filling
7 firm-ripe peaches, peeled, sliced and pitted
(Note: If you put the peaches into boiling water for two minutes and then immerse them in cold water they should be easier to peel – I found it did help, but not completely.)
12 oz. blackberries
Finely grated zest and juice of 1 lemon
½ cup sugar
Topping
½ cup firmly packed light brown sugar
½ cup sifted flour
¼ teaspoon salt
1/3 cup unsalted butter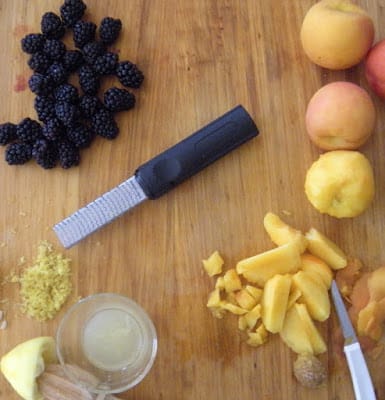 Preheat the oven to 425ºF.
Make pie crust as directed and fit into a 9-inch pie pan, fluting the edge. Do not bake.
Gently mix peaches, blackberries, sugar, lemon zest and lemon juice together; spoon into pie shell.

Mix the brown sugar, flour and salt together in a medium mixing bowl. Cut butter into small pieces and using a pastry blender, cut into mixture until it resembles coarse meal.
Sprinkle over peaches, pressing down lightly.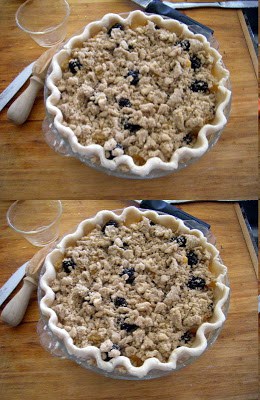 Place a piece of tin foil in the oven on the rack below to catch any yummy drippings.
Bake for 40 minutes until lightly browned.
Serve warm with ice cream or whipped cream.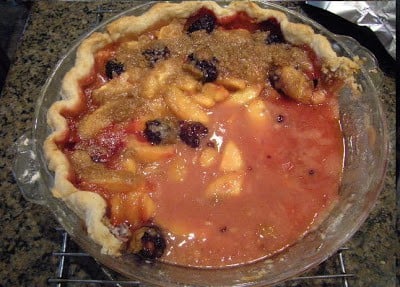 Ok, this looks like SOUP! I have NO idea why it's so watery. A watermelon pie, yeah, I could see that, but peaches?
REALLY?!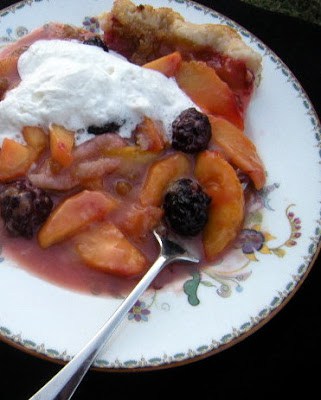 Fortunately, it still tasted pretty darned good.
Ok, so I'm thinking that some little oven elves helped out with the baking process by watering the pie.
Maybe there was too much lemon juice. Maybe you should only add about 2 tablespoons because looking back that lemon I used may have been about 4-5 tbsp.
Also, somebody ate my fruit.
No, I'm not talking about after I made the pie. I mean while it was sitting in the fridge waiting for me to use it today. Two peaches and the other 6 oz. container of blackberries were gone.
Yeah, I guess I want them to eat their fruit.
So, I gave you what I should have used in the pie (or had planned to), not what I actually did.
Although with the addition of two more peaches, I wonder how much soupier it would have been.
My advice, (yeah, like I'm a pie-making expert) would be to decrease the lemon juice to 2 tablespoons, and use the directed amount of peaches and blackberries.
I hope it works for you. Let me know if you're brave enough to conquer it.
A note on the pictures…my eldest daughter took her camera away on vacation for the weekend (sniffle), so I'm using my other daughter's point and shoot. The pictures are adequate, not great, but at least you'll be able to see what I'm making over the next few days.
The only problem is I hit a button which is making those really cool multiple shots, but I don't know which button I hit and we can't find the manual to figure out how to fix it.
So, I'd love any input if someone has some on how to take just one picture at a time, and not 9. It's a Nikon CoolPix.
To each and every one of you, thank you again! I love you and am very glad you're here.
Oh yeah, I completely forgot! I rate everything I bake on a scale of 1-4 with 4 being the best and this Blackberry Peach Streusel Pie, even though very soupy, earned 3 rolling pins.
I had a piece, but I can't have any more because peaches make my mouth and throat itch. Nothing anaphylactic, but I don't like the feeling.
Happy baking!