I don't know if I should share this, so if I offend anyone I apologize, but it was so funny that I thought I just can't not write about it.
Besides, it's just another day in the home of 365.
My husband opened the fridge this morning to get milk for his cereal and saw the tomatoes I'd made yesterday.
"Ooohh, the tomatoes!! I'm having those for lunch today!"
Hmmmmm. He and I only shared the one that I used in the final picture for yesterday's post, so there should be three left unless he stole one in the middle of the night which wouldn't at all surprise me.
"There are THREE of them left! You're going to have all of them?! No! I'd like to have one, too."
Giving me that sly little look and with a half smile he says, "Well, maybe I'd be willing to make a trade for one tomato."
Oh yeah, here we go, you know what he's thinking…
"What, you want sex for a tomato? Yeah. Ok. No."
He laughs and then says, "Hey, that should be the name of your blog! Sex for Tomatoes. You know how many hits you'd get when someone types in the word in 'sex' in Google?"
Yeah, I like the name, but I can't bring myself to do it. I'm about one month shy of being halfway through this. I am not changing it now. And besides, I don't think people searching the word sex would be interested in a food blog. So, just think of the blog as:
365 Days of Baking
aka
Sex for Tomatoes
I was going to make some cookies today, but went to the cupboard and forgot I had no vanilla. So, I'll be making a trip to the store tomorrow and decided to do something for dinner instead.
This recipe comes from The Martha Stewart Living Cookbook, p. 555; author, Martha Stewart; publisher, Clarkson Potter/Publishers, an imprint of the Crown Publishing Group, a division of Random house, Inc.; ISBN 978-0-307-39382-1.
Soda Biscuits
1 3/4 cups flour, sifted
1 teaspoon salt
1 1/2 tablespoons sugar
1 1/2 teaspoons baking soda
2 teaspoons baking powder
5 tablespoons unsalted butter, chilled and cut into small pieces
3/4 cup buttermilk
Preheat oven to 425F.
Line a baking sheet with parchment paper.
combine the dry ingredients in a large bowl. Mix to combine.
Using a pastry cutter, cut butter into dry ingredients until the mixture resembles coarse meal.
Add the buttermilk and mix just until dough comes together.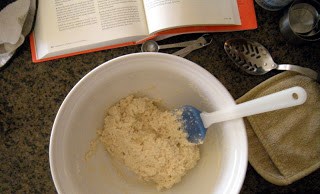 Place dough on prepared baking sheet and pat into a 7-inch circle that is about 1-inch thick.
Is it me, or is there the face of a man in this dough?
Using a sharp knife, cut into the dough about 1/4 inch to mark 8 wedges, but do not separate.
Bake the biscuits until golden brown on top and firm, about 20 minutes.
Break apart into wedges and serve hot.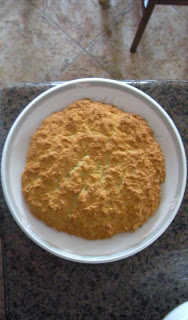 I rate everything I bake on a scale of 1-4 with 4 being the best and these Soda Biscuits earned 1 1/2 rolling pins.
It was dry, little taste and crumbled when we attempted to put butter on it.
I was very disappointed.
The recipe said to use a food processor for the whole process, but mine is a little one and I knew there wouldn't be enough room for all of the ingredients. I'm thinking this may have been the difference. So, go with the food processor.
Seriously, would Martha put a recipe in her cookbook that turns out like this?
I don't think so.
I'm thinking after this debacle I need a cookie fix or maybe some cupcakes tomorrow. I'll be off to the store to buy some vanilla and then we'll see what we can do.
Thank you all so much for reading!
Happy baking!