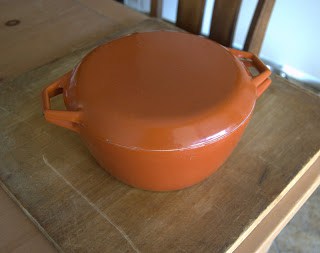 Sorry if I misled you in the title. There is no BBQ, this is a baking blog.
Well, it is for the next 216 days/posts anyway.
I pulled this old relic out of the cupboard today. It's ugly, and it's a hideous orange,
BUT
I'm not parting with it.
Either my mother bought it or received it as a wedding present back in the late 60's.
You know, during the hippie era when kitchens had those ugly color combinations of yellow, orange and green. Something sort of like this…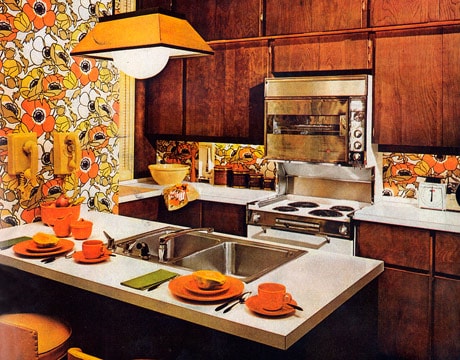 or this…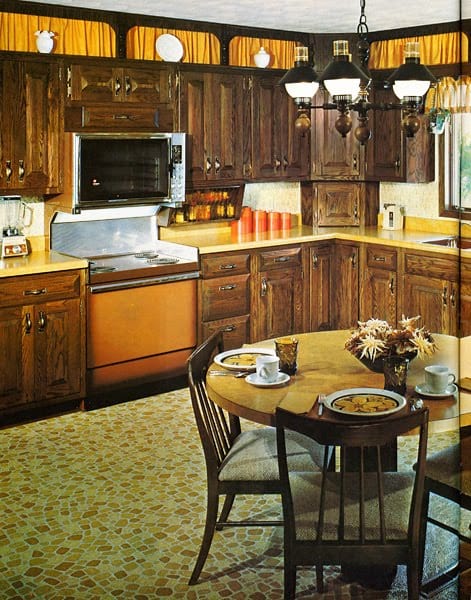 Seriously now, can't you picture that dutch oven in one of those kitchens?
And, if I remember correctly my grandmother had a linoleum tile on her floor very similar to the one above.
BLECH!
GREAT memories of me sleeping on that floor as a child while my parents and grandparents played Spades at the kitchen table every week though.
Anyway, I digress…Oh yeah,
That pot, as ugly as it is, holds memories of my mother. Which is extremely important of course, but especially at this time of year.
I'll be discussing that next week.
So, it only seemed logical that I would use my mother's dutch oven to bake the beans in today. I have really only ever used it for making the meat sauce for my
Lasagna
, as did my mother. And for the beans, I've only ever used a slow cooker, and for the life of me I can't find that particular recipe.
I think it's in a cookbook I threw away.
(GASP! – she threw a cookbook AWAY??!!)
I know, WHAT WAS I THINKING??!!
I had bought the "new and improved, updated version" and didn't think I needed the old one. Pshaw! (??)
(I dont't know what Pshaw is, I just thought I'd insert it there. Seemed appropriate.)
I have like ADD tonight or something – I'm ALL over the place and my thoughts are not cohesive. I apologize. (
MUST
be the
Cheesecake
!!)
ANYWAY…
Every year for the 4th of July which was really the 3rd of July where I used to live in Rhode Island, we, along with our wonderful neighbors and bestest buddies, Mary and Eddy would throw a huge 4th of July party at our house and then transfer the party to their house to watch the fireworks over the water. It was AWESOME!!!! Every year I would make some baked beans and they were delicious. This is where the BBQ comes in – can't have a barbeque without baked beans!
And the birthdays…
Well, the good ol' US of A celebrates her birthday on the 4th of July and I was fortunate enough to be born on the 3rd. Needless to say, 4th of July has ALWAYS been my favorite holiday!
Boston Baked Beans – adapted from The Fannie Farmer Cookbook
2 cups Great Northern Beans
Water for soaking
1 teaspoon salt, approximately
1/4 pound salt pork
2 teaspoons dry mustard
5 tablespoons dark brown sugar
1/4 cup + 2 tablespoons molasses
1 large onion, minced
Wash the beans.
Soak overnight.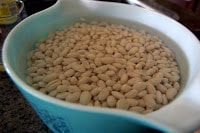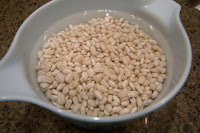 (On the left is the pre-soaked beans. On the right is after approximately 10 hours of soaking.)
Add salt, stir, and drain, reserving liquid.
Preheat the oven to 300ºF.
Cut the salt pork into 1-inch pieces and place about 3 pieces on the bottom of a bean pot or dutch oven.
Add the beans to the pot.
Combine the mustard, brown sugar, and molasses with the reserved bean liquid and pour over the beans.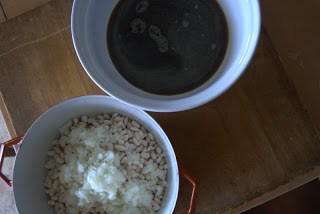 Add the onion, and remainder of salt pork. Stir to combine.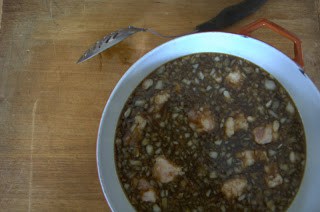 Cover and bake for 6 hours, add water as needed (I added 2 cups throughout the cooking process).
I LOVE the transformation of hard beans into baked beans. It is magnificent!
I rate everything I bake on a scale of 1-4 and these Boston Baked Beans earned 3 rolling pins.
They weren't the best I've ever made.
They were good, but they needed more molasses. Next time I think I'd increase the molasses to from 1/4 +2 tablespoons to 1/2 cup and decrease the brown sugar from 5 tablespoons to 3.
Happy Baking!