Ordinary tomatoes transformed into an extraordinary dinner dish! These Stuffed Tomatoes are filled with bread crumbs, Parmesan and fresh herbs, then covered with mozzarella and baked. Easy, flavorful and delicious!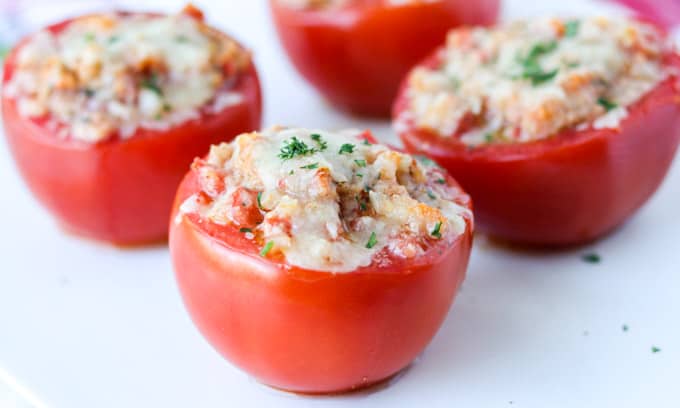 If it has the word "stuffed" in the name, it has to be good, right?
You can make just about anything better if you fill it with cheese and garlic!
This isn't your ordinary stuffed vegetable recipe, though. 
These are the BEST stuffed tomatoes with bread crumbs I've ever tasted, folks.
They might even be the best baked tomatoes I've ever made. 
SAVE THIS EASY BAKED STUFFED TOMATO RECIPE TO YOUR FAVORITE PINTEREST BOARD!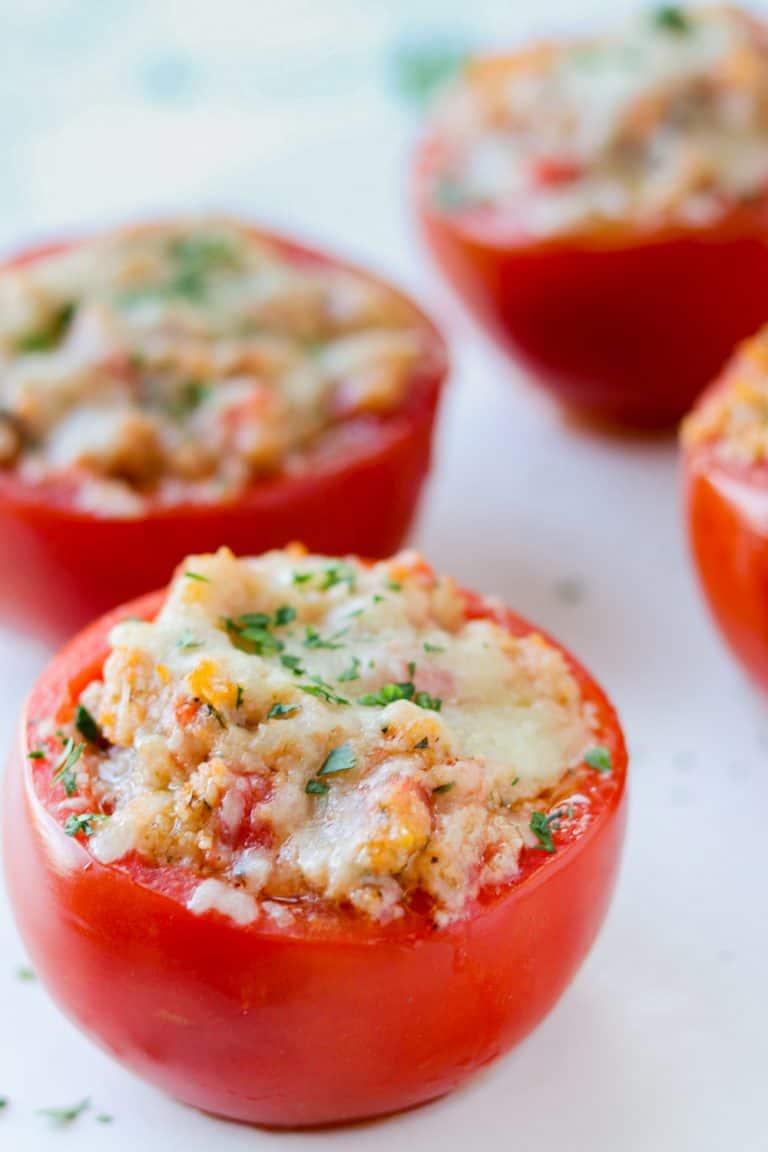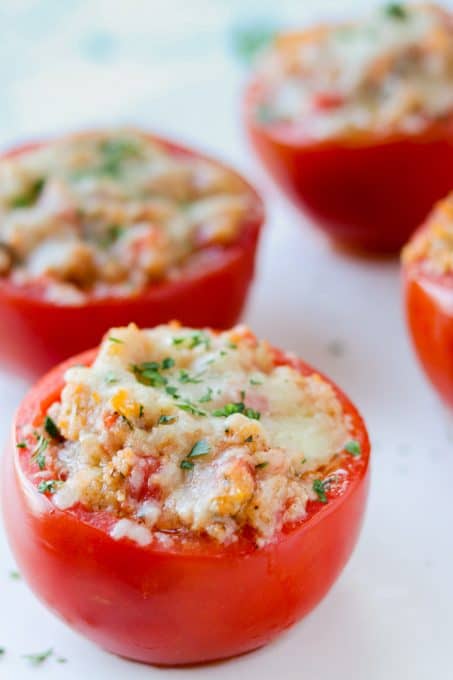 If you love meals that combine cheesy comfort food with fresh ingredients, this recipe is for you.
Ripe juicy tomatoes are baked with a parmesan-bread crumb filling and seasoned with Italian herbs.
This is the perfect creative way to use up any extra tomatoes in your garden.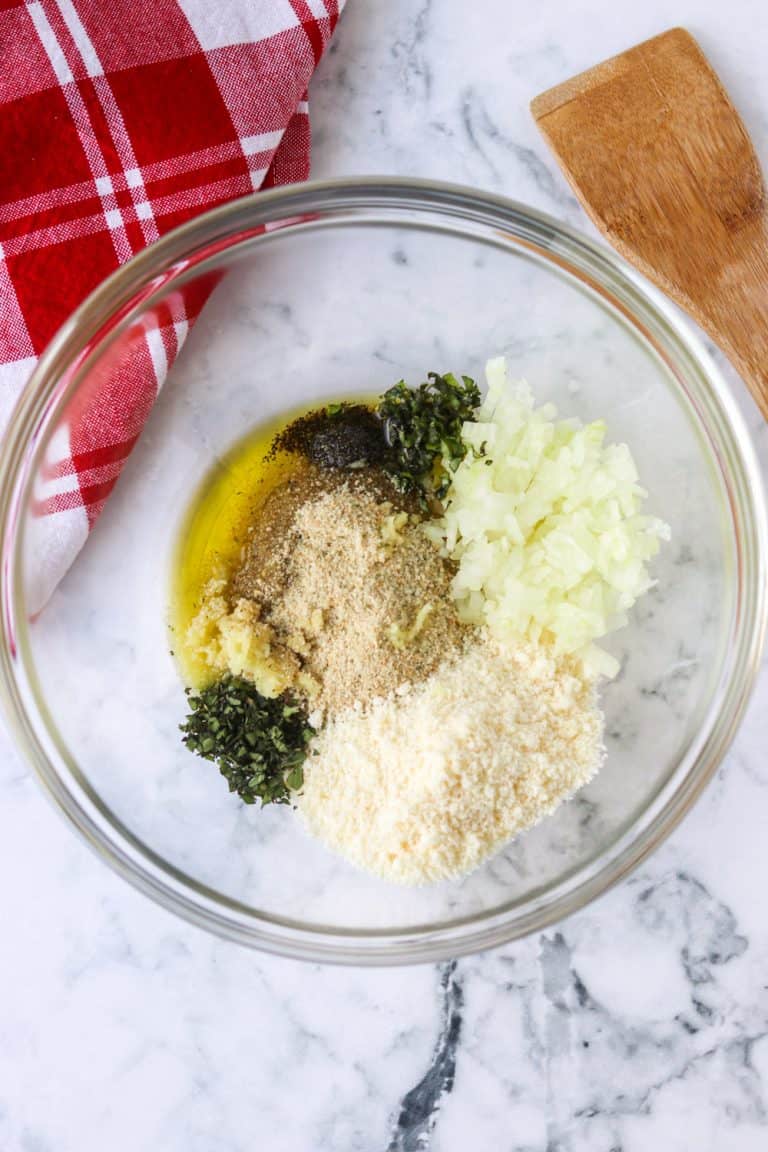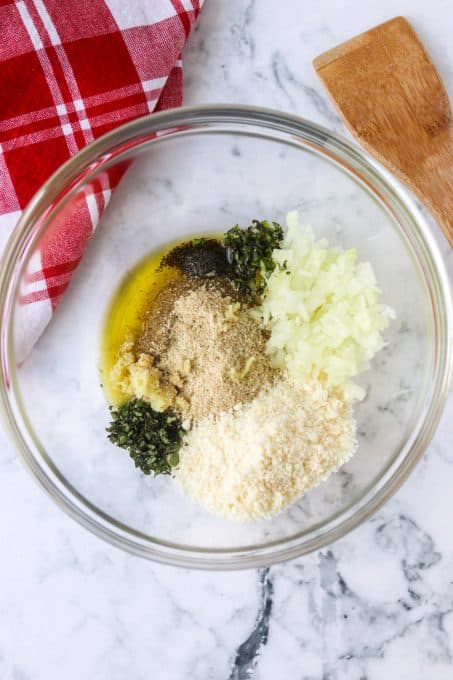 Ingredients for Stuffed Tomatoes
tomatoes
Parmesan and mozzarella
bread crumbs
minced onion
garlic
basil
parsley
olive oil
salt and pepper
What kind of tomatoes are best?
Any variety of round plump tomato can be used for stuffed tomatoes.
My personal preference for this easy recipe is the red Beefsteak tomato which you'll most often see in your grocery store.
They can vary in size, but have a great flavor, especially if you pick them fresh from your own garden!

If you want to go with smaller version, Campari tomatoes have a natural sweetness that comes out even more when they're baked.
Heirloom tomatoes can also be used.
They vary in color and size and will add some excitement to your side dish.
Regardless of what type of tomatoes you use, look for ones that are plump, round and bright in color.
Make sure the tomatoes are large enough to hold up to all that good stuffing, too!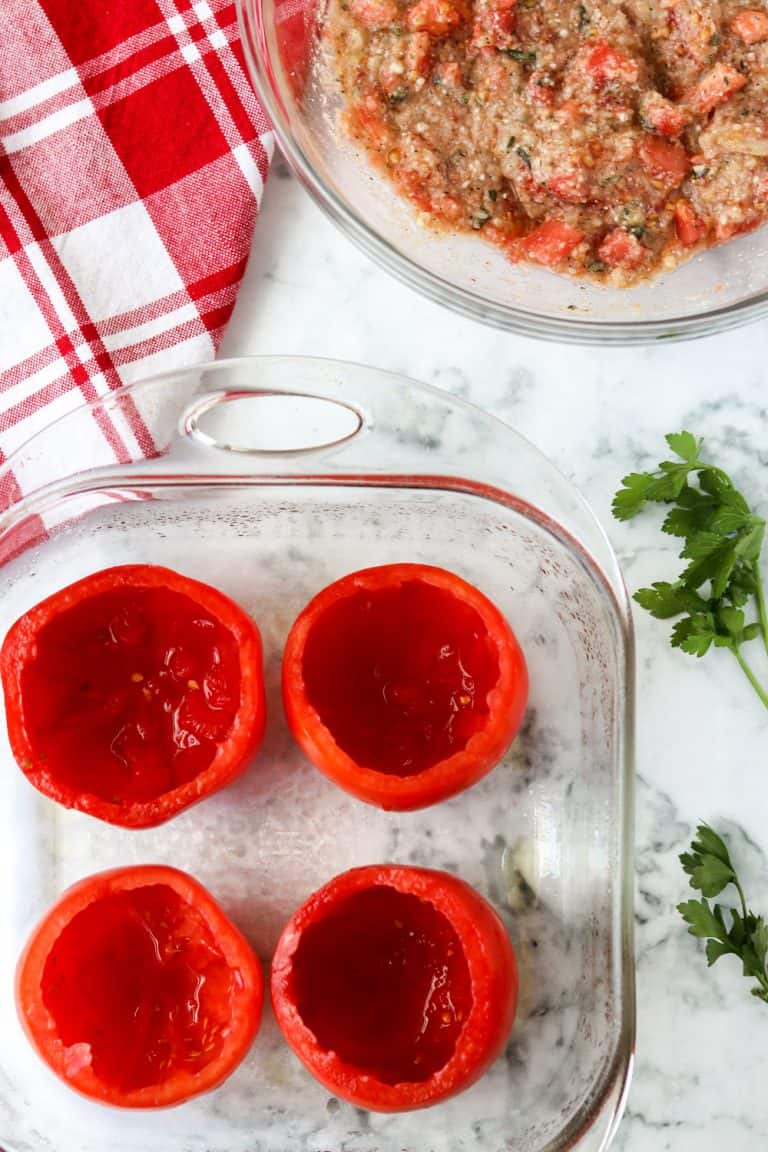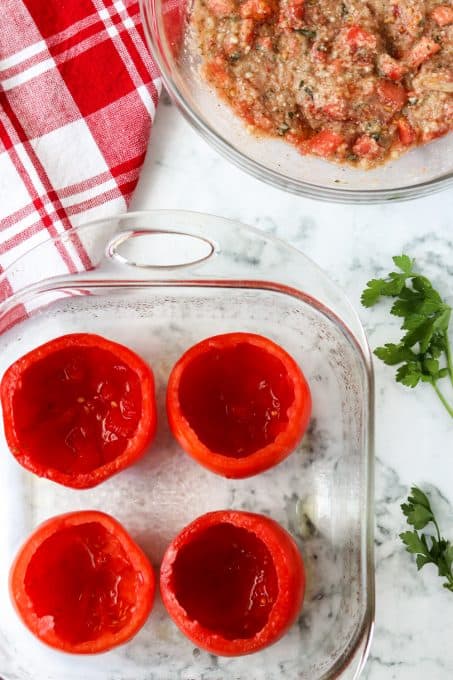 Can you freeze stuffed tomatoes?
You can freeze these either before or after they're first baked. Place the stuffed tomatoes in an airtight freezer safe container. You can double wrap them to help preserve freshness!
Them in the refrigerator before baking or bake them right from frozen. Just add a few minutes of extra baking time if you don't let the tomatoes thaw first.
Freezing will affect the texture of the tomatoes slightly. For the best flavor and texture, I prefer to bake and eat these the same day.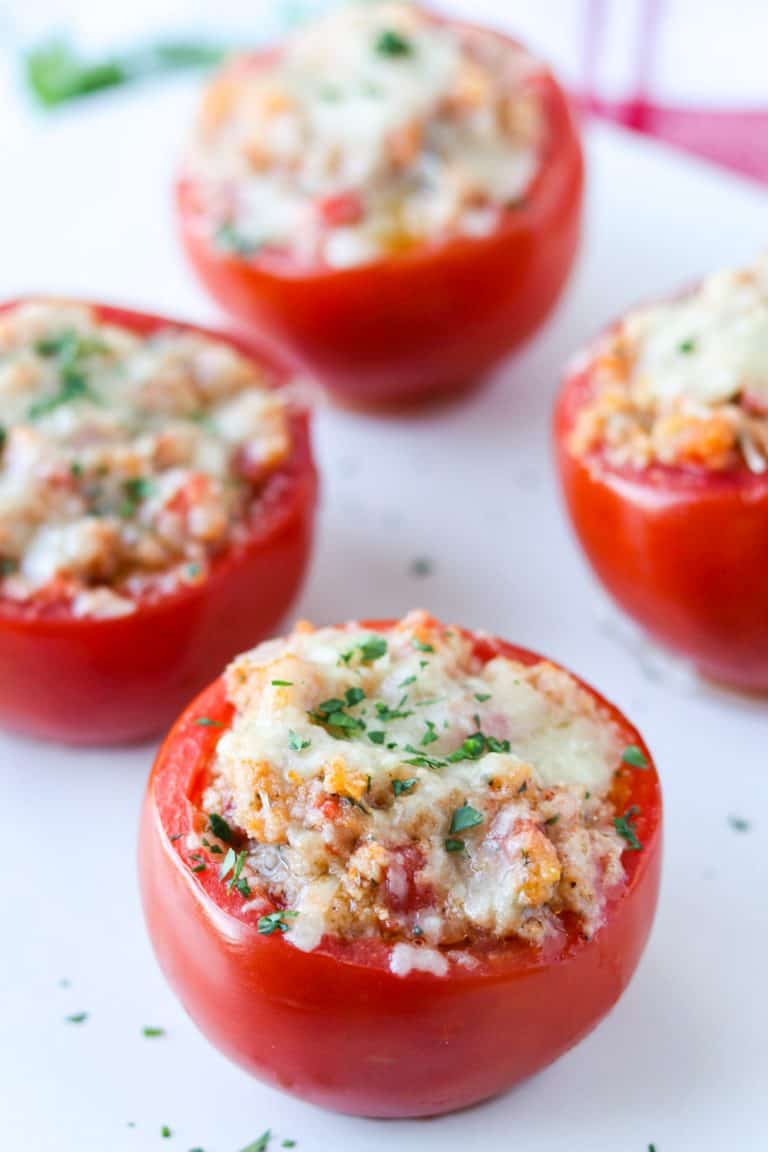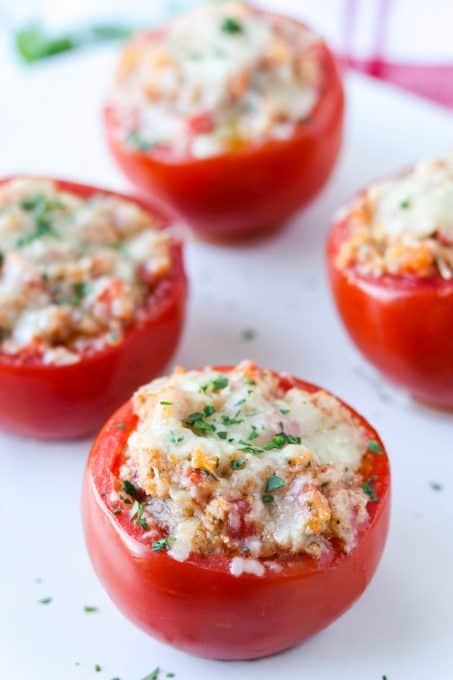 Serving Suggestions for Baked Tomatoes
Stuffed Tomatoes make a delicious side dish or appetizer.
Serve them as an accompaniment to Chicken Mozzarella Pasta or this summery Lemon Garlic Shrimp Pasta. 
Make a loaf of Homemade Italian Bread for a hearty and satisfying meal!
Turn this dish in to a  vegetarian main course by doubling the recipe!
Fill out the meatless meal with sides like this  Three Bean Salad or pasta.
Tips and Tricks
Love garlic?
Feel free to add another clove or two.
If my garlic cloves are small, I will often double the garlic in this recipe. 
Freshly grated cheese is best here.
It melts more smoothly than packaged shredded cheese!
Plus, the taste is better.
Having trouble scraping all the pulp out of your tomatoes?
Try using a grapefruit spoon with a jagged edge. Works like a charm! 
Do not overbake. After 12 minutes the tomatoes will start to soften and may crack.
When this happens, the cheesy breadcrumb filling starts to fall out.
You want the tomatoes to be slightly soft, but still a bit firm.
More Easy Recipes
You'll love these other quick and delicious ideas for jazzing up your meals!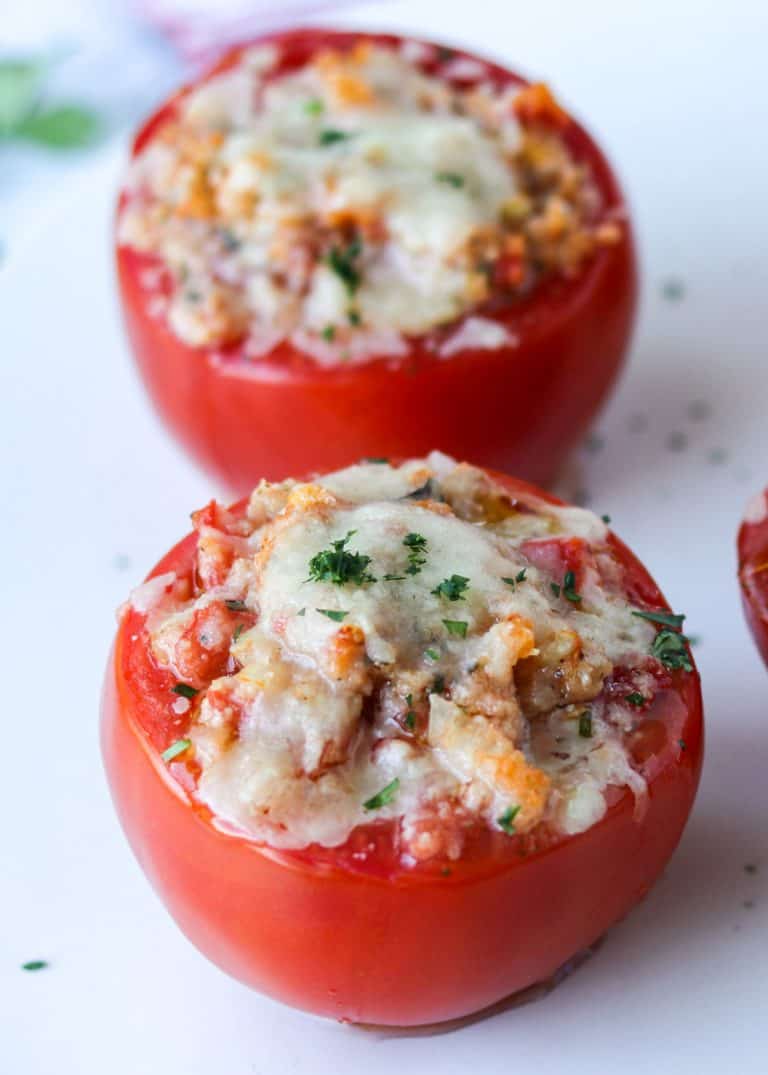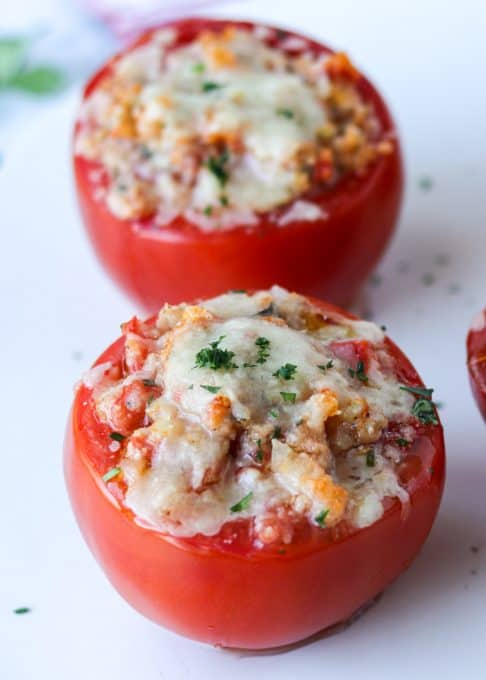 This Stuffed Tomatoes Recipe was one of the recipes I made during my initial 365 Days of Baking project! During that year, I rated everything I made on a scale of 1-4 rolling pins. . According to Mr. 365, these deserved a 4 rolling pin (the best) rating, hands down. He still raves about them whenever they show up on the dinner table!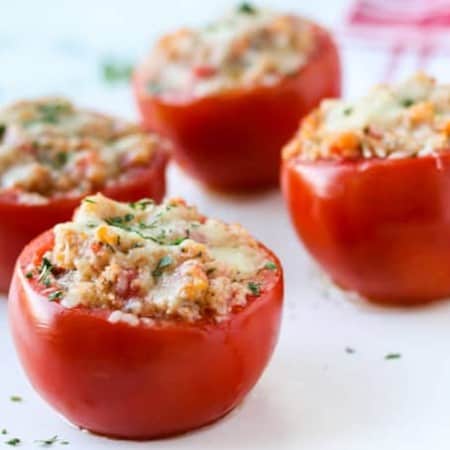 Ordinary tomatoes transformed into an extraordinary dinner dish! These Stuffed Tomatoes are filled with bread crumbs, Parmesan and fresh herbs, then covered with mozzarella and baked. Easy, flavorful and delicious!
Ingredients
4 tomatoes
⅓ cup Parmesan cheese shredded
⅓ cup Italian seasoned bread crumbs
¼ cup onion, minced
2 cloves garlic, minced
2 tbsp olive oil plus more for drizzling
2 tsp fresh basil leaves chopped
2 tsp parsley
1 tsp oregano
¼ tsp freshly ground pepper
2 tbsp mozzarella cheese grated
Instructions
Place an oven rack in the upper third of the oven and preheat to 400ºF. Spray an 8 X 8-inch baking dish with cooking spray.

In a medium bowl, combine Parmesan cheese, bread crumbs, onion, garlic, 2 tablespoons olive oil, basil, parsley, oregano, salt, and pepper.

Cut the tops off and hollow out the tomato by removing the pulp and seeds with a spoon. (I have a grapefruit spoon with a jagged edge that worked perfectly for this.)Dice the pulp and add it to the bread crumb mixture.

Gently mix the ingredients until they are well combined. Fill each tomato with stuffing and place in prepared baking dish. Drizzle each tomato with olive oil.

Sprinkle with mozzarella cheese. Place in oven and bake for 10-12 minutes.
Notes
If baked for longer than 12 minutes, the tomatoes will soften. 
Nutrition
Serving: 1g | Calories: 185kcal | Carbohydrates: 14g | Protein: 7g | Fat: 12g | Saturated Fat: 4g | Polyunsaturated Fat: 1g | Monounsaturated Fat: 6g | Cholesterol: 12mg | Sodium: 321mg | Potassium: 357mg | Fiber: 2g | Sugar: 4g | Vitamin A: 1175IU | Vitamin C: 18mg | Calcium: 180mg | Iron: 1mg
Did you make this recipe?
Share it with me on Instagram and make sure to follow me on Pinterest for more recipes.
Good thing I took new pictures, hunh? ROFL
YIKES!!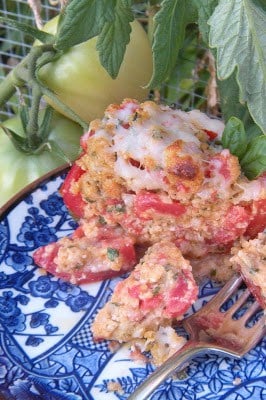 This post was originally published 6/26//11 and was republished with updated pictures and format 9/13/21.
Reader Interactions