Stuffed Peppers prove dinners don't need extravagance to be good. Find out what makes these Stuffed Green Peppers a continuous weeknight meal for the family down below.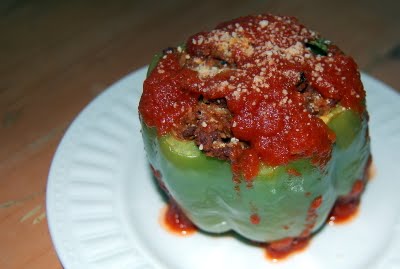 You don't need much when it comes to these Stuffed Peppers. So, you can tend to more important nightly activities. We all have peppers as a side or in our salad. They're good and healthy, and not like the bad tasting thing you call a beet. I'm kidding actually, I like beets and am the only one in my family that does. I can't seem to figure out why.
Have you ever tried stuffed peppers?!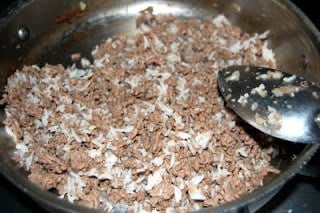 Peppers are different though, and I'm glad they are. With the meat inside, the sauce draped over it, and the cheese to top it all off, the stuffed peppers really do hit the spot. Understandably, with me doing 365 days of straight baking, (or at least trying to) there have been and will be days where baking something this simple will do the trick. Some will be terrible while others will be surprisingly surprising. Hehe. It's been a long night and the cat's got my tongue so I thought I'd give you that sentence.
My other blogger friends know how to bake, and these recipes are top notch.
Therecipecritic knows her stuff with this baked sticky honey garlic buffalo wings. It's a great game-day food for everyone. Skinnytaste has so many great meals I have a hard time picking just one, but this skinny-baked-broccoli-macaroni really hits the spot.
I think that's what's great about baking so much. You get to learn more and more and isn't that part of the fun when you're in the kitchen?! The burning of your hands, the cutting of skin and the constant heat wave of the blasting oven really do get to you, mentally and physically. Oh, I forgot to mention EMOTIONALLY. Yes, the stress has been dreadful at times, but like I've said and will continue to say long after I finish this year of baking; the times I do get a recipe right and the family all enjoy it, then I'm satisfied and the motivation to create better recipes just magnifies.
Okay, now back to the day's Stuffed Peppers recipe.
SAVE THESE STUFFED GREEN PEPPERS TO YOUR FAVORITE PINTEREST BOARD!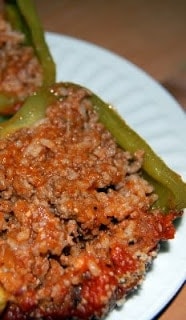 Whenever I start a meal with garlic and onions like so many recipes say to do, my son always comments on how great it smells. I don't know what's up with that boy, and all I say is "It's only garlic and onions." I guess I can give a pass because my bread smelling creeps ALL my kids out.
Tips for getting your Stuffed Peppers right!
Be sure to watch occasionally that water doesn't boil away in the dish. Add more if necessary.
Use two large spoons to remove peppers to serve.
Cover with remaining heated spaghetti sauce or serve on the side.
Choose another meat.
I feel like with this Stuffed Pepper recipe, you can be a little lenient with what you put in it or substitute it with. Who says you HAVE to follow every recipe the way it says? Throw the stones or tomatoes, whichever your liking is, but there are certain recipes where you can do this sort of thing. And this is one of them. I think shredded chicken could give it an extra kick, or even turkey. I've seen that on the internet recently.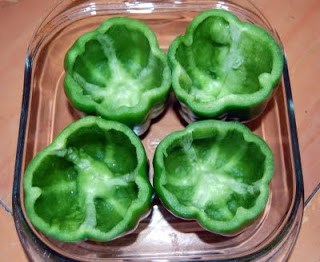 Yes, these stuffed green peppers only serve four, but I think if there's more of a family to feed, doubling the recipe won't be that difficult to do. Remember, this isn't a dinner where there needs to be that WOW factor. Just cook that beef, add the onions and garlic, and you got yourself something tasty to eat. Just as simple as cereal, but a lot better in the taste test.
Adapted from The New Doubleday Cookbook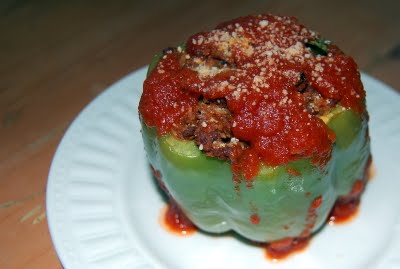 Ingredients
4 medium-sized sweet green peppers
1 pound ground beef
½ cup chopped yellow onion
1 teaspoon garlic salt
½ teaspoon salt
¼ teaspoon freshly ground pepper
1 cup cooked rice (hot or cold)
2 ½ cups spaghetti sauce
grated parmesan cheese
Instructions
Preheat oven to 375 degrees.

Rinse peppers and cut tops off. Remove core and seeds; set aside in 8x8 inch baking dish.

In a large skillet, brown ground beef over medium heat. About 10 minutes til no longer pink.

Remove from skillet and transfer to a bowl.

Save 2 tablespoons of drippings and add onion. Saute for 8-10 minutes.

Add garlic salt, salt, pepper, and beef. Stir until combined over low heat. Add rice.

Add 1 cup spaghetti sauce; mix thoroughly.

Place filling into peppers. Top with grated parmesan cheese.

Pour two cups of water in baking dish.
Nutrition
Calories: 324kcal | Carbohydrates: 8g | Protein: 21g | Fat: 22g | Saturated Fat: 8g | Cholesterol: 80mg | Sodium: 1750mg | Potassium: 813mg | Fiber: 2g | Sugar: 6g | Vitamin A: 665IU | Vitamin C: 10.7mg | Calcium: 40mg | Iron: 3.8mg
Did you make this recipe?
Share it with me on Instagram and make sure to follow me on Pinterest for more recipes.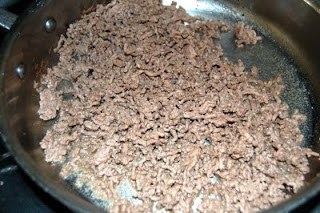 Here are some other recipes on my blog I'm sure you'll enjoy as well.
My pepperoni bread is one of those recipes where you can make it any time of the year.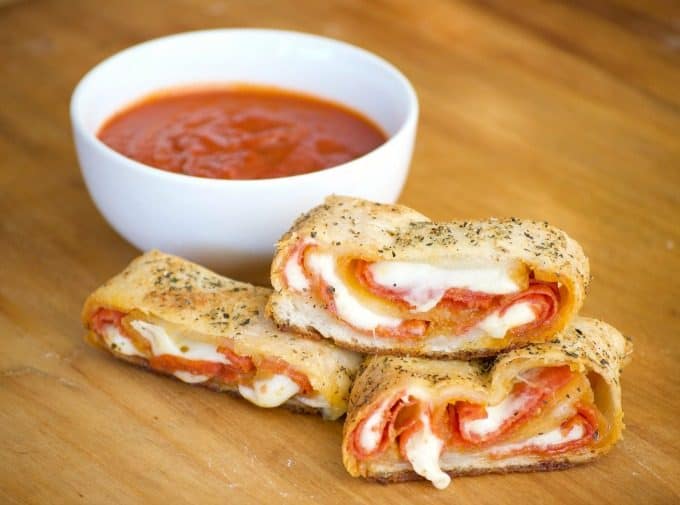 I can't say enough about this taco braid. This can be for Taco Tuesday or any day of the week. It's also really fun and easy to make unlike a lot of recipes.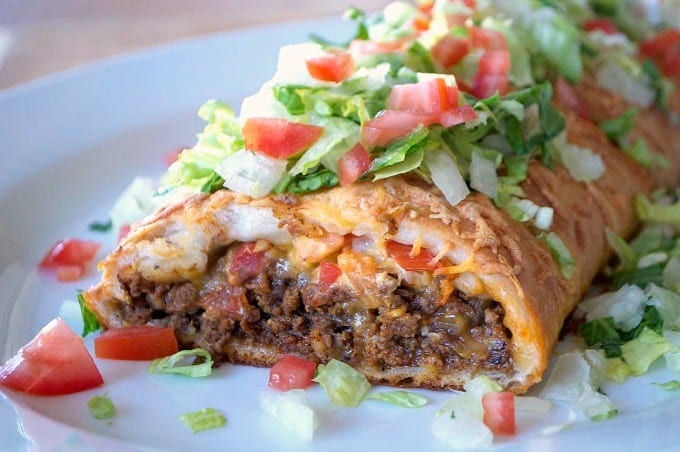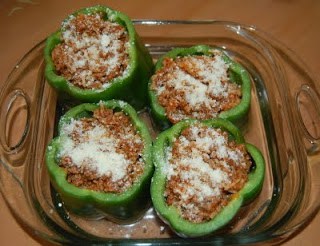 We agreed at dinner that these earned 3½ rolling pins. Everything I bake is rated on a scale of 1-4 with 4 being the best. In the past I've simmered these in a deep pot of spaghetti sauce on top of the stove, covered, for one hour. These were just as good baked in the oven.
Happy baking!
Reader Interactions