I enjoy corn as much as the next person, but when I tried this easy recipe for Corn Pudding, I fell in love! Popular in the American South, Corn Pudding has a creamy, custard-like texture dotted with kernels of corn. Add some savory flavors and you have a great side dish that will be one of your favorite dishes!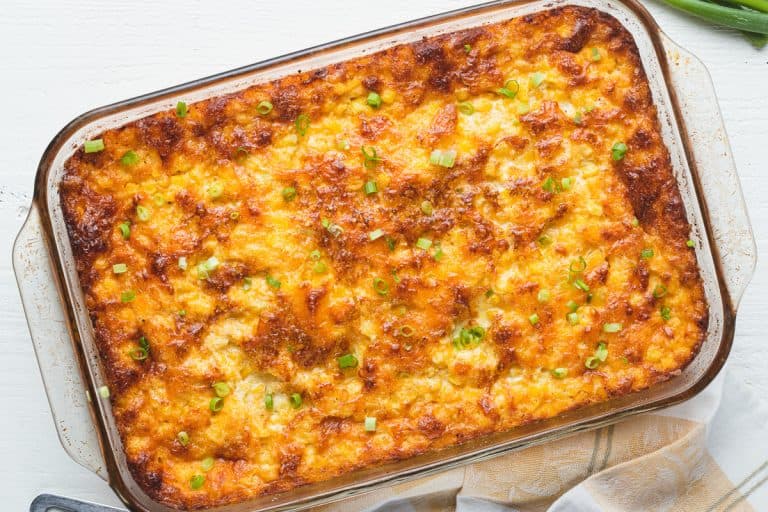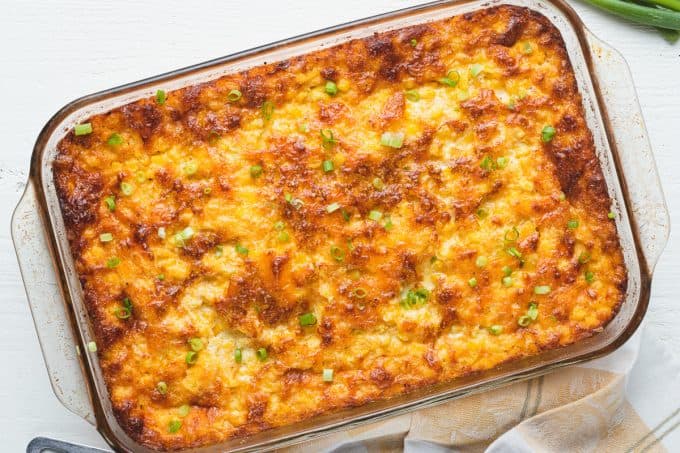 This savory Corn Pudding is a tasty and easy side dish you will want to serve for your dinners or family gatherings this holiday season.
It comes to you from Rebecca Lindamood's wonderful cookbook, 'The Ultimate Guide to Vegetable Side Dishes', and you can order it here from Amazon.
Rebecca is the creator behind the fabulous and tasty blog, Foodie with Family. She is a well established cookbook author and has even created my favorite Pizza Dough Recipe from her cookbook, Ready, Set, Dough!
If you aren't already following her on social media and checking out her recipes, I HIGHLY encourage you to do so.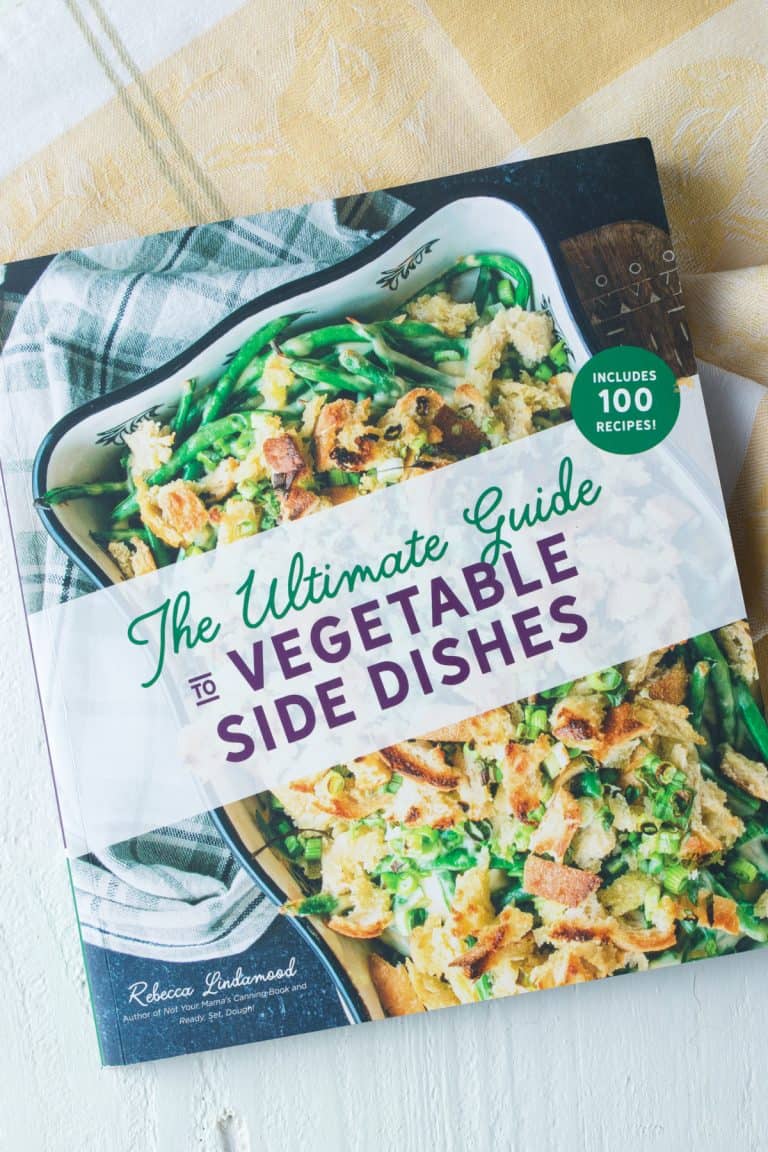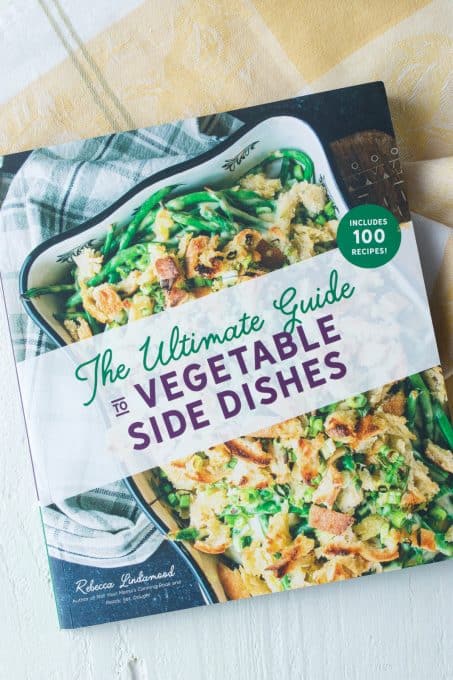 This book will be a wonderful one to add to your Christmas wish list or to give as a gift!
It's full of incredible and tasty recipes. And if you're like me, I can never have enough side dish recipes, so this book has been a saving grace.
From potatoes and broccoli to quick-pickled red onions and butternut squash soup, you'll never have to wonder what sides to make for your dinners this week.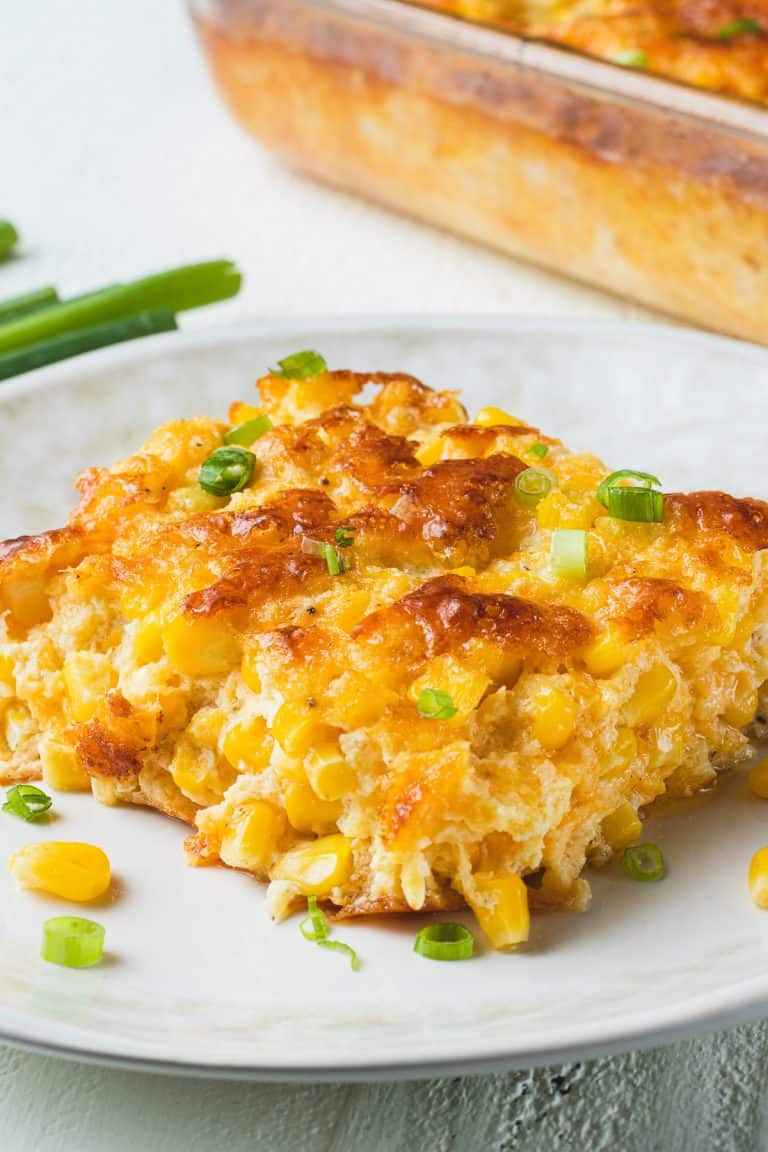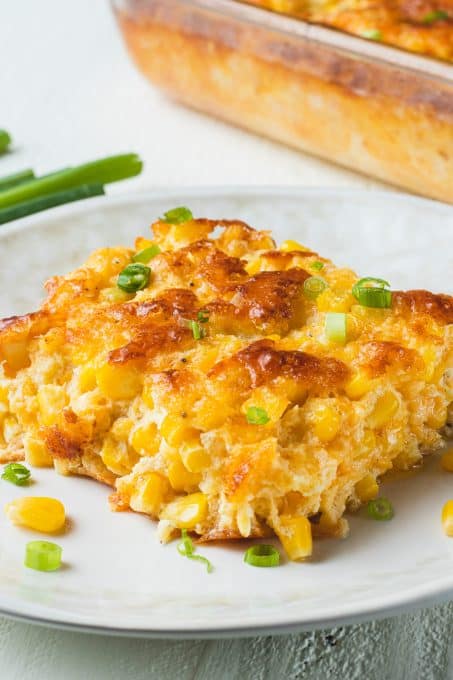 Cornbread, corn casserole, corn pudding- what is the difference?
All three popular corn recipes originate from Native American recipes that used ground cornmeal or "maize". Settlers adapted these recipes into what we know as cornbread– a quick bread that uses cornmeal as its base.
Corn Casserole tends to be a rich, creamy dish that combines cornbread with things like heavy cream or sour cream, butter, and cheese.
Corn Pudding is very similar to corn casserole, but the corn mixture is a bit more gelatinous due to the use of a thickening agent, either added to the dry ingredients or derived from the corn kernels themselves.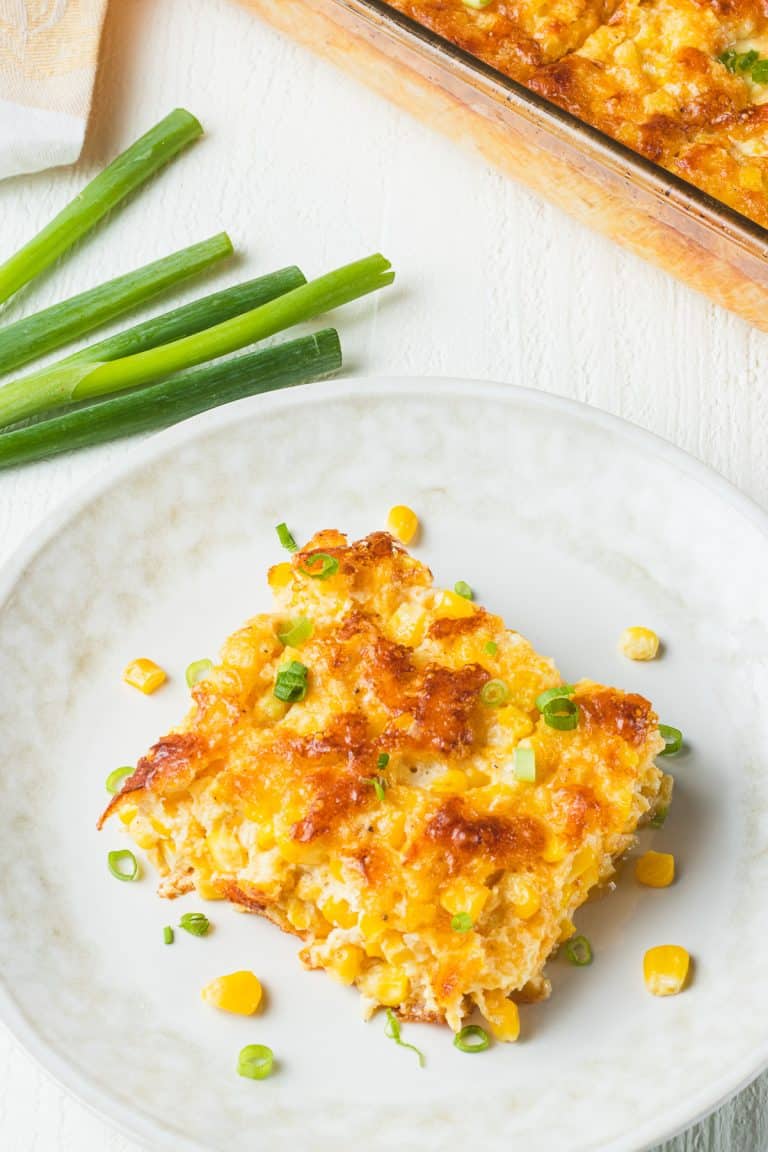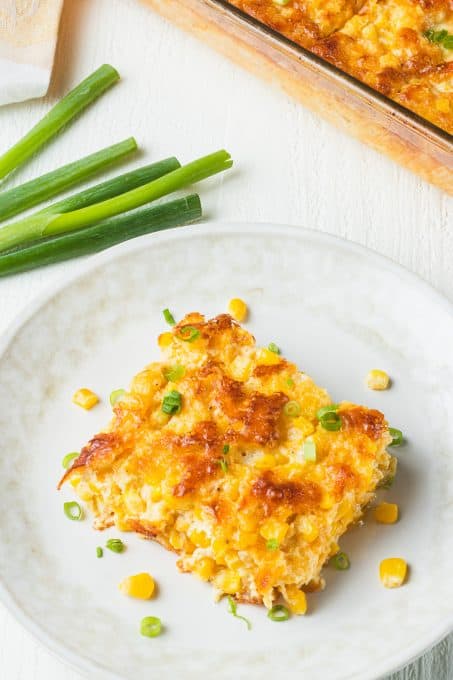 What kind of corn should I use for this homemade corn pudding?
Originally, corn pudding was a basic recipe made from fresh sweet corn kernels, cut off the cob, then combined with water and the natural milky "juices" of the corn. As it baked, the starches from the corn thickened the mixture into a pudding-like texture.
To stay true to this recipe's roots, I love using fresh sweet corn, but it has a limited season. You can use any fresh corn kernels, cut off the cob, or you can use canned or frozen corn. Just be sure to thaw the corn if frozen and drain it completely if you use canned corn.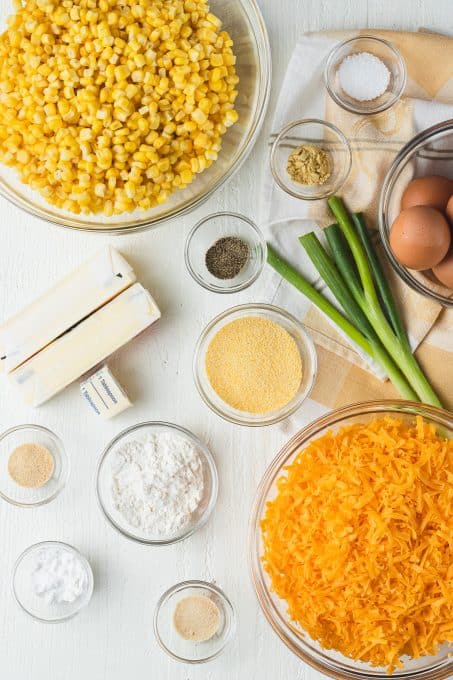 Easy Corn Pudding Ingredients
Here are the things you will need to make this tasty creamy corn casserole:
1 cup unsalted butter, melted, plus more for the pan
Whole milk
6 large eggs
Cornmeal
All-purpose flour
Baking powder
Salt
Garlic powder
Onion powder
Ground mustard powder
Ground black pepper
5 cups corn kernels
12 oz shredded cheddar cheese
green onions, chopped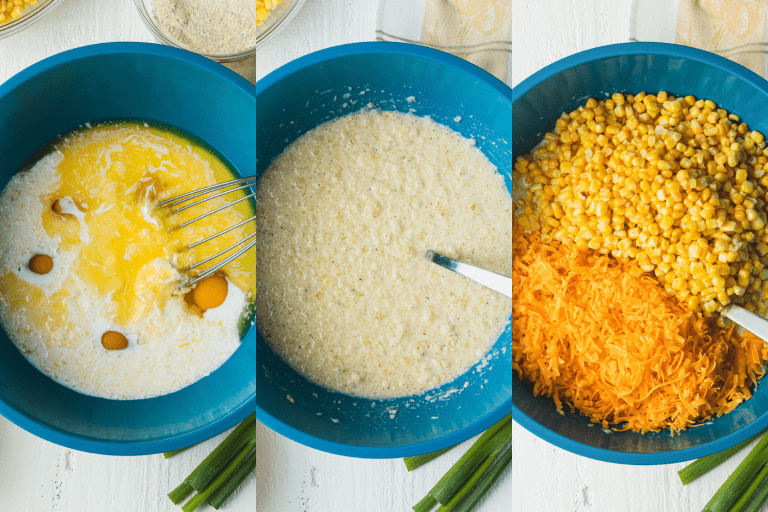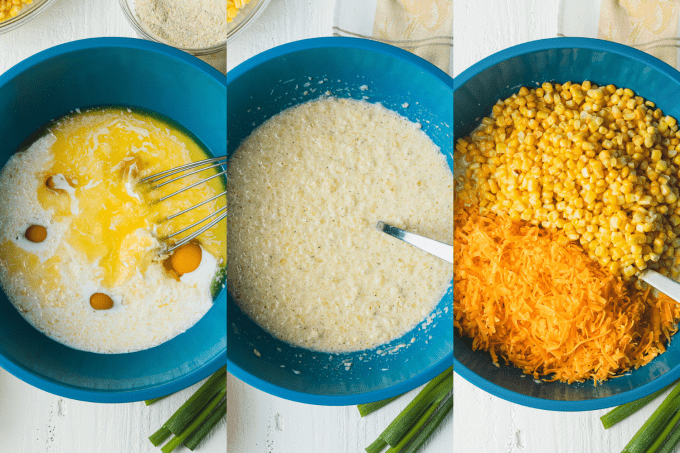 Let's Bake!
First, preheat your oven to 350 degrees and grease a 9×13 baking dish with about two tablespoons of butter. Set aside.
Next, in a large bowl, whisk together the melted butter, milk, and eggs. Combine your dry ingredients in a separate bowl and stir until evenly mixed. Then whisk the flour mixture into the egg mixture.
Finally, use a spoon to stir in the corn kernels and cheddar cheese. Pour your batter into the prepared casserole dish and bake for 40-45 minutes. The finished product should be slightly puffy and golden brown, set in the center, and when a knife is inserted into the center, it should come out clean.
Allow the casserole to set for five minutes, then garnish with sliced green onions and serve!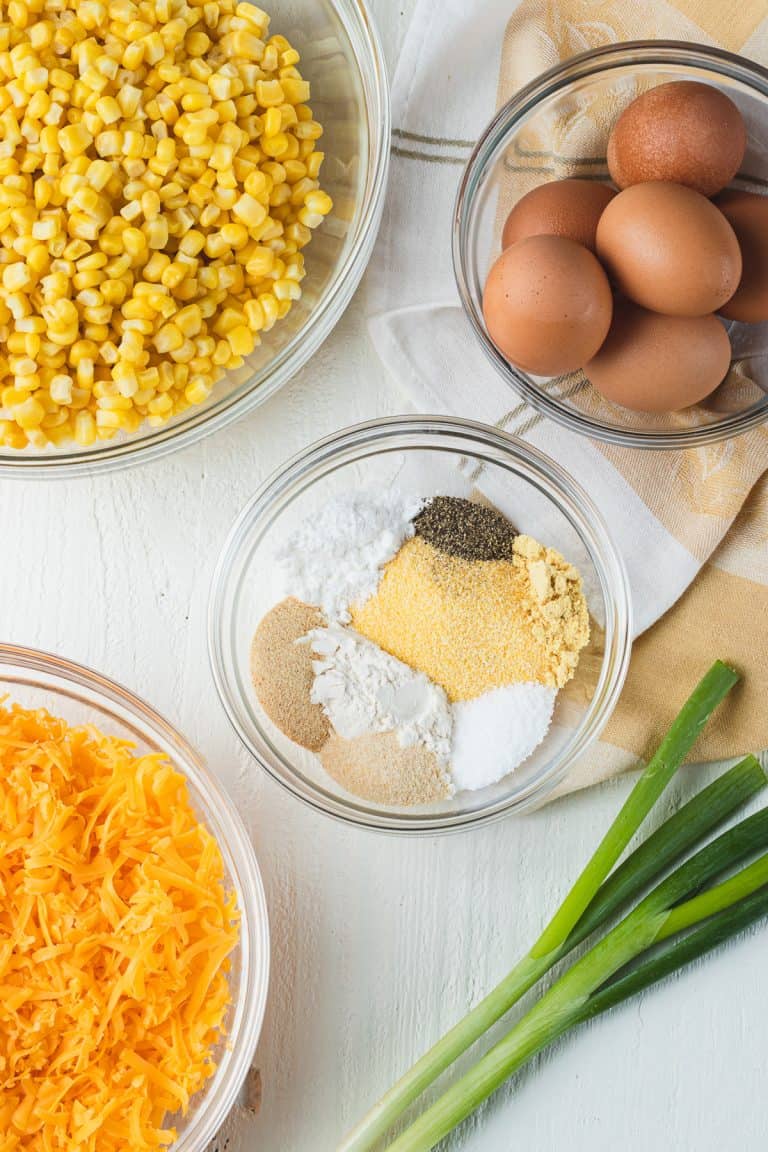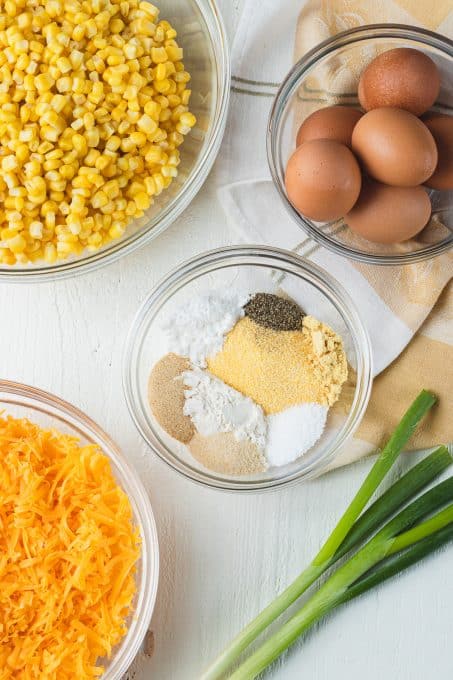 Recipe Notes:
If you like a smoother, less chunky texture, pulse half of the corn kernels in a food processor before mixing them into the recipe.
If you'd like to make this recipe gluten-free, you may substitute gluten-free flour for the all-purpose flour in a 1-for-1 ratio.
Feel free to add your own mix-ins for variety: it really becomes a savory corn pudding with chopped bacon, onions, or peppers. Or you can bring a little heat with diced jalapenos, green chiles, or sweet red pepper.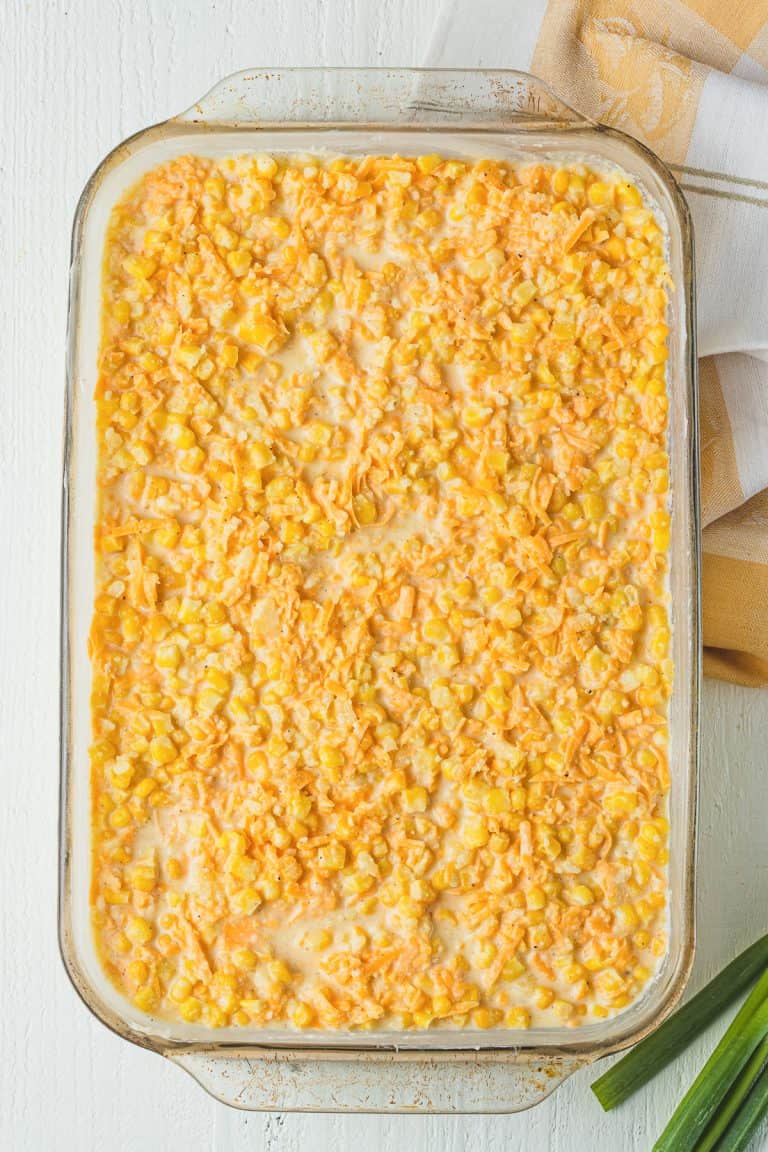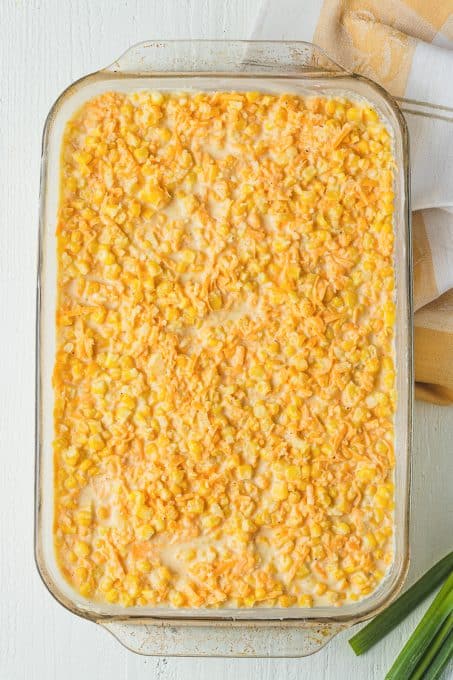 Can I make Corn Pudding ahead of time?
This easy corn pudding is a great dish to bring to a potluck or one that is sure to be a big hit at that holiday dinner! To prep your corn pudding ahead of time, you can do one of two things:
First Method: Refrigerate and Bake Later- Follow the recipe as directed and assemble all the ingredients, then cover with plastic wrap and refrigerate until ready to bake. When you're about ready to bake it, let it sit at room temperature for about 30 minutes, then bake as directed.
Second Method: Bake and Reheat- Bake the corn pudding as directed, then let it cool completely, cover, and refrigerate. To reheat, bake covered with aluminum foil at 300 degrees for about 10 minutes. Increase the heat to 350 degrees, remove the foil, and bake for another 10-15 minutes.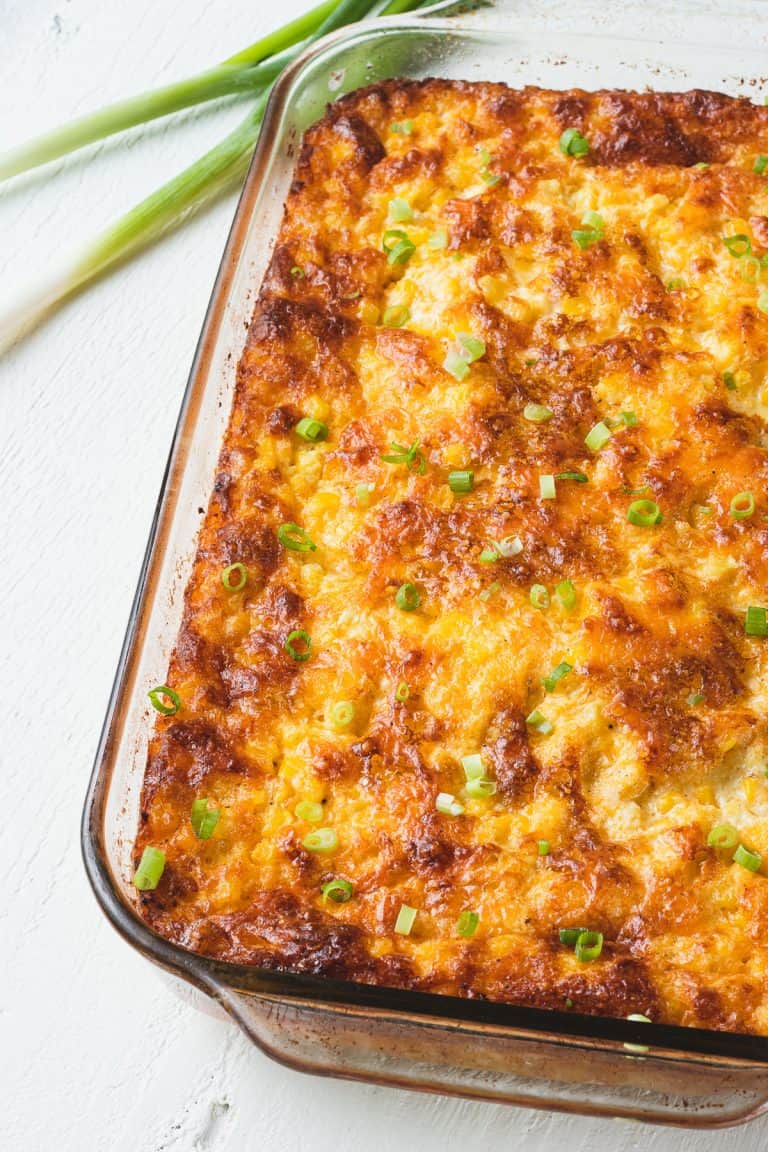 Storing leftovers
You can store any leftovers in an airtight container in the refrigerator for 3 to 4 days. You can also freeze this for up to three months, but it's definitely best eaten fresh!
What main dishes should I serve Corn Pudding with?
I love Corn Pudding as a holiday side dish served with turkey and all the fixings. Make our Herb Roasted Turkey, Turkey Stuffing, Cheesy Mashed Potatoes, Maple Roasted Sweet Potatoes, and Easy Three-Bean Salad.
However, you can serve it with almost any main dish- steak, chicken, ham, you name it. Try this Easy Meatloaf Recipe or make Chicken Picatta for dinner.
Or, you can serve it as a vegetarian dish along with a salad, some roasted vegetables, and some homemade bread. Try these Maple Bacon Brussel Sprouts and Asiago Herb Biscuits.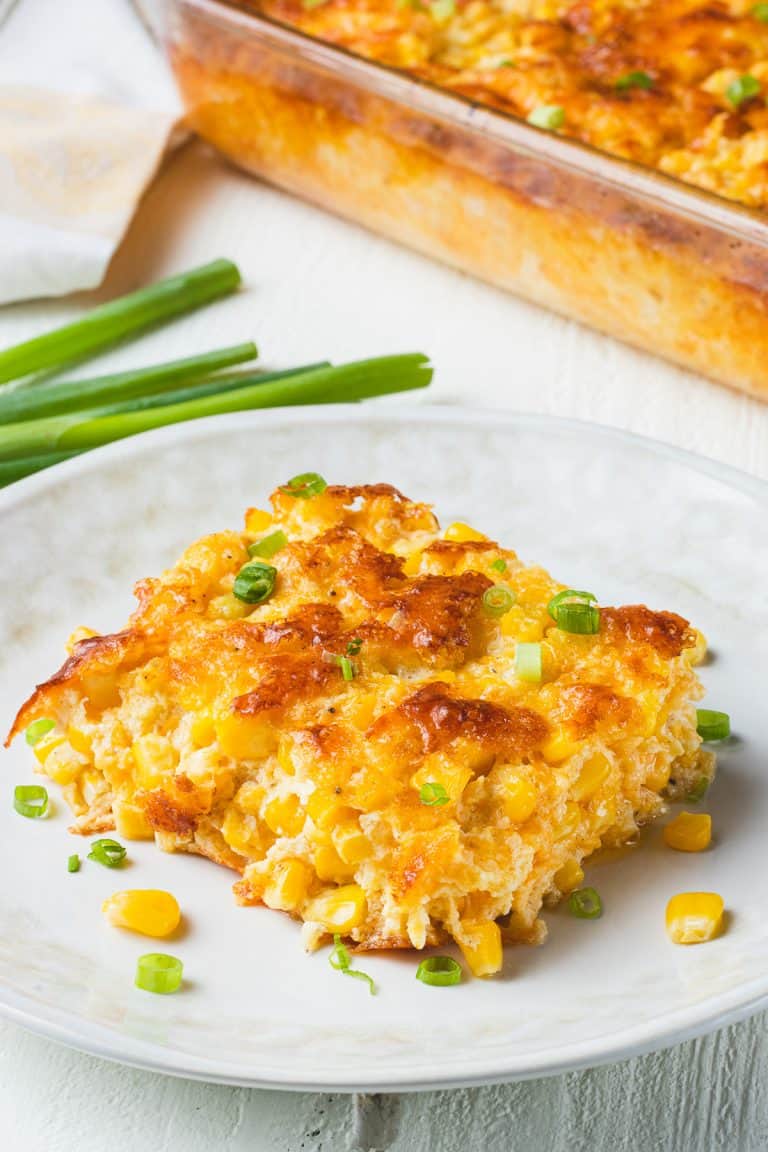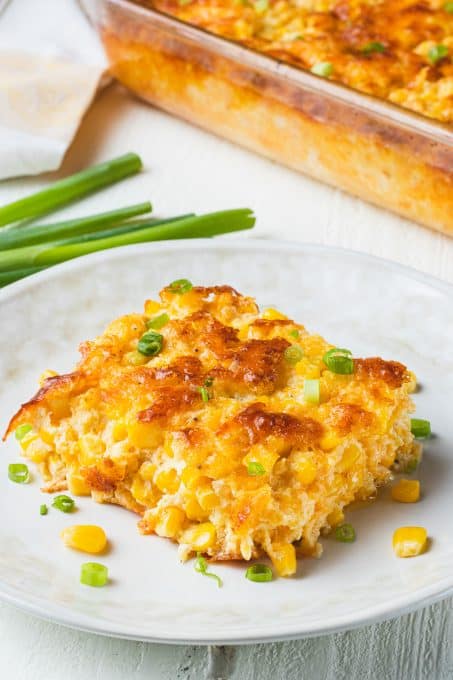 Favorite Corn Recipes
As I said, I love corn just as much as the next person! Here are some other recipes on my site that use those delicious golden kernels: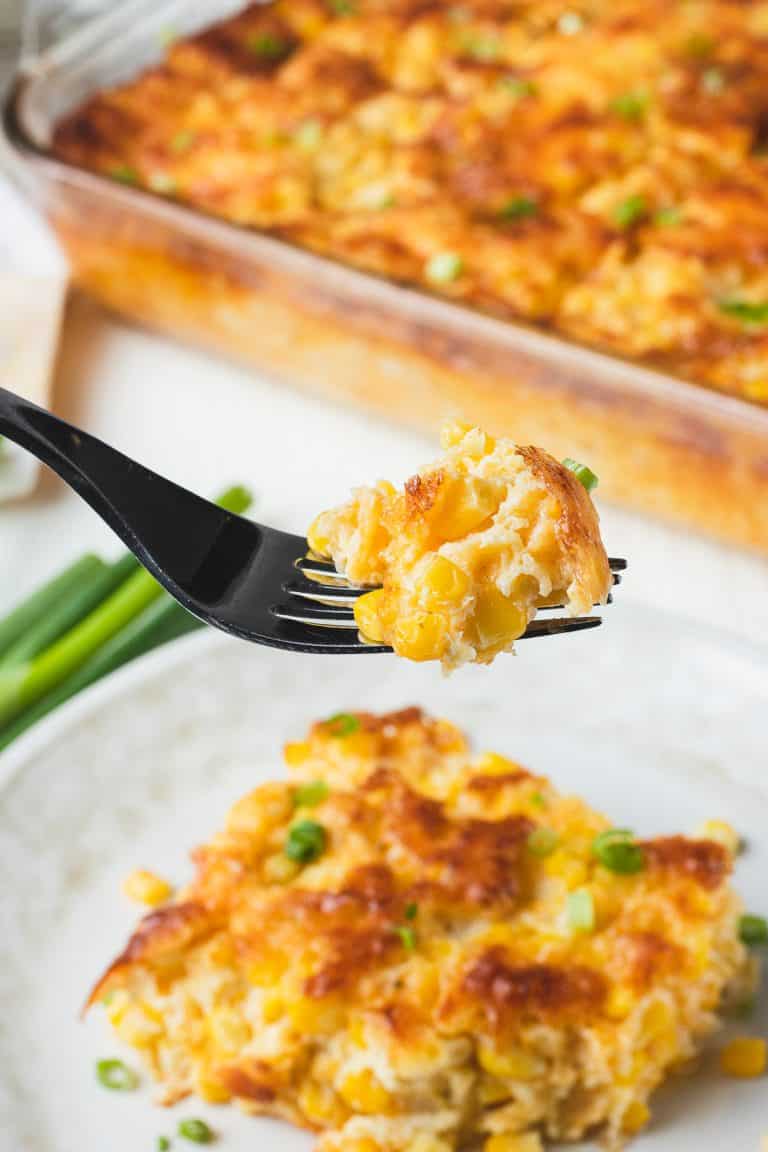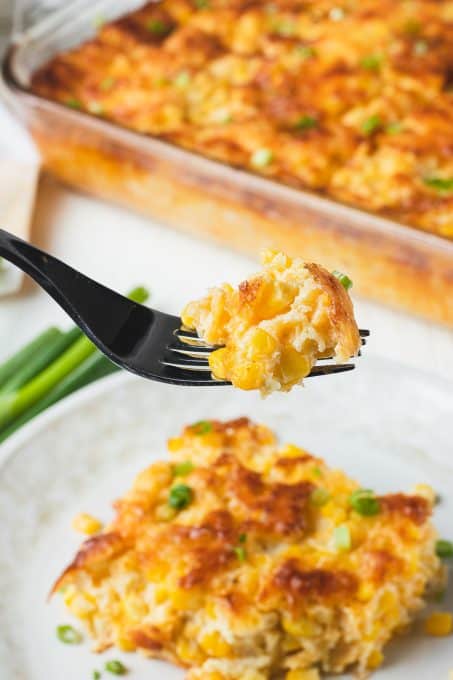 Next time you have a "hankerin'" for some cornbread, try this southern Corn Pudding recipe instead. If you try it, let me know what you think!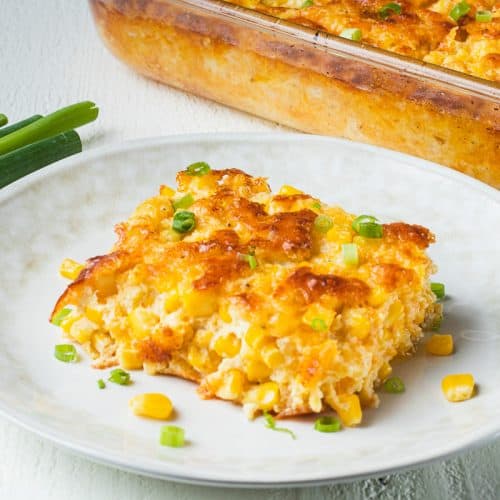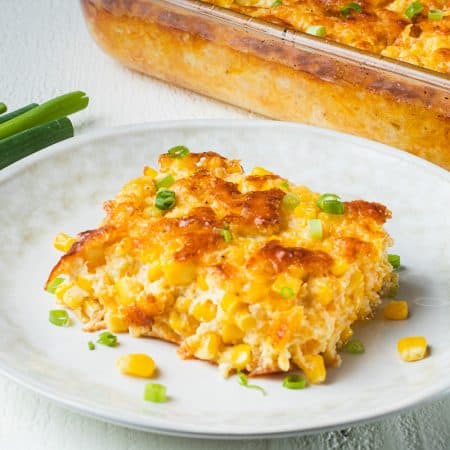 A savory and cheesy corn side dish, this Corn Pudding can be made with fresh, frozen or canned corn. It's a hearty dish that pairs well with any protein or can be eaten alone as it's similar to a quiche.
Ingredients
8 ounces butter melted
2 tablespoons butter for the pan
2 cups whole milk
6 large eggs
3 tablespoons cornmeal
3 tablespoons all-purpose flour see note
2 teaspoons baking powder
1 ¼ teaspoons kosher salt
¾ teaspoons garlic powder
¾ teaspoons onion powder
¾ teaspoons ground mustard powder
½ teaspoon ground black pepper
5 cups corn kernels freshly cut from the cob, thawed from frozen or well drained if canned.
12 ounces sharp cheddar cheese grated from blocks, about 3 cups
1 green onion thinly sliced
Instructions
Preheat oven to 350°F and grease a 9 X 13-inch casserole dish with the 2 tablespoons of butter. Set aside.

In a large mixing bowl, whisk together the melted butter, milk, and eggs.

In a smaller bowl, use a fork or small whisk to combine the cornmeal, flour, baking powder, salt, garlic, onion and mustard powders, and pepper until even in color. Whisk the flour mixture into the wet mixture, then use a spoon to stir in the corn kernels and Cheddar cheese.

Transfer the mixture to the prepared baking dish and bake for 40 – 45 minutes, or until puffy, set in the center, and a knife inserted into the center of the casserole comes out clean.

Allow the casserole to set for 5 minutes, then garnish with sliced green onions and serve.

Leftovers are delicious when stored in the refrigerator and reheated for up to 4 days after baking.
Notes
If you'd like to make this recipe gluten-free, you may substitute 1-for-1 gluten-free flour.
Nutrition
Serving: 1serving | Calories: 472kcal | Carbohydrates: 20g | Protein: 16g | Fat: 38g | Saturated Fat: 22g | Polyunsaturated Fat: 2g | Monounsaturated Fat: 10g | Trans Fat: 1g | Cholesterol: 206mg | Sodium: 908mg | Potassium: 358mg | Fiber: 2g | Sugar: 6g | Vitamin A: 1268IU | Vitamin C: 2mg | Calcium: 364mg | Iron: 1mg
Did you make this recipe?
Share it with me on Instagram and make sure to follow me on Pinterest for more recipes.
Reader Interactions