These Pumpkin Biscuits  will steal the show at your Thanksgiving dinner. Fluffy, moist and lightly flaky biscuits are made even better when you slather them with homemade cinnamon honey butter!
I could have bathed myself in this butter. That's how good it is. 
There's nothing quite like the comfort of a buttermilk biscuit, hot out of the oven. A warm biscuit topped with a pat of butter that melts into all those flaky layers is about as good as it gets, folks. 
SAVE THIS PUMPKIN BISCUIT RECIPE TO YOUR FAVORITE PINTEREST BOARD!
This fall twist on a classic biscuit brings pumpkin into the picture too. These Pumpkin Biscuits are a touch sweet, but not so sweet that you can't serve them as a side dish with your meal! 
Flavored with warming spices like nutmeg and ginger, they're a delicious way to use up any leftover pumpkin you have after making your favorite pumpkin desserts. 
The best part of these biscuits is what you spread on top of them! This homemade Cinnamon Honey Butter tastes so divine that words can't do it justice. 
It adds a hint more sweetness to the biscuit while saturating every last bite with savory buttery flavor. Once you know how easy it is to make homemade cinnamon butter, you'll want to spread it on anything and everything!
What do I need?
To make pumpkin biscuits you'll need. . . . 
flour
salt
baking powder
ginger
nutmeg
allspice
butter
buttermilk (or buttermilk substitute)
canned pumpkin 
honey
Pro Tip: Don't have a carton of buttermilk handy? Make your own by whisking 1/3 cup of milk with 1 tsp white vinegar (or lemon juice). Let it sit for 10 minutes to curdle before using in the recipe. Works like a charm every time! 
Here's what you need to make cinnamon honey butter: 
That's it! 
Biscuit Tips and Tricks
For fluffy, flaky biscuits be sure to use COLD butter. Don't skip the step of chilling the flour and butter mixture either. Cold butter will attach to the flour in tact as the biscuits bake, creating a softer crumb. 
Work pumpkin biscuit dough with a light touch. Avoid over kneading or vigorously folding the dough more than necessary, otherwise the biscuits may come out tough. 
Serve biscuits right away for best flavor and texture. 
What can I serve these pumpkin biscuits with? 
We love serving a basket of these biscuits as a side dish with Herb Roasted Turkey. Add some Scalloped Hasselback Potatoes or Easy Roasted Smashed Potatoes with CHEESE! and a salad and you have a complete holiday feast. 
Pumpkin Biscuits make a great addition to breakfast or brunch, too. Enjoy with a savory  Frittatas or a straightforward plate of eggs and oven cooked bacon.
Pumpkin Recipes
This pumpkin biscuit recipe doesn't use a whole can of pumpkin. . . .which means you have an excuse to bake more fall goodies! 
Put the rest of that open can to good use with this Pumpkin Chocolate Chunk Cake. If you love the combo of dark chocolate and pumpkin, this Chocolate Chunk Pumpkin Bread is another one to bookmark. 
For a dessert idea that doesn't take up oven space, give my No-Bake Pumpkin Nutella Cheesecake a try this holiday season. You don't often taste pumpkin and Nutella together, but the pairing is spectacular!
Bread Recipes
To be perfectly honest, the bread is usually my favorite part of a holiday meal (besides dessert, of course). Give me all the freshly baked rolls, biscuits and loaves, please! 
If you haven't tried these Copycat Texas Roadhouse Rolls yet, stop everything you're doing and make them. NOW. Like today's biscuits, they're spread with Easy Cinnamon Honey Butter and even better than the original restaurant version.
Whether you're a bread baking pro or brand new to baking, we have plenty of beginner friendly bread recipes on the blog you'll love too: 
But first things first: go make some Pumpkin Buttermilk Biscuits!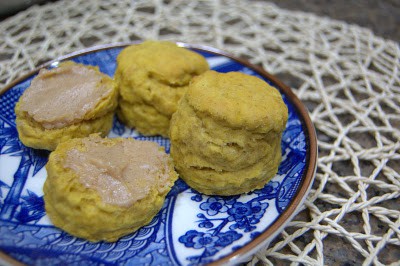 Pumpkin Biscuits with Cinnamon Honey Butter
These flaky biscuits are made with real pumpkin and fall spices. Spread with homemade cinnamon honey butter for a jaw-droppingly delicious addition to your meal!
Print
Pin
Rate
Ingredients
For the Pumpkin Biscuits
2

cups

all purpose flour

½

tsp

salt

2 ½

tsp

baking powder

¼

tsp

ground ginger

¼

tsp

allspice

¼

tsp

freshly ground nutmeg

5

tbsp

butter

⅓

cup

buttermilk

¾

cup

canned pumpkin

3

tbsp

honey
For the Cinnamon Honey Butter
4

tbsp

butter, softened

1

tbsp

honey

¼

tsp

vanilla extract

¼

tsp

ground cinnamon
Instructions
To make the biscuits:
Preheat oven to 400ºF. Line a large baking sheet with parchment paper and set aside.

In a large bowl, combine flour, baking powder, cinnamon, ginger, allspice, nutmeg, and salt.

Cut in butter into small pieces and with a pastry blender, cut it into the dry ingredients until it resembles coarse meal. Place mixture in the fridge to chill for 10 minutes.

In a separate bowl, combine buttermilk and honey, and stir with a whisk until well blended. Add canned pumpkin and mix well.

 Roll dough into a (1/2-inch-thick) 9 x 5–inch rectangle; dust top of dough with flour. Fold dough crosswise into thirds (like you're folding a piece of paper to fit into an envelope).

Reroll dough into a (1/2-inch-thick) 9 x 5–inch rectangle; dust top of dough with flour. Fold dough crosswise into thirds; gently roll or pat to a 3/4-inch thickness. 

  Reroll dough into a (1/2-inch-thick) 9 x 5–inch rectangle; dust top of dough with flour. Fold dough crosswise into thirds; gently roll or pat to a 3/4-inch thickness. 

Place biscuits, on a baking sheet lined with parchment paper one inch apart. Bake for 14 minutes or until golden. Let cool slightly and serve warm with cinnamon honey butter.
To make cinnamon honey butter:
whisk together all ingredients in a small bowl or ramekin. Cover and refrigerate until use. 
This Cinnamon Honey Butter recipe was adapted from this one by Kevin & Amanda.