Pictures still need to be added. I'm getting there…
October's Your Best Recipe will be posted tomorrow/today (the 31st) at Spicie Foodie. Nancy has been kind enough to host this every month and has been for a year now! Click on the ave banner and you'll see so many wonderful recipes from my fantastic blogging friends!
She'll be posting the round-up on the 31st, so if you don't see it yet, be sure to go back and check it out!
Today it was biscuits. But not just any biscuits, pumpkin biscuits!part
And they have Cinnamon Honey Butter to go on top.
I could ve bathed myself in that butter it was so unbelievably delish!!
I can't take credit for it though.
I found it at Kevin & Amanda.
They have such a wonderful website, so stop by and say hello and check out their gorgeous pictures, too!
The biscuits were adapted from MyRecipes.
Pumpkin Biscuits with Cinnamon Honey Butter – makes about 14 biscuits
2 cups all-purpose flour
1/2 teaspoon salt
2 1/2 teaspons baking powder
1/2 teaspoon cinnamon
1/4 teaspoon ginger
1/4 teaspoon allspice
1/4 teaspoon freshly ground nutmeg
5 tablespoons butter
1/3 cup buttermilk (I used 1/3 cup milk mixed with 1 teaspoon white vinegar and allowed it to sit for 10 minutes.)
3/4 cup canned pumpkin
3 tablespoons honey
Preheat oven to 400ºF.
In a large bowl, combine flour, baking powder, cinnamon, ginger, allspice, nutmeg, and salt.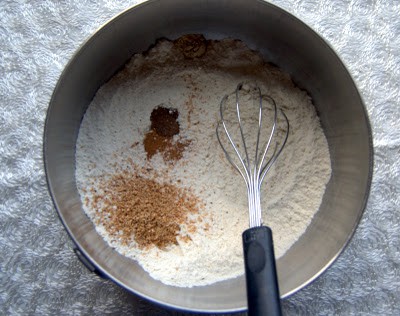 Cut in butter into small pieces and with a pastry blender, cut it into the dry ingredients until it resembles coarse meal.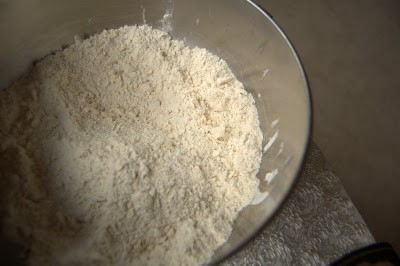 Chill for 10 minutes.
Combine buttermilk and honey, and stir with a whisk until well blended.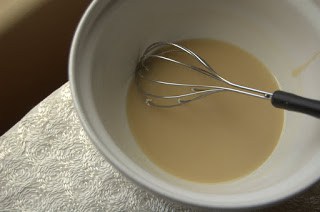 Add canned pumpkin and mix well.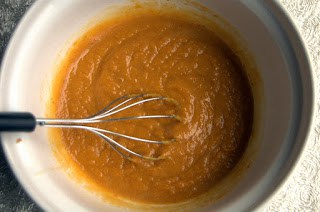 Add buttermilk mixture to flour mixture and stir until just combined.
Turn dough out onto a lightly floured surface and knead lightly 4 times.
Roll dough into a (1/2-inch-thick) 9 x 5–inch rectangle; dust top of dough with flour.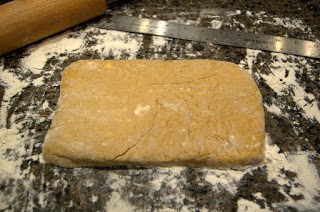 Fold dough crosswise into thirds (like you're folding a piece of paper to fit into an envelope). Reroll dough into a (1/2-inch-thick) 9 x 5–inch rectangle; dust top of dough with flour.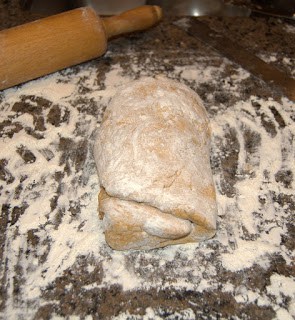 Fold dough crosswise into thirds; gently roll or pat to a 3/4-inch thickness.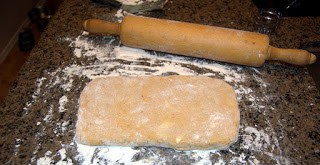 Cut dough with a 1 3/4-inch biscuit cutter to form 14 dough rounds.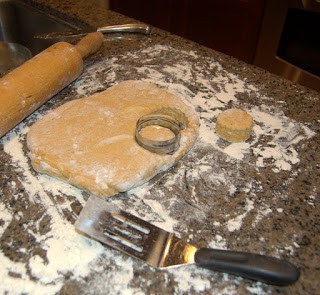 Place biscuits, on a baking sheet lined with parchment paper one inch apart.
Bake at 400° for 14 minutes or until golden.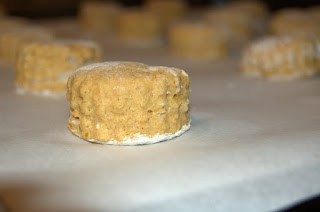 Remove from pan; cool 2 minutes on wire racks. Serve warm with Cinnamon Honey Butter
Cinnamon Honey Butter

In a small bowl or ramekin, combine all ingredients and mix well.

Cover and refrigerate until use.

I rate everything I bake on a scale of 1-4 with 4 being the best and these Pumpkin Biscuits with Cinnamon Honey Butter earned 3 rolling pins.

The pumpkin made the biscuits moist, but they weren't as flaky as I would have liked them.

They were absolutely delicious with the cinnamon honey butter.

That stuff was just unreal!

These would be a nice addition to your Thanksgiving table! Just make sure you make extra Cinnamon Honey Butter to pass.

I give you BIG baking hugs and muffins!!

Thanks for reading!