I was finally able to clean my house today! Well, at least part of it, but it's a start. I felt like I was able to accomplish so much, but there's still so much left to do. I have the habit of starting one project and then moving on to another before the first one is finished; something I inherited from my mother. Consequently, I tend to feel very disorganized and my "projects" tend to be scattered throughout the house. Right now I feel like I'm nesting and want to sort, organize and throw away. Out with the old, in with the new! Or maybe the new should wait until the old is completely taken care of.
Wow! I just noticed that you can purchase the cookbook I use for $.77! Granted it would be used, and is 20 years old, but it has a lot of recipes (some of which have proven to be tasty so far), contains very good information regarding the kitchen, and baking and cooking, and it has these wonderful little hints and equivalent charts on the inside of the front and back covers which I use constantly. I've gotten in the habit of writing in all of my cookbooks and making notes whenever I use a recipe. That way I know if I've made it and if it would be worth making again depending on the reviews it received from the family. I know that this book is going to be filled with various markings by the time I am done with this challenge. It's funny, I've always had this thing about not writing in books like it was sacrilegious or something. But then when I started cooking more once we had kids, I kept thinking how was I ever going to know if I made something and if we like how it tasted. It seemed logical to notate it, but I still had to overcome that hangup about writing in my books. It's like how I only used to buy 2 kinds of cereal until we started watching 'Seinfeld'. Then it was like I had permission to keep a lot of different kinds of cereal in the pantry at one time. It was so exhilarating to go to the cupboard and have so many choices in the morning! Weird, I know. It's the little things that make us all unique. Like sniffing pizza crust.
Today's recipe, Baking Powder Biscuits, comes from The Fannie Farmer Cookbook, Thirteenth Edition, pg. 544; author, Marion Cunningham; publisher, Alfred A. Knopf, Inc., a division of Random House; ISBN 0-394-56788-9.
Baking Powder Biscuits
2 cups flour
½ teaspoon salt
4 teaspoons baking powder
1 tablespoon sugar
½ cup vegetable shortening
2/3 cup milk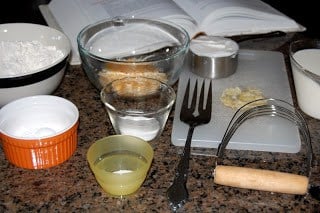 Preheat oven to 425ºF. Grease two 8-inch cake pans. Put the flour, salt, baking powder, and sugar in a bowl. Cut the shortening into the flour with two knives or a pastry blender until the mixture resembles coarse meal.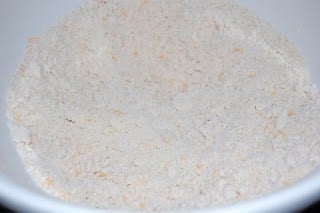 Add the milk all at once and stir just until the dough forms a ball around the fork.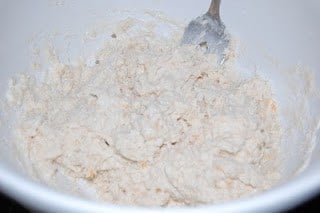 Turn the dough onto a lightly floured board and knead 14 times. Pat until ½ inch thick. Cut into rounds with a 2-inch cookie cutter. Place touching each other in the cake pans and bake for 15-20 minutes.
Cheese Biscuits. Add ½ cup grated sharp Cheddar cheese to the dry ingredients.
Drop Biscuits. Add an additional 1/3 cup milk and drop by teaspoonfuls onto a buttered baking sheet.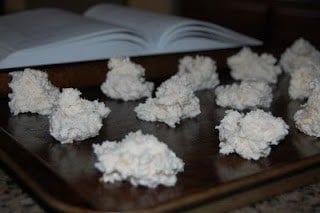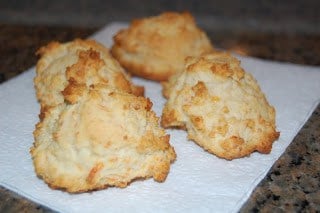 I wanted to make the biscuits in the cake pan, but the cookie cutter I had was 3-inches and I didn't feel like free-forming a circle. So, I went for the drop biscuit technique. I added the cheese (didn't have sharp cheddar, so I used a Mexican combination) and 3 cloves of roasted garlic into the ingredients before I added the milk. I roasted the garlic in our toaster oven at 425ºF for 20 minutes and then crushed it. I left the biscuits in the oven longer than I should have because I was side-tracked with making dinner, so the bottoms were a little darker than I would have liked.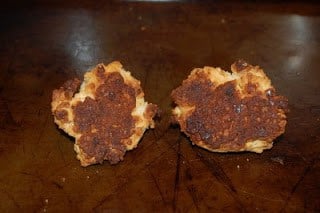 They were tasty, but were also a little drier than we would have liked. I don't know if it was because I baked them too long or if they are drier biscuit. I also think that baking them in a cake pan would have made a difference, too. Overall, they weren't such a big hit with the family, so I won't be making them this way again. Next time, I'll use the cake pan and am going out to purchase a 2-inch round cookie cutter. I also think I'll use Parmesan cheese and some herbs. The rating for this one: 2½ rolling pins.
Happy baking!