Red Lobster Cheddar Bay Biscuits – Copycat Recipe ~ delicious biscuits filled with sharp and mild cheddar cheeses, a touch of Cajun spice and they're ready to eat in just 20 minutes!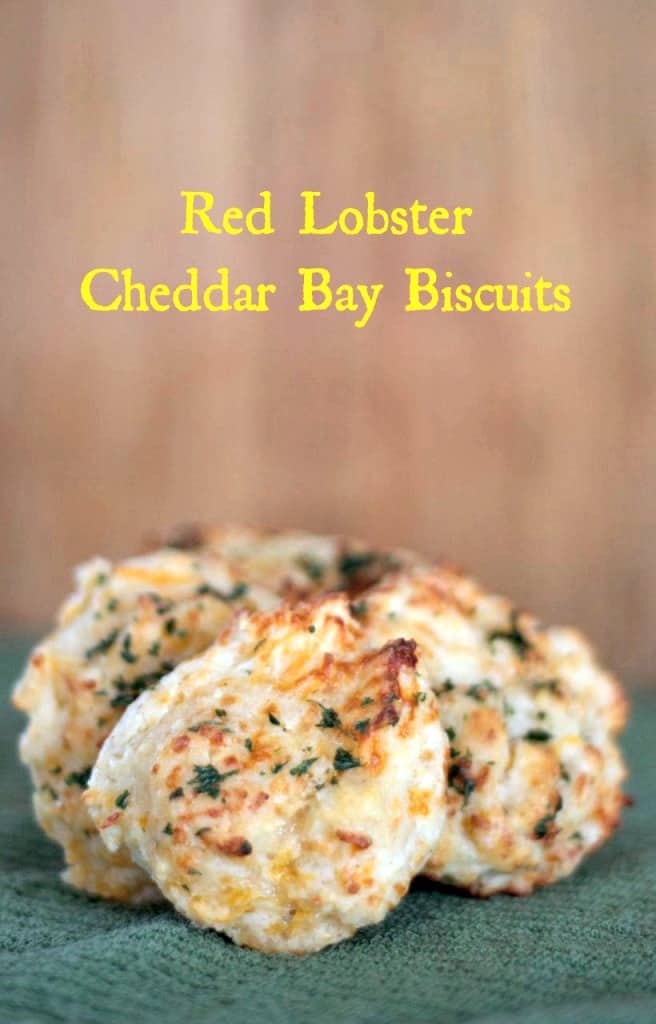 I've only ever been to a Red Lobster once in my life.
So, I honestly cannot tell you if these biscuits are as good as or even better than the ones they serve at the restaurant.
I know we ate them, my aunt, two cousins and I, but that was when I was a teenager, so for the life of me, I can't remember how they tasted. But, if my reaction after taking the first bite when they came out of the oven is any indication then you're definitely going to want to give these biscuits a try.
I mean, seriously. They are that good.
Lynne takes biscuits out of the oven. Lynne takes a bite.
"Holy crap!"
SAVE THIS RED LOBSTER BISCUIT RECIPE TO YOUR FAVORITE PINTEREST BOARD!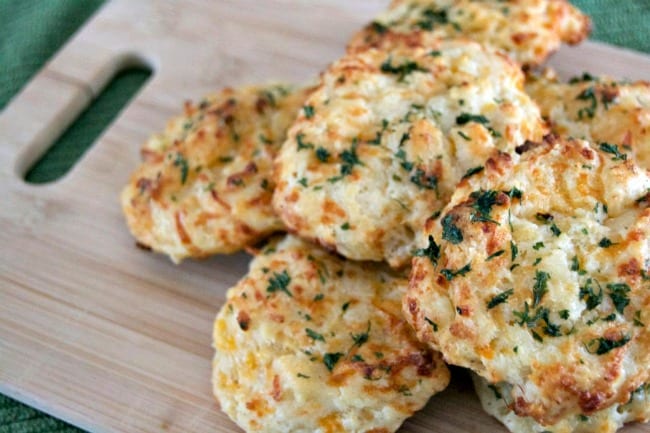 Yeah.
I can't begin to tell you how in love with these biscuits I am. I almost couldn't stop eating them.
But I had to make dinner. And warm, you have to eat them warm. Well, you don't have to, but they are just divine when they're warm. *sigh*
And the absolute very BEST part about these incredible biscuits…They're ready from start to finish in just 20 minutes.
Yup. Ten minutes to get those ingredients together and 10 minutes to bake. They're going to be a great addition to any dinner. IF they even make it to the dinner table.
I found this recipe over at my dear blogger friend, Donna's site, The Slow Roasted Italian, and just made a few changes to it.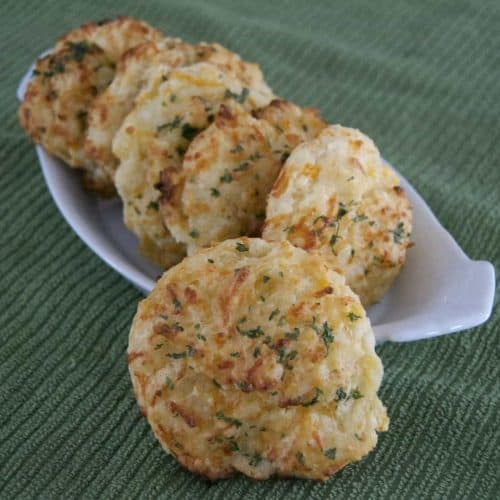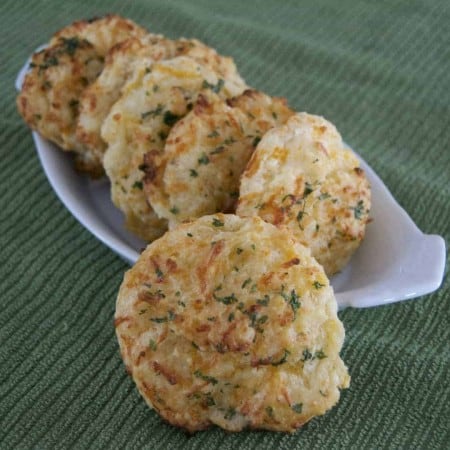 Ingredients
2

cups

all-purpose flour

1

tablespoon

baking powder

1

tablespoon

granulated sugar

2

teaspoons

garlic powder

1

teaspoon

Cajun seasoning

¼

teaspoon

salt

8

tablespoons

unsalted butter

melted

1

cup

milk

1 8

ounce

package Cabot Double Double - sharp and mild shredded cheddar cheeses
Butter Topping
4

tablespoons

unsalted butter

melted

2

teaspoons

dried parsley

¼

teaspoon

salt
Instructions
Preheat oven to 450 degrees F.

Prepare a baking sheet by lining it with parchment.

In a large mixing bowl, whisk together flour, baking powder, sugar, garlic powder, Cajun seasoning, and salt.

Add the 8 tablespoons of melted butter and milk. Mix until just combined.

Fold in shredded cheese.

Drop by heaping tablespoonfuls onto the prepared baking sheet.

Bake for 10-12 minutes, or until lightly golden.
Prepare Butter Topping
In a small bowl, mix together 4 tablespoons melted butter, 2 teaspoons dried parsley, and 1/4 teaspoon salt.

Upon removing biscuits from the oven, brush butter mixture onto the top of each one.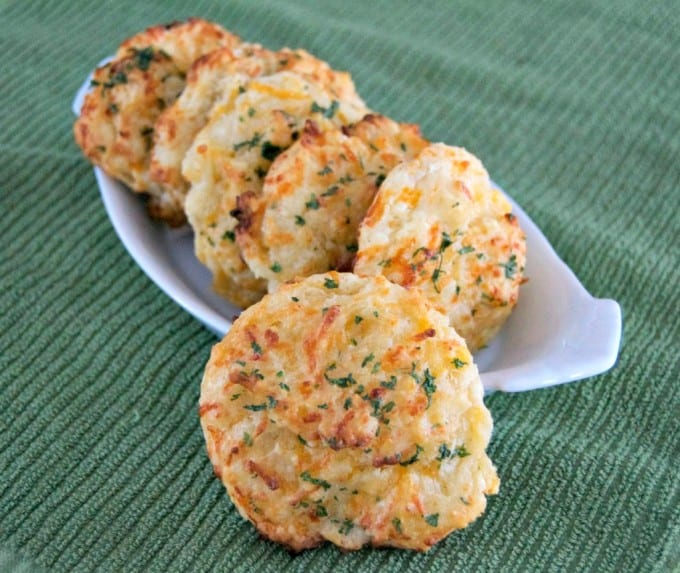 I rate everything I bake on a scale of 1-4 with 4 being the best and these Red Lobster Cheddar Bay Biscuits earned 4 rolling pins.
These biscuits are the best darn biscuits I've ever made had.
No ifs, ands or buts, you NEED to make them.
Need to find a hit recipe the family will love? Here are some that will take dinner to the next level!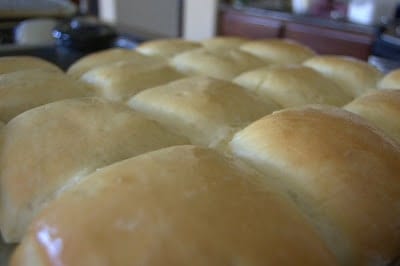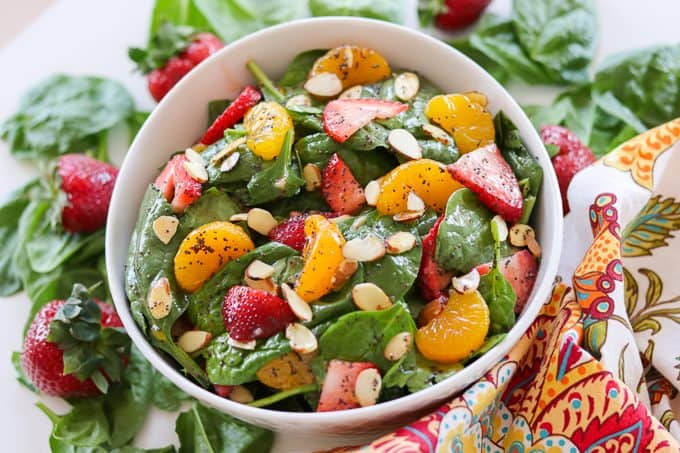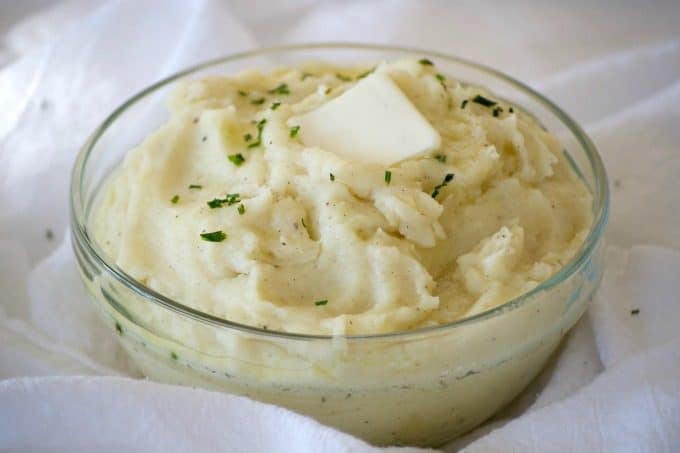 I mean, come on, they only take TWENTY minutes for crying out loud. YOU can DO this!!! Your family and friends will thank you. I thank you.