Red Lobster Cheddar Bay Biscuits are delicious biscuits filled with a combination of cheddar and Monterey Jack cheeses. A touch of Cajun spice and a buttery herb topping give an authentic touch to this easy copycat recipe!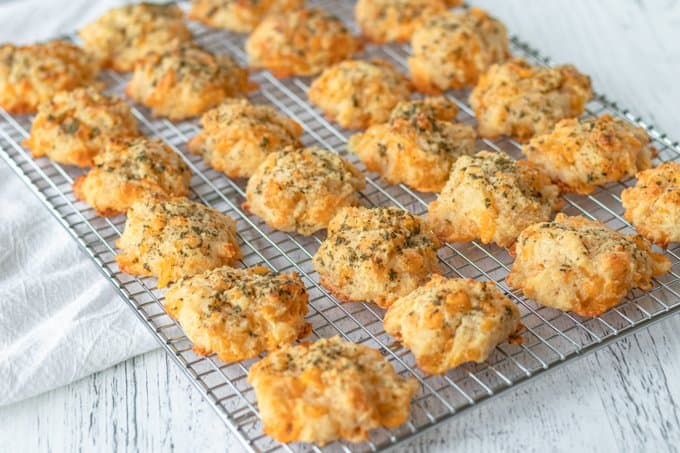 What could be better than starting your meal with a hot basket of cheddar biscuits?
I've got to give the folks at Red Lobster some serious credit.
They've figured out the secret for getting people hooked on a restaurant: free biscuits. Specifically: buttery, flaky biscuits with cheese delivered hot and fresh to your table.
SAVE THIS RED LOBSTER BISCUIT RECIPE TO YOUR FAVORITE PINTEREST BOARD!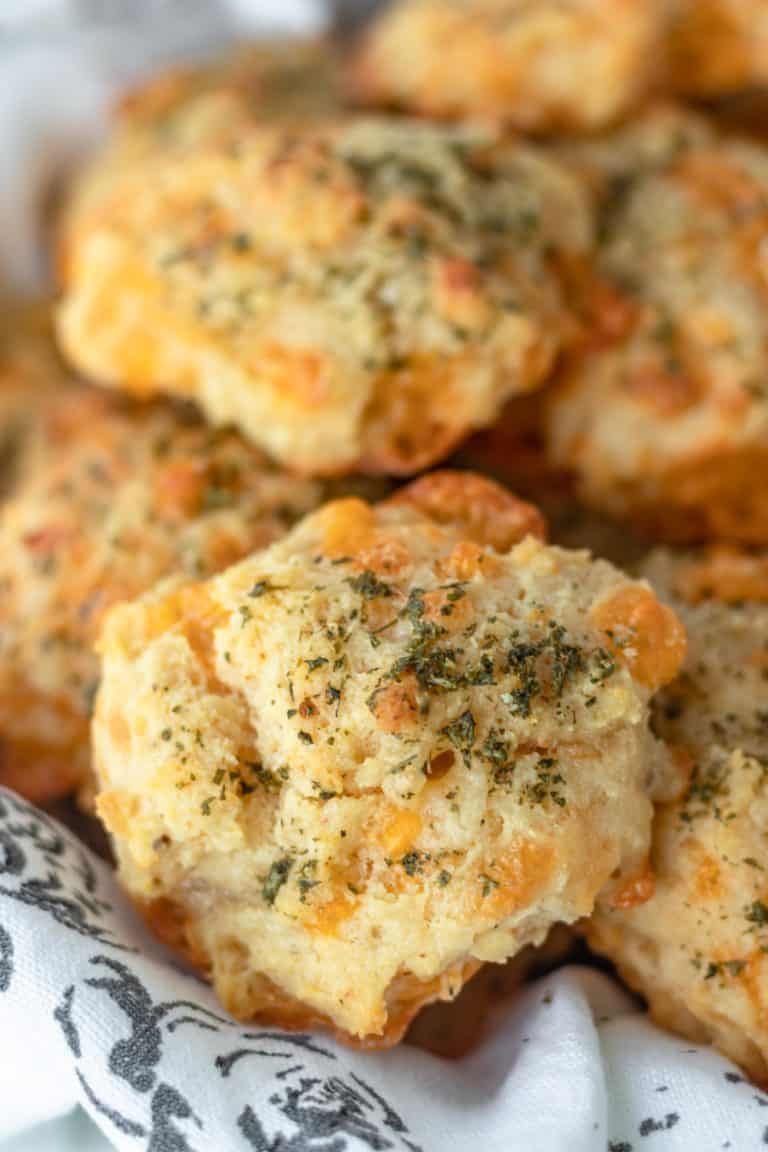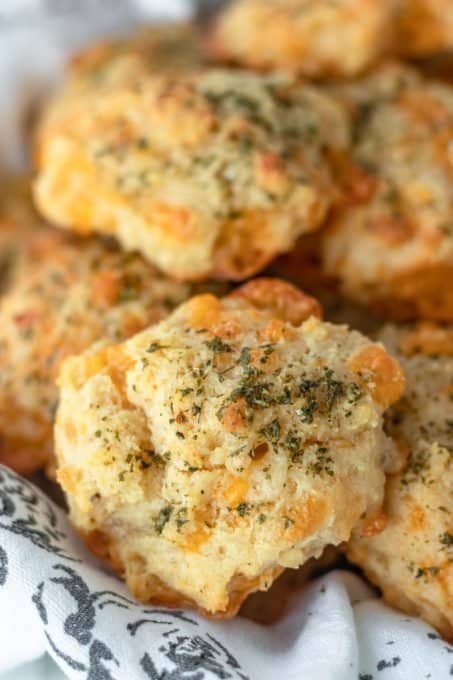 Come to think of it, the bread basket is my favorite part at a lot of restaurants. My family loves Texas Roadhouse rolls so much I created a copycat Texas Roadhouse Rolls recipe so we can enjoy them all the time.
I have good news for Cheddar Bay Biscuit fanatics too: it's incredibly easy to make a copycat version at home! This Red Lobster biscuits recipe tastes every bit a satisfying as the ones you love at the restaurant.
In our opinion they're even better. These cheddar biscuits are made completely from scratch. After baking to golden brown perfection, you brush them with melted garlic butter and parsley for the perfect finish.
Best of all? From start to finish, they're ready in just 25 minutes.
So DO NOT buy the mix at WalMart, I highly encourage you to make them from scratch.
You WON'T be disappointed!
AND, you won't be able to eat just one of these buttery, flaky, cheesy cheddar biscuits.
Sorry, not sorry.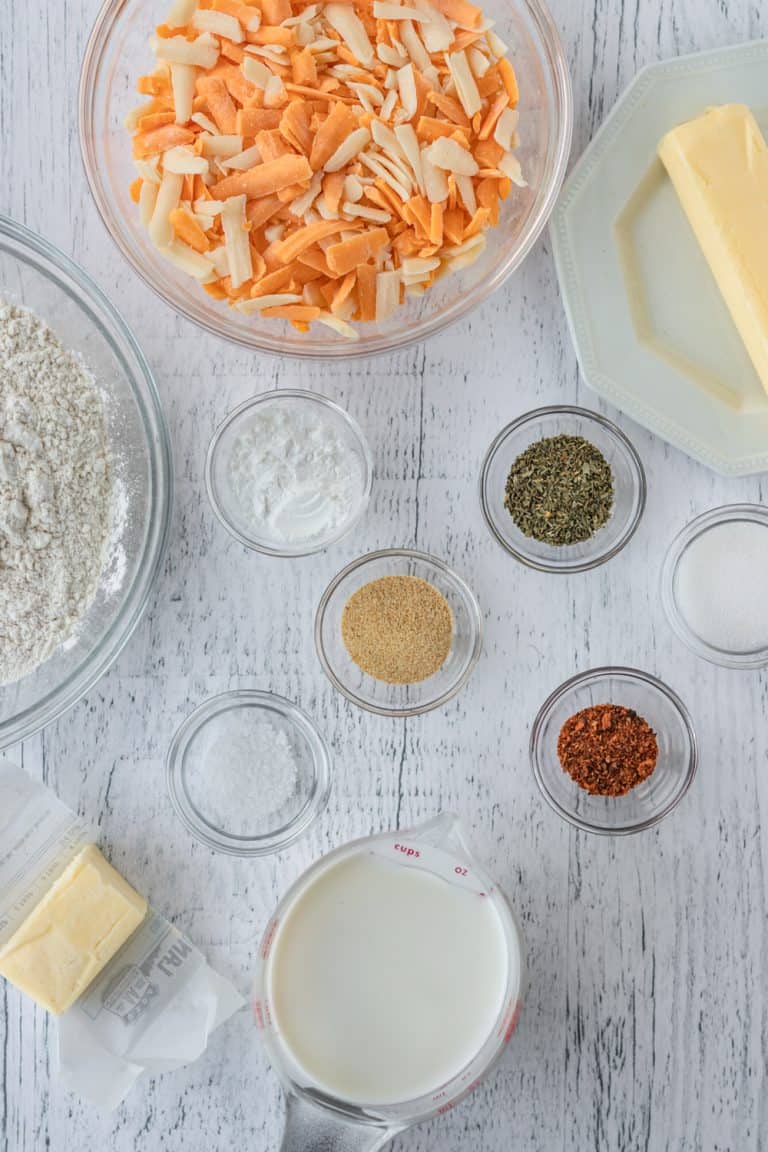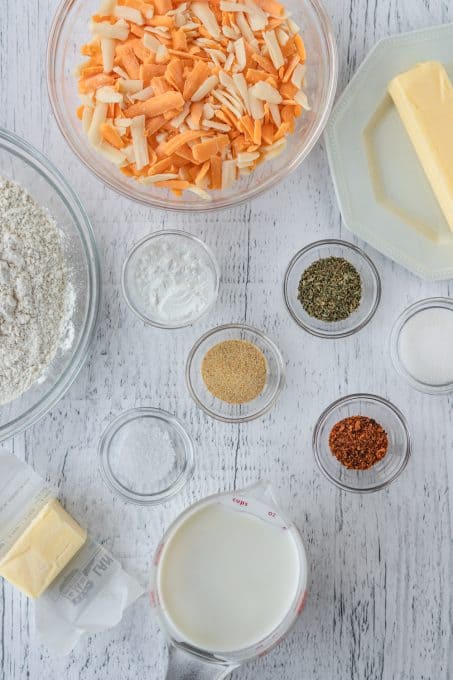 What do I need?
You need these ingredients to make copycat Red Lobster Cheddar Bay Biscuits:
Flour
Baking powder
Sugar
Garlic powder
Cajun seasoning
Salt
Butter
Milk
'Rustic Cut' Cheddar Jack cheese
GAME CHANGER – I had previously used two types of cheddar cheese in this recipe, but this time I changed it using the Rustic Cut Cheddar Jack cheese and OMG, were they absolutely delicious! The rustic cut has larger shreds and they're clearly visible in the biscuits, but also you get delicious pieces of cheese in every single bite, too!
Dried parsley
I can't begin to tell you how in love with these biscuits I am. I almost couldn't stop eating them long enough to make the rest of our dinner.
Like most homemade biscuits, cheddar bay biscuits are best enjoyed warm. I'm sure they would be good room temperature too but every time I make cheese biscuits they disappear before they get a chance to cool down. You can also reheat them in the microwave, too!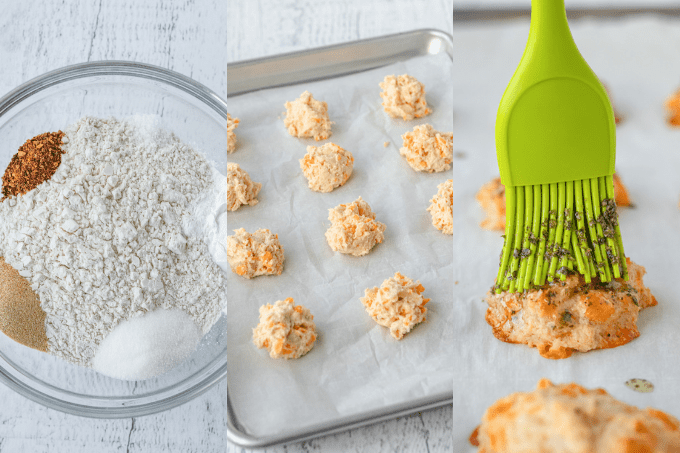 Can I freeze cheese biscuits?
Yes, you can freeze biscuits made with cheese. Cheddar Bay Biscuits keep well in the freezer for several weeks.
If you choose to freeze your homemade cheddar biscuits, let them cool completely first. Then wrap them tightly in either foil or cling wrap before placing them in a freezer bag. Thaw them in the refrigerator overnight and then you can reheat the biscuits in the oven when you're ready to enjoy them.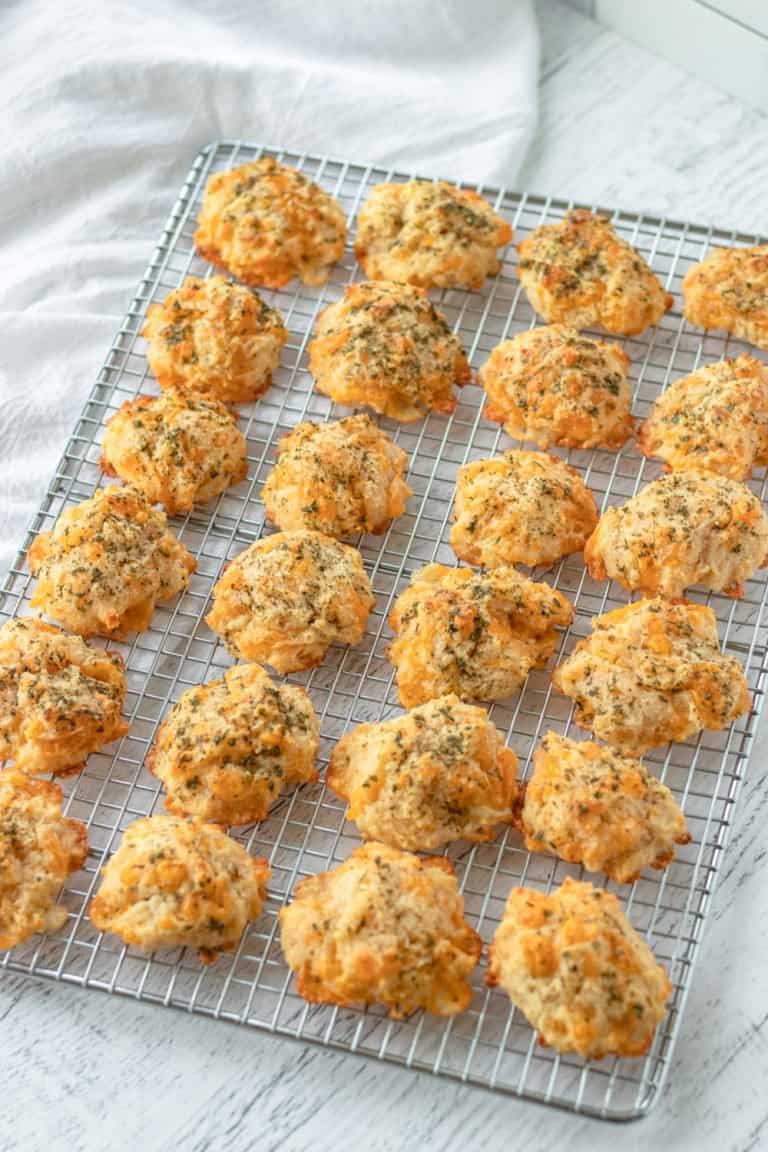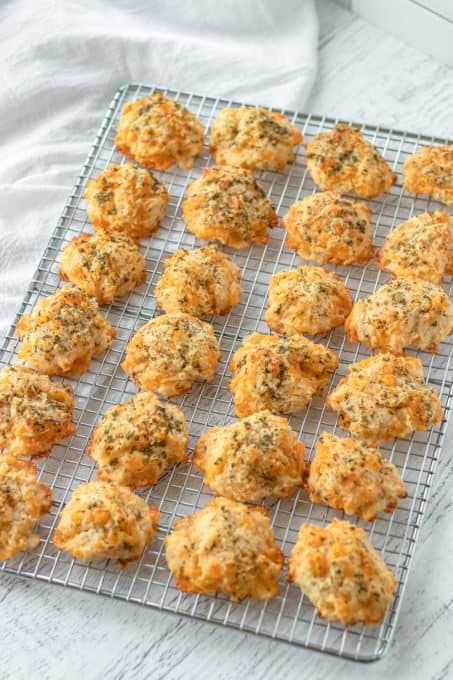 Bread Recipes
I love bread. Based on my enthusiasm for these Red Lobster Biscuits, Texas Roadhouse Rolls, and my grandmother's incredible Italian Bread you've probably gathered this already.
Biscuits, rolls, loaves, pita. There's no way I could choose just one favorite kind of bread!
Since we're talking about biscuits made with cheddar cheese today, I have to mention this Asiago Herb Biscuits recipe too. I make them often for Thanksgiving, but some years I change it up with Pumpkin Biscuits.
These 7-Up Biscuits are one of the easiest biscuit recipes out there. It takes hardly any more effort than it does to make them from a can.
Don't forget about your furry friend. Make some Homemade Dog Biscuits for fido to enjoy while you chow down on Cheddar Bay Biscuits!
Give these other amazing savory bread recipes a try next.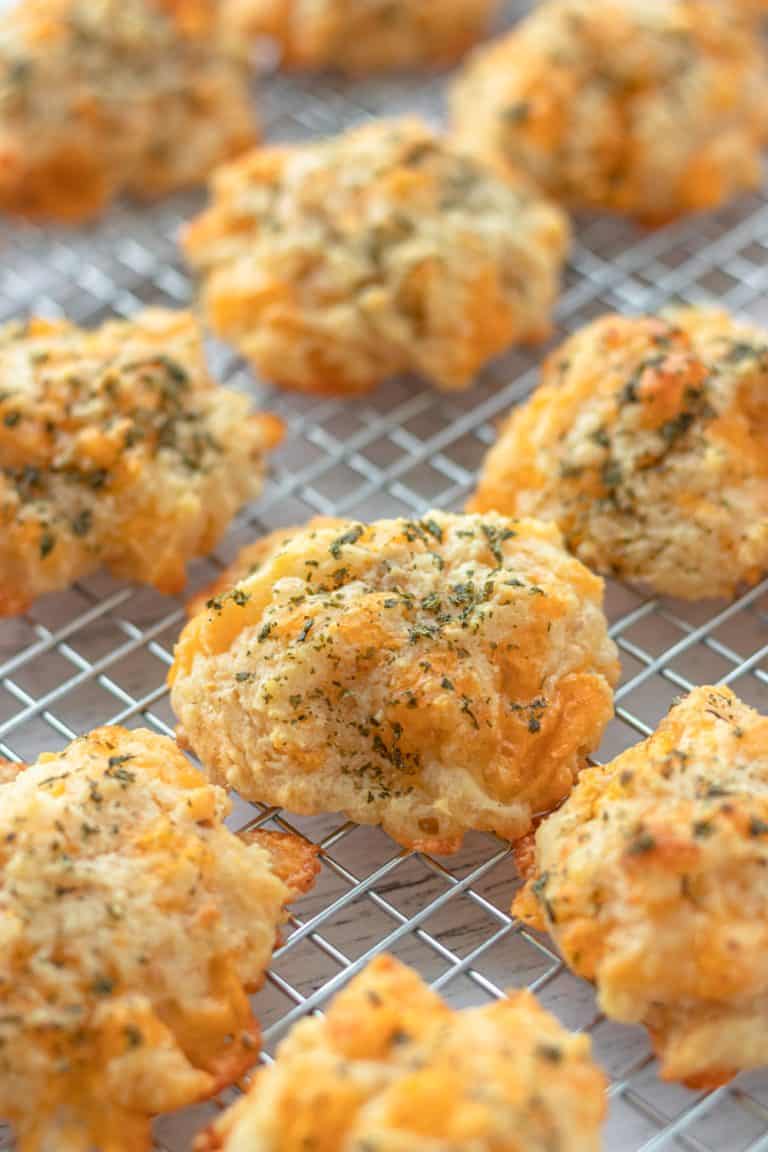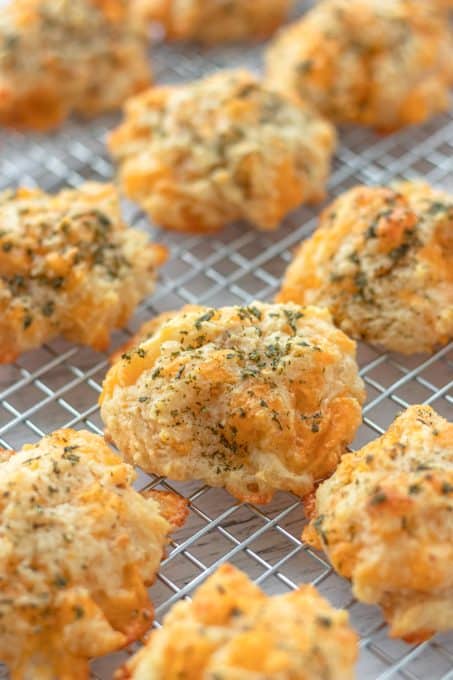 What to serve with cheddar biscuits?
Red Lobster Cheddar Bay Biscuits are a versatile side dish you can serve with just about any meal! They'd be perfect with Lemon Herb Roasted Chicken as a main course and a Strawberry Spinach Salad on the side.
One of my favorite easy meals for a cold day is a bowl of Creamy Tomato Basil Soup. Add a side of these cheesy biscuits and you have one comforting dinner!
To stick with the Red Lobster copycat recipe theme, serve these biscuits with your favorite seafood dish. But don't be surprised if you fill up on biscuits before dinner even hits the table. It happens to the best of us!
SIGN UP FOR THE WEEKLY
365 DAYS OF BAKING & MORE
NEWSLETTER BELOW!
I found this recipe over at my dear blogger friend, Donna's site, The Slow Roasted Italian, and just made a few changes to it.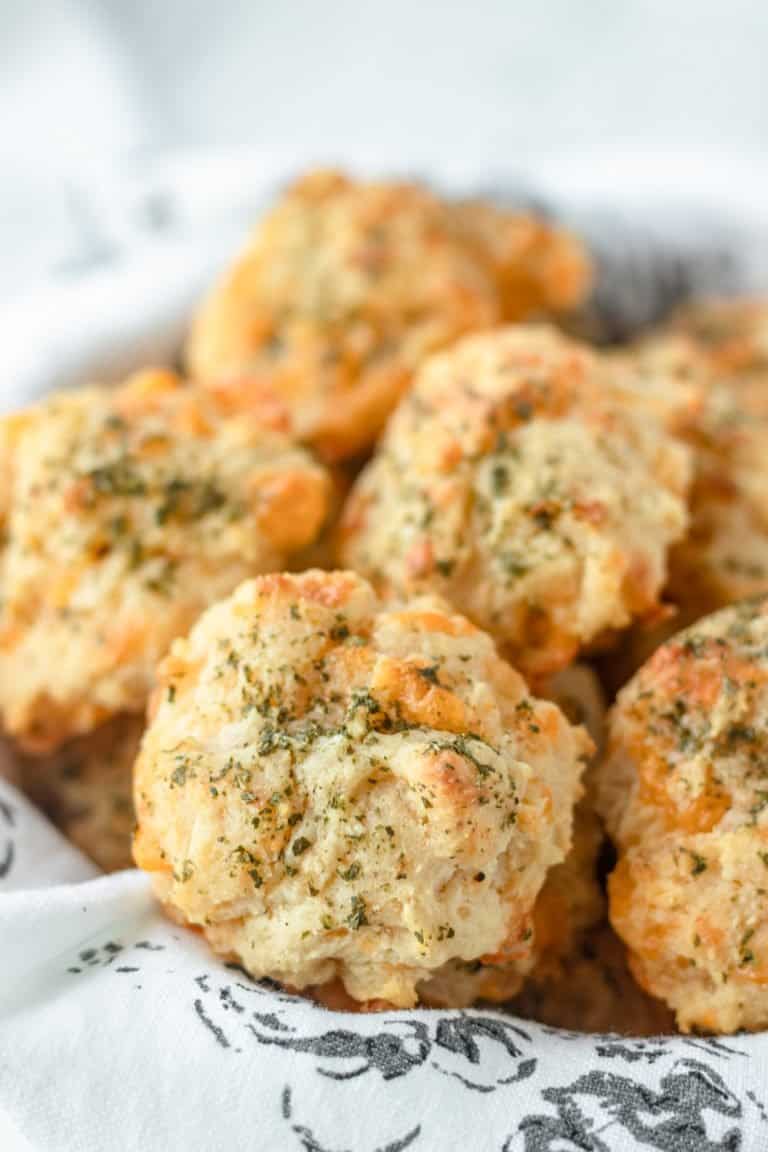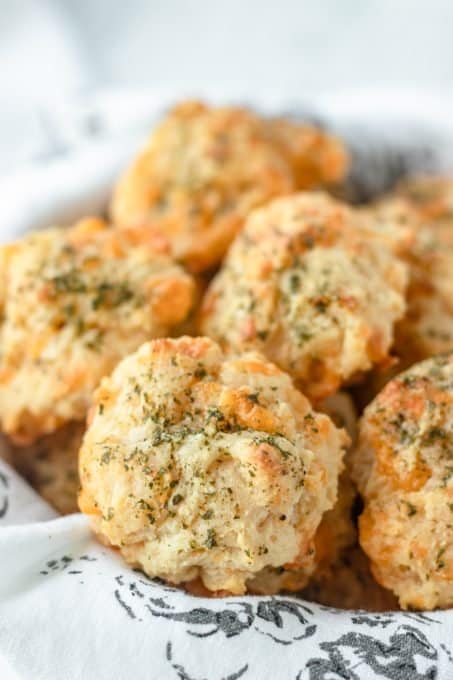 Skip the restaurant and make this copycat Red Lobster Cheddar Bay Biscuits recipe instead! Hot cheesy biscuits with flaky buttery layers are ready to eat in 20 minutes.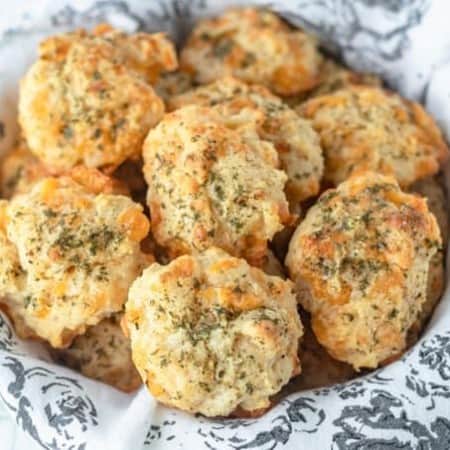 Red Lobster Cheddar Bay Biscuits – Copycat Recipe
Red Lobster Cheddar Bay Biscuits are delicious biscuits filled with sharp and mild cheddar cheeses. A touch of Cajun spice and a buttery herb topping give an authentic touch to this copycat recipe!
Equipment
Baking Sheet

parchment paper

tablespoon or cookie scoop

pastry brush
Ingredients
2 cups all-purpose flour
1 tablespoon baking powder
1 tablespoon granulated sugar
2 teaspoons garlic powder
1 teaspoon Cajun seasoning
¼ teaspoon salt
8 tablespoons unsalted butter melted
1 cup milk
8 ounces Cheddar Jack Cheese I use Rustic Cut (larger pieces of shredded cheese)
Butter Topping
4 tablespoons unsalted butter melted
2 teaspoons dried parsley
¼ teaspoon salt
Instructions
Preheat oven to 450 degrees F.

Prepare a baking sheet by lining it with parchment.

In a large mixing bowl, whisk together flour, baking powder, sugar, garlic powder, Cajun seasoning, and salt.

Add the 8 tablespoons of melted butter and milk. Mix until just combined.

Fold in shredded cheese.

Drop by heaping tablespoonfuls onto the prepared baking sheet.

Bake for 10-12 minutes, or until lightly golden.
Prepare Butter Topping
In a small bowl, mix together 4 tablespoons melted butter, 2 teaspoons dried parsley, and 1/4 teaspoon salt.

Upon removing biscuits from the oven, brush butter mixture onto the top of each one.
Notes
Yes, you can use just regular shredded cheese, but for best results, I suggest shredding it yourself from blocks of cheese. I discovered that using the 'Rustic Cut' of the Cheddar Jack cheese which is the larger shredded pieces made a really delicious difference in the recipe. Try it!
Nutrition
Serving: 1biscuit | Calories: 116kcal | Carbohydrates: 8g | Protein: 3g | Fat: 8g | Saturated Fat: 5g | Polyunsaturated Fat: 1g | Monounsaturated Fat: 2g | Trans Fat: 1g | Cholesterol: 21mg | Sodium: 96mg | Potassium: 80mg | Fiber: 1g | Sugar: 1g | Vitamin A: 280IU | Vitamin C: 1mg | Calcium: 87mg | Iron: 1mg
Did you make this recipe?
Share it with me on Instagram and make sure to follow me on Pinterest for more recipes.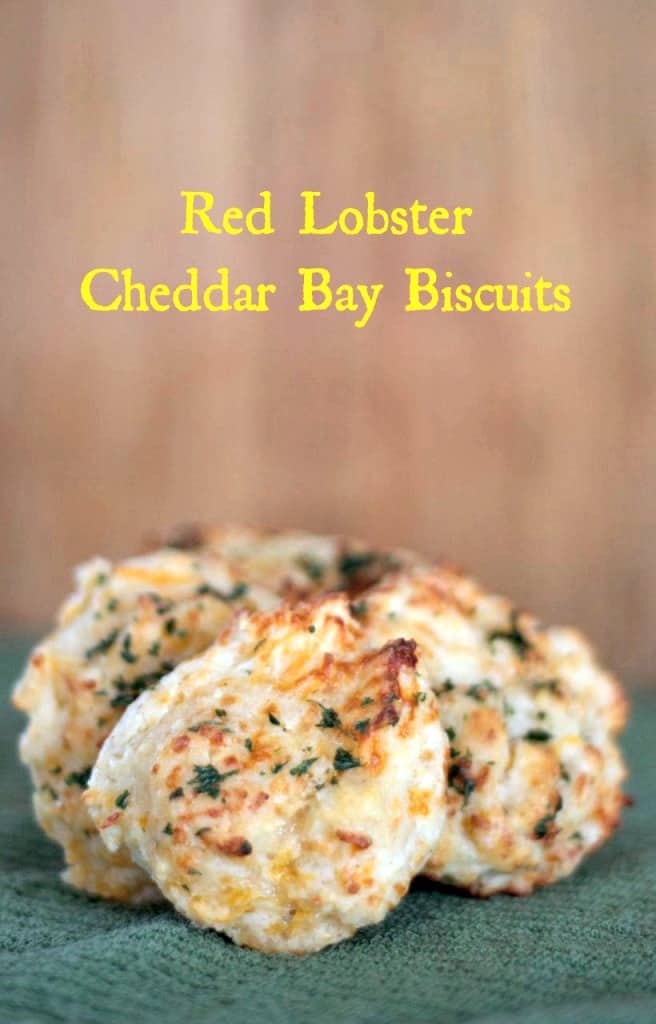 This post has been updated in format and with picture on 3/11/22. It was originally published on 3/27/14.
Reader Interactions