In a word, bizarre. That's what I made today, something that tasted bizarre. I'm using this recipe book quite a bit, but it has a lot of good things in it. This one though just didn't make the cut. Once again, this one comes from the Fannie Farmer Cookbook Thirteenth Edition, pg. 73; author, Marion Cunningham; publisher, Alfred a. Knopf, Inc., a division of Random House; ISBN 0-394-56788-9.
Corn Crisps (even the name is a little weird to me.)
3/4 cup water
2 tablespoons butter
½ cup yellow cornmeal
¼-½ teaspoon salt
Preheat the oven to 425ºF. Butter a cookie sheet. Bring the water and butter to a boil in a small pan.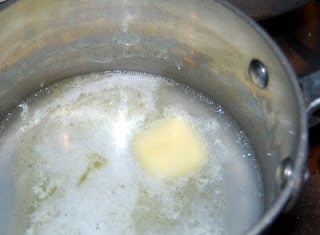 Quickly stir the cornmeal and salt and mix well.
Drop by teaspoonfuls onto the cookie sheet.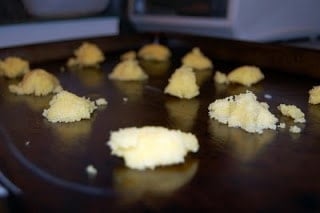 Bake for 10-15 minutes. I took them out after 10 minutes and there was a bit of smoke that accompanied them on the exit from the oven because of the buttered cookie pan.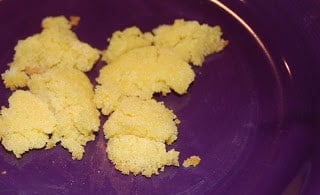 This recipe was short, quick and to the point. I don't think they get any easier than this. But I know there are some that taste much better. I like cornmeal in other things, not in these crisps. This was listed in the Nibbles section of Appetizers & First Courses with popcorn, sugared nuts and some other things. My children tried it and really didn't like it either. Definitely not an after school snack here and I really wouldn't make it to serve to guests. The rating for this: one rolling pin.
Happy baking!