This recipe is from The Fannie Farmer Cookbook Thirteenth Edition, pg. 66; author, Marion Cunningham; publisher Alfred A. Knopf, division of Random House; ISBN 0-394-56788-9. Things That Make You Go Hmmmm….
Remember that song? Yeah, that's the topic for today's recipe. Things that make you go hmmmm…Cheese straws. I was looking forward to having them and was thinking they might be a good snack when the kids came home from school. They can still have them, but I don't think they're going to like them. Kind of blah and the ingredients did NOT come together as they were supposed to. I have no idea where this went awry. I checked, double checked, triple checked and checked yet again as I was going through the process, but the outcome was BLECH! I find it extremely odd that it didn't turn out unless something was missing from the list. I can count on one hand in all the years that I've been reading recipes that they didn't work. I'm not saying that I'm the greatest chef, cook or baker, but darn, I CAN follow a recipe.
Cheese Straws
¼ pound butter
2 cups flour
¼ teaspoon cayenne pepper
1 pound sharp Cheddar cheese, grated
Salt to taste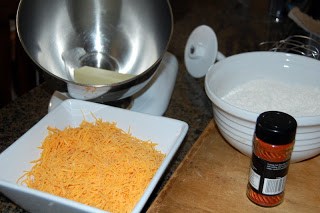 Preheat the oven to 400ºF. Cream the butter until light; add the flour, cayenne, cheese, and salt.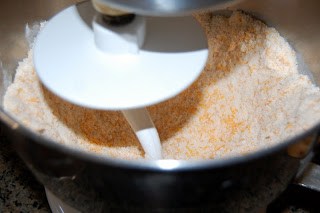 Knead until dough forms a ball, then roll out on a floured board or pastry cloth.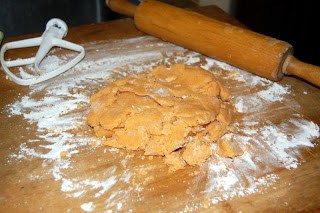 Cut into strips 5 inches long and 3/8 wide. Place on a greased cookie sheet and bake 6 minutes, until golden.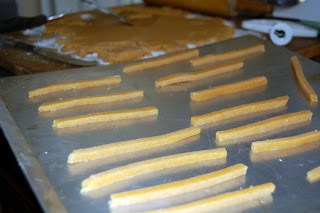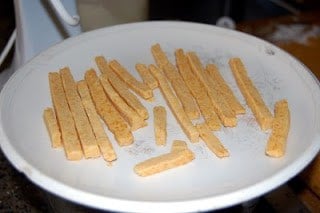 I had the ingredients in my Kitchen Aid and when I saw that the dough wasn't coming together as it should (after (I kid you not) a good twenty minutes of "kneading"), I started kneading it with my hands. That wasn't working either. The dough was just coarse and not sticking together. So, I added teaspoons of water until I thought it looked like it would stick – 5 to be exact. I didn't want to add too much. It stuck it together a little better, but you can still see from the picture when it was on the board that something just wasn't right. I rolled it out the best I could and baked about a dozen or so to see how they would be. Nope, not happening. Bummer. I decided to not even bake the rest because the product had no taste and was, as my husband said, "blah". I'm not educated enough in the science of food; acids, bases, ingredients that should be added to MAKE A DOUGH STICK TOGETHER to know what will and will not work. Sorry for yelling. I'm thinking I might need this book. Happy baking!