Ugh. I missed a day.
If you'll notice, the Junior Mint cookies were really baked on Friday and posted Friday, but since I added the pictures Saturday morning, that's when it was dated.
And. I didn't bake anything yesterday. I couldn't. I was absolutely exhausted.
I was too exhausted to even put a review of whatever post up.
365 Days of Baking has turned into Here a Bake, There a Bake, Some Days Lynne will Bake, Bake.
There's a new name for a blog.
Today I baked.
Baked some biscuits to go with dinner.
We like corn meal and we like cheese, so when I saw these in one of my cookbooks, it was a given.
I used The New DoubleDay Cookbook, p.661; authors, Jean Anderson and Elaine Hanna; publisher, Bantam Doubleday, Inc., an imprint of Random House, Inc.; ISBN 0-385-19577-X.
Cheese Corn Meal Biscuits – makes 13
1/2 cup corn meal
3/4 cup milk, scalded
1 cup sifted flour
1 tablespoon baking powder
3/4 teaspoon salt
3 tablespoons butter
3/4 cup shredded Colby/Cheddar Cheese
1 egg yolk, lightly beaten (for glaze)
paprika for sprinkling
Preheat oven to 450ºF.
Briskly mix corn meal into hot milk, cover, set aside.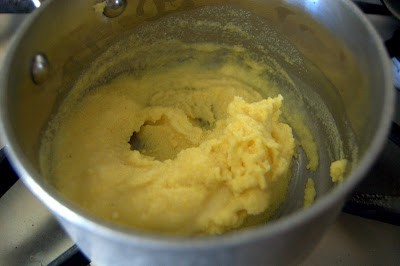 Sift flour with baking powder, and salt into a large bowl.
Using a pastry blender, cut in butter until mixture resembles coarse meal.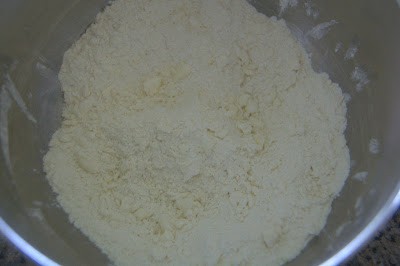 Add corn meal mixture and cheese and stir lightly to blend.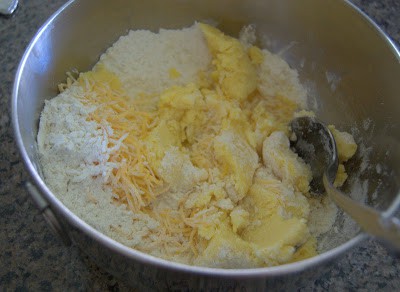 (Note: See how the corn meal mixture hardened while it was set aside in the pan? So, I couldn't really "stir" it in. I mixed it around a little bit to blend it, but then decided to knead it in, skipping the kneading on the floured surface.)
Turn onto a lightly floured surface, knead gently for about 30 seconds.
Roll to 1/2-inch thick and cut into rounds with a biscuit cutter.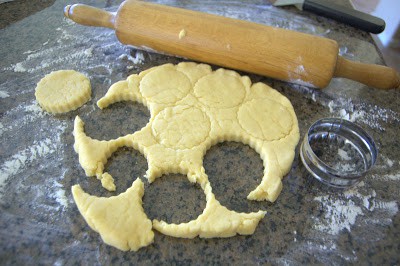 Arrange on a baking sheet, about 1 1/2-inches apart and brush tops with egg yolk glaze.
Sprinkle with paprika.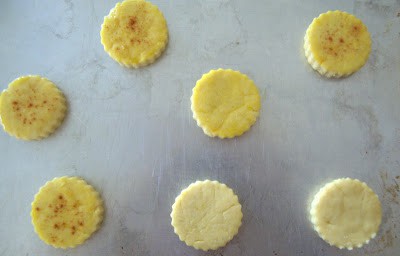 Bake for 12-15 minutes until golden.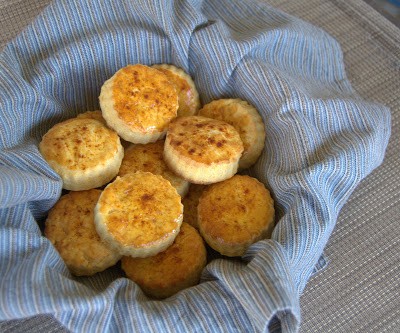 These might be really good with made with pepper-jack cheese and eaten with chili during those Saturday or Sunday football games.
I rate everything I bake on a scale of 1-4 with 4 being the best and these Cheese Corn Meal Biscuits earned 2 1/2 rolling pins. The flavor was good, but I thought they were a tad on the dry side. I think if they were dunked in chili, they'd be pretty darn good, especially with that pepper-jack cheese.
I think I'll be making them again just for that purpose.
Thank you all for reading!
We're so close to 300 on the 365 Days of Baking FaceBook Page!! WOO HOO!!
If you haven't already, make sure you hit that "Like" button the next time you're on FB! Oh, and tell ALL your friends about us!
I give you BIG baking hugs and muffins!!