Corn Spoon Bread is a classic Southern comfort food that's great for any occasion. It's a perfect side dish made with a blend of cornmeal, creamed corn, and other ingredients that give it a sweet and savory flavor. But getting the texture just right can be tricky. If you've ever made this dish and ended up with a dry and crumbly mess, don't worry – you're not alone!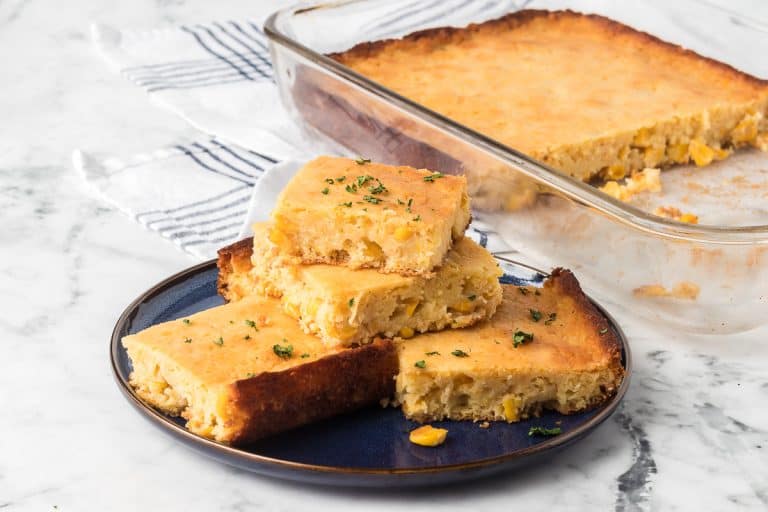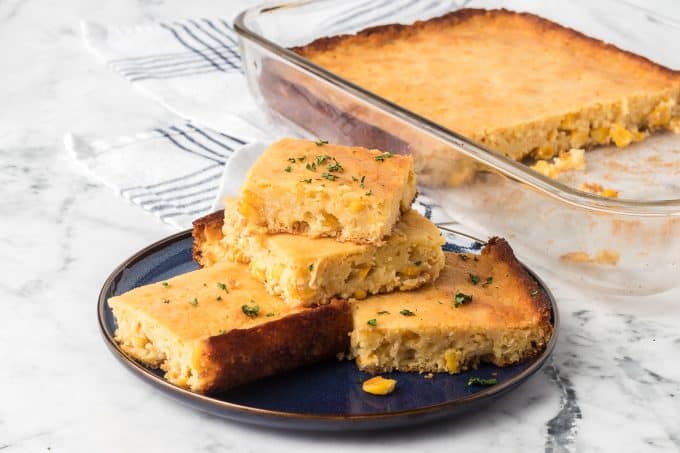 The secret to making perfectly moist corn spoon bread every time lies in a few simple tips and tricks that can take your recipe to the next level. I'm going to show you how to make the best corn spoon bread you've ever tasted! So, whether you're a seasoned cook or a beginner in the kitchen, get ready to take notes and learn how to make this sweet corn spoon bread like a pro!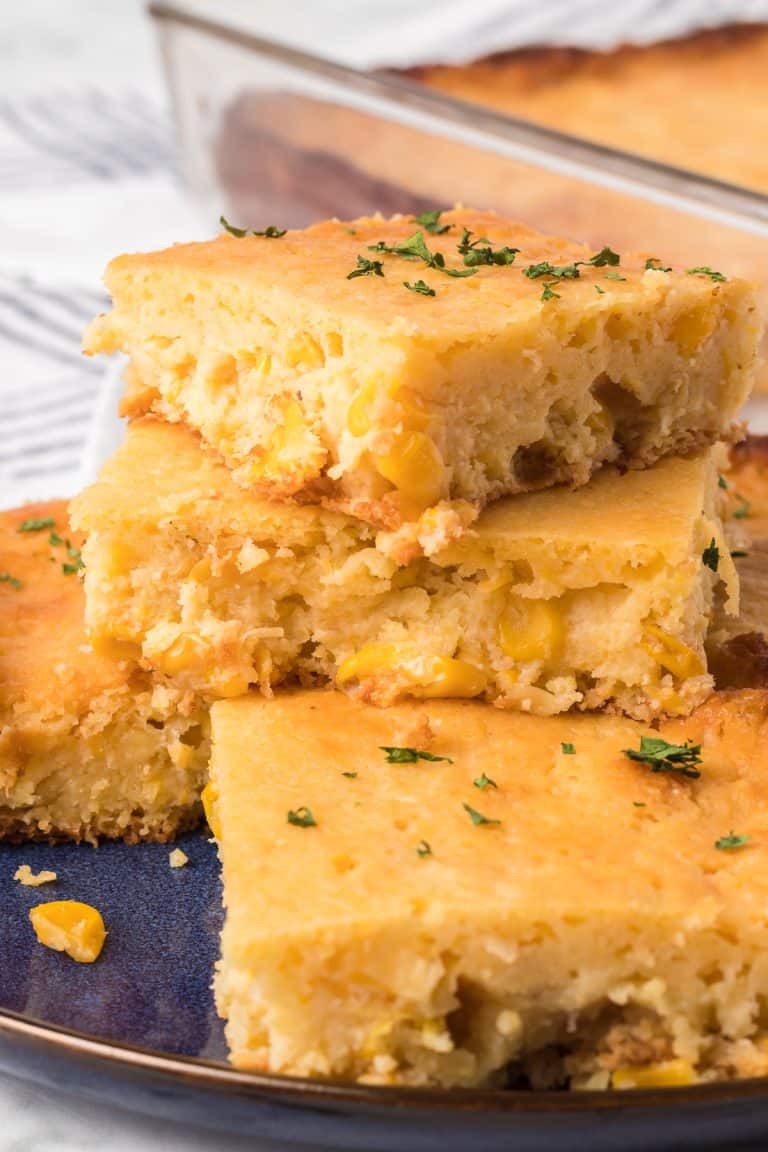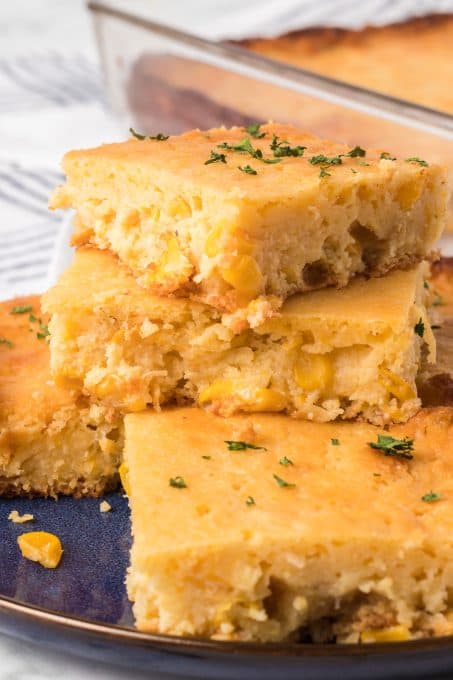 What is corn spoon bread, and why is it popular?
Corn spoon bread is a great side dish that originated in the South in the early 19th century. It's a type of cornbread that is baked in a casserole dish and is soft enough to eat with a spoon. It's different from corn pudding, an egg and dairy-based pudding studded with whole kernel corn throughout.
Spoon Bread recipes are often served at holiday gatherings and family dinners. It's a comfort food that many love for its sweet and savory flavor and creamy texture!
The secret to perfectly moist cornbread
The secret to making perfectly moist corn spoon bread every time is to use the right balance of ingredients and to cook the dish for the right amount of time.
One of the most important ingredients in corn spoon bread is cornmeal. It's essential to use finely-ground cornmeal that is not too coarse or gritty. This will help to create a smooth and creamy texture.
Another important ingredient is the liquid. It's important to use a combination of milk and eggs to create a custard-like, creamy texture. Additionally, adding a touch of sour cream or buttermilk to the batter can help to give the corn spoon bread a tangy flavor and keep it moist.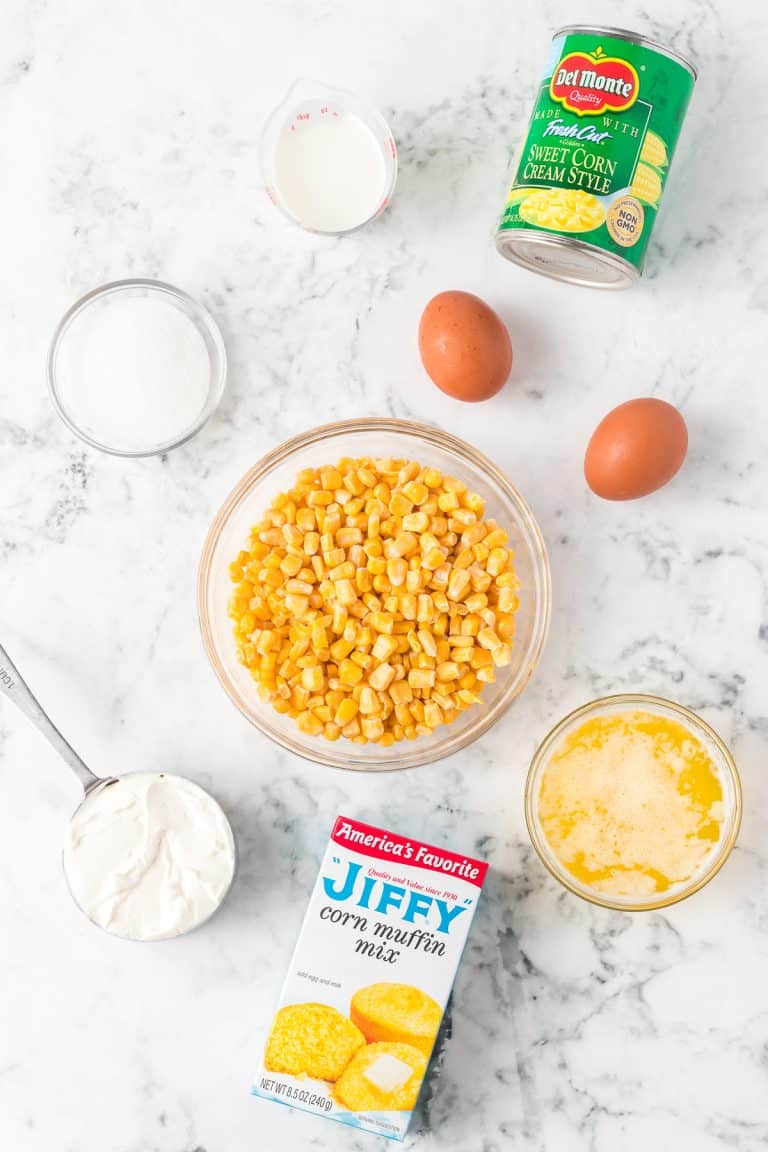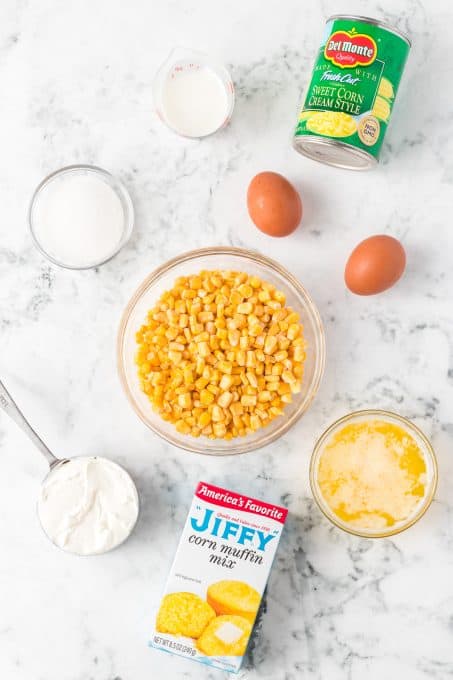 Ingredients for Corn Spoon Bread
To make the perfect corn spoon bread, you'll need the following ingredients:
2 large eggs
1 pack jiffy corn muffin mix (or cornbread mix)
¼ cup sugar
2 cups of frozen corn
1 15-ounce can of creamed corn
1 cup of sour cream
¼ cup of milk
1 stick of butter, melted (1/2 cup)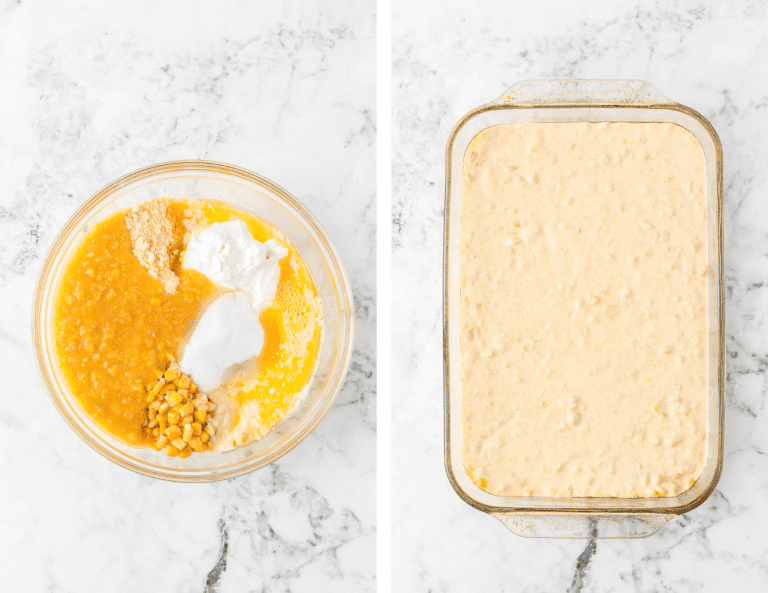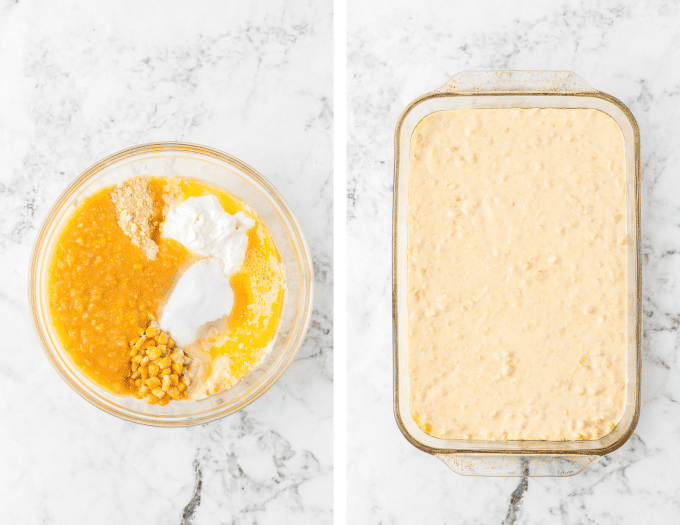 How to make sweet Corn Spoonbread
Preheat the oven to 350°F and grease a 9×13-inch baking dish with cooking spray.
Beat the eggs in a large bowl. Add cornbread mix, sugar, corn, creamed corn, sour cream, milk, and melted butter. Mix until well combined.
Pour the corn mixture into the prepared baking dish and smooth out the top.
Bake for 90 minutes, or until the top is golden brown and a toothpick inserted into the center comes out clean.
Let the bread cool for 10-15 minutes before serving.
Tips for serving and storing Corn Casserole
Corn spoon bread is best served warm. You can top it with a pat of butter or a drizzle of honey for added flavor. Or, combine the two with a pat of honey butter!
Leftovers should cool to room temperature before storing them in an airtight container in the refrigerator. It will keep for up to 3 days. To reheat, place the spoon bread in a microwave-safe dish and microwave on high for 30-60 seconds or until heated through.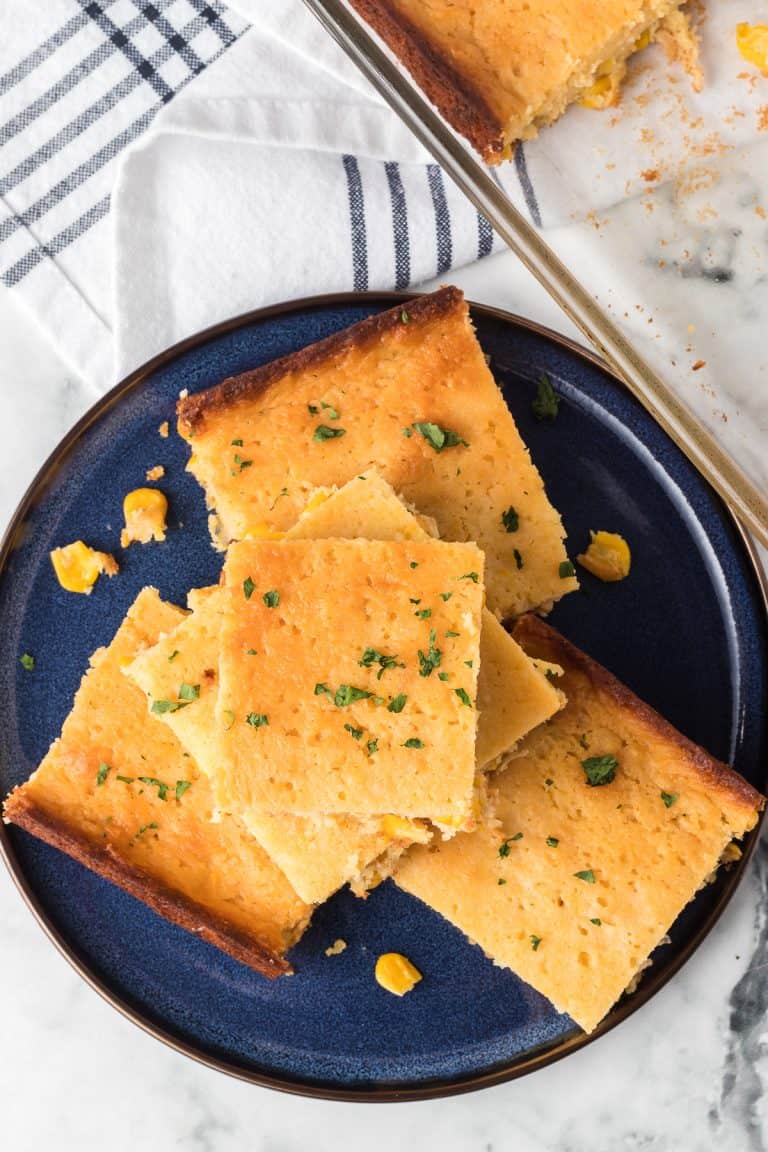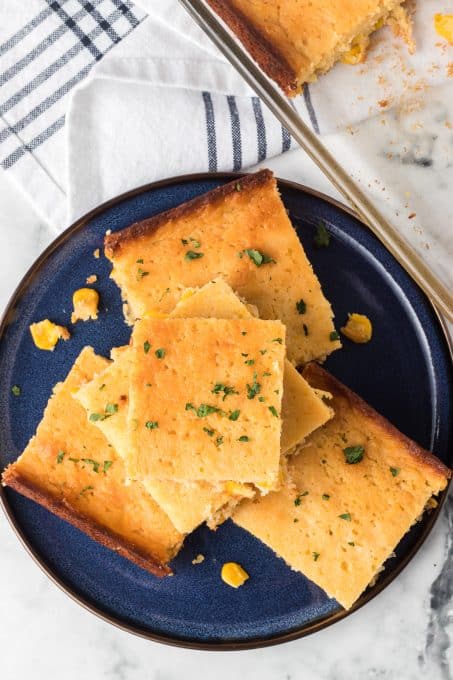 Recipe Variations
This is a versatile dish that can be customized to suit your taste preferences. Here are a few variations to try:
Instead of using the 9 X 13-inch baking dish, you can spray two 8 X 8-inch square pans and divided the batter evenly in half. You'll still want to bake it for the full 1 1/2 hours.
Jalapeno cheddar corn spoon bread: Add diced jalapenos and shredded cheddar cheese to the batter for a spicy and cheesy twist.
Bacon and onion corn spoon bread: Add some sauteed onion and salty bacon for a savory, smoky flavor.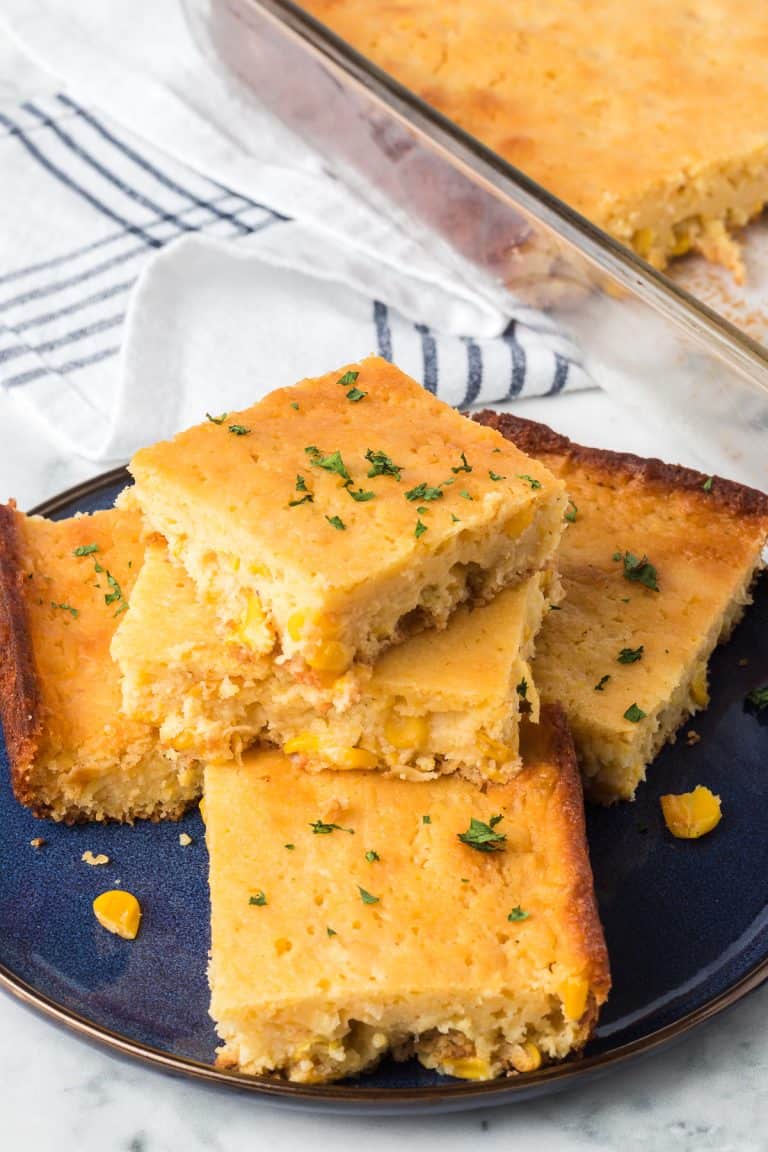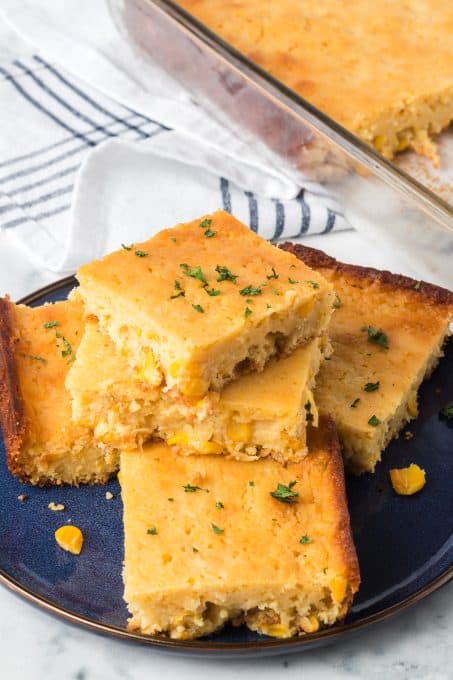 FAQs
Can I use fresh corn instead of frozen corn?
Yes, you can use fresh corn kernels instead of frozen corn. There are a few different types of corn. I love using sweet corn!
Can I make this corn dish ahead of time?
Yes, you can make this easy side dish ahead of time. Store it tightly covered in the refrigerator and reheat it before serving.
What should I serve with Corn Spoon Bread?
This spoon bread casserole pairs well with just about anything! Try it with pork chops, Jambalaya, fried chicken, or my Chili Casserole!
More amazing side dishes
Try any of these delicious sides for a light lunch or to accompany your dinner: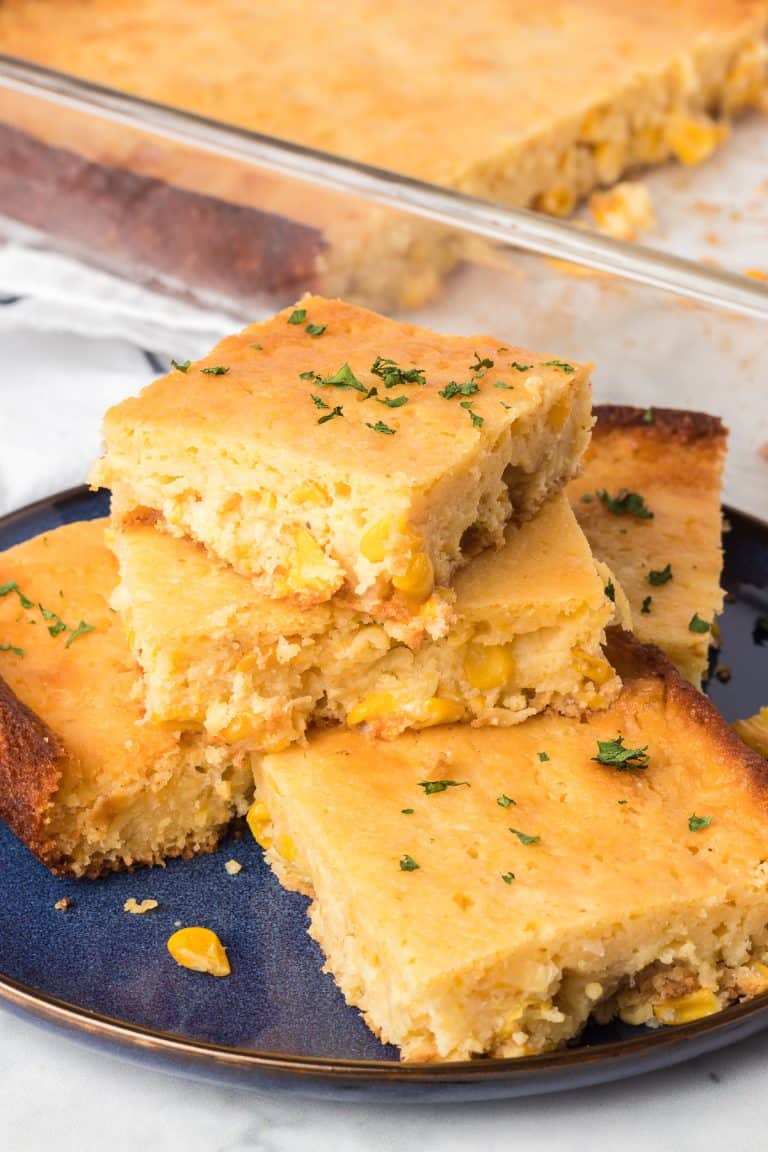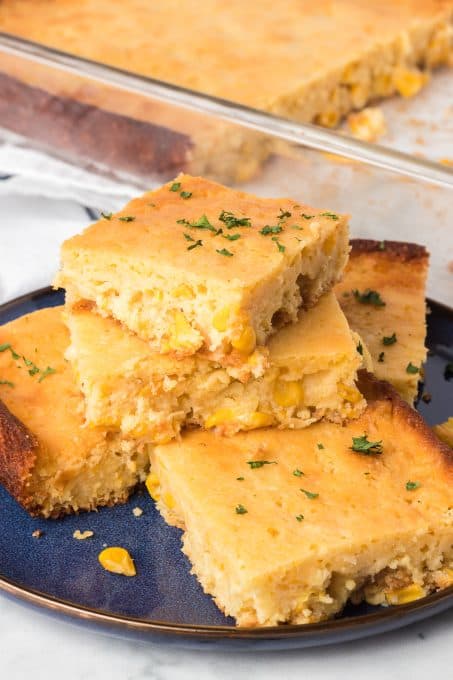 ~ FOLLOW ME ~
Keep an eye out for more of my easy recipes each week!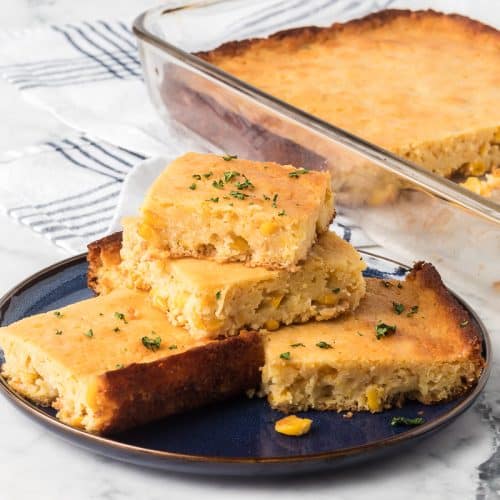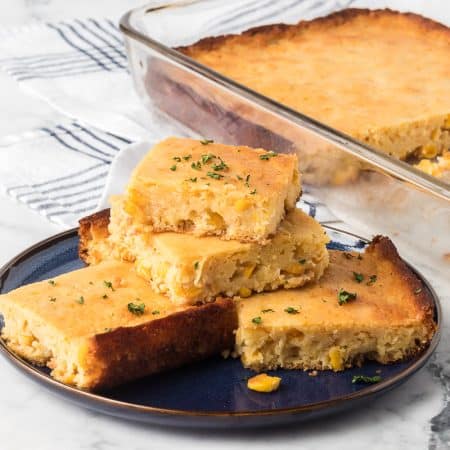 Corn Spoon Bread – classic Southern comfort food, great for any occasion. It's a perfect side dish of cornmeal, creamed corn, and other ingredients to give it a sweet and savory flavor that's SO good!
Ingredients
2 large eggs
8.5 ounces Jiffy corn muffin mix
¼ cup sugar
2 cups frozen corn
15 ounces creamed corn
1 cup sour cream
¼ cup milk
½ cup butter melted
Instructions
Preheat oven to 350 degrees, and prepare a 9 x 13-inch pan with cooking spray.

In a large bowl, beat eggs. Add remaining ingredients and mix until well combined.

Pour into prepared baking dish.

Bake for 1 1/2 hours or until golden brown.
Nutrition
Serving: 1serving | Calories: 273kcal | Carbohydrates: 32g | Protein: 5g | Fat: 15g | Saturated Fat: 8g | Polyunsaturated Fat: 1g | Monounsaturated Fat: 5g | Trans Fat: 0.3g | Cholesterol: 64mg | Sodium: 338mg | Potassium: 196mg | Fiber: 3g | Sugar: 10g | Vitamin A: 459IU | Vitamin C: 4mg | Calcium: 46mg | Iron: 1mg
Did you make this recipe?
Share it with me on Instagram and make sure to follow me on Pinterest for more recipes.
This post was originally published March 4, 2012. It has been updated in format and with pictures on September 11, 2023.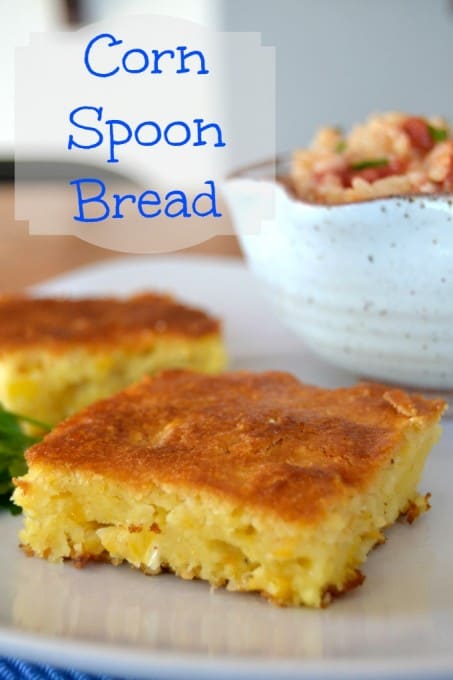 Reader Interactions