Whether you're used to saying Cauliflower Au Gratin or just Cauliflower Gratin, this flavorful side dish is well worth it for a family dinner.
Most of the times, we don't just have the main course when we dig in for dinner. There are plenty of side dishes to choose from, but I'm positive you'll be going back for seconds with this Cauliflower Gratin.
I'm stuck on vegetables after eating dinner last night and we had a very large head of cauliflower growing in our garden that I needed to cook before it started to flower.
Ain't that somethin' when you can grow your own food! It makes the meals stand out that much more. I guess I'll have to do some more researching to find out what other things I can put in that garden in our backyard.
That crunch of the cauliflower gets me every time too, let alone the hundreds of cauliflower recipes at our disposal. Oh, how I love the internet! I think a recipe for cauliflower soup is in this bloggers future as well.
The combination was quite delicious and that sauce really made the dish. I have found a new way to add cauliflower to my family's diet. This is good because we have more growing in the garden.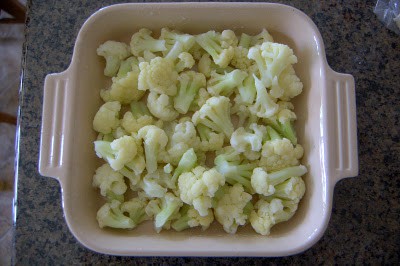 Last night we went out to a FABULOUS meal with my husband's brother-in-law who was in town for a work conference. We had a wonderful time and the food was absolutely incredible! We went to the Tonto Bar & Grill at Rancho Manana in Cave Creek, AZ.
Oh. My. Goodness. I had the Vegetable Nosh which included sauteed spinach and broccolini, green beans, a sweet potato, onion and leek gratin, and the highlight of the dish – quinoa, feta, and vegetable salad.
SAVE THIS CAULIFLOWER GRATIN RECIPE TO YOUR FAVORITE PINTEREST BOARD!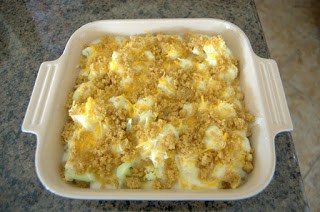 WOW!
I had never had quinoa before and have been wanting to try it. I am SO very glad I ordered it! My husband, daughter, and brother-in-law were all impressed with it. The food was so absolutely fresh and absolutely flavorful!!
I highly recommend going there if you're ever in the Phoenix area! It is a little pricey, but so very much worth it!
I loved that quinoa so much, I'm going to have to try to duplicate it. Well, come as close as possible because I don't think I'll be able to get a hold of any cholla pods.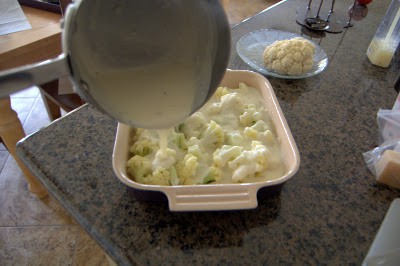 Our waitress, Laura, so kindly talked to the chef and he had told her that was one of the ingredients and that they are harvested in Tucson.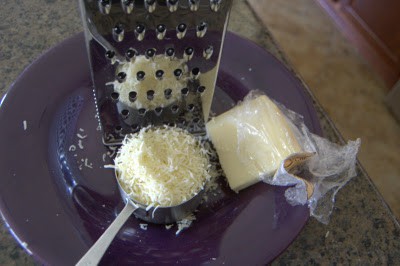 So here it is…
Ingredients
1

head

of cauliflower (about 3 pounds)

2

tablespoons

butter

3

tablespoons

flour

2

cups

milk

¼

teaspoon

salt

⅛

teaspoon

freshly ground pepper

¼

cup

freshly grated Parmesan cheese

½

cup

shredded Gruyere cheese

½

cup

shredded Colby/Cheddar cheese

2

teaspoons

butter, melted

½

cup

seasoned bread crumbs
Instructions
Preheat oven to 400 degrees, and prepare a 1-quart baking dish with cooking spray.

Cook cauliflower in a pot of salted, boiling water for 5-6 minutes.

Drain and place into the prepared baking dish. Season with a pinch of salt and ground pepper.

To prepare sauce, melt butter in a small saucepan over medium-high heat. Whisk flour in so that it forms a light roux.

Gradually add milk, whisking so that the roux blends in completely. Continue cooking and whisking until sauce thickens. Do not boil. Add salt and pepper.

Stir in Gruyere and Parmesan cheeses and stir until cheeses are melted. Pour sauce over cauliflower.

Sprinkle Colby/Cheddar cheese over the cauliflower.

In a small bowl, combine melted butter and bread crumbs. Mix until thoroughly combined with a fork.

Sprinkle bread crumbs entirely over cauliflower.

Bake for 15-20 minutes, until bubbly and golden brown.
Nutrition
Calories:
202
kcal
|
Carbohydrates:
20
g
|
Protein:
6
g
|
Fat:
10
g
|
Saturated Fat:
6
g
|
Cholesterol:
27
mg
|
Sodium:
448
mg
|
Potassium:
195
mg
|
Sugar:
7
g
|
Vitamin A:
400
IU
|
Vitamin C:
0.4
mg
|
Calcium:
165
mg
|
Iron:
1
mg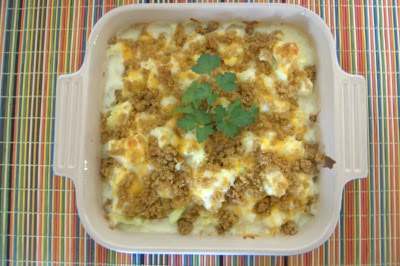 When the kids come home from their long day at school, they're prone to go in the cupboard and rummage around for something tasty. Well, now with this Cookie Butter Snack Mix recipe, you won't need to keep buying a ton of granola bars.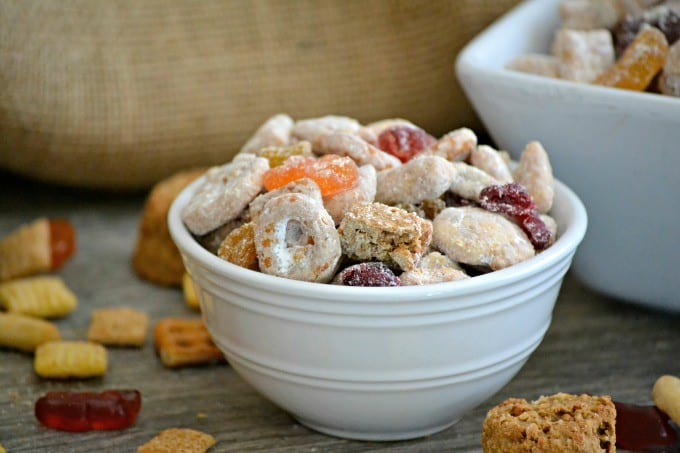 Now, WHO doesn't love Hummas?! I can't think of anyone, so make sure to add this to your pregame, weekend ritual. Or, you can be like me and have it every day.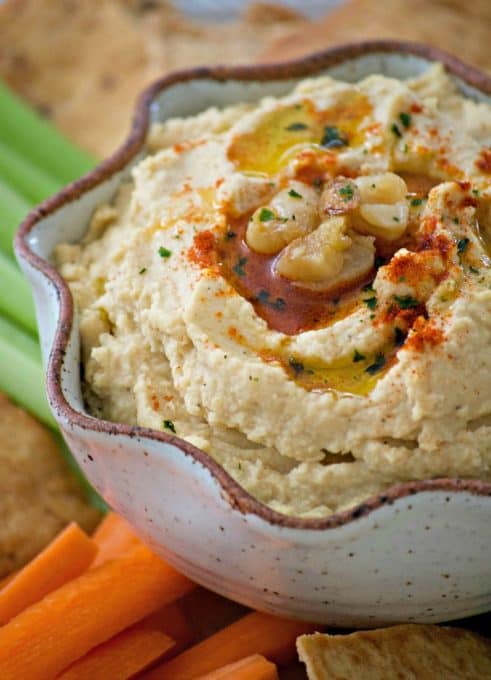 I rate everything I bake on a scale of 1-4 with 4 being the best and this Cauliflower Gratin earned 3 1/2 rolling pins. It was quite delicious and I'm not a big fan of cauliflower. I am a huge fan of cheese though!