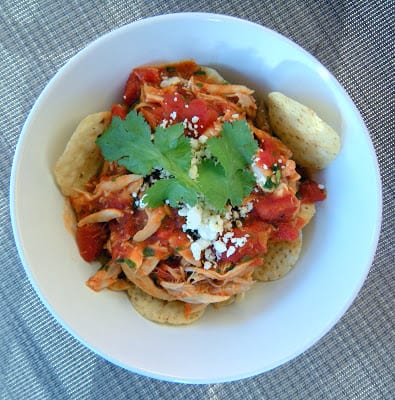 Ok.
I start a lot of posts that way, don't I?
Ok. I guess it's kind of like when I have something I think is important to tell Mr. 365, I always start my sentence with, "Um,…" And when HE has something that he thinks I should hear and comprehend, starts his off with, "Let me tell you something" or "Tell you what,…"
I think that maybe sometimes I don't know how to start off these posts and that's why I start with "Ok". It seems like a very good place to start. "Let's start at the very beginning, a very good place to start." Sorry, now you're going to have this stuck in your head for the rest of the day/afternoon/night.
I would SO want to do this one day, just start dancing in a public place with a whole bunch of people even though I can't dance for diddly. When the tv show 'Fame' was on (yes, I suppose I'm dating myself) I SO wanted to go to that school in New York so that I could dance and sing in the cafeteria at lunchtime.
*sigh*
That would've been so awesome! "FAME, I'm gonna live forever! I'm gonna learn how to fly – HIGH!" No, I won't post another video, though I'm SSSOOOOO tempted!!
SAVE THIS CHICKEN CHILAQUILES TO YOUR FAVORITE PINTEREST BOARD!
Ok, seriously, I'm done. No more videos. I'll get back on topic. Topic, topic, topic… Oh yeah, a recipe! I haven't posted in a few days because I had a 2 day debilitating, and when I say debilitating, I do mean, DEBILITATING, migraine. It was pretty darn awful. Really.
All I wanted to do was crawl under a rock and die. It was that bad. I woke up yesterday morning, and thinking, "Oh wow! It's completely gone!! HALLELUJAH!!!!!!!!" I felt like embracing the WORLD!!!! Hugging everyone, and kissing the animals!!!!
You don't realize how much you take your health for granted until something happens to completely alter your life.
And this was just a headache! I can't possibly imagine how friends and family members, including my mother, dealt with or are dealing with a diagnosis of cancer or other life-changing health issues.
If any of you are going through something like this, you have my prayers that you will be completely be surrounded by love and support and that you will find moments of peace and beauty in the world around you during your struggle. I love you and there are also many other people who do, too.
This is one of my favorite recipes because it is easy and just tastes so doggone good. I usually make it when I'm needing to use up that leftover rotisserie chicken or a roast chicken I've cooked at home. Even though we're a family of 5, we typically have a good 1/2 to 3/4 of the bird remaining from the first sitting and I love it when I get two meals out of those birds!
I adapted this recipe from my Everyday Food Cookbook- Great Food Fast, p.44; author, Martha Stewart; publisher, Clarkson Potter/Publishers, an imprint of the Crown Publishing Group, a division of Random House, Inc.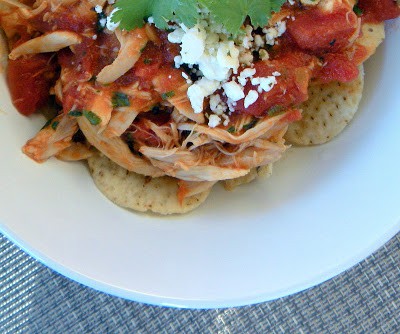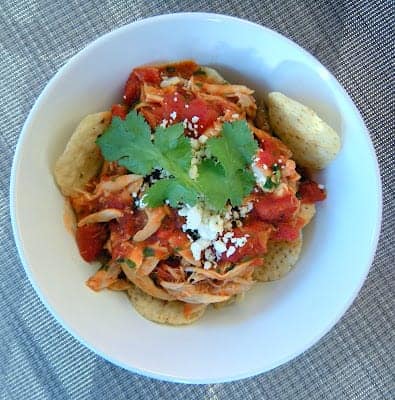 Ingredients
1 tablespoon olive oil
4 garlic cloves, minced
29 ounces diced tomatoes, undrained 2 - 14.5 ounce cans
14.5 ounces tomato sauce
1 jalapeno seeded, and minced
1 cup water
¾ teaspoon cumin
½ teaspoon kosher salt
¼ teaspoon pepper
4 cups shredded, cooked chicken I use a rotisserie chicken
¼ cup lightly packed cilantro, chopped
4 cups tortilla chips
¼ cup crumbled herbed feta cheese
¼ cup sour cream
Instructions
Heat a large saucepan over medium-high heat. Add oil and garlic. Sautee until fragrant, about 1-2 minutes.

Add diced tomatoes, tomato sauce, diced jalapeño, and water. Bring to boil and the cumin, salt and pepper. 

Reduce heat and let simmer for about 6-8 minutes until slightly thickened. Add chicken and stir until combined.

Remove from heat and stir in chopped cilantro. Serve with chips, feta cheese, and sour cream. 
Notes
If you'd like a little more spice, keep some of the seeds of the jalapeño or add some red pepper flakes.
Nutrition
Calories: 593kcal | Carbohydrates: 75g | Protein: 8g | Fat: 30g | Saturated Fat: 3g | Sodium: 488mg | Potassium: 247mg | Fiber: 6g | Sugar: 1g | Calcium: 200mg | Iron: 2.7mg
Did you make this recipe?
Share it with me on Instagram and make sure to follow me on Pinterest for more recipes.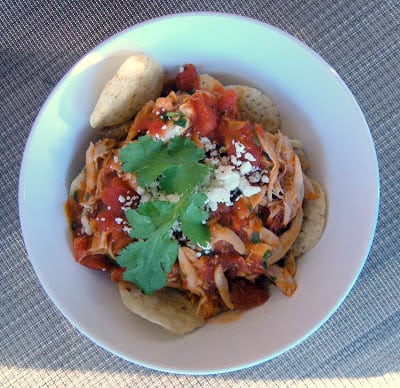 I rate everything I make on a scale of 1-4 and this Chicken Chilaquiles earned 3 1/2 rolling pins. It's easy and delicious and a wonderful way to use up leftover cooked chicken. I've served it with the tortilla chips under the chicken mixture, but have found that the chips become really soggy.
If you'd rather have crisp chips, crumble them and put them on top or put them on the side. But, who knows, you may like soggy chips. I'm not judging.
Reader Interactions