Do you want to learn how to make mouthwatering Chicken Chilaquiles at home? This classic Mexican dish is a delightful combination of crispy tortilla chips, tender chicken, vibrant salsa, and a variety of savory toppings. Whether you're a seasoned chef or a cooking novice, I'll show you how to make chilaquiles that turn out perfect every time, AND it will be on your table in less than 30 minutes!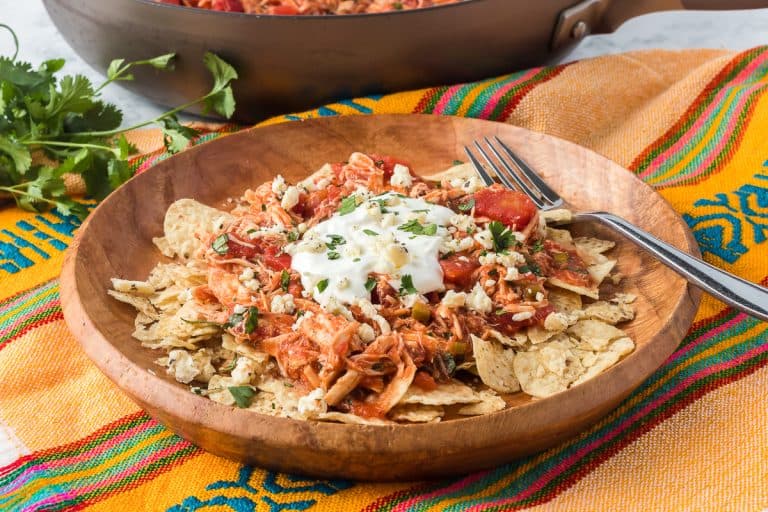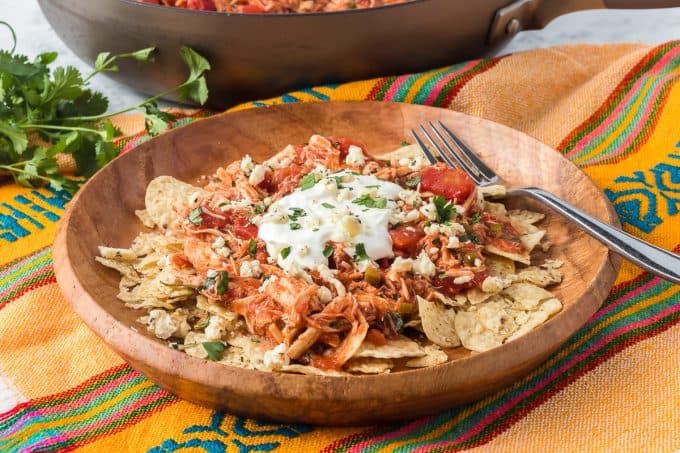 From preparing homemade tortilla chips to selecting the right chicken and mastering the art of salsa making, we've got you covered. You'll soon be creating a dinner and/ or breakfast masterpiece (add some fried eggs to it!) that will have your taste buds dancing and your family begging for more!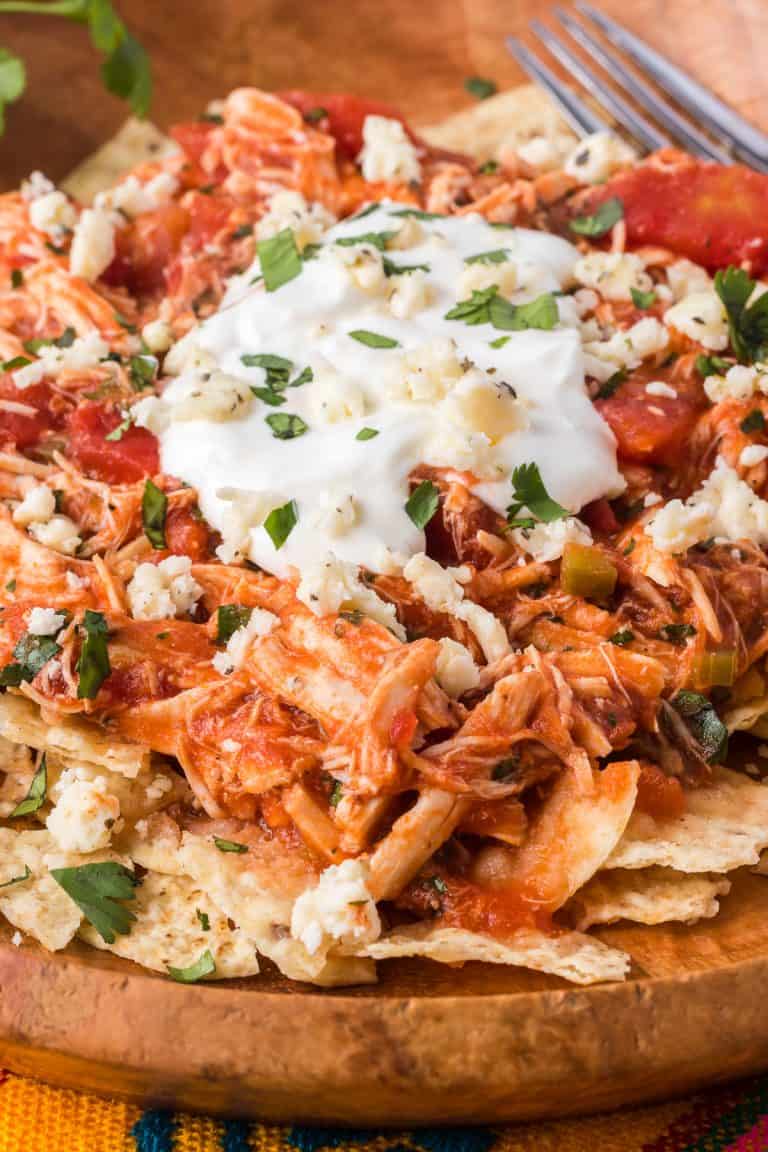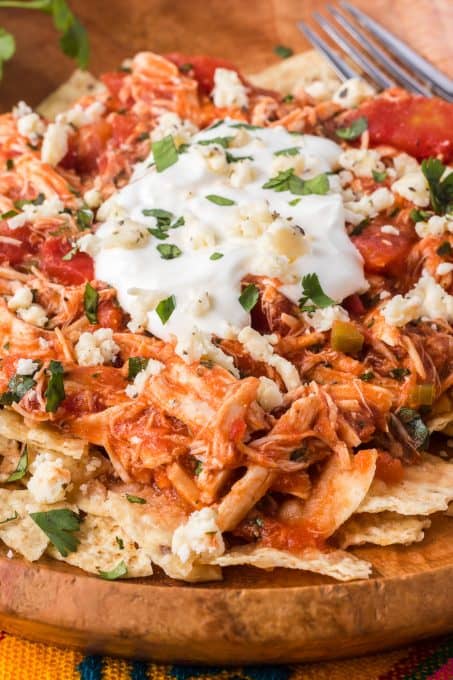 History and Origins of Chilaquiles
This traditional Mexican dish has its roots in Aztec cuisine and was originally created as a way to use up leftover tortillas. It was a simple dish made by frying stale tortillas until crispy and then simmering them in a flavorful chili sauce.
Today, chilaquiles are enjoyed not only for breakfast but also as a hearty brunch, dinner or even a late-night snack. Save money by making these at home instead of going out to your local Mexican restaurant!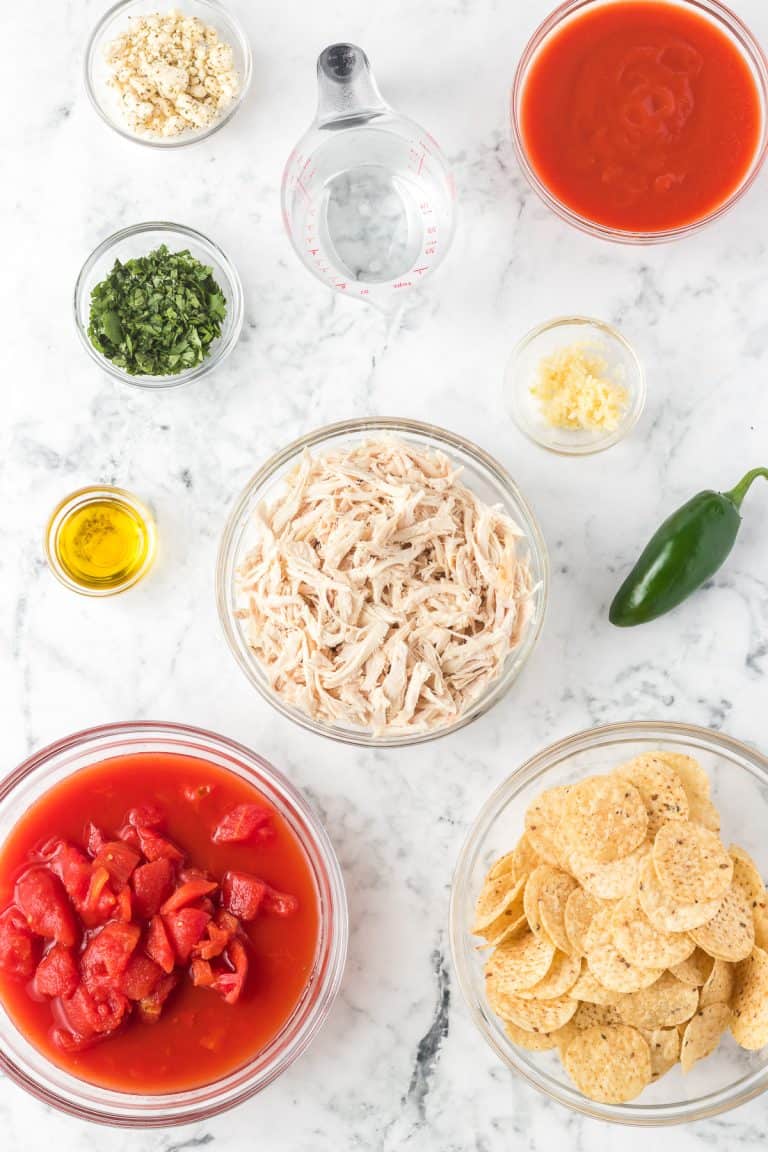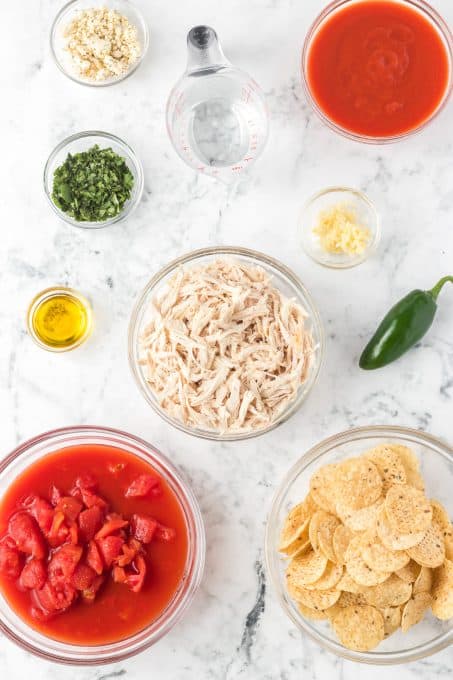 Ingredients for Chicken Chilaquiles
To make these savory chicken chilaquiles at home, you'll need a handful of key ingredients. Here's a list of what you'll need to gather before you begin:
Tortilla Chips: The foundation of any good chilaquiles dish is crispy corn tortilla chips. You can either use store-bought tortilla chips or make your own using fresh corn tortillas. If you choose to make your own, simply cut the tortillas into triangles and fry them until golden and crispy.
Chicken: Tender, juicy chicken is an essential component of chicken chilaquiles. You can make chicken fresh for this recipe, or use a leftover cooked chicken breast. I used a rotisserie chicken this time. It makes the process SO much easier and quicker.
Salsa: The salsa is what gives chilaquiles their vibrant flavor. You can use store-bought salsa or make your own, as we'll do here. Salsa Verde (green salsa) is often used with chilaquiles, too.
Toppings: Chilaquiles are traditionally served with a variety of toppings. Some popular options include crumbled queso fresco or cotija cheese, sliced avocado, chopped cilantro, diced red onion, and a drizzle of crema or sour cream. Feel free to get creative and add your favorite toppings to make the dish your own.
Optional Additions: Include black beans, corn, or even scrambled eggs for a heartier version. Don't be afraid to experiment and customize the dish to suit your taste preferences
See the recipe card below for exact ingredients and amounts.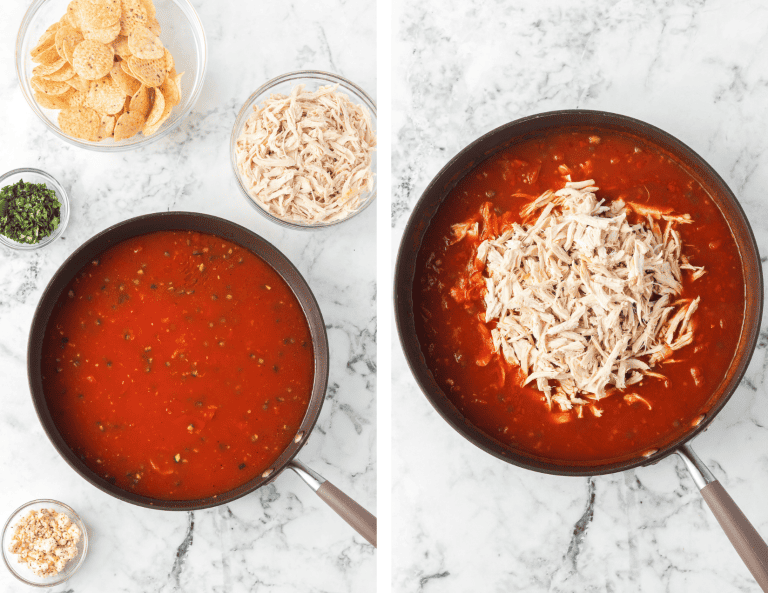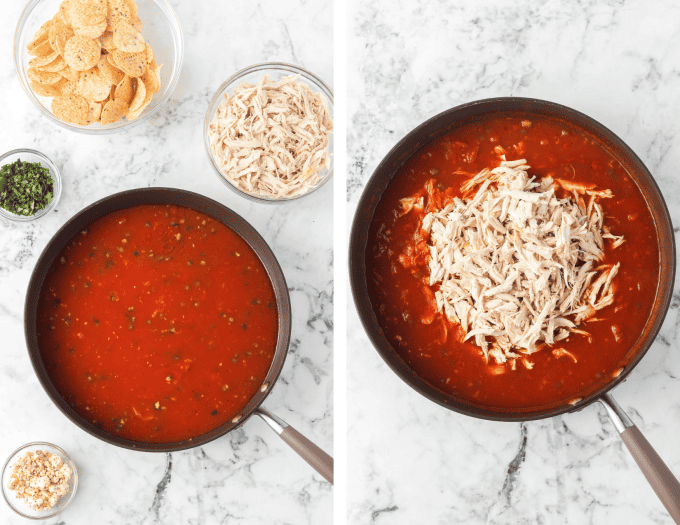 How to make Traditional Chilaquiles with Chicken
I adapted this recipe from the Everyday Food Cookbook- Great Food Fast.
Prepare the Chicken: If you're not using pre-cooked chicken, then cook yours now. Heat a tablespoon of olive oil in a skillet over medium heat. Season the chicken with salt, pepper, and any desired spices. Cook the chicken until it's golden brown and no longer pink in the center, about 6-8 minutes per side. Once cooked, remove the chicken from the skillet and let it rest for a few minutes before shredding or dicing it into bite-sized pieces.
Make the Salsa: Heat a large skillet over medium-high heat. Add oil and garlic. Sautee until fragrant, about 1-2 minutes. Add diced tomatoes, tomato sauce, diced jalapeño, and water. Bring to boil the cumin, salt, and pepper, then reduce heat and let simmer for about 6-8 minutes until slightly thickened.
Simmer the Chilaquiles: Add the shredded chicken to the salsa and stir until combined. Simmer until warm throughout. Remove from heat and stir in chopped fresh cilantro.
Serve Chicken Chilaquiles: Serve the mixture with tortilla chips. Garnish with crumbled feta cheese and sour cream or your favorite toppings.
I've served chilaquiles the traditional way with the tortilla chips under the chicken mixture but have found that the chips become soggy if not eaten quickly enough.
If you'd rather have crisp chips, crumble them and put them on top or put them on the side. You could even use tortilla strips. But, who knows? You may like soggy chips. I'm not judging.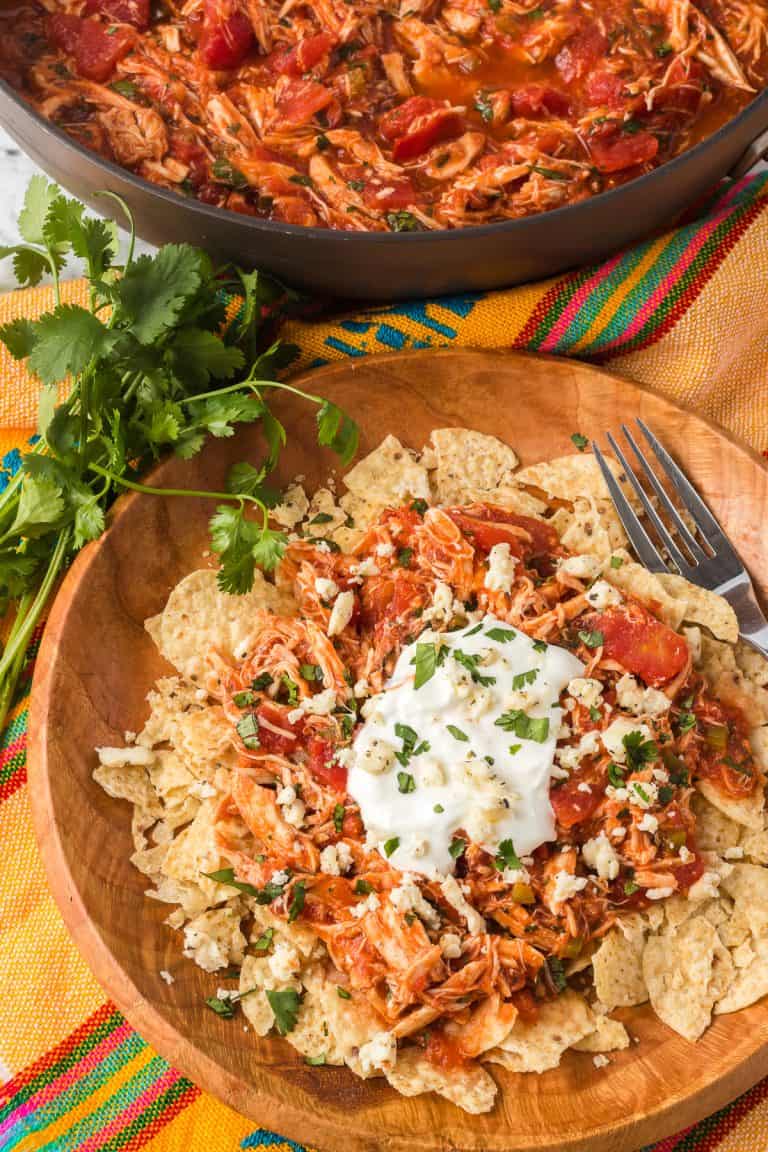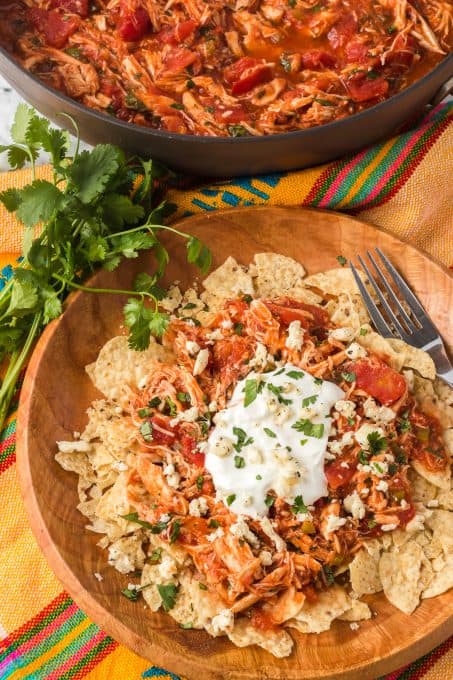 Variations and Additions
While the basic recipe for chicken chilaquiles is delicious on its own, there are endless possibilities for customization. Here are a few things you can try:
Vegetarian Option: Skip the chicken and add extra beans or vegetables, such as sautéed bell peppers and onions, to make a vegetarian version of chilaquiles.
Eggs: For a breakfast twist, add a fried egg or scrambled eggs to the chilaquiles. Simply scramble the eggs separately and fold them into the cooked chilaquiles just before serving.
Make it Cheesy: Sprinkle shredded cheese, such as cheddar or Monterey Jack, over the chilaquiles before covering them to let it melt. This will add an extra layer of gooey goodness to the dish.
Spice it Up: If you like your chilaquiles extra spicy, add some serrano peppers to the salsa. You can also top the dish with a few slices of fresh chili peppers for an added kick.
Make this dish your own. The possibilities are endless!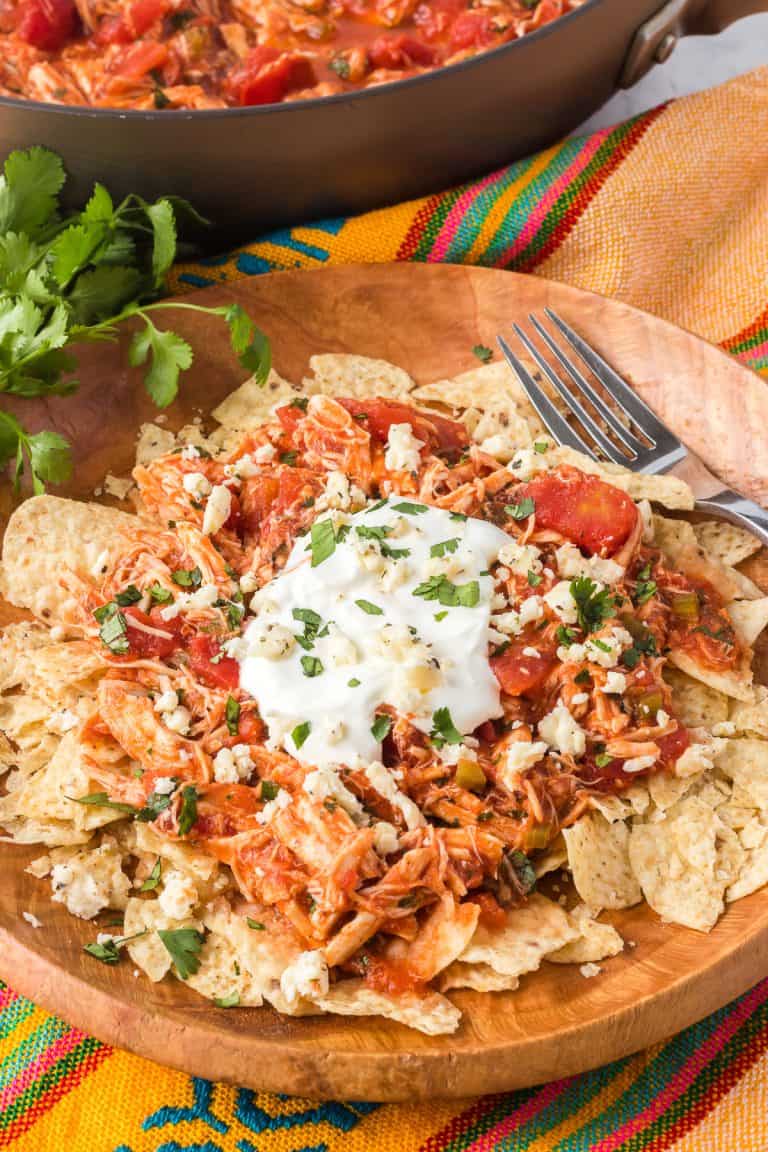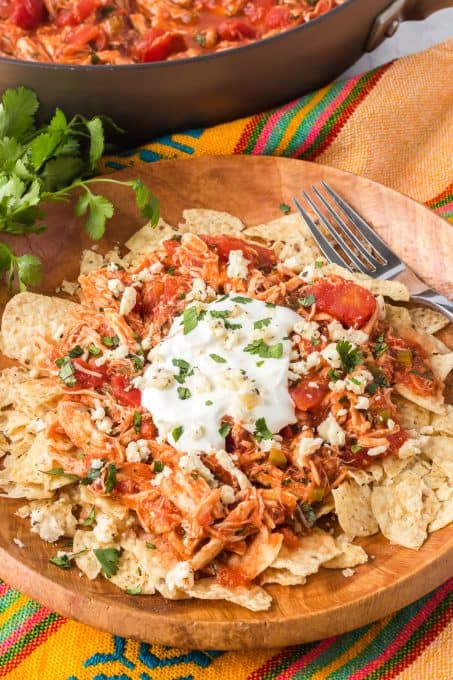 FAQs
Can I make chilaquiles ahead of time?
Chilaquiles are best enjoyed fresh, as the tortilla chips can become soggy when stored for too long. However, you can prepare the components ahead of time and assemble them just before serving to save time.
How do I store leftover chilaquiles?
Store any leftovers in an airtight container in the refrigerator for up to 2-3 days. Of course, you'll want to store the tortilla chips separately.
How spicy are chilaquiles?
The level of spiciness in chilaquiles can vary depending on the type and amount of peppers used. If you prefer a milder version, remove the seeds from the jalapeno peppers before adding them to the salsa. Up the spice by adding more peppers or some red pepper flakes.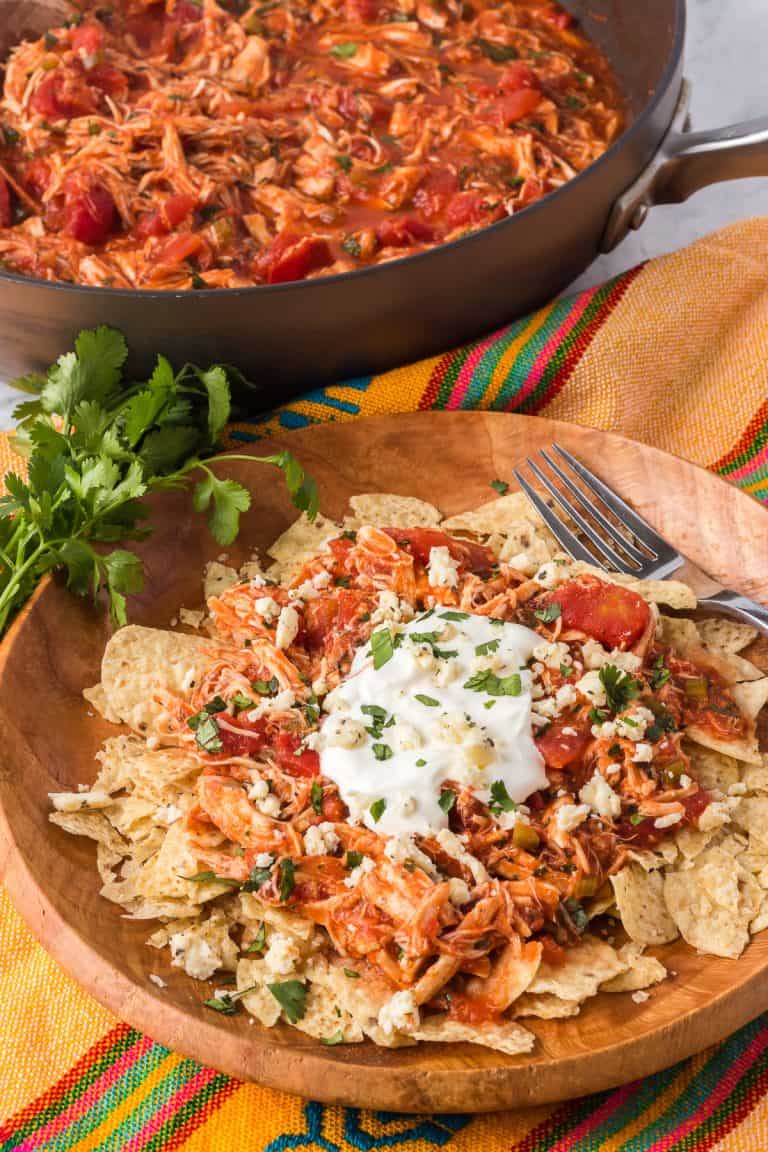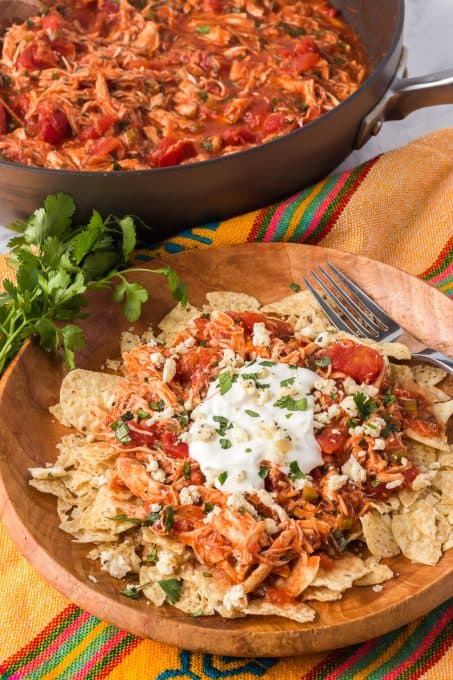 More Mexican Dishes
Serve this with a side of Skillet Mexican Street Corn and some refreshing Horchata!
If you love eating Mexican food for dinner, try these Chicken Tostadas or these Slow Cooker Carne Asada Taco Boats.
Enjoy more Mexican breakfast recipes by making Mexican Breakfast Casserole or Loaded Huevos Rancheros.
¡Buen provecho!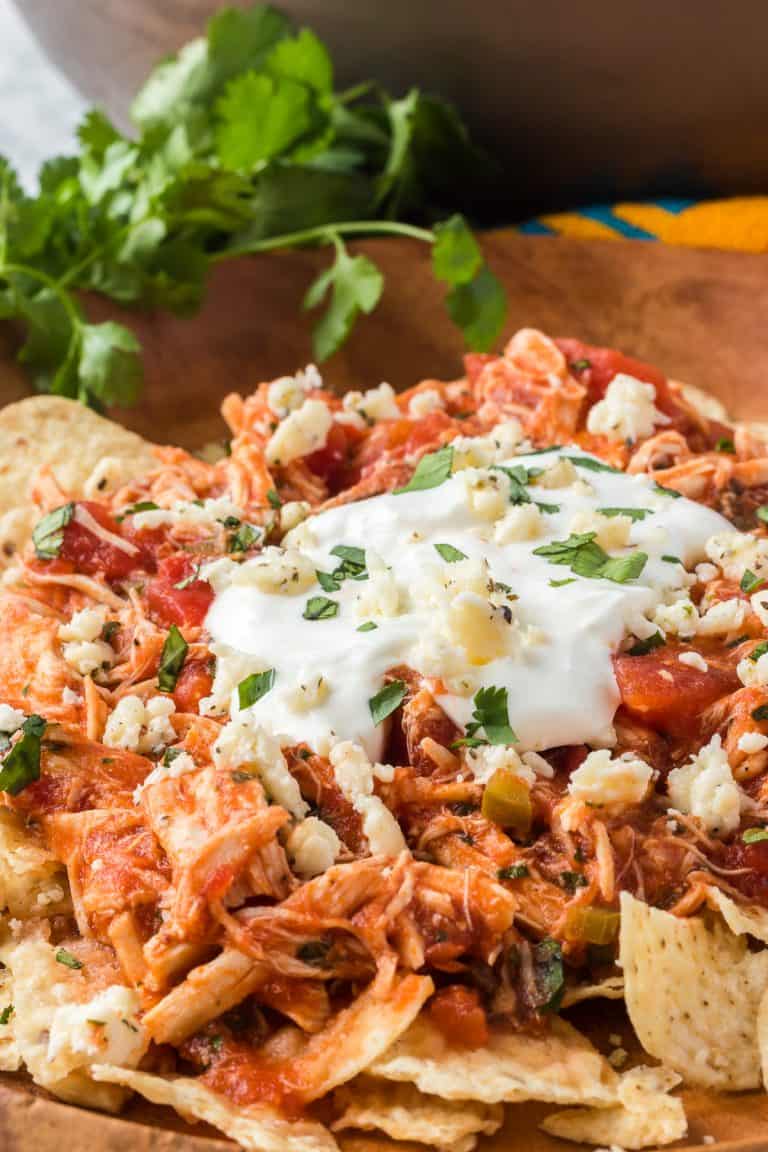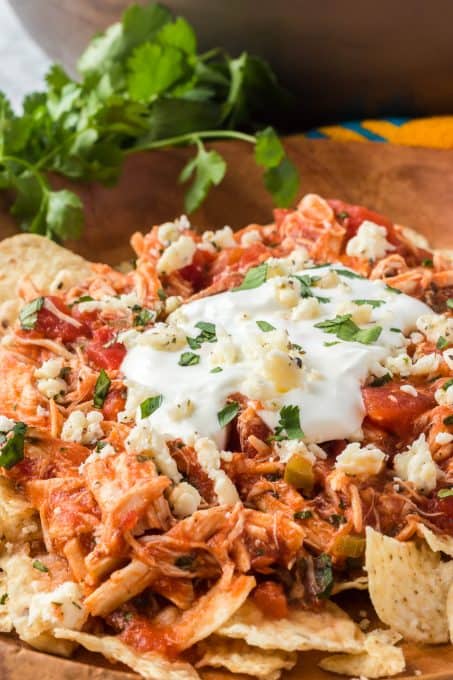 ~ FOLLOW ME ~
Keep an eye out for more of my easy recipes each week!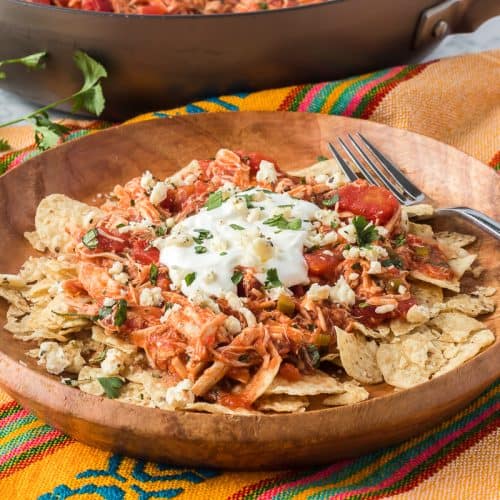 Make Chicken Chilaquiles at home with crispy tortilla chips, tender rotisserie chicken, vibrant salsa, and a variety of savory toppings. It's an easy, and filling weeknight dinner the whole family will love!
Ingredients
1 tablespoon olive oil
4 garlic cloves, minced
29 ounces diced tomatoes, undrained 2 – 14.5 ounce cans
14.5 ounces tomato sauce
1 jalapeno seeded, and minced
1 cup water
¾ teaspoon cumin
1 teaspoon kosher salt
½ teaspoon pepper
4 cups shredded, cooked chicken I use a rotisserie chicken – super easy!
¼ cup lightly packed cilantro, chopped
4 cups tortilla chips
¼ cup crumbled herbed feta cheese can substitute Cotija cheese or Queso Fresco, if you'd like.
¼ cup sour cream
Instructions
Heat a large saucepan over medium-high heat. Add oil and garlic. Sautee until fragrant, about 1-2 minutes.

Add diced tomatoes, tomato sauce, diced jalapeño, and water. Bring to boil and the cumin, salt and pepper. 

Reduce heat and let simmer for about 6-8 minutes until slightly thickened. Add chicken and stir until combined.

Remove from heat and stir in chopped cilantro. Serve with chips, feta cheese, and sour cream. 
Notes
If you'd like a little more spice, keep some of the seeds of the jalapeño or add some red pepper flakes or chili powder.
Nutrition
Serving: 1serving | Calories: 928kcal | Carbohydrates: 94g | Protein: 48g | Fat: 42g | Saturated Fat: 9g | Polyunsaturated Fat: 15g | Monounsaturated Fat: 14g | Trans Fat: 0.1g | Cholesterol: 122mg | Sodium: 1670mg | Potassium: 1280mg | Fiber: 10g | Sugar: 10g | Vitamin A: 986IU | Vitamin C: 32mg | Calcium: 290mg | Iron: 7mg
Did you make this recipe?
Share it with me on Instagram and make sure to follow me on Pinterest for more recipes.
This post was originally published April 19, 2012. It has been updated in format and with pics on September 13, 2023.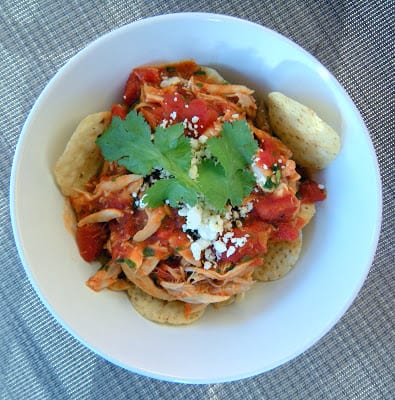 Reader Interactions