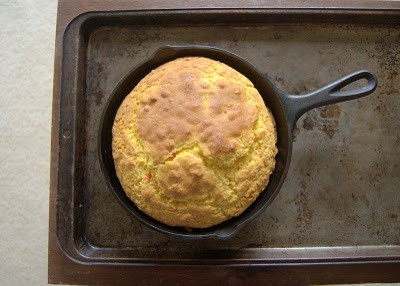 Of course we're watching the Patriots play the Broncos, so to make an easy informal dinner I made the Taco Pockets with a salad and this cornbread.
I adapted this from my Martha Stewart Living Cookbook,p. 562; author, Martha Stewart; publisher, Clarkson Potter Publishers, an imprint of the Crown Publishing Group, an imprint of Random House, Inc.; ISBN 978-0-307-39382-1.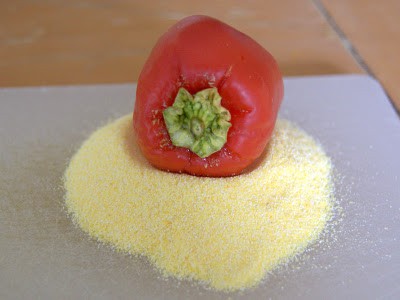 Sweet Red Pepper Cornbread – serves 8
1/4 cup vegetable shortening
1 cup flour + 1 teaspoon
1 cup yellow cornmeal
1 tablespoon sugar
2 teaspoons salt
*1 teaspoon baking soda
*1 1/2 teaspoons baking powder
1 cup milk
2 eggs
1 sweet red pepper, diced small
*the recipe called for 2 teaspoons of baking soda, but I misread the recipe, hence the 1 teaspoon baking soda. Use the 2 teaspoons baking soda*


Place rack in center of oven and preheat to 425 degrees F.
Put shortening into an 8-inch cast-iron skillet and place into oven.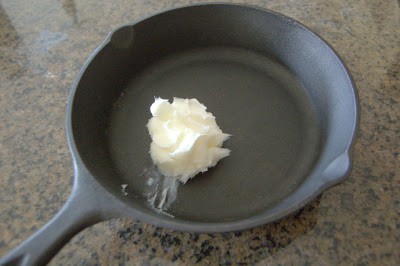 Place red pepper in a small bowl and place in oven for 2 minutes to warm slightly. Add 1 teaspoon of flour and completely toss; set aside.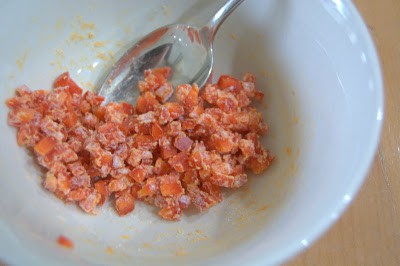 In a medium bowl, whisk together remaining cup of flour, cornmeal, sugar, salt, and baking powder.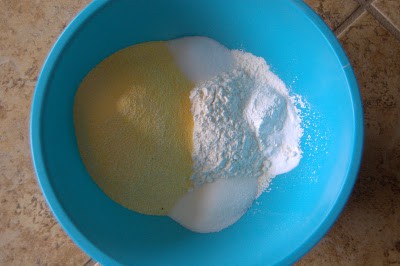 Combine pepper and cornmeal mixture. Mix thoroughly.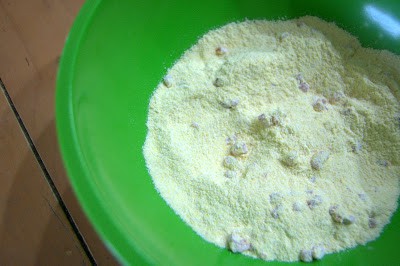 In a small bowl, whisk together the milk and eggs. Add to cornmeal mixture.
Mix until just combined. Mixture should be a little lumpy.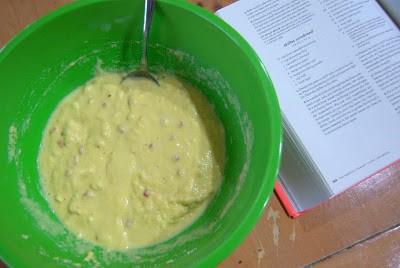 Carefully pour into the heated skillet.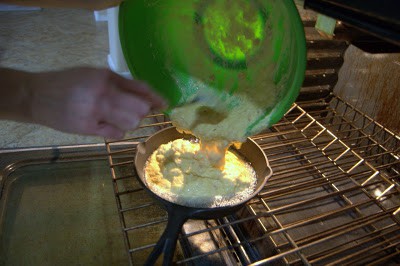 Bake for 25 – 30 minutes.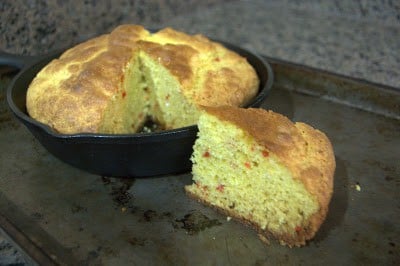 I rate everything I bake on a scale of 1-4 with 4 being the best and this Sweet Red Pepper Cornbread earned 2 rolling pins.
It was a little dry and I think I messed it up because of the baking soda/powder confusion.
I was too preoccupied with the football game that was going to be on.
I need to focus more!
I think it could have been good. I did like the taste of it overall, especially the taste of the lard.
Haha, I guess I like the taste of melted shortening.
I only left it in the oven for 25 minutes, but as you can tell, it became a little browner than I think it should have, especially the bottom.
Next time, I'll keep an eye on it when it's been in for about 20 minutes and I also think making it the day an important football game isn't on. (wink wink)
Oh, we've got 440 "Like"ers on our Facebook page!! Woo Hoo!
I've got a challenge for you – can we get to 500 in 53 days, by the time this 365 Days of Baking is over?
Spread the word, tell your friends, SING IT FROM THE MOUNTAIN TOPS like Julie Andrews!!
"Like" our page.
I need your help, and I can't do it alone.
Let's do this!
Thank you, thank you very much.
I love you all and am very grateful that you're here!
I give you BIG baking hugs and muffins!!