Coffee Milk is an Ocean State staple. Made with a sweet coffee flavored syrup and milk, you'll learn how to make the famous Rhode Island drink with this easy recipe!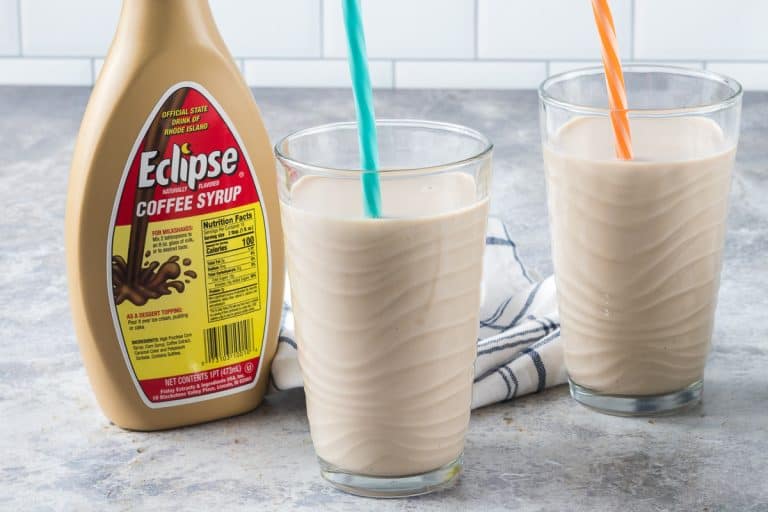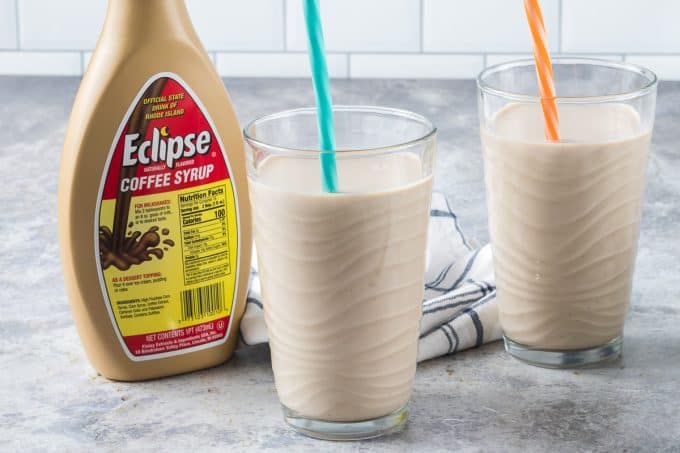 I'm a native Rhode Islander. Which means coffee milk just about runs through my veins.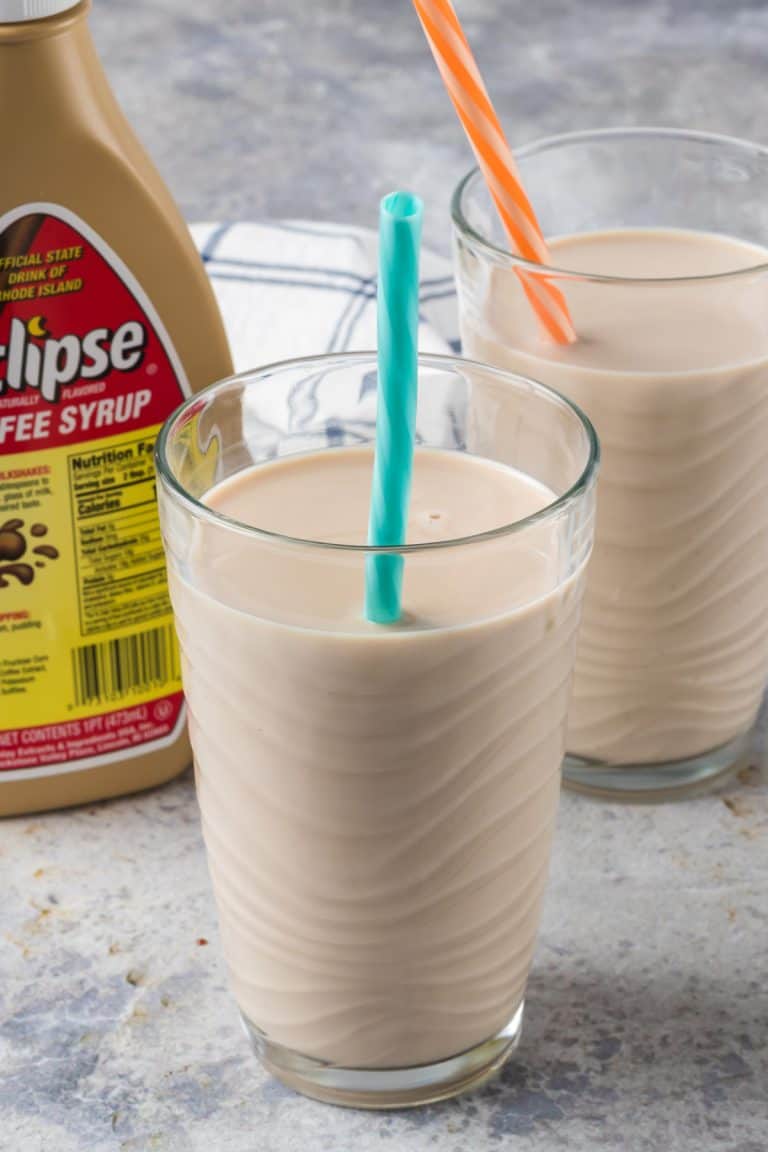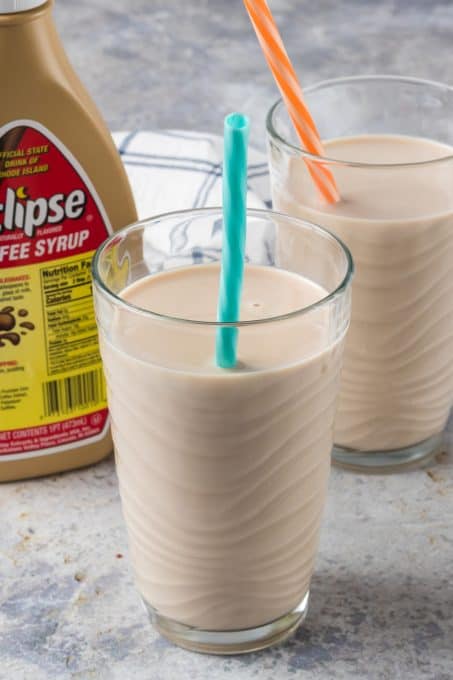 Imagine my surprise when I grew up, moved away and discovered most of the country had NEVER EVEN HEARD of this milky caffeinated concoction!
What is Rhode Island Coffee Milk
Coffee Milk is a drink of ice cold milk mixed with a sweet coffee-infused syrup. If you've ever made chocolate milk with a bottled chocolate syrup or strawberry milk, you get the idea!
The sugary coffee flavored beverage became a staple in Rhode Island in the early 20th century. As of 1993, Coffee Milk is even the official state drink of Rhode Island!
That makes me wonder if other states have an "official state drink." If they do, there's no way those drinks are as addictively delicious (or easy to make) as coffee milk. Then again I might be just a little bit biased.
For me, coffee syrup in milk tastes like home. But even if you've never stepped foot in Rhode Island, I know you're going to love it at first sip!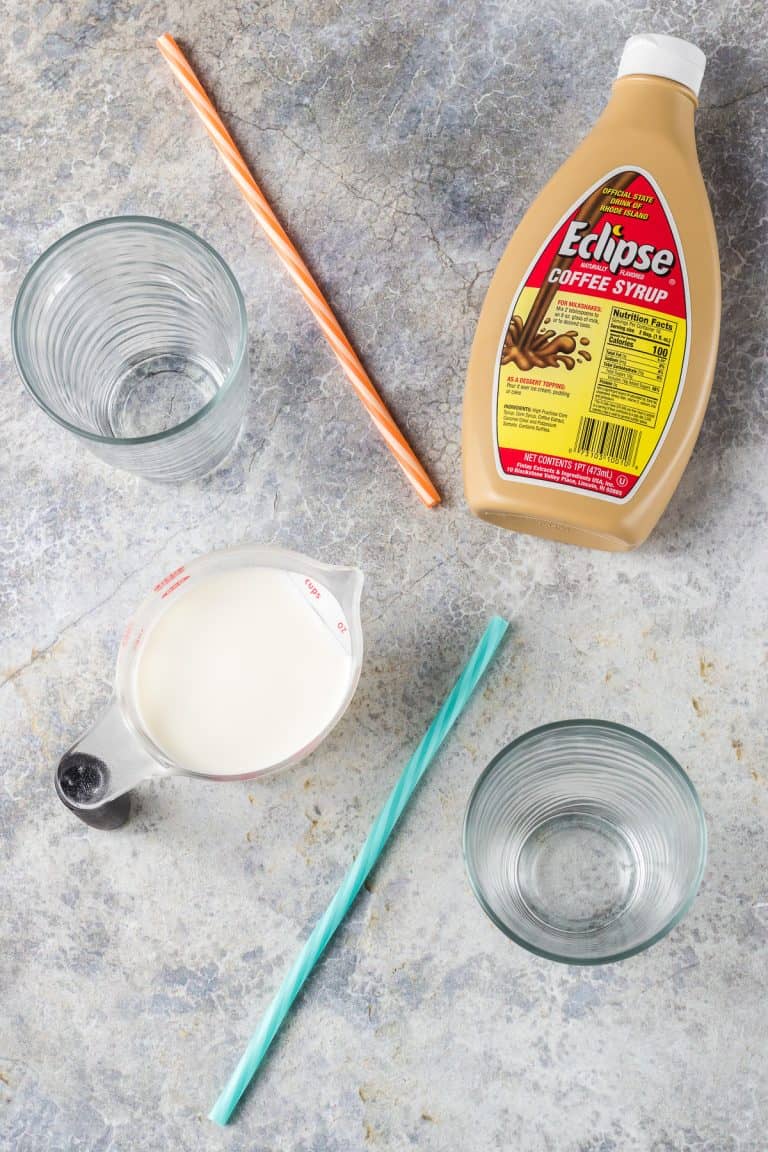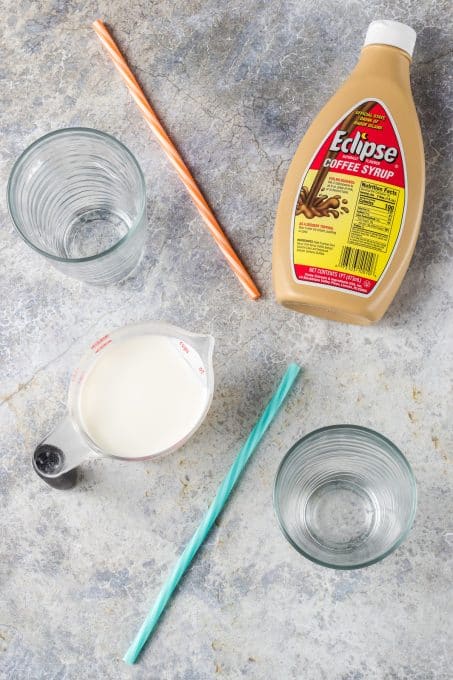 Coffee Milk Ingredients
The key to authentic Rhode Island Coffee Milk is the syrup. It's not coffee extract. Nor is it brewed coffee.
There are a few brands of coffee syrup we use to make coffee milk:
I find that Autocrat has a sweeter flavor profile with just a mild coffee taste. Eclipse has a more pronounced, bold coffee flavor to balance the syrupy sweetness.
While I like both, I grew up on Eclipse syrup, so used that for today's recipe.
These syrups can also be used to make adult beverage recipes, delicious desserts like Tiramisu or just drizzled over a bowl of vanilla ice cream. Use it to make coffee ice cream, too!
My mom used to make me a coffee cabinet every once in a while when i was young. It's what we people from the smallest state in the union call a milk shake. One day I caught her dropping a raw egg into it.
When I yelled at her in disgust she replied, "Oh, I've been making them this way forever and you had no idea!"
Needless to say, I started making my own from then on. haha
Wondering what kind of milk to use for coffee milk?
I typically use 2% or whole milk. For a lower calorie option, nonfat milk works beautifully. You can even use a nondairy substitute like soy milk, almond or oat milk.
One note about plant based milks: I recommend the unsweetened versions for making dairy free coffee milk. The coffee syrup adds plenty of sweetness and you don't want your coffee milk to be cloyingly sweet.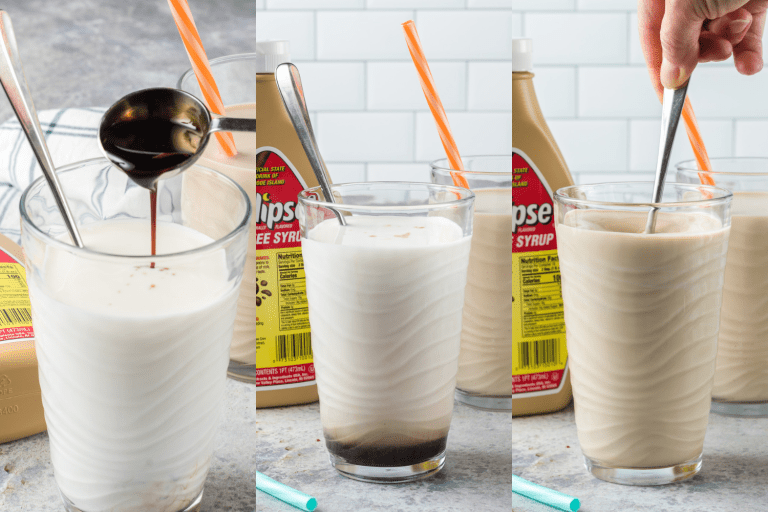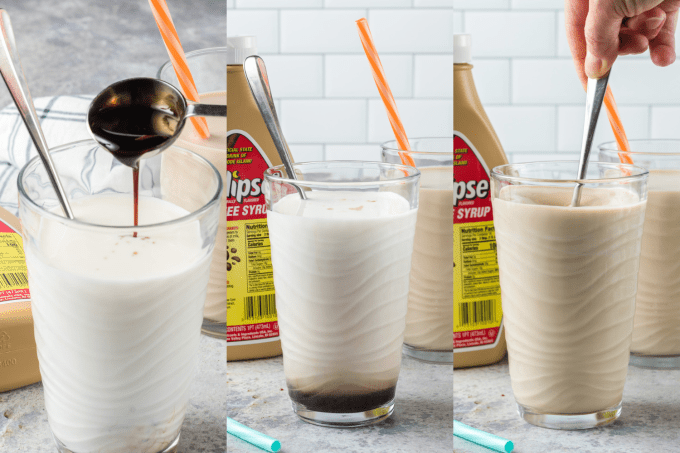 How do I make it?
Aside from the delicious taste, I think another reason coffee milk is so popular in Rhode Island is how inexpensive and easy it is to make.
Pour milk into a glass.
Add coffee syrup and stir.
You can add as much or as little coffee milk syrup as you like, depending on how much sweetness and coffee flavor you want in your coffee milk. I suggest starting with two tablespoons for every 8 ounce glass of milk. Drizzle that thick syrup into that cold milk, and stir.
Sip and enjoy right away!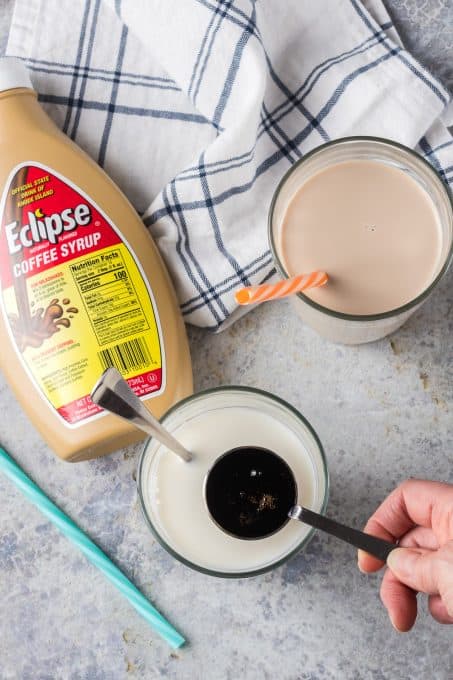 Drink Recipes
Coffee Milk has my Rhode Islander heart forever, but most mornings I start the day with a cup of straightforward brewed coffee. Just a splash of homemade French Vanilla Coffee Creamer or Dulce De Leche Coffee Creamer turns it into an extra special treat!
If you're feeling extra decadent, try my recipe for homemade Peppermint White Chocolate Mochas. So much better (and less expensive) than a Starbucks run. For tea lovers, I have a delicious Chai Syrup recipe that's perfect for making chai lattes!
Rhode Island Coffee Milk is a cold way to get your coffee fix. For a refreshing icy beverage that's not coffee flavored try my copycat Chick-fil-A Frosted Lemonade Recipe or one of these Pina Colada Milkshakes.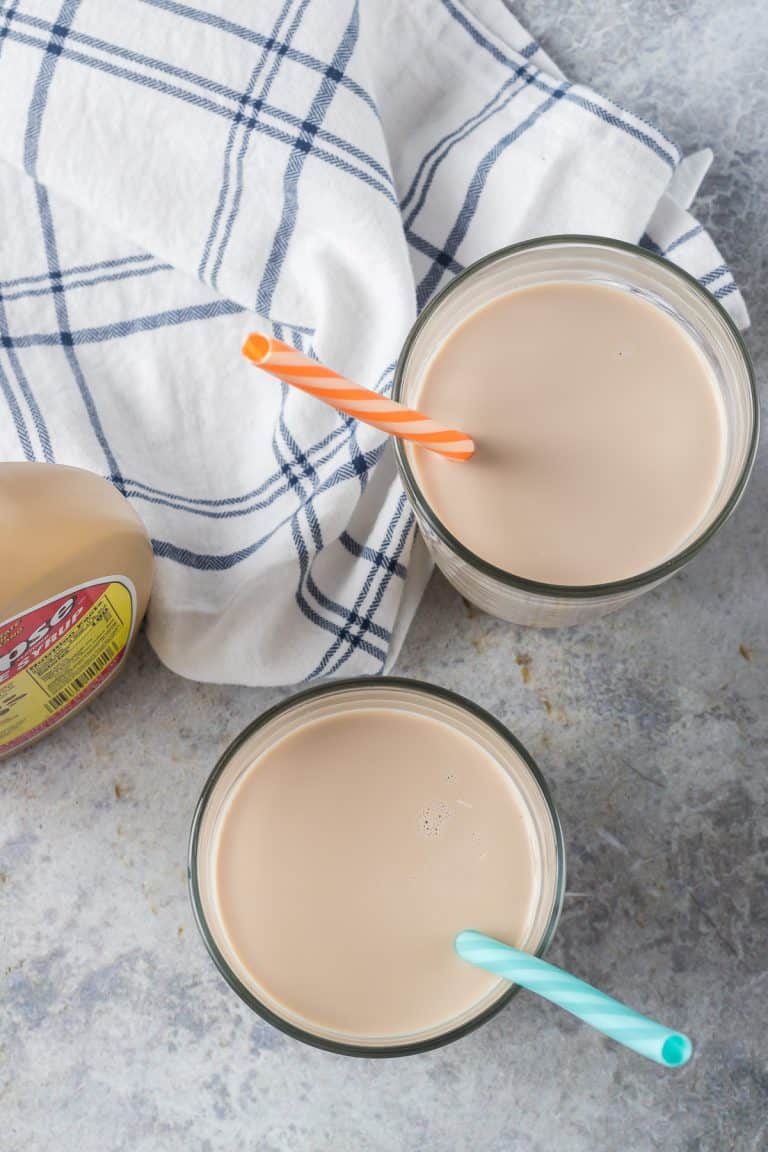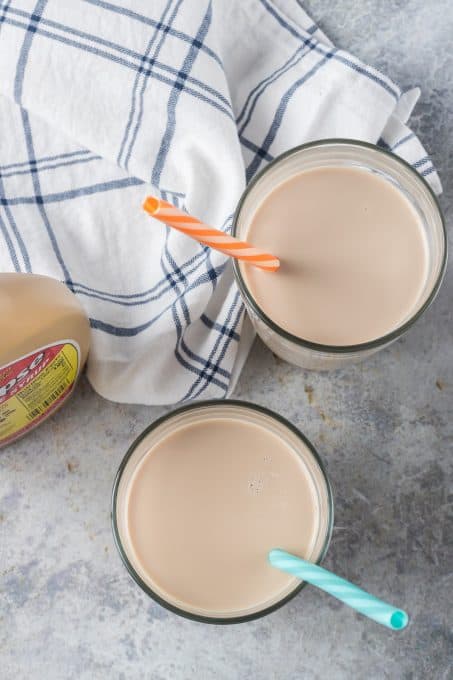 Rhode Island Recipes
Rhode Islanders LOVE their homegrown food!
Coffee Milk is undoubtedly my home state's most popular drink. Nothing makes me more nostalgic for childhood than a glass of coffee milk served with a Fluffernutter Sandwich, another Rhode Island favorite.
The combination of creamy peanut butter and marshmallow fluff in Fluffernutters inspired these Fluffernutter Cookies and these Fluffernutter Nutella Crescents. There are so many delicious ways to enjoy peanut butter and fluff together!
I ate fluffernutters all the time growing up – at home, and in the school cafeteria always accompanied by a thermos full of coffee milk. We lived in Chicago for a few years when I was growing up and my grandparents would ship us a bottle of coffee syrup every month because it wasn't available in the grocery stores there.
When I'd visit during the summer, my grandma would make Doughboys. In other parts of the country people call doughboys "fried dough" but here on the New England coast, we gave them their own fun name.
Olneyville New York System Hot Wieners are another popular food here. They're typically ordered, "three all the way with a coffee milk and a large fry". Topped with mustard, a special meat sauce, onions, and celery salt on a steamed bun, these hot dogs are the bomb! Even Guy Fieri loves them, and featured the restaurant on his show Diners, Drive-ins and Dives.
When the weather turns warmer, there's one drink that screams summer here, and that's Del's lemonade! OMG is it delicious! You can even buy it here on Amazon. When making it with the mix, I recommend putting chunks of half a lemon into the blender to mix with it. It will taste more like the real deal.
Del's is THE most delicious frozen lemonade. I tried to recreate it, but I couldn't get it "just right".
I think it has to do with the consistency, and drinking it out of that waxy paper cup they're served in.
And a note – if you ever come to RI and order one, DO NOT ask or take a straw to drink it. Natives will know you're a tourist and we'll make fun of you!! LOL You need to shake the cup and kind of squeeze it as you drink.
Look for more Rhode Island recipes to come! I've got clamcakes, chowdahs, lobstah rolls and stuffies on my must-make list this year!
Whether you're a long time fan of coffee milk or trying it for the first time, I'm so excited to share this Little Rhody "taste of home" recipe with you!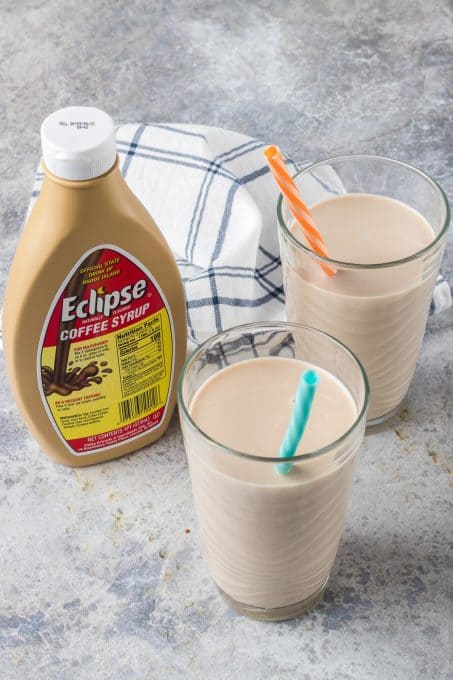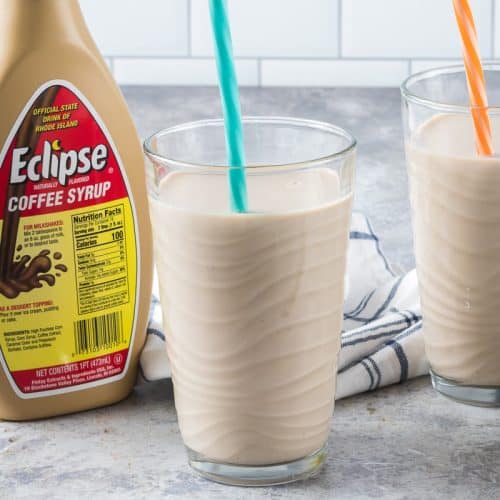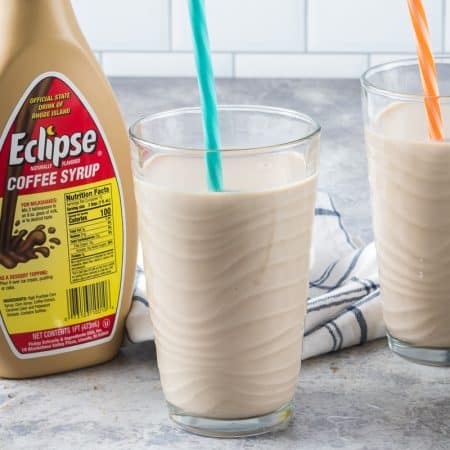 Coffee Milk is an Ocean State staple. Made with a sweet coffee flavored syrup and milk, you'll learn how to make the famous Rhode Island drink with this easy recipe!
Ingredients
8 ounces milk
2 tablespoons coffee syrup or more or less to taste
Instructions
Put milk into a glass and then add coffee syrup. Stir and enjoy!
Nutrition
Serving: 1serving | Calories: 243kcal | Carbohydrates: 37g | Protein: 7g | Fat: 7g | Saturated Fat: 4g | Polyunsaturated Fat: 0.2g | Monounsaturated Fat: 2g | Cholesterol: 27mg | Sodium: 97mg | Potassium: 351mg | Sugar: 30g | Vitamin A: 367IU | Calcium: 281mg | Iron: 0.02mg
Did you make this recipe?
Share it with me on Instagram and make sure to follow me on Pinterest for more recipes.
Reader Interactions