Strawberry Danish Hearts are the perfect breakfast pastry for Valentine's Day! Using simple ingredients like cream cheese and fresh strawberries, you can bake strawberry cream cheese danishes with a flaky crust in this easy pastry recipe.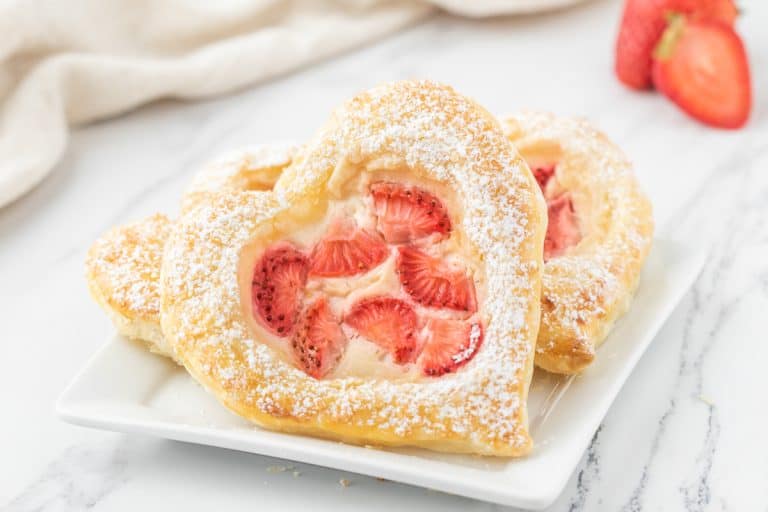 Want to win someone's affection? Feed them pastries.
Preferably homemade pastries like these heart-shaped cheese danishes. This sweet treat tastes world's better than anything store bought, and you won't believe how easy they are to make!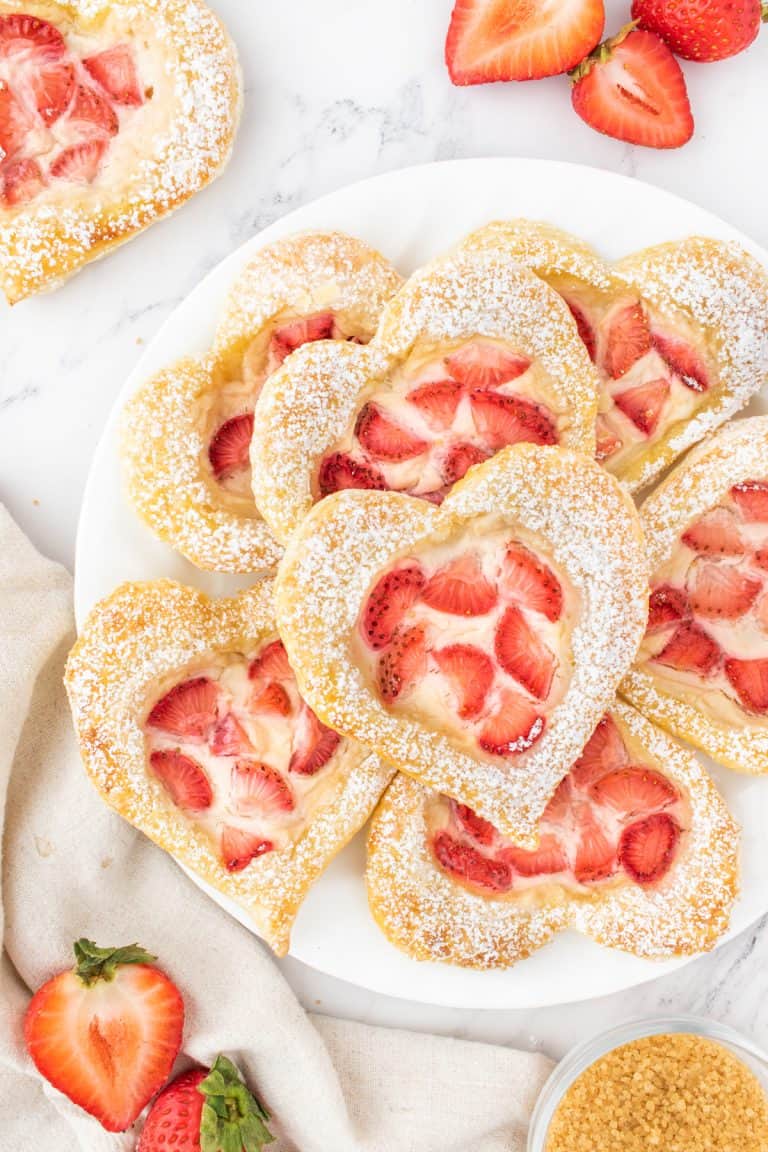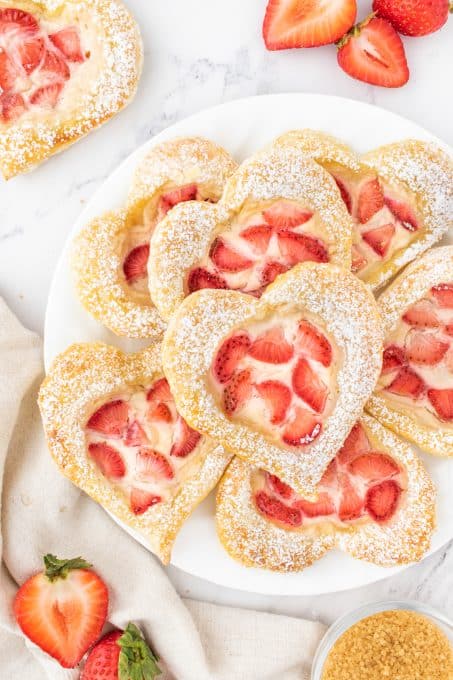 Strawberry Danish is delicious in any shape. I'll never turn down a breakfast pastry that combines juicy strawberries with tangy cream cheese. You could even serve them as a Valentine's Day dessert or any day to celebrate that special someone.
By shaping the Strawberry Cheese Danish into hearts, we're making them that much better. I love this as a Valentines Day idea but nothing is stopping me from making Danish hearts all year long. A puff pastry heart breakfast treat makes any day feel special!
A few more reasons I love this Strawberry Cheese Danish recipe:
It's made with thawed sheets of frozen puff pastry. So easy and convenient!
The strawberries bring tons of natural sweetness to the danish, so you don't need to add much sugar.
From start to finish, this recipe takes just 30 minutes to make!
The golden brown danishes look gorgeous on a breakfast plate!
After you learn how to make strawberry danish at home, you need to try this recipe for Cheese Blintzes with Strawberry Sauce next. Give me all the cheese and strawberry combos, please!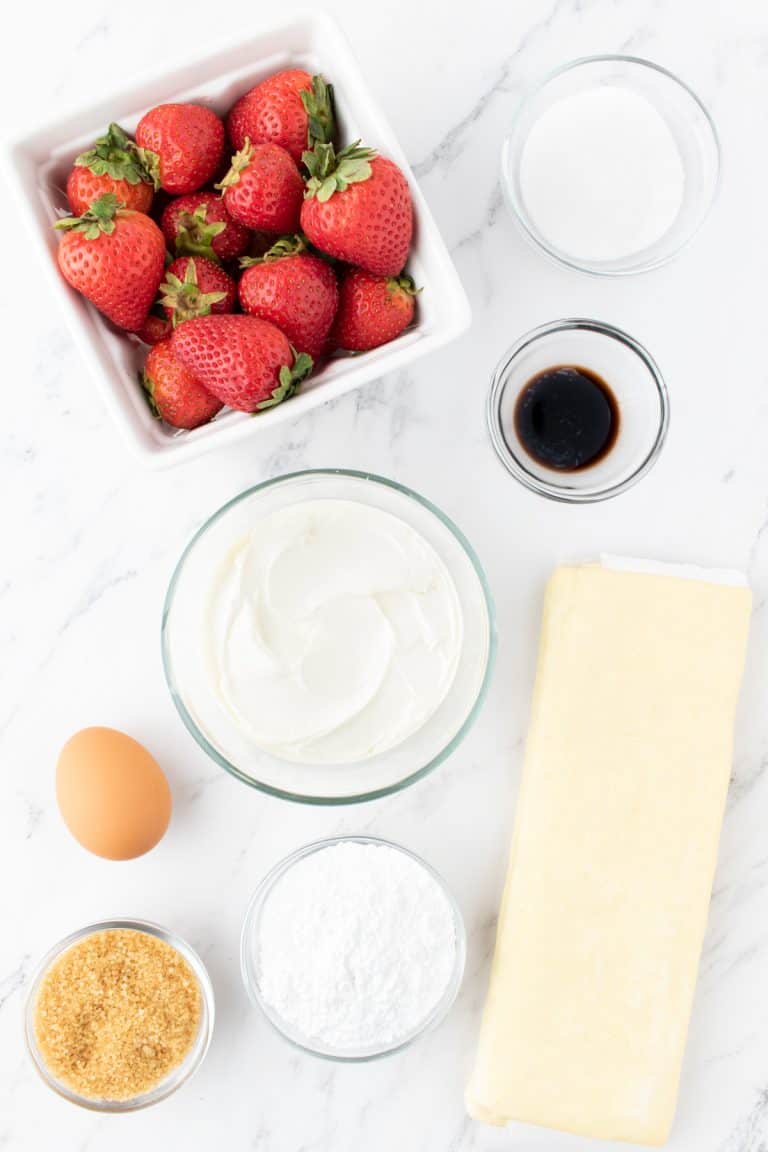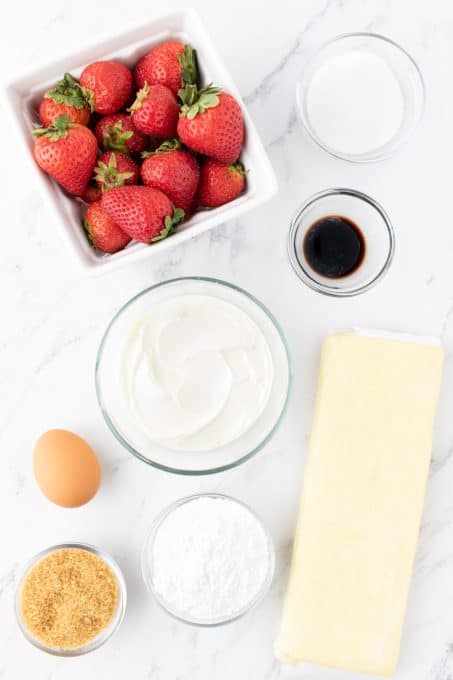 What do I need?
Here's what you'll need to make Strawberry Cream Cheese Danish Hearts.
Cream cheese – Let it come to room temperature first.
Sugar
Vanilla extract – can substitute almond extract if you'd like.
Frozen puff pastry sheets- Thaw it in the fridge before using.
Strawberries – Sliced, with stems removed. I highly recommend using fresh fruit over thawed since using frozen strawberries may add extra moisture even if thawed.
Egg
Turbinado sugar – Or "sugar in the raw".
Powdered sugar – For dusting over the pastry hearts after baking.
I use this dusting wand. It's perfect for small jobs like this.
Along with the ingredients, you'll also need a heart-shaped cookie cutter. I used one that's about 3 inches tall which was perfect for 10 pastries.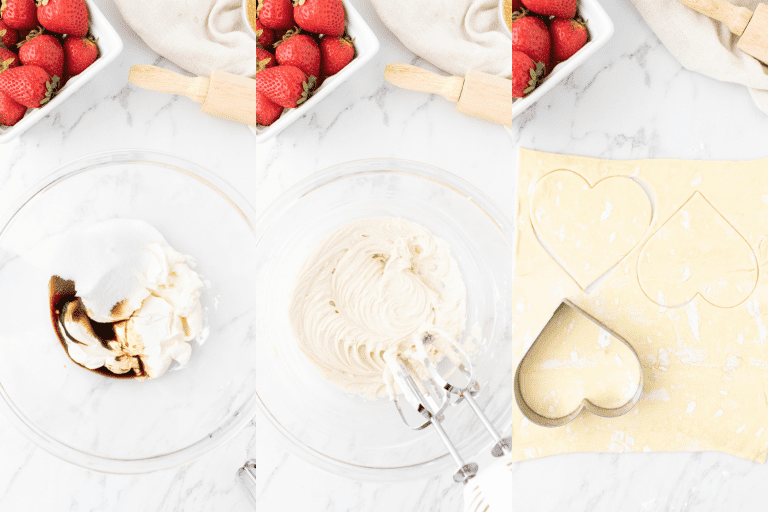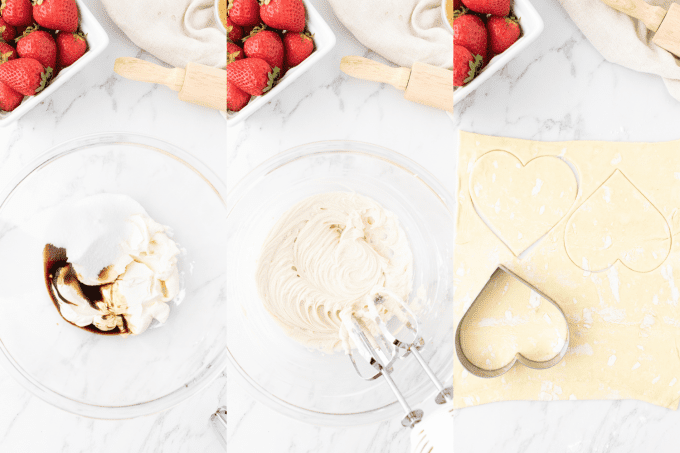 How do I make Heart Shape Strawberry Danish?
For the cream cheese filling beat together the cream cheese, sugar and vanilla in a mixing bowl. You can use handheld beaters or a stand mixer for this step.
Now lay out two sheets of thawed puff pastry. Gently smooth out any creases with a rolling pin. Use your heart cookie cutter to punch out 10 hearts from the dough. Place hearts on a baking sheet lined with parchment paper
Spoon a small amount of the cream cheese mixture onto the center of each heart. Use the back of your spoon to shape the cream cheese into a small inside heart. Try to leave an inch or so of pastry exposed along the edges.
Place a strawberry slices over the cream cheese.
Brush the border of each heart with the egg wash and sprinkle with Turbinado sugar before baking until golden brown. Let the Strawberry Danish Hearts cool for a few minutes before dusting with powdered sugar.
I like these homemade cheese danishes best when they're slightly warm, but they taste great at room temperature, too. Either way, make sure to enjoy them the same day they are baked. They don't store well.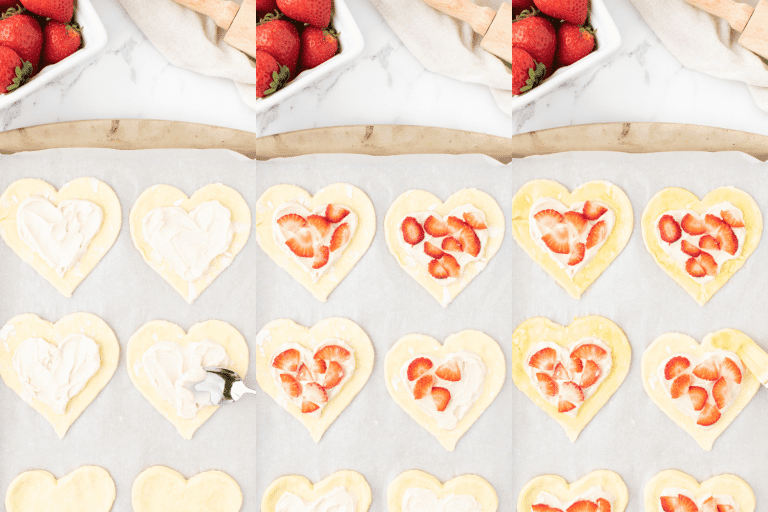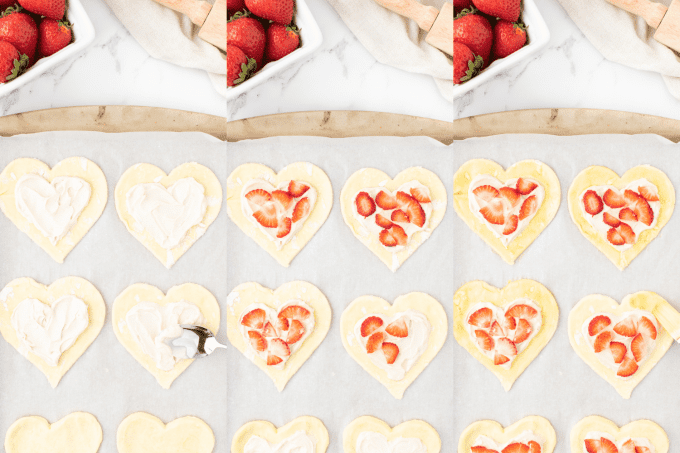 What is puff pastry dough?
Puff pastry is a dough made with flour and butter. The dough is rolled into thin sheets that are then folded on top of one another and frozen. The resulting pastry baked to light, flaky perfection that's ideal when making a danish pastry.
You can find it in the frozen section of the grocery store. Be careful not to use frozen pie crust, crescent dough or phyllo dough instead. These are different ingredients that won't produce the same results as puff pastry.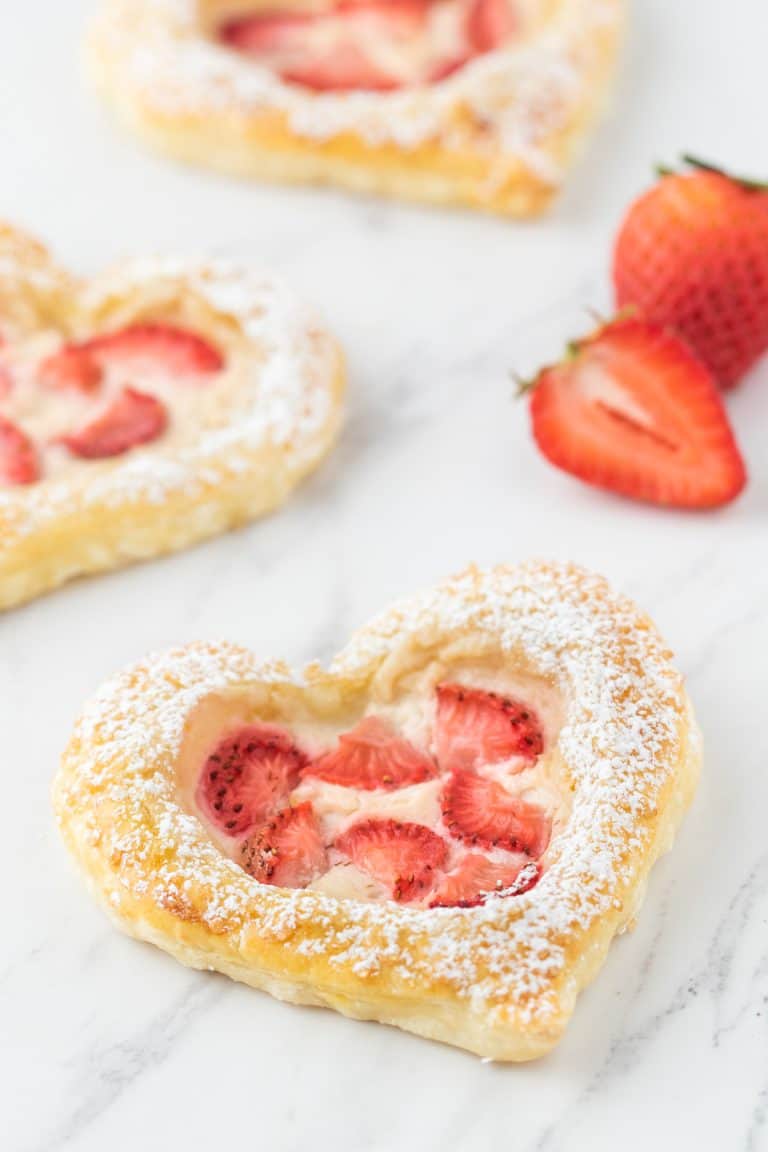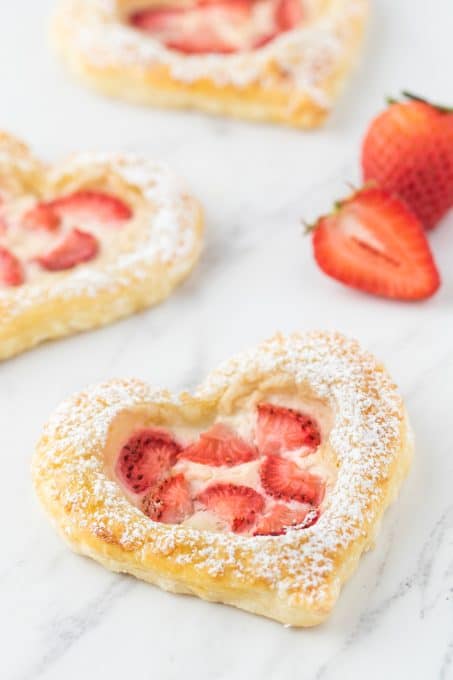 Delicious Recipes for Breakfast
It's easy to get stuck in a breakfast rut. Adding a few more simple breakfast recipes to your rotation can help you break out of the routine and make mornings more fun!
Set up a Breakfast Parfait Bar with yogurt, fruit and granola and let everyone layer their own parfaits. Or plan ahead and assemble this Blueberry Bagel Breakfast Bake Recipe the night before.
If you like make-ahead breakfast ideas, you'll love this Baked Cinnamon French Toast for sure. French Toast Casserole is such a hit with my family that I've made pumpkin, eggnog and even a baked caramel apple version over the years.
Looking for more easy pastry ideas to satisfy that morning sweet tooth? These French Breakfast Puffs come together in no time with a delicious cinnamon sugar coating! My Cranberry Macadamia Scones are another favorite breakfast recipe with just the right amount of sweetness.
Not into sweets in the morning? I have savory breakfast fans covered with this Denver Scrambled Breakfast Braid and this Spicy Ranch Bacon. And these Loaded Huevos Rancheros, are a delicious mouthful, too!
For the best of both worlds, try making a batch of Cajun Candied Bacon. It's salty, slightly spicy, sweet and irresistible for breakfast, lunch or dinner.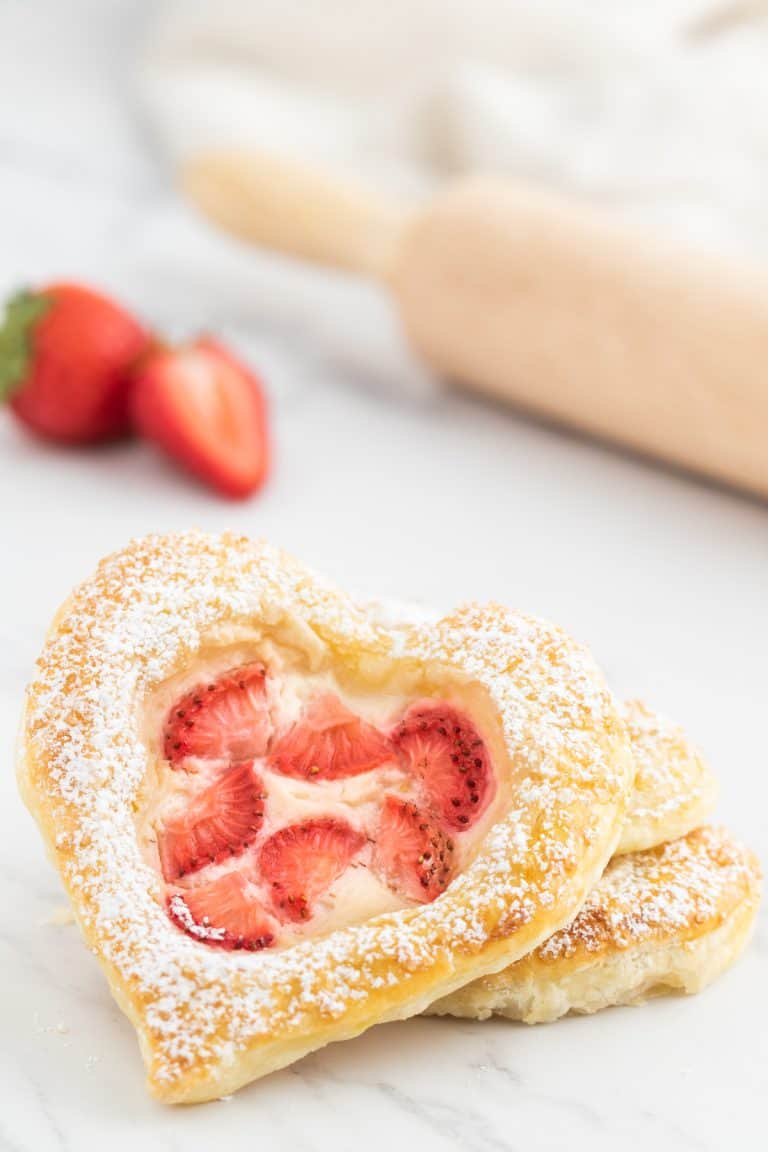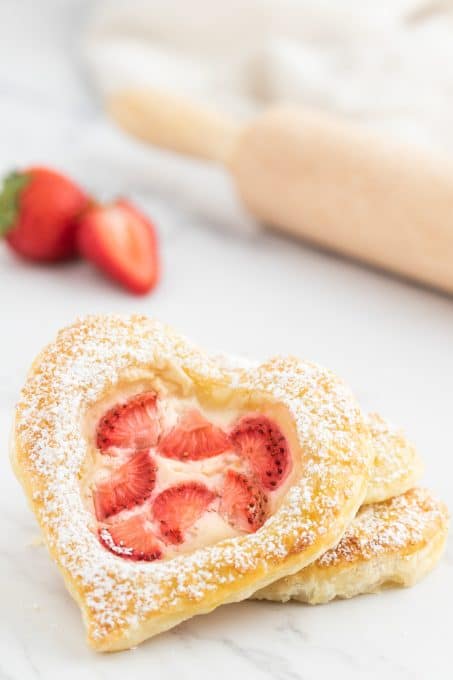 Strawberry Recipes
Strawberries add color, flavor and sweetness to all kinds of dishes. I love them in pastries like today's danish recipe and these Strawberry Cream Muffins. At least once a year, I make a batch of these Nutella Crepes and stuff plenty of fresh ripe strawberries inside!
On the lighter side of things, I have an amazing Strawberry Spinach Salad recipe with homemade poppy seed dressing. Serve it as a side dish or add some grilled chicken to make it a meal.
In the summer, cool off with an ice cold Strawberry Mojito or a glass of Fresh Strawberry Lemonade.
How many of my strawberry recipes have you tried so far?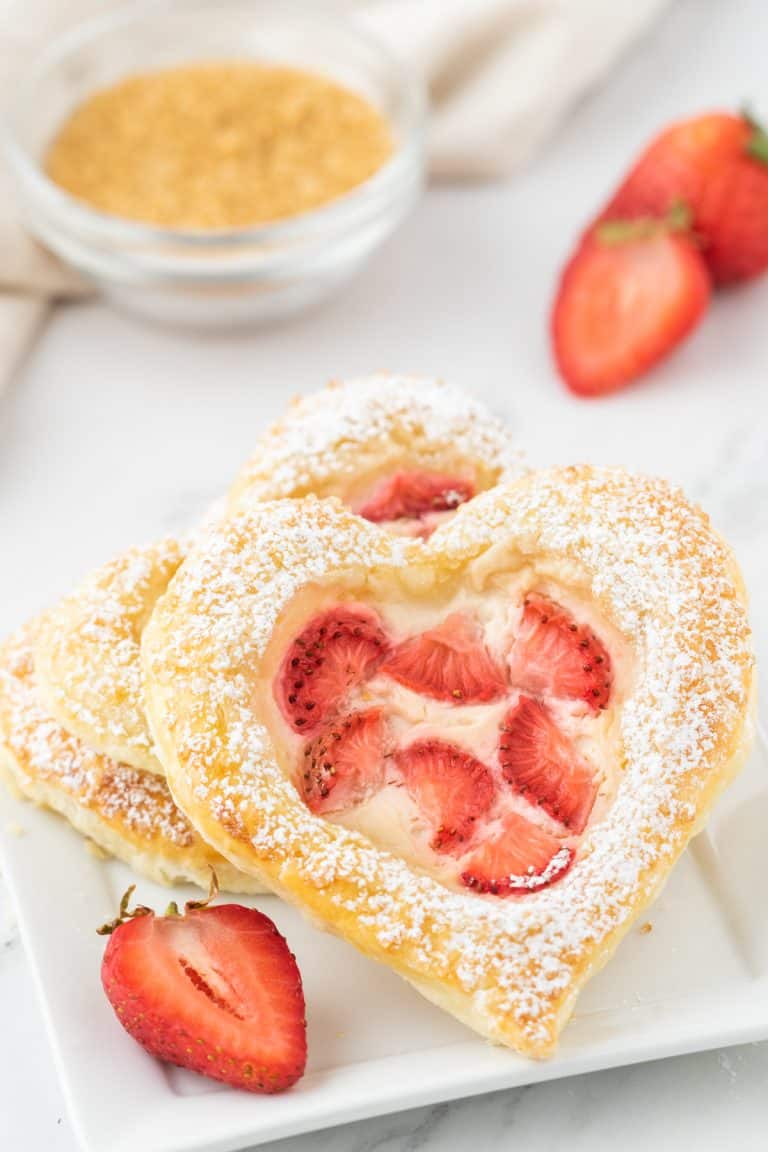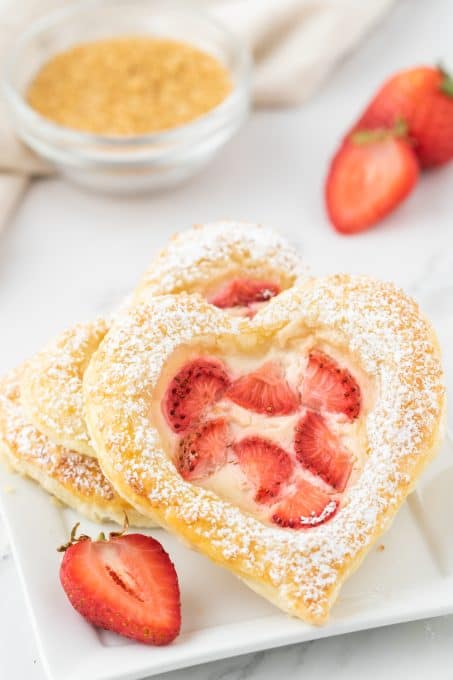 Heart-shaped strawberry danish served with a Valentine's Day breakfast will be the key to unlocking anyone's heart. These delicious treats are a simple recipe and the perfect way to show how much you love them.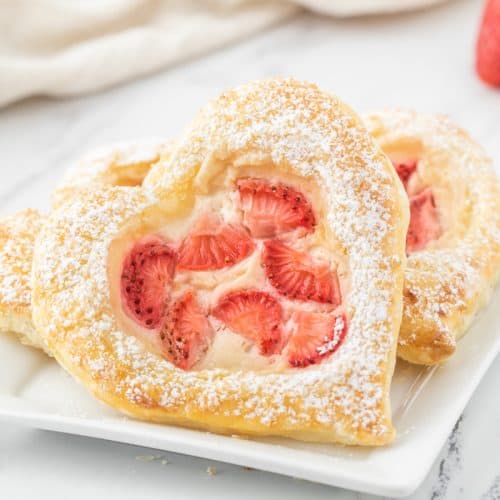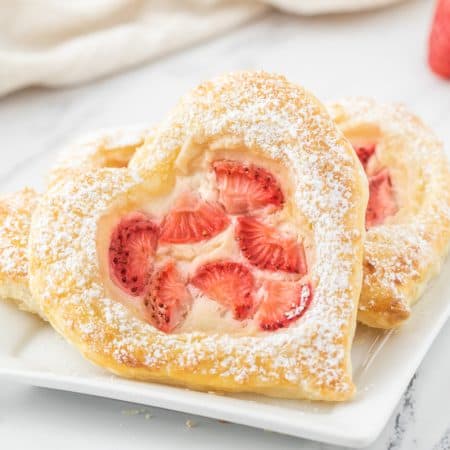 Strawberry Danish Hearts are the perfect breakfast pastry for Valentine's Day! Using simple ingredients like cream cheese and fresh strawberries, you can bake strawberry cream cheese danishes with a flaky crust in this easy pastry recipe.
Ingredients
8 ounces cream cheese room temperature
3 tablespoons granulated sugar
1 teaspoon vanilla extract
2 sheets puff pastry thawed
1 cup fresh strawberries
1 large egg beaten
3 tablespoons Turbinado sugar or raw sugar
¼ cup powdered sugar
Instructions
Preheat the oven to 400°F, and line a baking sheet with parchment paper.

In a large mixing bowl with a hand mixer, beat together the cream cheese, granulated sugar, and vanilla extract until smooth.

Gently unfold the puff pastry sheets and roll out the creases with a rolling pin. With a heart shaped cookie cutter, punch out 10 hearts and place onto prepared baking sheet.

Spoon a dollop of the cream cheese mixture onto each pastry and spread into a smaller heart shape, leaving a space around the edges.

Place some sliced strawberries on top of the cream cheese.

Brush the edges of the pastry with some of the beaten egg, and sprinkle with some Turbinado sugar. Bake for 15 – 18 minutes or until golden. Remove from oven and dust with powdered sugar before serving.
Notes
I highly recommend using fresh strawberries over thawing frozen one because the excess moisture could have an effect on the final outcome. 
Nutrition
Serving: 1serving | Calories: 402kcal | Carbohydrates: 35g | Protein: 6g | Fat: 27g | Saturated Fat: 9g | Polyunsaturated Fat: 3g | Monounsaturated Fat: 13g | Trans Fat: 0.002g | Cholesterol: 42mg | Sodium: 201mg | Potassium: 91mg | Fiber: 1g | Sugar: 12g | Vitamin A: 334IU | Vitamin C: 8mg | Calcium: 33mg | Iron: 1mg
Did you make this recipe?
Share it with me on Instagram and make sure to follow me on Pinterest for more recipes.
Reader Interactions