This Pear Cream Cheese Danish has a Marzipan sweetened cream cheese filling and, Libby's Sliced Pears, and is drizzled with cinnamon honey. It will be a brunch and breakfast recipe you'll be asked to make over and over again!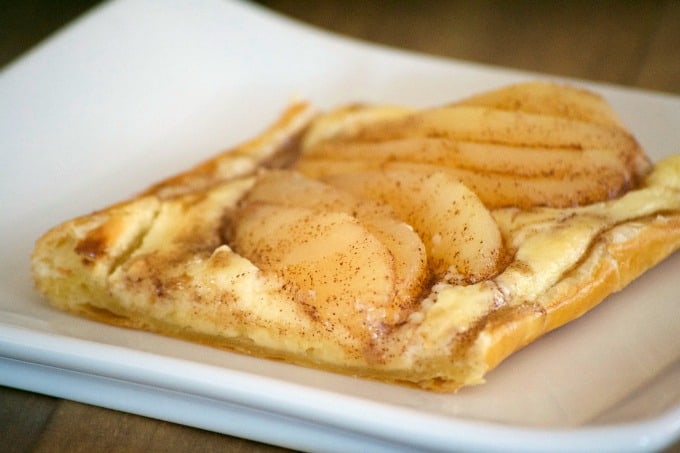 As you probably know, breakfast is one of my favorite meals of the day.
Ok, so you might as well include brunch in there as well because you can knock off TWO meals with just that one. Super cool, right? And any recipe having to do with either of these meals, I'm ALL. Over.
SAVE THIS DANISH RECIPE TO YOUR FAVORITE PINTEREST BOARD!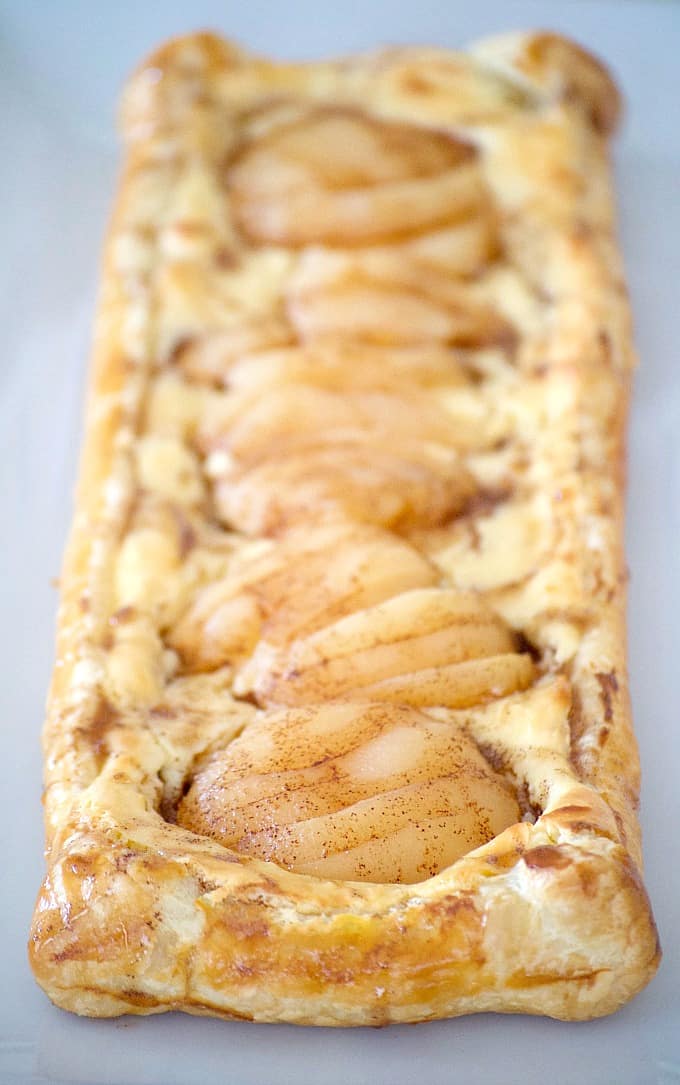 Whenever we go to a coffee shop on the weekends (or any other day for that matter, who am I kidding?) I'm always looking for the cheese danish. I just love them.
So, in keeping with my adoration of this wonderful breakfast accompaniment, I decided to create one at home and can I tell you, the family has fallen in LOVE with this Pear Cream Cheese Danish!
I was excited to use Libby's Pear Slices because they're convenient and affordable, giving you the opportunity to make this recipe any time of year, not just when pears are in season. And you know what? I can definitely see myself adding a few cranberries, dried or fresh to the top of this recipe in the fall. It will be so pretty served over the holidays!
The best thing though, you can switch out the sliced pears for Libby's Apricot Halves or Libby's Peach Slices if you'd prefer. They'll both be tasty on this danish! Libby's offers you a variety of fruit options, so there's something to please the whole family.

When having your next brunch or breakfast with this Pear Cream Cheese Danish, think about serving it with these other delicious recipes.
I've got my eye on this Low Carb Blueberry Cream Cheese Danish. It will be great to serve to those watching their carbs. This Lemon Coconut Swirl Skillet Danish is SO pretty! Imagine the smiles when you put that out on the table! I love the shape of these Low Carb Cloud Bread Mini Apple Cheese Danish. They're great for a crowd.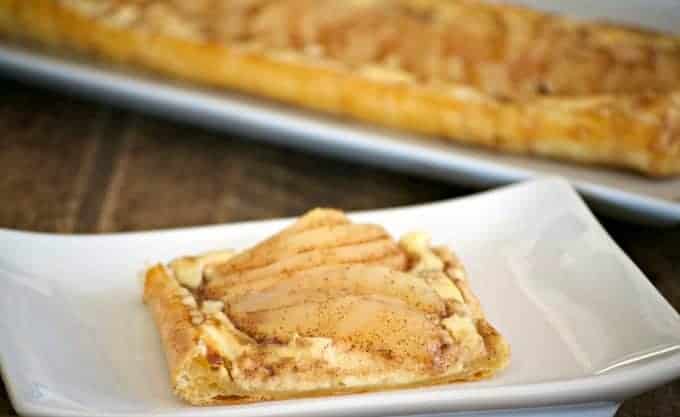 This Pear Cream Cheese Danish, with Marzipan cream cheese filling, cinnamon honey, and Libby's Sliced Pears, will be a recipe you'll want to make repeatedly.
Ingredients
8 ounces 1/3 less fat cream cheese Neufchatel, room temperature
3.5 ounces marzipan almond paste can be substituted, texture will just not be as smooth and less sweet
2 eggs
1 teaspoon pure vanilla extract
1 sheet puff pastry thawed
2 teaspoons water
2 15-ounce cans Libby's Pear Slices, drained and cut into smaller slices
3 tablespoons honey
½ teaspoon cinnamon
Instructions
Preheat oven to 400 degrees F.

On a piece of parchment, gently roll out the sheet of thawed pastry dough so that it measures 10 X 14-inches.

Using a pizza cutter, cut the dough in half lengthwise so that you have two identical pieces.

In a small bowl, beat one egg and the two teaspoons of water to make an egg wash.

Gently brush the egg wash on all sides of both pastry sheets, about 1/2 inch in from the edge.

Fold the dough over onto itself, one inch in width on the length and a half inch in on the short ends, using the egg wash to adhere each corner.

Slice the marzipan into small pieces and place into a mixing bowl.

Add the remaining egg and vanilla. Cream together until completely mixed and smooth.

Add the Neufchatel and beat until smooth.

Evenly divide the cream cheese filling between both pastry doughs, spreading with an offset spatula just to the edges that have been folded in.

Using the egg wash, brush all exposed edges of the pastry dough.

Place the Libby's Pear Slices on top of the filling.

Transfer the danishes, keeping them on the parchment to a baking sheet and bake for 15 to 17 minutes or until pastry dough edges are lightly golden.

In a small bowl, mix the honey with the cinnamon.

Allow to cool on the baking sheet for 3 - 5 minutes before drizzling with cinnamon honey.
Did you make this recipe?
Share it with me on Instagram and make sure to follow me on Pinterest for more recipes.
Interested in serving French toast along with this danish? I have 10 French Toast Recipes here to choose from. Want something with eggs? Here's a Denver Scrambled Breakfast Braid loaded with scrambled eggs, peppers, bacon, and cheese.
If you're looking to offer something lighter, set up a Breakfast Parfait Bar where everyone can put their own toppings on some yogurt. You might want to think about making this Baked Blueberry Oatmeal. It's a recipe I can't serve enough here in our house.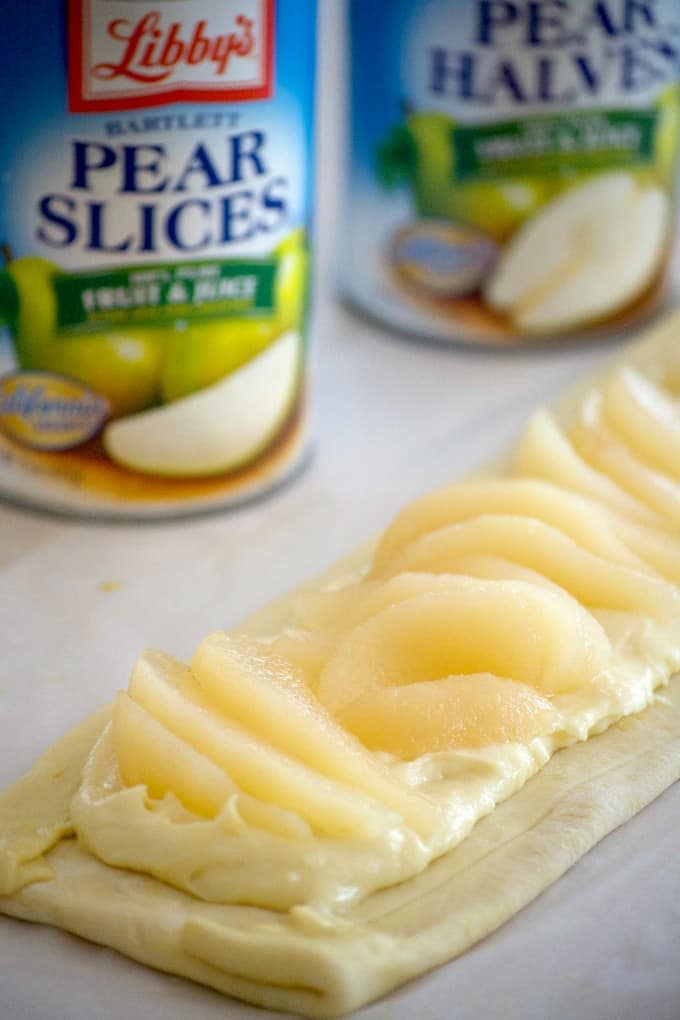 This is a sponsored conversation written by me on behalf of Libby's Fruits & Vegetables. The opinions and text are all mine.
Learn more about Libby's Fruits & Vegetables from their website, and give them a follow on Facebook, Twitter, and Pinterest