You all still have time to help me celebrate the 200th baking day by entering the giveaway. Go here to enter and read how you can earn extra entries!
I'll be randomly be picking a winner on Wednesday!! Woo Hoo!!
Good luck everyone!
Gorgonzola Pear Chicken – serves 4
Sugared Pecans
1 1/2 cups pecan halves
1 egg white
1 tablespoon water
1/4 cup granulated sugar
1/8 teaspoon salt
1/2 teaspoon cinnamon
Lightly grease a rimmed baking sheet.
Combine egg white and water in a small bowl and beat until foamy.
Fold in pecans, coating evenly.
In a small bowl, combine sugar, salt and cinnamon.
Using a slotted spoon, remove pecans from egg white/water and transfer to sugar mixture.
Toss to coat.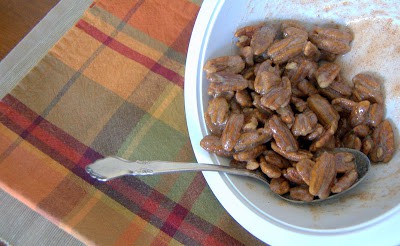 Spread the pecans in a single layer on prepared baking sheet.
Bake for 1 hour or until nuts are crisp, stirring them every 15 minutes, .
Store any unused pecans in an airtight container.
Note: I used a toaster oven to roast the nuts, and toasted them for 1 1/2 hours because they were not as crisp as I wanted.


Gorgonzola Pear Chicken
4 chicken breasts, pounded thin
Salt
Freshly ground pepper
1 pear
4 oz. Gorgonzola cheese, frozen as it is easier to slice.
Toothpicks
Preheat oven to 400F.
Lightly grease a 9 X 13-inch baking dish with cooking spray.
Peel the pear and slice thin.
Slice the Gorgonzola into 5 1/4 inch strips, reserving 5th strip for the sauce.
Evenly divide pear slices among chicken breasts, laying them in the middle of each.
Place 1 Gorgonzola strip on top of pear slices.
Beginning at one end of the breast, roll each one up securing it with toothpicks.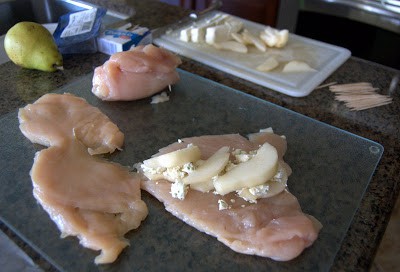 Place seam side down in prepared baking dish.
Season with salt and freshly ground pepper.
Bake for 20 minutes.
Sauce
1 14 oz. can chicken broth
5th strip of Gorgonzola
2 tablespoons heavy cream
1 tablespoon cornstarch mixed with 2 tablespoons cold water
salt
freshly ground pepper
In a small saucepan, boil chicken broth until there is about 1 cup in the pan.
Lower heat to medium, add the heavy cream and remaining Gorgonzola, stirring until cheese is melted.
Pour in cornstarch/water, whisking constantly until sauce is thickened.
Serve separately or pour over chicken.
Garnish with sugared pecans.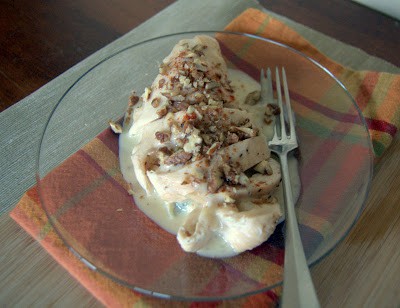 I rate everything I bake on a scale of 1-4 with 4 being the best and the Gorgonzola Pear Chicken with Sugared Pecans earned 2 rolling pins.
It was an ok dish.
I don't think I'll be making it again because the Gorgonzola cheese was A LOT.
The peanut gallery wasn't too crazy about it, but they thanked me for my effort.
"Thanks mom for making dinner, but it wasn't that good."
They didn't say that. They were politely silent, but their silence spoke VOLUMES.
Had I used less Gorgonzola, there may have been more eaten and less left on everyone's plates, including mine.
The sugared pecans were exceptionally yummy.
I need to figure out what I'll be using those leftovers for because we didn't use much on the chicken, so there's probably about 1 cup left over.
They're good to snack on, too!
Remember to enter the giveaway because it will end tomorrow (Tuesday, Sept. 6th) at 10 pm MST.
Happy baking!