Nutella Knots are the perfect way to start your day. Puff pastry is filled with chocolate and hazelnuts formed into beautiful dough knots, then baked until golden brown in this easy pastry recipe!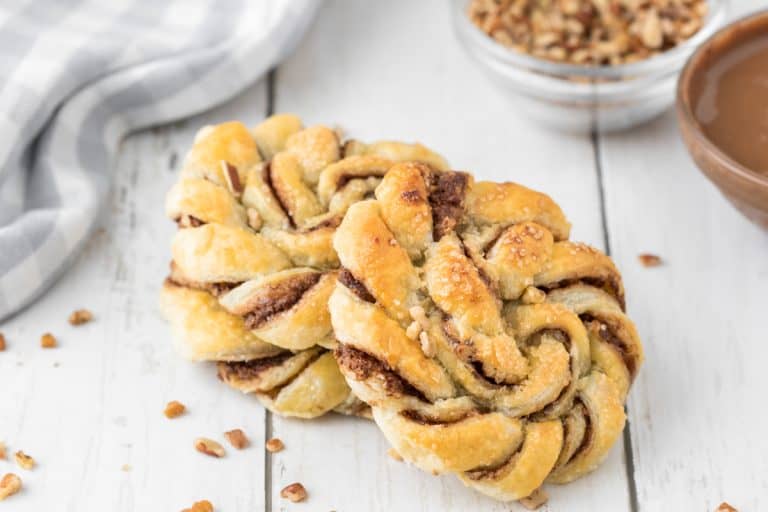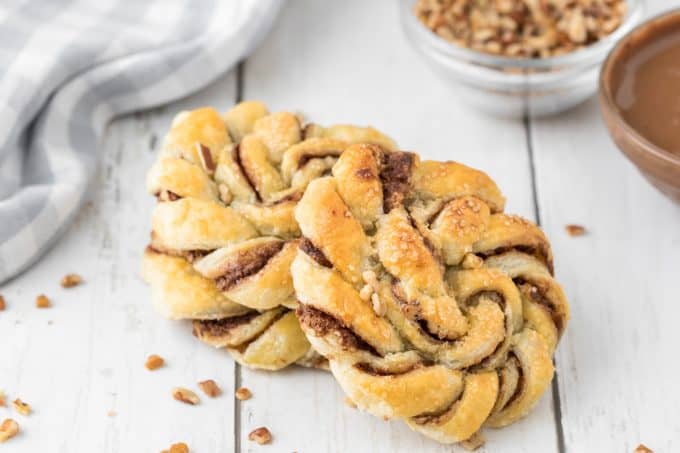 Who else thinks Nutella is one of the greatest inventions humans have ever created? Combining rich chocolate and hazelnuts into a smooth, creamy spread is a stroke of genius.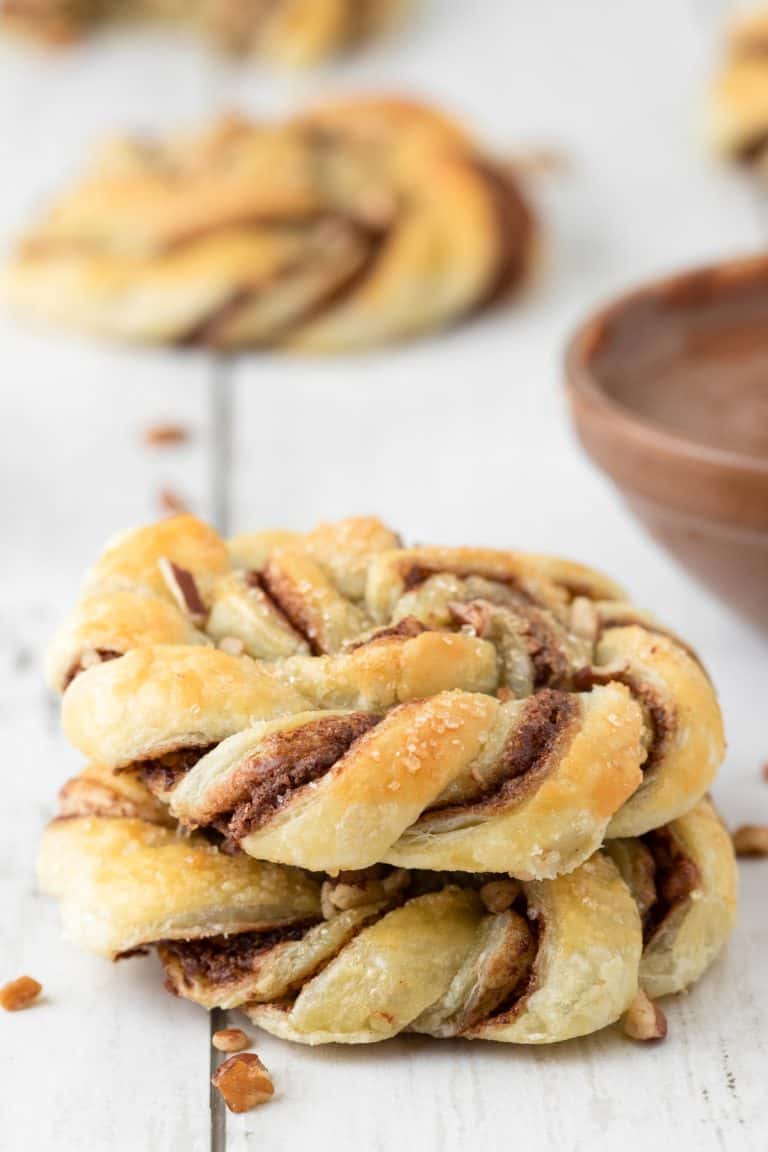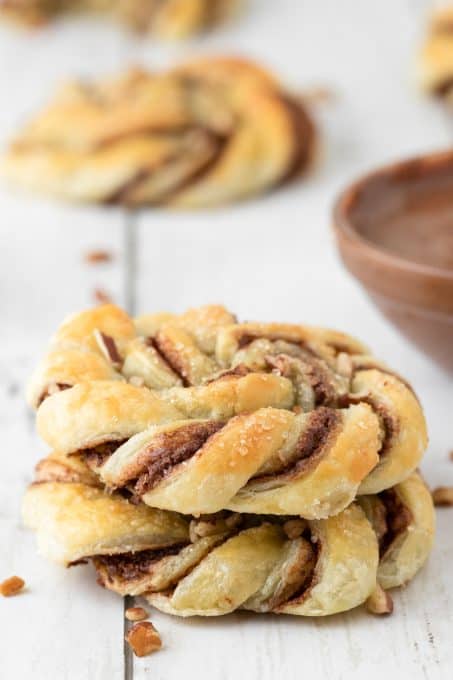 A while back, Nutella spread used to be difficult to find in the United States. Thankfully, those days are gone and today the heavenly chocolate spread is available in nearly every well stocked grocery store.
As tempting as it is the just eat the whole jar with a spoon, it's worth it to exercise your will power and make Nutella pastries instead!
Hazelnut Nutella Knots are one of the easiest pastry recipes out there. You only need a handful of ingredients and a few minutes of time to make these golden brown, hazelnut-flecked breakfast treats at home.
If you love Nutella, you're going to flip for these pastry knots.
Flaky pastry yields to rich, decadent Nutella stuffed inside.
Only 5 ingredients
The perfect accompaniment to your morning coffee!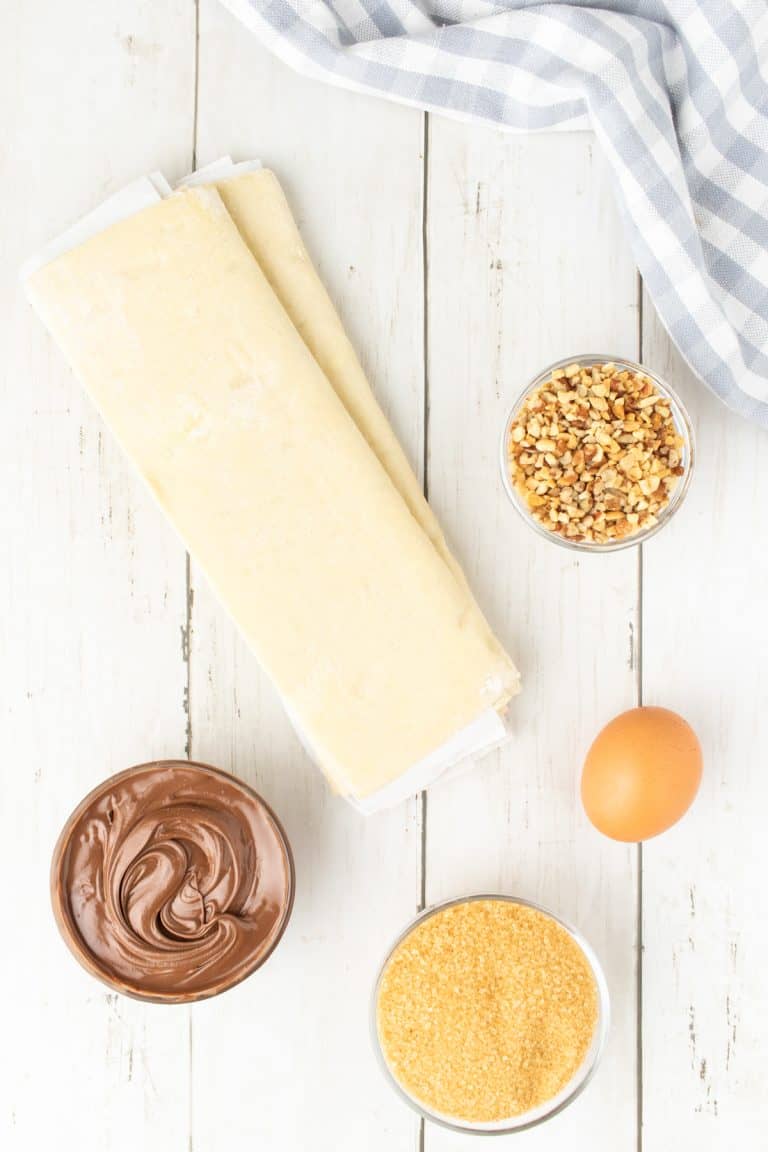 What do I need to make these Nutella Babka Buns?
You will need these ingredients for this easy breakfast recipe.
Nutella
Puff pastry – thawed according to the package directions.
Egg – plus a splash of water to create an egg wash,
Chopped hazelnuts
Turbinado sugar – also called "sugar in the raw".
I also use it for the top of my Chocolate Chunk Pumpkin Bread, these Peach Scones, and the crusts of my galettes as it ads a sweetness and a nice crunch to baked goods.
The frozen puff pastry makes this recipe SO easy! I use it for many of my best recipes, including the Cheesy Puff Pastry Sausage Rolls.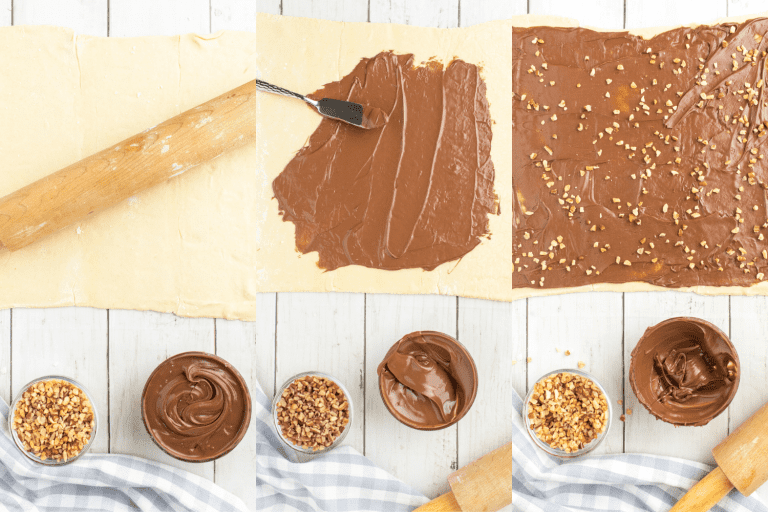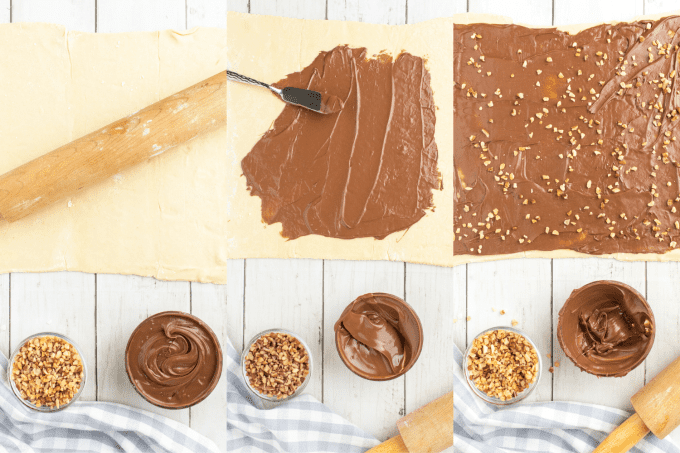 How do I make them?
STEP 1. Lay out 2 sheets of puff pastry and allow them to come to room temperature according to the package. Then roll each of them into a large rectangle of the same size.
STEP 2. Spread Nutella all over one pastry sheet. Sprinkle with the crunchy hazelnuts. Lay the second sheet of puff pastry on top.
STEP 3. Use a pizza cutter to slice the dough into long strips. Tie two strips together to form a knot. Repeat with the remaining strips until all the pastry dough is tied up.
STEP 4. Whisk the egg with water in a separate bowl. This is your egg wash. Use a pastry brush to spread the beaten egg wash over each Nutella knot. Sprinkle the pastry knots with the coarse sugar crystals and the rest of the chopped hazelnuts.
STEP 5. Place the pastry knots or babka buns onto a baking sheet lined with a piece of parchment paper. Baking time is 15 minutes or until the pastries are lightly golden.
Let cool slightly and enjoy!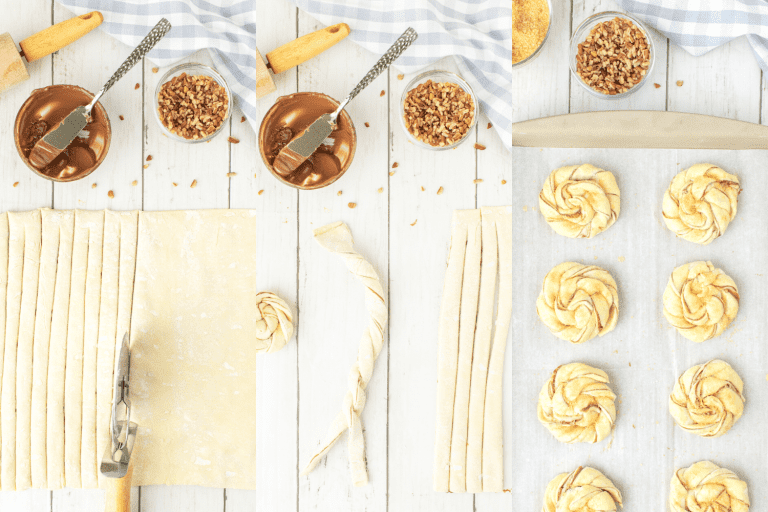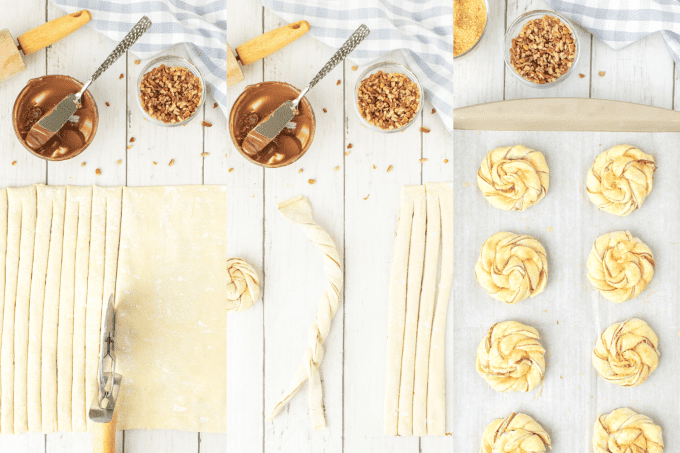 Nutella Recipes
There's something about Nutella that just screams "breakfast" to me, even though it's definitely sweet enough to qualify for dessert status. If you love Nutella pastry recipes easy breakfast ideas, my 2-Ingredient Nutella Cinnamon Rolls are a MUST try. I've been known to enjoy a slice or two of Nutella Swirl Banana Bundt Bread for breakfast from time to time too!
Need a decadent brunch idea? Try these Strawberry Nutella Crepes or a few slices of Banana Nutella Stuffed French Toast. Or
For dessert, my readers can't stop talking about how delicious this No Bake Nutella Snickers Pie tastes—and looks! No-Bake Pumpkin Nutella Cheesecake is another hit, especially during the fall.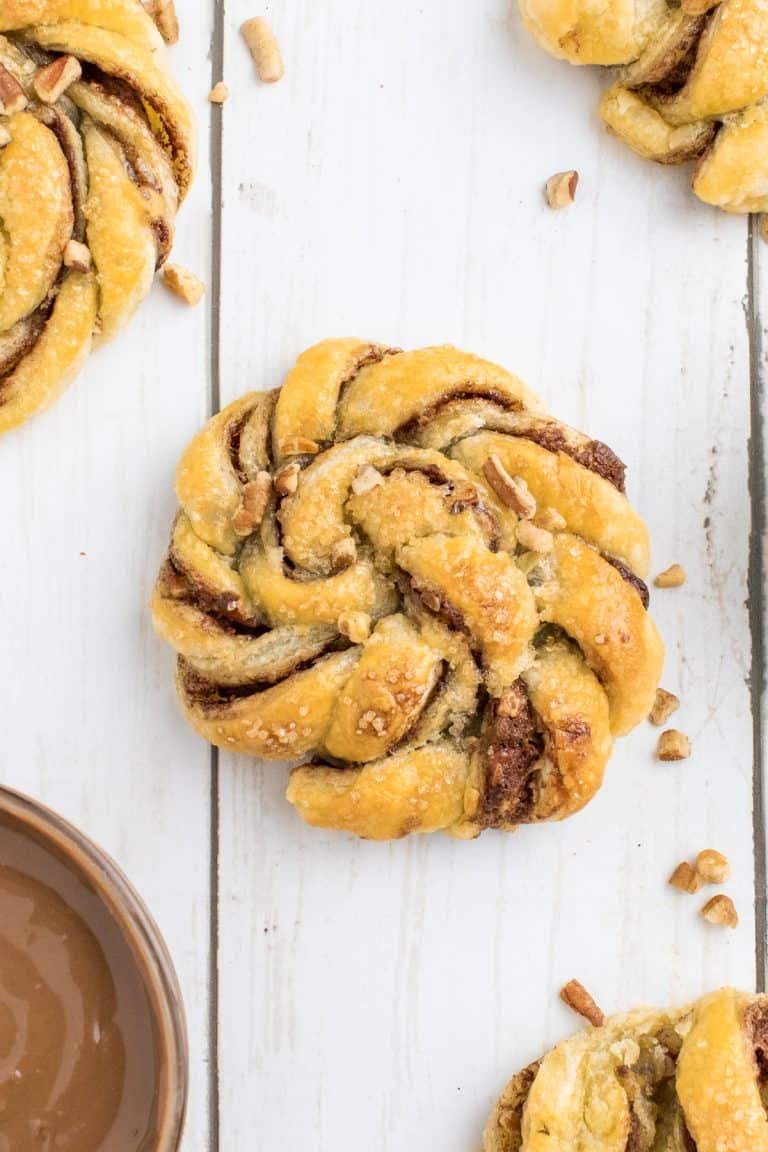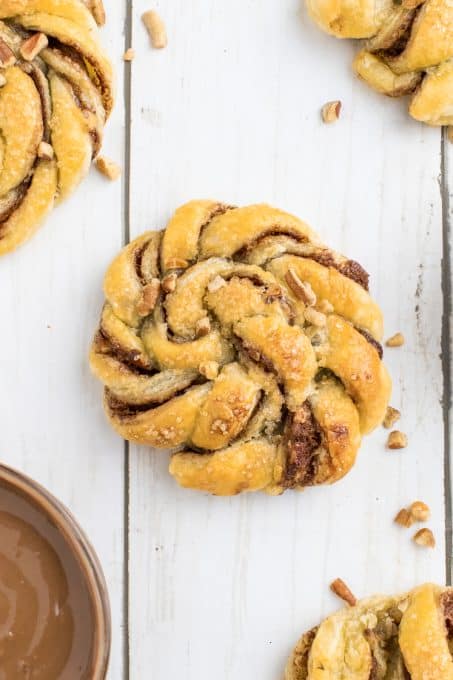 Breakfast Recipes
No one wants to spend hours in the kitchen first thing in the morning. Which is why I'm all about the easy breakfast recipes!
Pastry knots are one of the easiest homemade pastries out there. Making Peach Scones and Easy Strawberry Scones from scratch takes a little bit more effort but the results are well worth it!
French Breakfast Puffs are another pastry recipe I love with my coffee. The cinnamon sugar coating is to die for! I love cinnamon in anything and everything, from a Baked Apple Cinnamon Pancake to this irresistible Cinnamon French Toast.
If you can't tell yet, baked breakfast recipes are some of my family's favorites. We could eat Blueberry Bagel Breakfast Bake just about every weekend and never get sick of it. Although we do like to switch it out for savory options like this Mexican Breakfast Casserole and this Denver Scrambled Breakfast Braid every so often.
I know you're going to love today's recipe for Nutella Knots.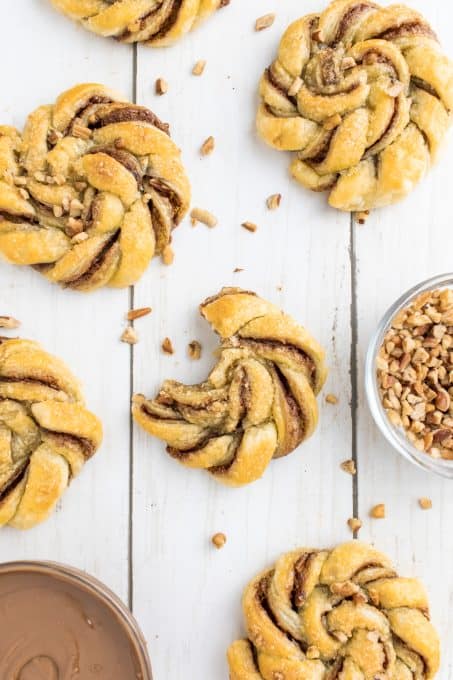 Recipes using Puff Pastry
As I said before, I love using puff pastry in some of my recipes. I haven't made my own yet because I enjoy the convenience and taste of the one I can buy at the store.
These Chocolate Bear Claws I made a few years ago were an instant hit as soon as I put them on the table. They were beyond easy to make, too!
One of the most popular recipes using pastry dough is this Cinnamon Sugar Palmiers.
Oh, my gosh are they easy, and are similar to the Elephant Ears you buy at a bakery.
Combine a sweet cheese danish with some pears in this Pear Cream Cheese Danish. It's a really delicious treat to have in the morning with your cup of coffee.
That puff pastry dough isn't just for breakfast. I make these Sausage Cranberry Brie Bites during the holidays and everyone absolutely loves them! There's so much flavor in in every bite, and they're a perfect appetizer for any holiday gathering.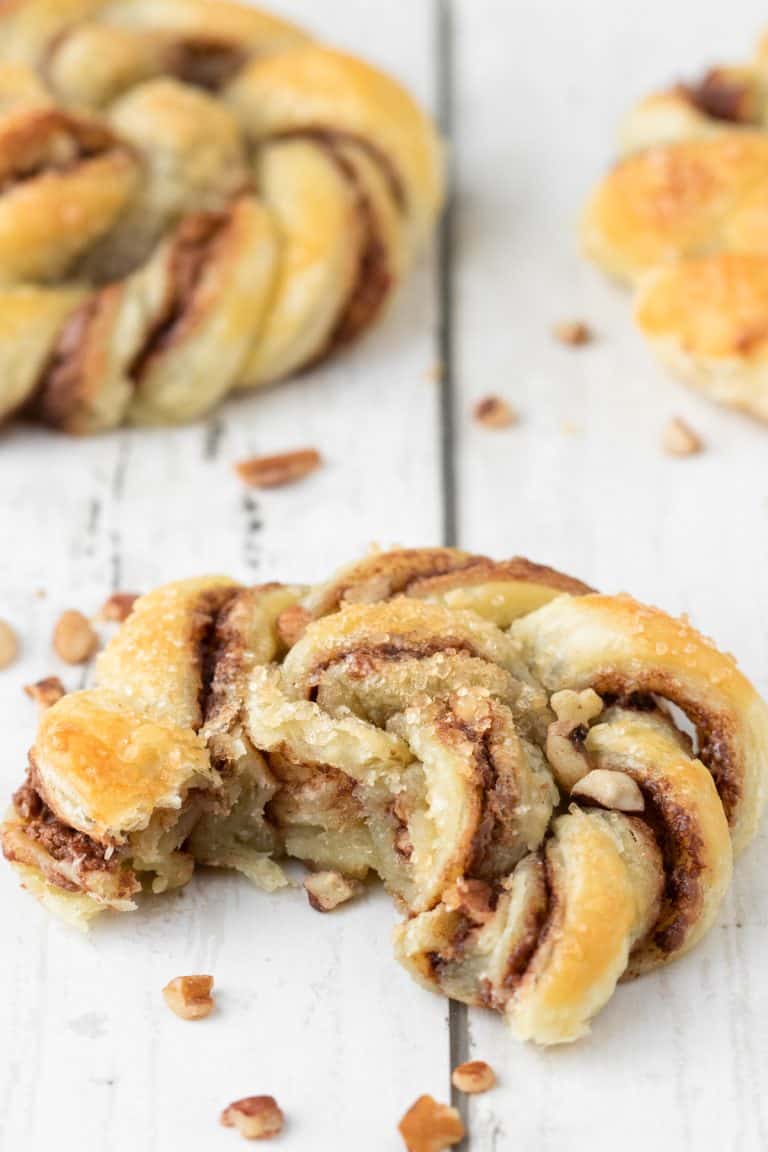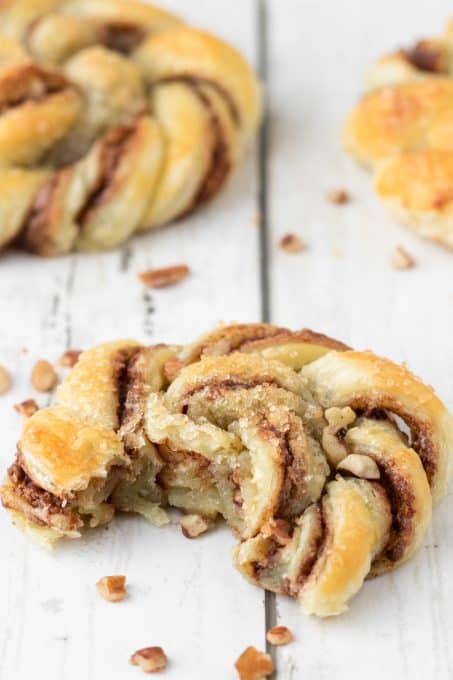 This easy breakfast pastry with Nutella and chopped hazelnuts are a treat the whole family will love!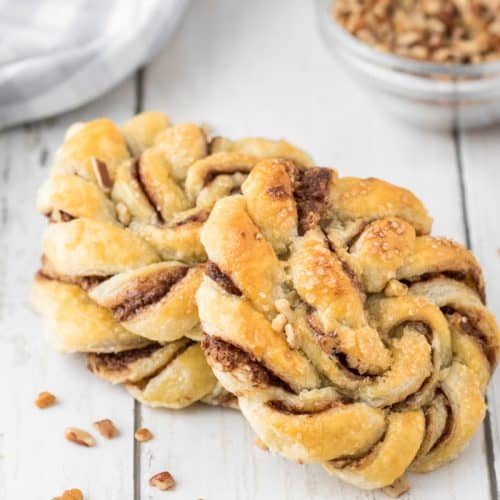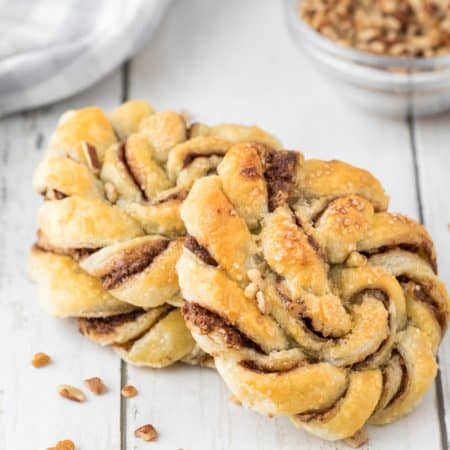 Nutella Knots are the perfect way to start your day. Puff pastry is filled with chocolate and hazelnuts formed into beautiful dough knots, then baked until golden brown in this easy pastry recipe!
Ingredients
2 sheets puff pastry thawed as instructed on package
½ cup Nutella
3 tablespoons hazelnuts chopped, plus additional for sprinkling
1 large egg
1 tablespoon water
1-2 tablespoons Turbinado sugar (raw sugar) for sprinkling
Instructions
Preheat oven to 400°F, and prepare a baking sheet by lining it with parchment paper.

Gently unfold the puff pastry to lay it out flat, and smooth with a rolling pin.

Evenly spread the Nutella over one sheet of the pastry, making sure to spread to the edges.

Sprinkle the hazelnuts over the Nutella and cover with the second sheet of pastry dough.

Using a pizza cutter, slice the dough into strips that are a ½ inch wide. Twist two strips together, and form them into a knot.

Whisk the egg and water together in a small bowl to make an egg wash.

Place onto baking sheet, and spread the egg wash over the dough with a pastry brush. Sprinkle with Turbinado sugar and additional chopped hazelnuts.

Bake for 15 minutes or until lightly golden.
Nutrition
Serving: 1knot | Calories: 476kcal | Carbohydrates: 41g | Protein: 7g | Fat: 32g | Saturated Fat: 12g | Polyunsaturated Fat: 3g | Monounsaturated Fat: 15g | Trans Fat: 0.003g | Cholesterol: 20mg | Sodium: 168mg | Potassium: 147mg | Fiber: 2g | Sugar: 12g | Vitamin A: 32IU | Vitamin C: 0.2mg | Calcium: 34mg | Iron: 3mg
Did you make this recipe?
Share it with me on Instagram and make sure to follow me on Pinterest for more recipes.
Reader Interactions