Bursting with fresh strawberries, these Strawberry Scones are quick breakfast recipe that can be ready in about 30 minutes. Made with cream cheese and lemon zest, they're a delicious and easy scone recipe to pair with your morning coffee or tea!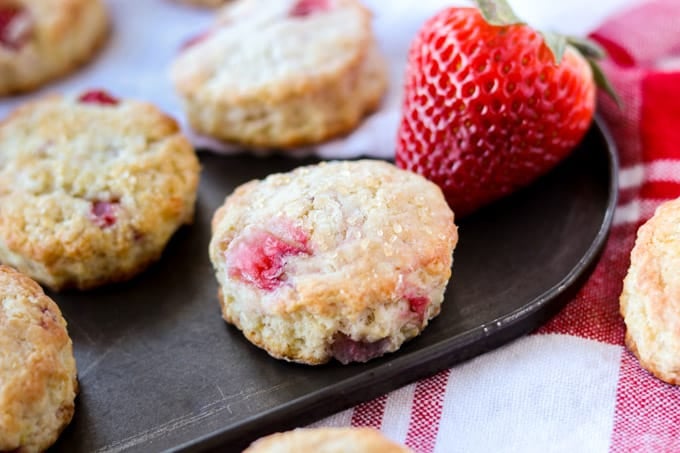 Share them with family and friends and when you do you can also let them know about the new AT&T PREPAID 12-month plan for just one payment of $300 equal to a low $25 per month!
I am proud to be partnering with AT&T PREPAID to bring you this post. As always, all opinions are 100% my own.
It's really important to me to have a dependable phone service.
I need it to stay in touch with family and friends, as I'm sure you do.
It's also important that I have good service because I use my phone A LOT for work – messaging my team, staying on top of emails with brands, and working on my social media.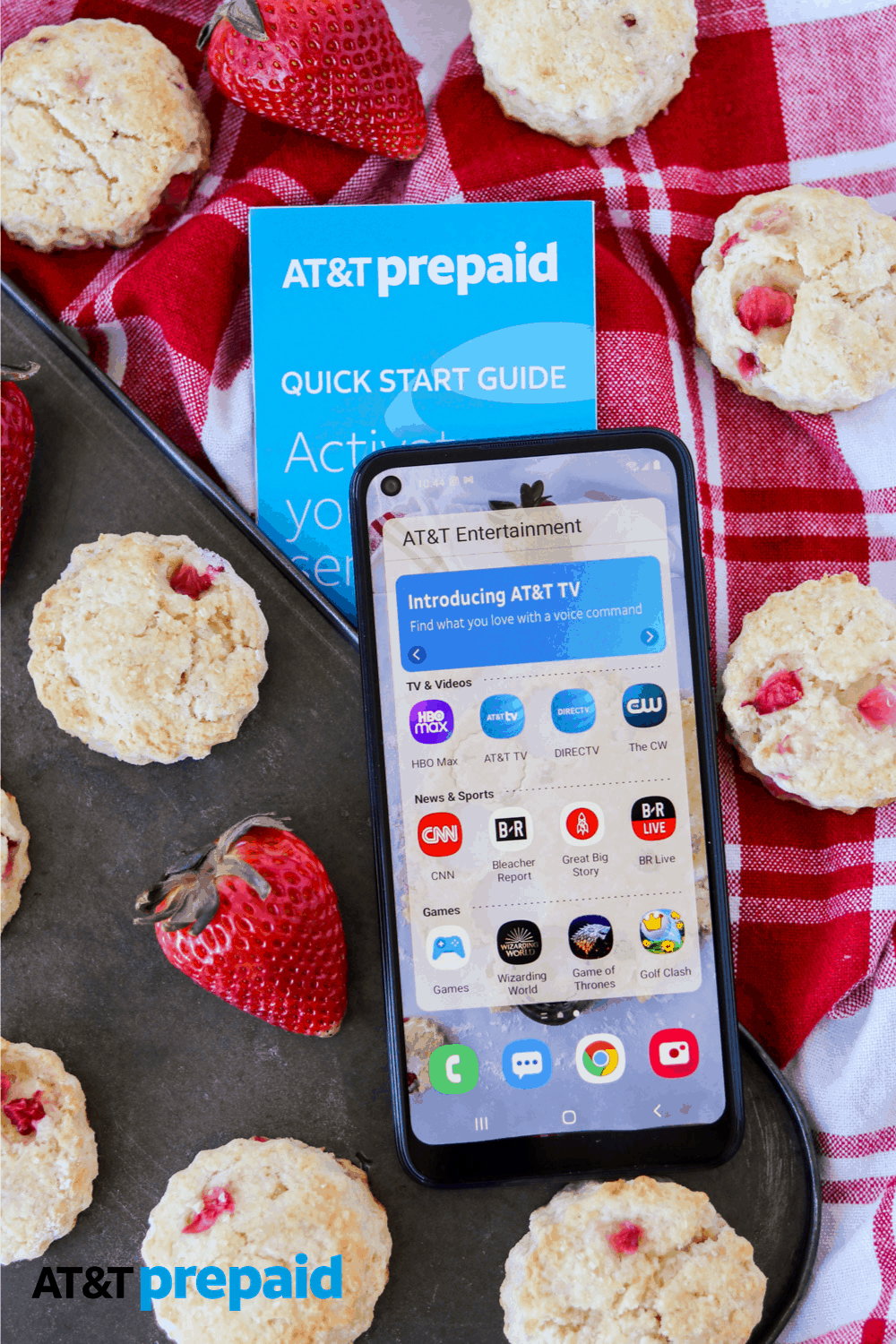 Have you heard??
AT&T PREPAID has a new 12-month plan for a one-time payment of $300!!
That's equal to just $25 each month for a full year.
AND, there's NO credit check!
The plan includes:
Service on America's Best Network
8GB high-speed data every month
Unlimited talk and text
Mobile hotspot
You can purchase your plan at your local AT&T Retail Store, Walmart or Target. Choose affordable phones from brands like Apple, Samsung, and LG.
Any phone can be an AT&T PREPAID phone, too!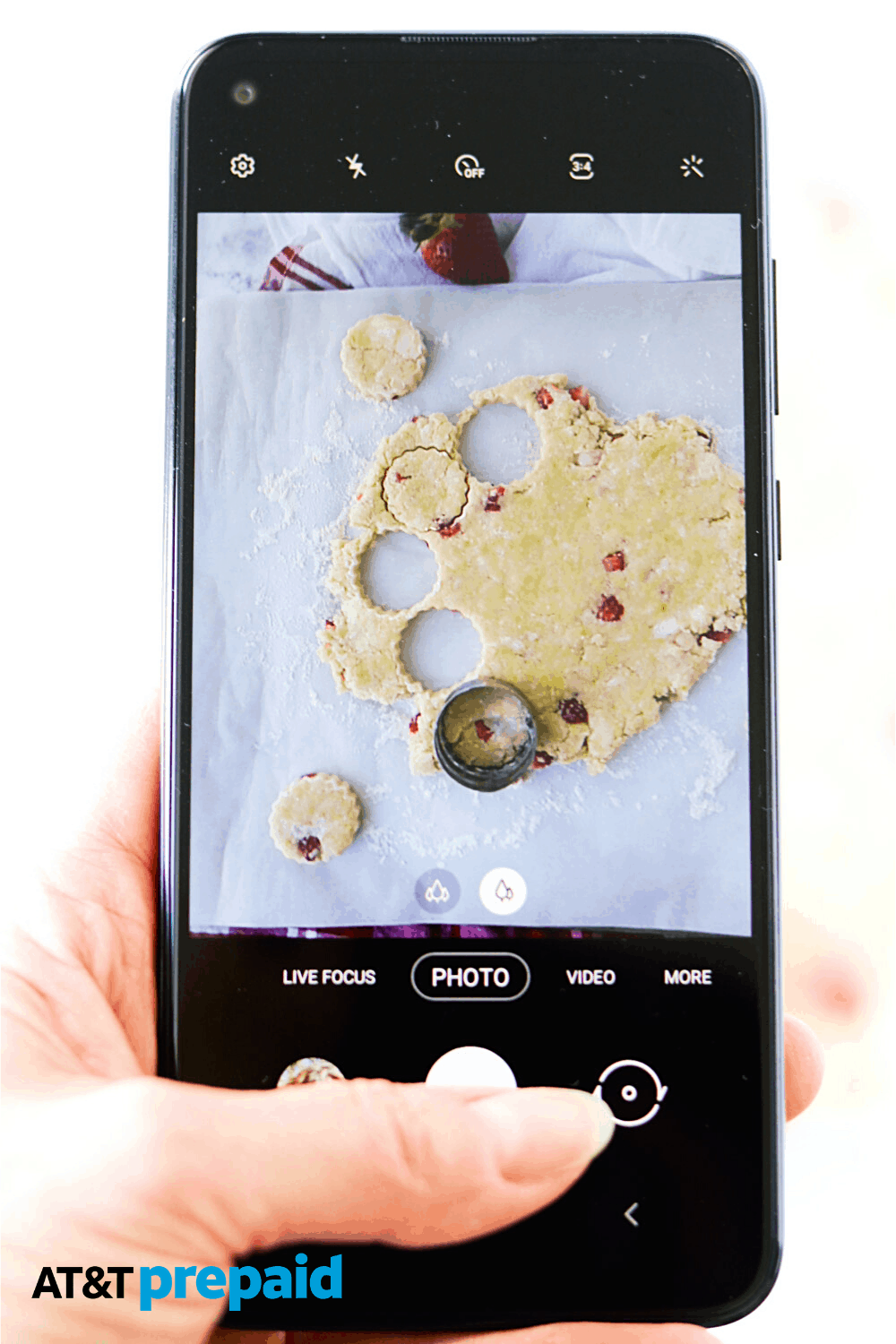 SAVE THIS EASY STRAWBERRY SCONES RECIPE TO YOUR FAVORITE PINTEREST BOARD!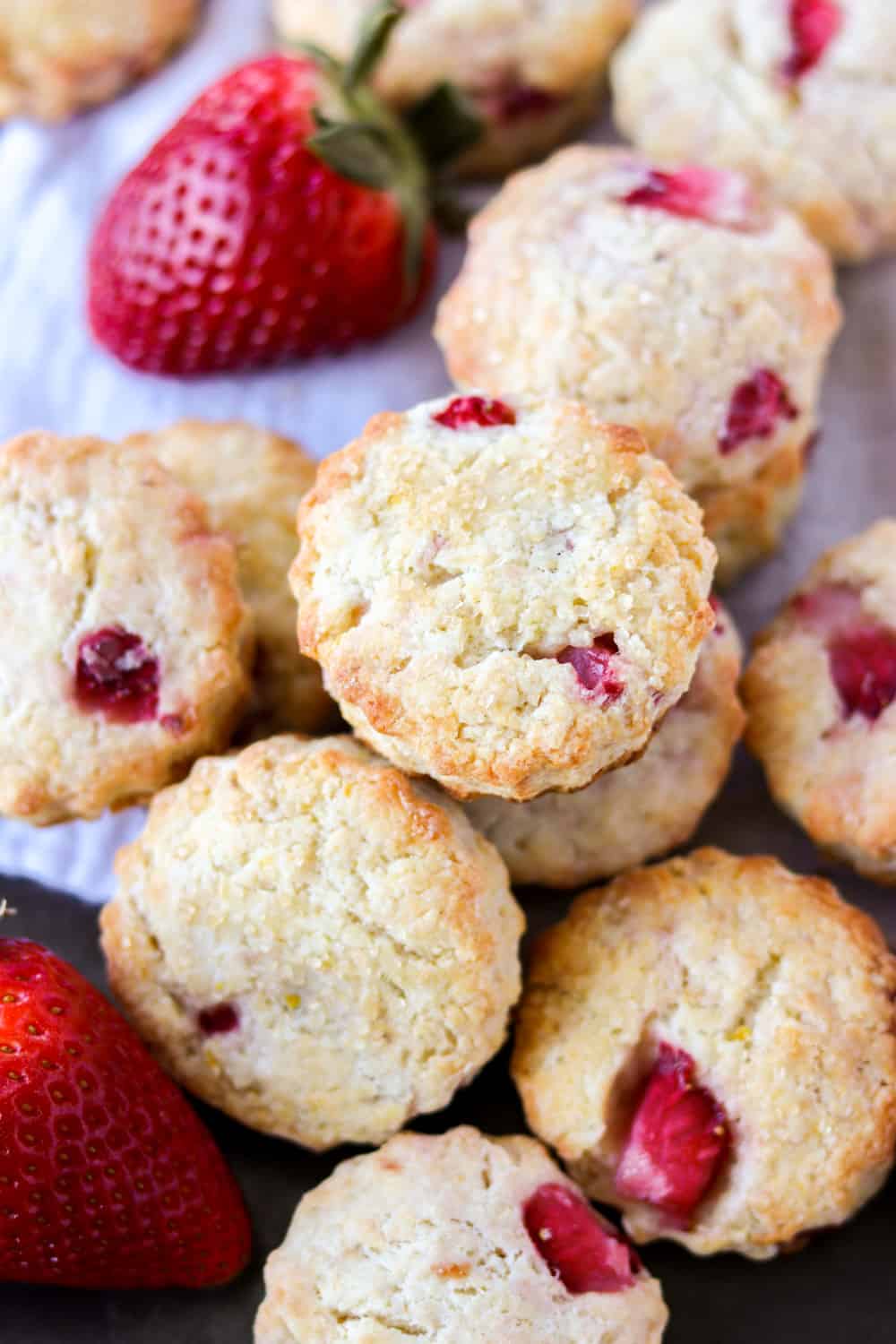 Signing up for an AT&T PREPAID phone plan is easy.
You can also add an AT&T PREPAID monthly plan to a device you already own!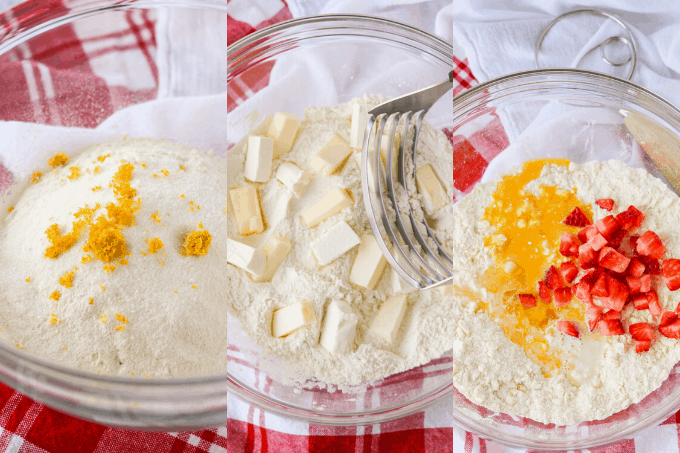 What ingredients do I need to make Strawberry Cream Cheese Scones?
all-purpose flour
sugar
baking powder
salt – I use always use kosher, but table salt is fine, too.
lemon zest – one lemon will be fine, about one teaspoon
unsalted butter – make sure it's CHILLED! You want that butter to be in small pieces in the dough.
You can also substitute shortening if you're doing dairy-free.
cream cheese – same as the butter – COLD!!
diced fresh strawberries – you can use frozen, just make sure you completely thaw them and dry them well with a paper towel to remove any excess moisture before dicing.
egg
milk – can use a dairy alternative if you'd like to substitute
Turbinado or raw sugar for sprinkling before baking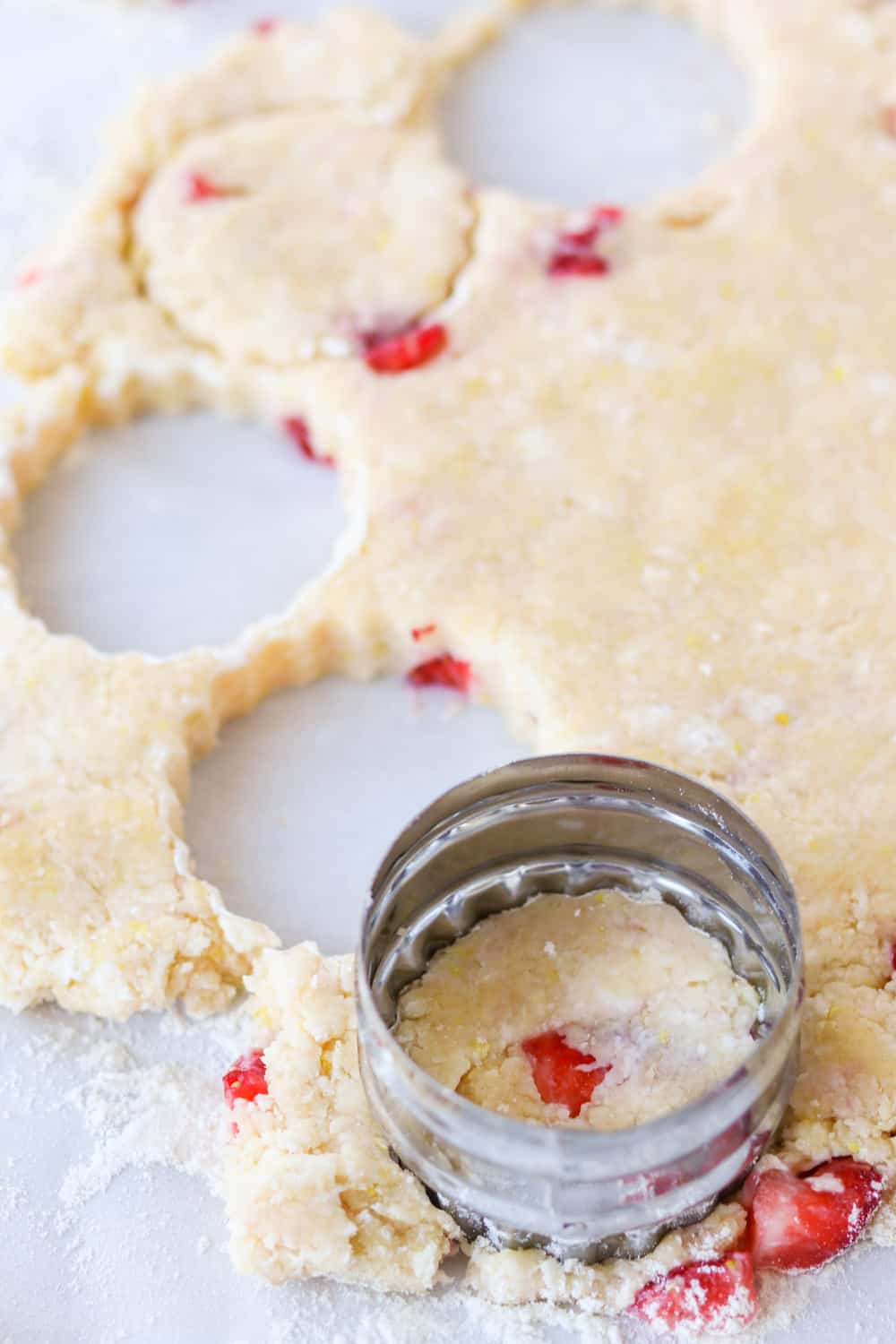 How do I make strawberry scones with cream cheese?
Place a piece of parchment onto a baking sheet and preheat your oven to 425°F.
Sift the flour BEFORE you measure the 1 ¾ cups called for
This recipe calls for sifted flour, so what you need to do is measure a little more than 1 ¾ cups of flour into a fine sieve or sifter. Sift that and then measure the 1 ¾ cups to be used in the recipe.
There WILL be some left over because through sifting, you are aerating the flour and by doing so the volume changes. I use the amount left over plus a little more if needed for my work surface when I cut the scones.
After sifting the flour, put the flour, sugar, baking powder, and salt into the sifter and sift them into a large bowl.
Add the lemon zest and toss to coat.
Using a pastry blender or two forks, cut the cold butter and cream cheese into the flour mixture. until it forms a coarse meal.
Add the egg, strawberries, and milk. Mix together with a fork until it all comes together forming a soft dough.
Roll the dough out onto a lightly floured work surface and pat the dough down into a circle that measures about a ½-inch in thickness.
With a 2-inch round cookie or biscuit cutter, cut out the scones and place onto the prepared baking sheet. Gather any dough scraps and repeat, being careful not to overwork the dough.
Sprinkle each scone with some Turbinado sugar, if desired and bake for 12 minutes. Place them onto a wire rack to cool for a couple of minutes before serving them warm.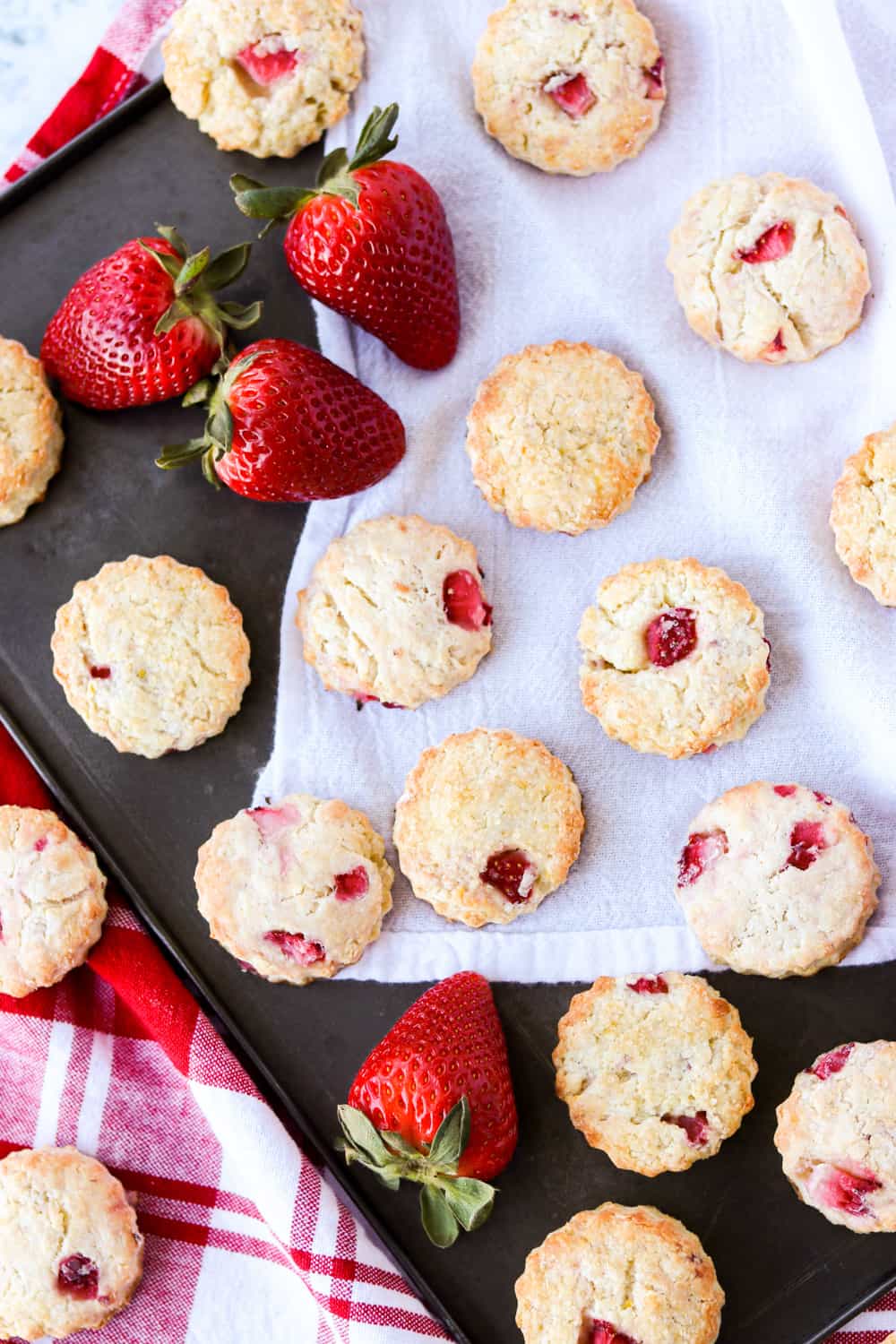 I know during times like these that staying in touch with our loved ones is SUPER important as is saving money.
AT&T PREPAID allows you to do both.

They have a new plan and for one easy payment of just $300 you get 12 months of service on America's Best Network.
What are you waiting for?
Check it out today!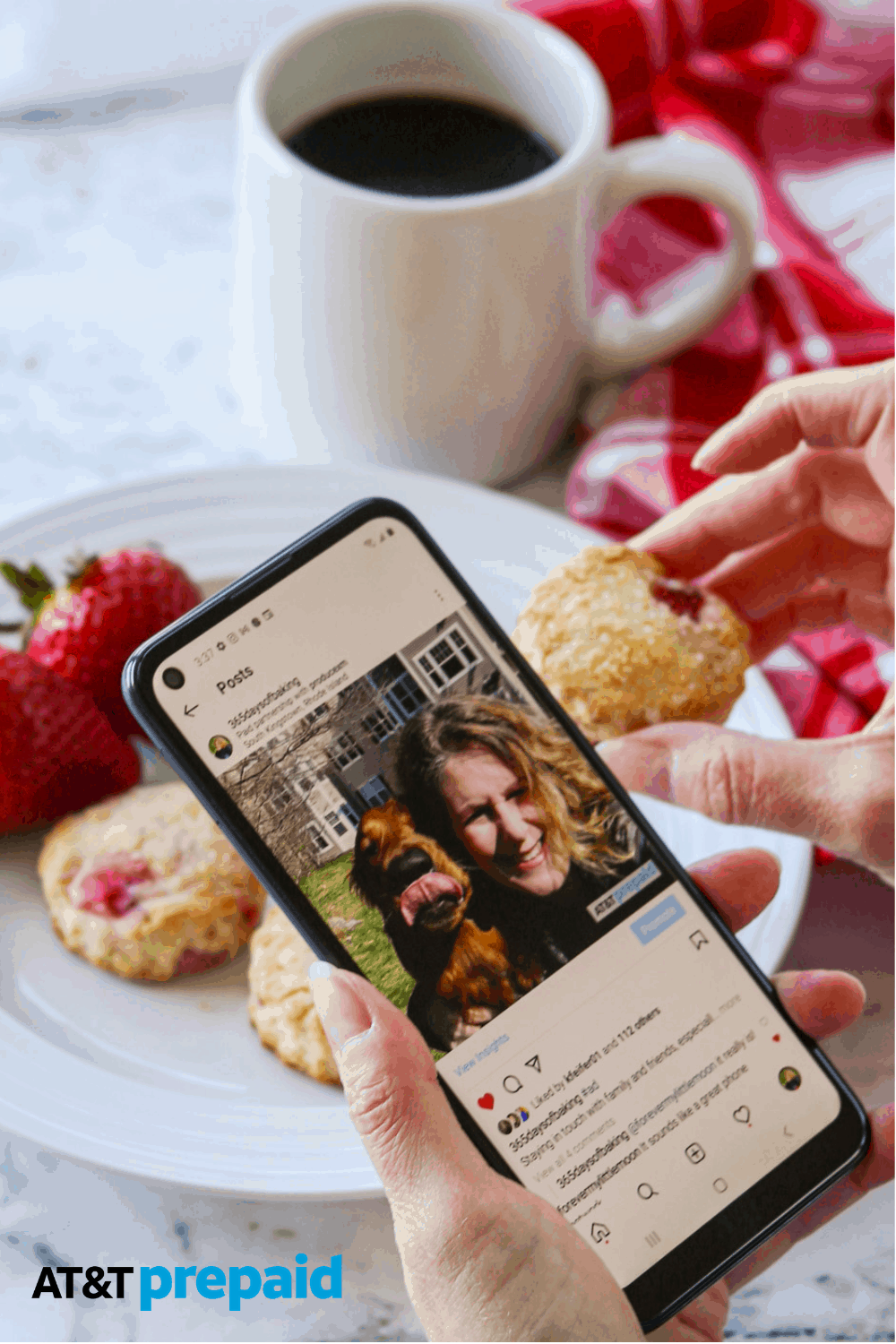 When you have yours, you'll be able to enjoy "me time" like I do with my AT&T PREPAID phone – browsing my social media, drinking my coffee, and eating these delicious Strawberry Cream Cheese Scones!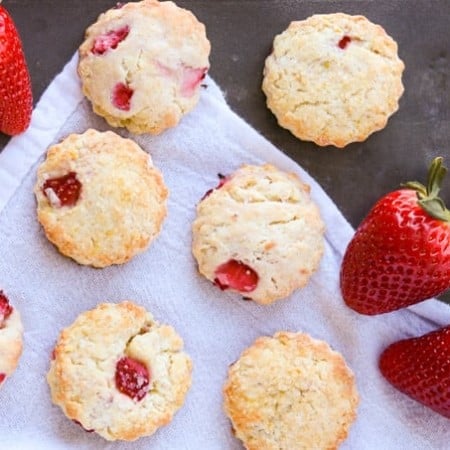 Bursting with fresh strawberries, these Strawberry Scones are an easy breakfast treat with cream cheese and lemon zest. They're a delicious and easy scone recipe to pair with your morning coffee or tea!
Ingredients
1 ¾ cups sifted all-purpose flour
¼ cup sugar
1 ½ teaspoons baking powder
¼ teaspoon kosher salt
¼ cup unsalted butter chilled
2 ounces cream cheese chilled
⅓ cup diced fresh strawberries if using frozen, thaw and blot dry with a paper towel before dicing
1 teaspoon lemon zest zest from one lemon is sufficient
1 egg lightly beaten
2 tablespoons milk
Turnbinado sugar or sugar in the raw for sprinkling
Instructions
Preheat oven to 425°F, and prepare a baking sheet by placing a piece of parchment over it.

Sift flour, sugar, salt, and baking powder together into a large bowl. Add the lemon zest and toss to coat.

Using a pastry blender, or two knives, cut in butter and cream cheese until the mixture resembles coarse meal.

Add egg, milk, and strawberries and mix with a fork until everything comes together to form a soft dough.

Roll out onto a lightly floured surface and pat into a circle about a 1/2-inch thick.

Cut into rounds with a 2-inch cookie or biscuit cutter.

Sprinkle each scone with some Turbinado sugar and place onto prepared baking sheet, about 2 inches apart and bake for 12 minutes or until lightly golden.

Transfer to a wire rack and allow to cool for 1-2 minutes before serving warm.
Nutrition
Serving: 1g | Calories: 94kcal | Carbohydrates: 13g | Protein: 2g | Fat: 4g | Saturated Fat: 2g | Trans Fat: 1g | Cholesterol: 20mg | Sodium: 48mg | Potassium: 62mg | Fiber: 1g | Sugar: 3g | Vitamin A: 137IU | Vitamin C: 2mg | Calcium: 24mg | Iron: 1mg
Did you make this recipe?
Share it with me on Instagram and make sure to follow me on Pinterest for more recipes.
If you like raspberries with breakfast then you'll have to give these Raspberry Cream Cheese Scones a go.
They're the ones I based these strawberry ones on.
One of our most FAVORITE things to eat with strawberries besides shortcake are these Cheese Blintzes with Strawberry Sauce!
OMG, are they GOOD!!!
Everyone who has tasted them has fallen in love and they're ALWAYS requested at holiday gatherings.
Give this Strawberry Stuffed Mocha French Toast a go.
You can have your coffee and eat it, too!

If the blintzes might be a little too involved, then you can just make some crepes, fill and top them with some fresh strawberries and a dollop of some fresh whipped cream.
Or some Nutella!!!
Yes, strawberries are super delicious for breakfast, but have you tried them for a meal?
This Strawberry Spinach Salad is my go-to salad during the summer. Everyone LOVES it, and we add grilled chicken to it when we want to make it a full dinner.
Of course, I've got PLENTY of strawberry desserts as well!
Take a look at these Chocolate Covered Strawberry Dream Bars, Strawberry Cheesecake Dream Bars, Strawberry Pretzel Pie, Strawberry Poke Cake, Strawberry Rhubarb Galette, Strawberry Buttercream Sugar Cookies, Lattice Strawberry Rhubarb Pie, and Roasted Strawberry Ice Cream.
GWS awarded AT&T Best Network OneScore 2020. GWS conducts drive tests for AT&T and uses the data in its OneScore analysis


Reader Interactions