Banana Nutella Stuffed French Toast – two pieces of cinnamon raisin bread sandwiched together with cream cheese, Nutella and bananas inside then dipped in egg batter and grilled to perfection. Drizzle with maple syrup and you've got a dish people will not be able to resist!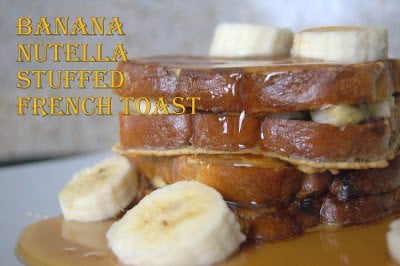 I don't think I really have anything to say…except that this stuffed French toast was…
DA BOMB!!! It tasted pretty darn good, too. Me thinks you should try it. But not just try it, really, REALLY sink your teeth into it and get down and dirty with it. Just let every single sweet, rich, yummy, gooey morsel just caress the inside of your mouth and take you to French toast heaven.
SAVE THIS STUFFED FRENCH TOAST TO YOUR FAVORITE PINTEREST BOARD!
You won't be sorry. So much flavor and so little time…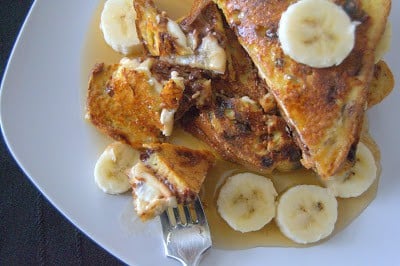 Here's the recipe…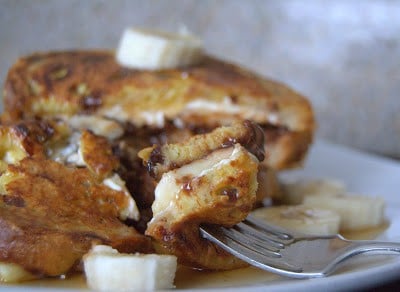 Banana Nutella Stuffed French Toast
Ingredients
6 eggs
1 teaspoon Rodelle Pure vanilla Extract
½ cup heavy cream
⅓ cup flour
16 slices cinnamon rasin bread
4 oz. cream cheese, softened to room temperature
Nutella
4 bananas, sliced
butter for griddle
Instructions
In a medium bowl, or better yet, a baking dish because it's deep and shallow enough, whisk together the eggs and Rodelle Pure Vanilla Extract.

n a small bowl, combine flour and heavy cream. *I found it easier to mix these two together and then add it to the eggs. That way the flour doesn't clump. Whisk the cream mixture into the eggs.

Heat a griddle using medium to medium-high heat. Prepare the bread by spreading some Nutella on 8 of the slices.

On the other 8 slices, divide the cream cheese evenly between them and spread.

Place banana slices on to either the cream cheese or Nutella side of the bread. Cover with the slice you didn't choose, making sure there is a cream cheese and Nutella slice for each sandwich, and gently press together.

Add some butter to the griddle and spread it so that the surface area is covered.

Take one sandwich and dip it in the egg batter to a count of three. Gently turn it over and dip for another three seconds. Allow excess to drip off and place on to the preheated and prepared griddle.

Cook for three to five minutes on one side, making sure it is golden brown before carefully flipping.

Cook on the other side for an additional three to five minutes. French toast will be done when golden on both sides, with cream cheese and Nutella warm and melting in the middle.
Nutrition
Calories: 939kcal | Carbohydrates: 37g | Protein: 39g | Fat: 69g | Saturated Fat: 35g | Cholesterol: 1145mg | Sodium: 420mg | Potassium: 498mg | Fiber: 1g | Sugar: 1g | Vitamin A: 3175IU | Calcium: 225mg | Iron: 6.6mg
Did you make this recipe?
Share it with me on Instagram and make sure to follow me on Pinterest for more recipes.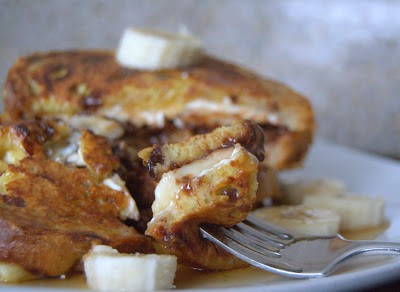 Oh my gosh darn, goodness was this one of the yummiest things I've ever made or WHAT?!?! And I don't really even like bananas with chocolate. I just like to eat them plain but I would most definitely eat this again!
And again. And even again!
I rate everything I make on a scale of 1-4 with 4 being the best and this Banana Nutella Stuffed French Toast earned 4 rolling pins. Of course, it was THAT good. But, then again doesn't Nutella make almost everything better anyway?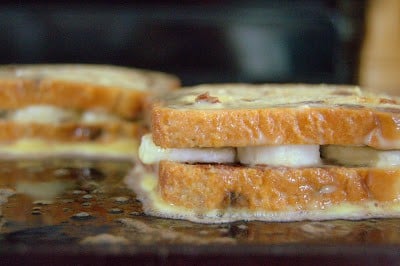 If you liked this French Toast, you might very well enjoy…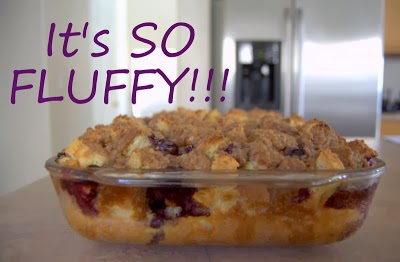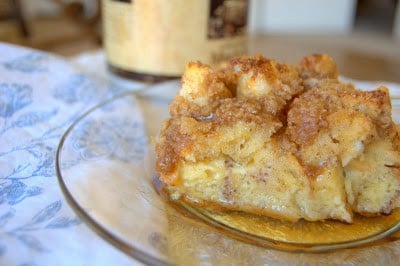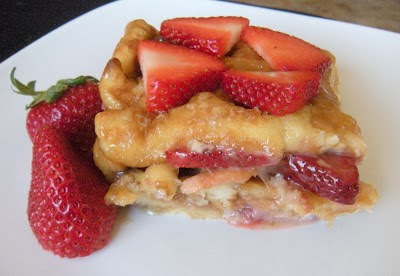 Reader Interactions