Breakfast Parfait Bar – start your child's day off right with this Breakfast Parfait Bar. Silk Dairy-Free Yogurt alternative, Simply Truth cereal, granola and almonds, and fresh fruit will combine to make a delicious breakfast that they'll enjoy making themselves.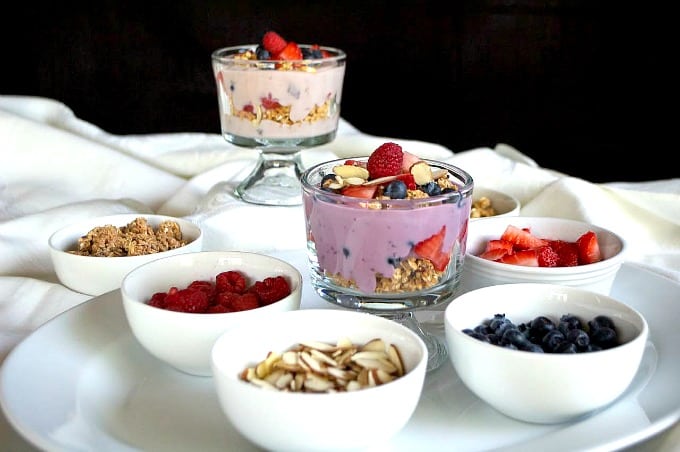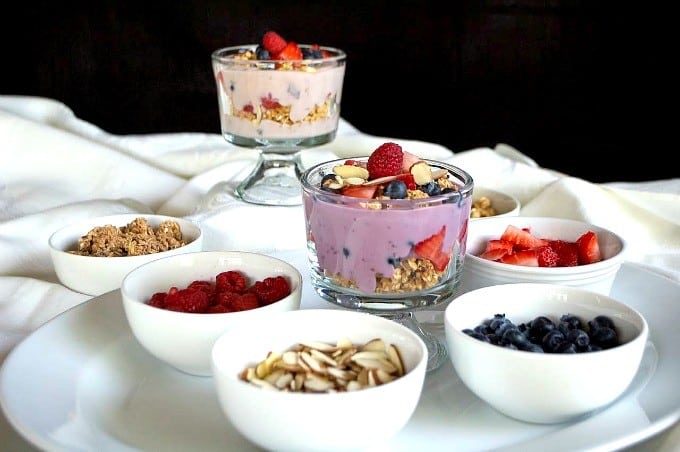 It's time to go back to school.
Can you believe it?
For the first time in our family life, we won't have a child in the local school system. I am now the mother of three adult children. It's weird. Really. Really. Weird.
Yet, even though they are no longer in primary or secondary school, two of them are now living with us and it's important that everyone in the family eats a good breakfast to start their day. So, with that in mind, I put together this Breakfast Parfait Bar with all the fixin's.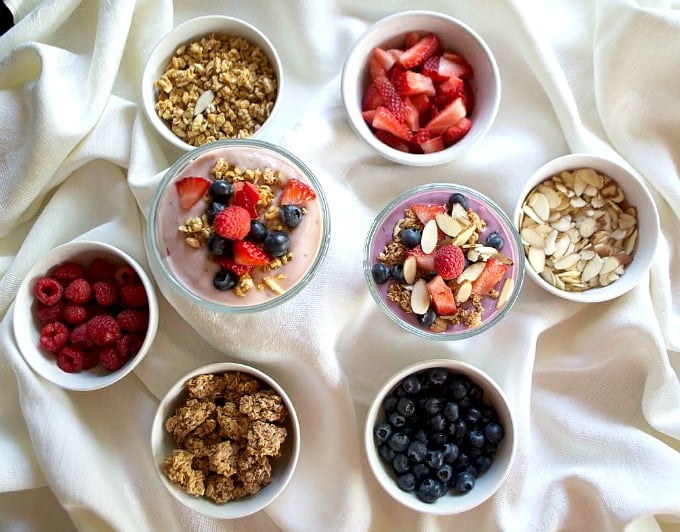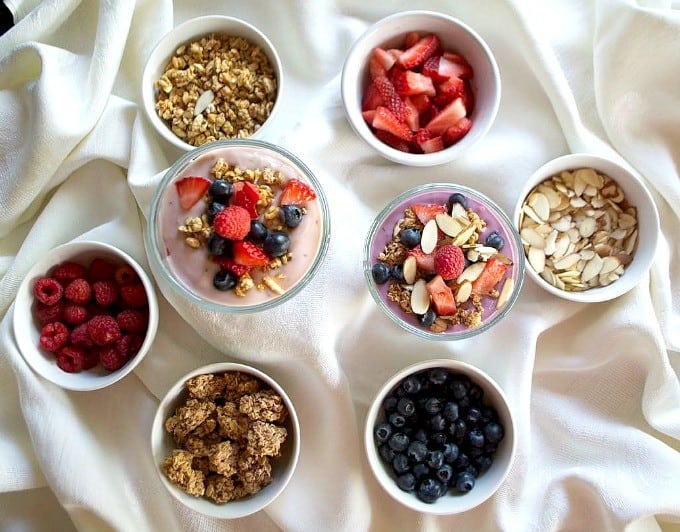 On one of my daily shopping trips to my local Fry's Food and Drug, I was able to pick up all the ingredients I needed to put it together. With a variety of grains, nuts, fresh fruits and dairy-free yogurt alternatives from Silk, everyone can have a parfait just the way they want it.
No picky eaters here, folks!
SAVE BREAKFAST PARFAIT RECIPE TO YOUR FAVORITE PINTEREST BOARD!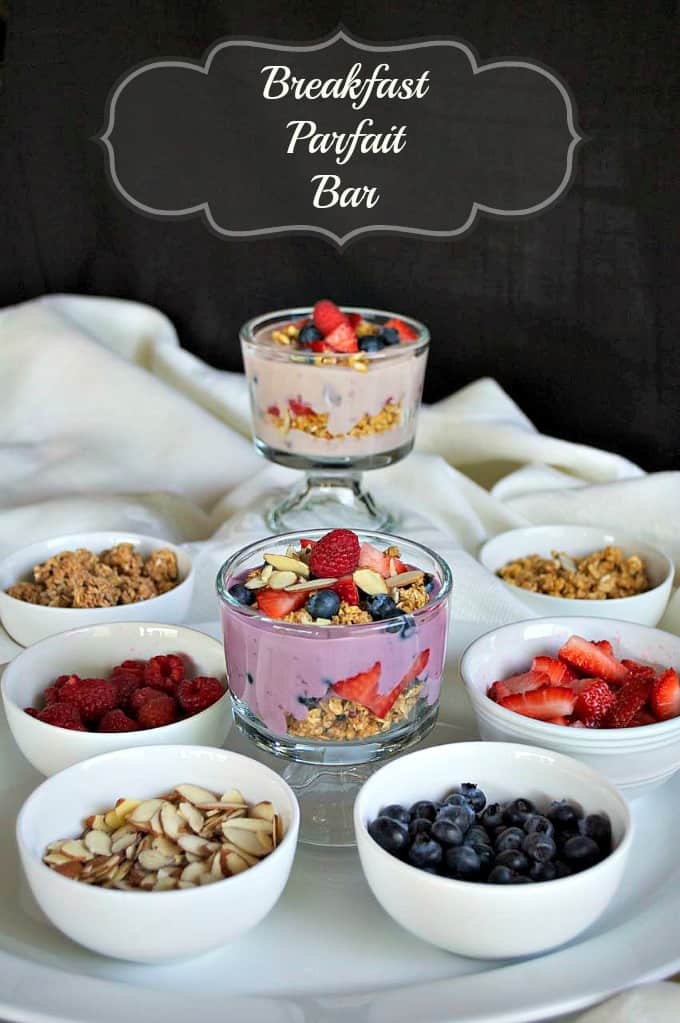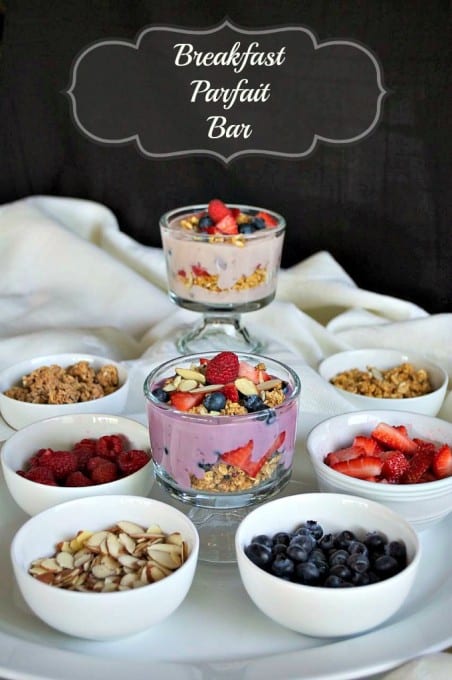 The great thing about this Breakfast Parfait Bar is that I'm not really the one "making" their breakfast, they are. To my delight, I received a, "Wow, Mom, this is really good!!" from our 18-year-old son. I guess he was surprised at how delicious breakfast can really be when he makes it himself. Ok, so I've spoiled him, but he's the baby…
Fry's Food and Drug, and Kroger stores have a wonderful natural foods section where it's easy to locate the items you need for this breakfast. Plus, you'll find a great selection of fresh fruits and the nuts in the produce section.
I found the Silk dairy-free yogurt alternatives in this refrigerated case.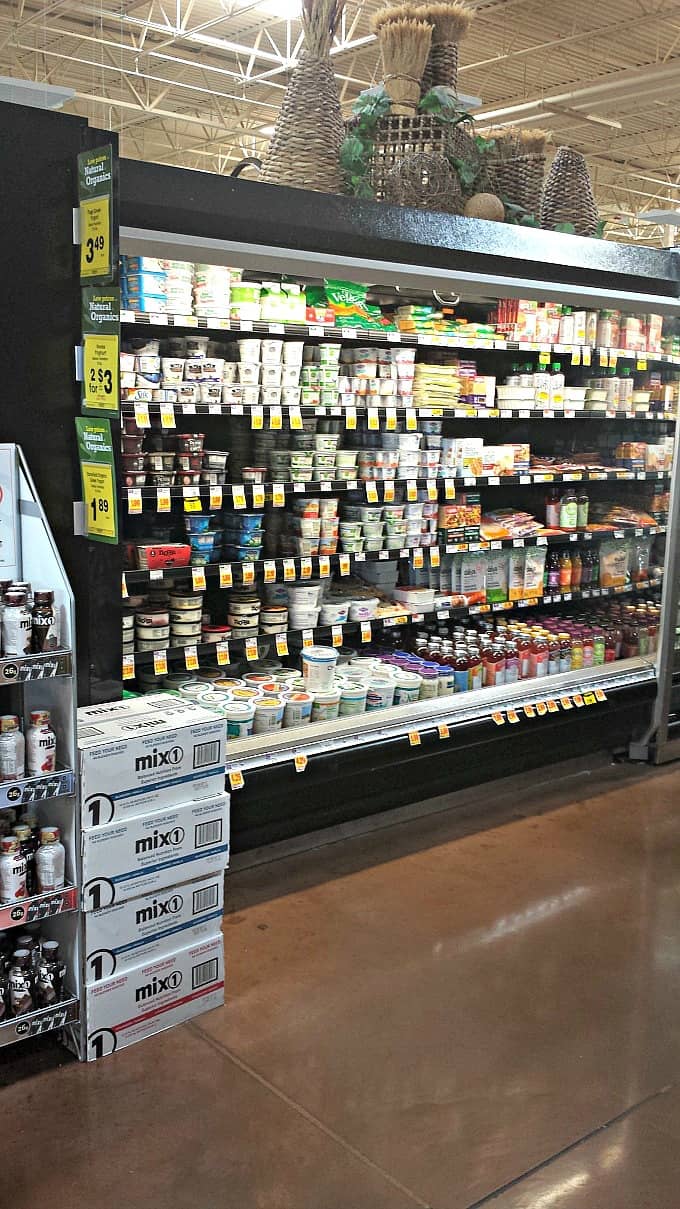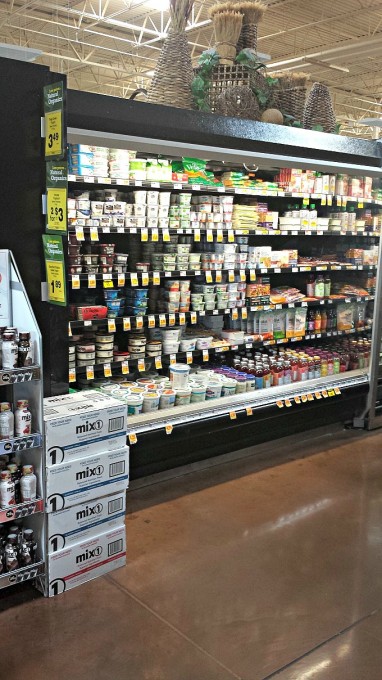 The granola and cereal were in this aisle. Look at that selection! I'm sure you'll find something for everyone here.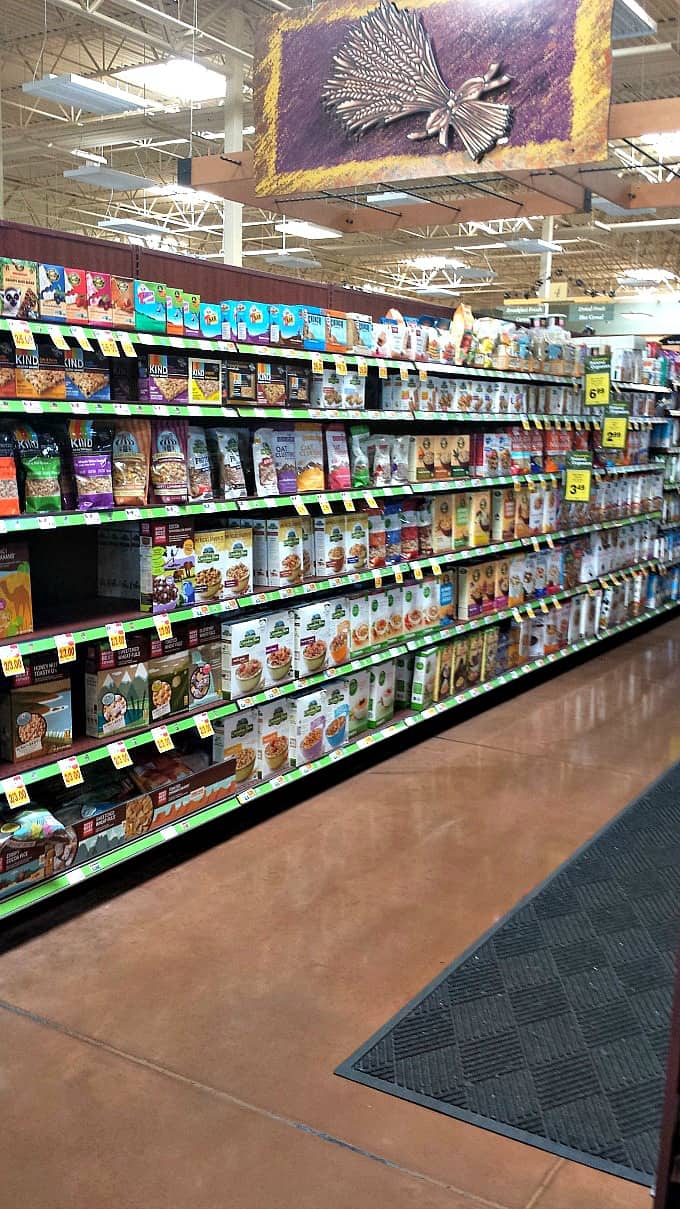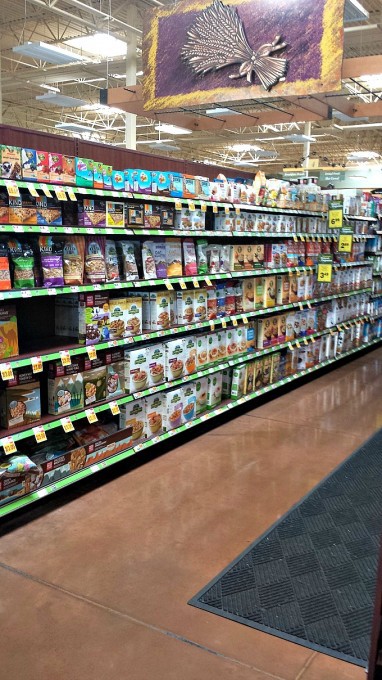 There were a variety of items out for the Breakfast Parfait Bar. That way everyone would be able to pick and choose what items they wanted in their parfait. I put freshly chopped strawberries, raspberries, blueberries, sliced almonds, granola, and cereal into small bowls making it easy for everyone to access their favorites.
I also put three each of the Silk strawberry and blueberry dairy-free alternatives on the table so that they could choose their favorite flavor. Then they started to create.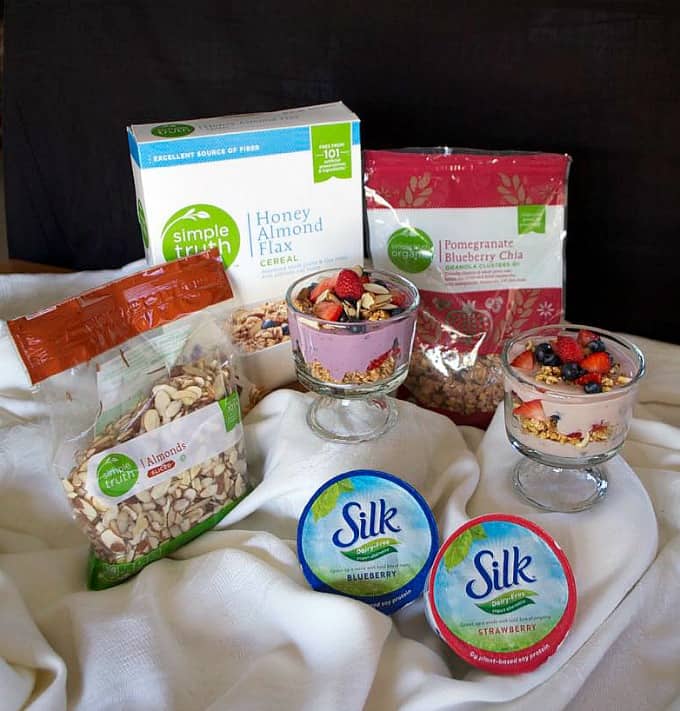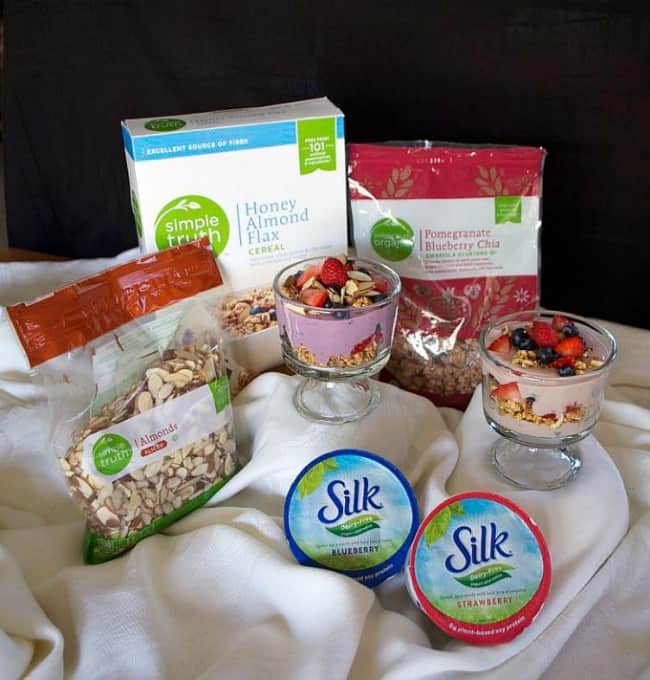 It's a fun and healthy way to start a day! I know my kids are more apt to have a good breakfast if I put it out in front of them because on their own they're more likely to choose a bowl of cold cereal. The possibilities with this bar are endless. You can add or omit whatever the family wants.
You can also throw in some chia seeds for added fiber and calcium, and flax seeds for some great omega-3 fatty acids. Not only will you be providing your kids with the energy and nutrients needed to get them through the day, but you'll also be helping them concentrate in school. This can also be a self-esteem builder for the little ones.
I've found that my kids are more likely to eat a meal that they've helped make instead of me just telling them, "here, eat this" and putting a plate of food in front of them. Besides, little fingers LOVE to help, especially when it comes to food!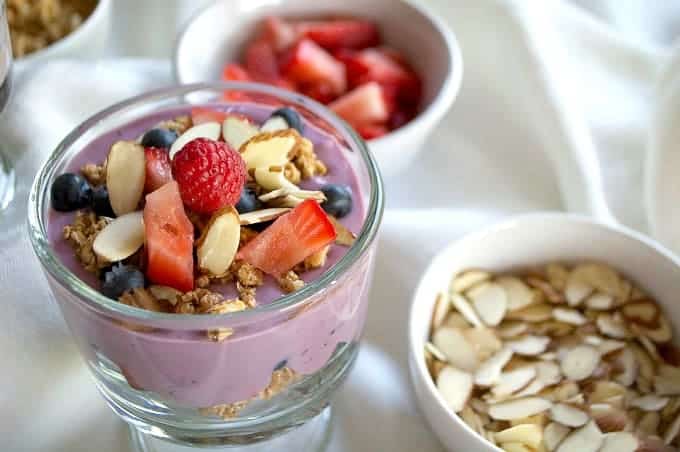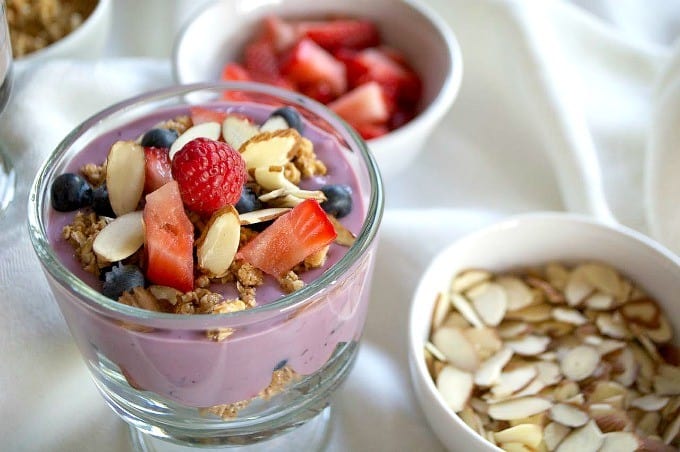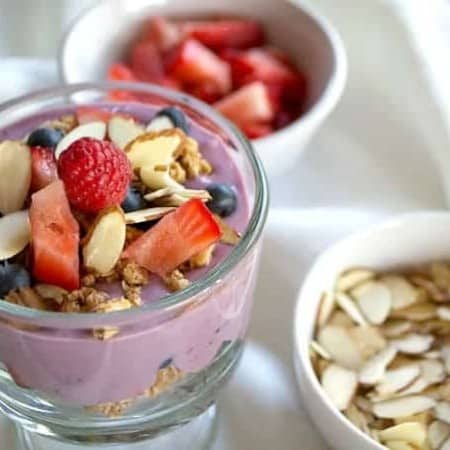 Ingredients
1 5.3- ounce Silk strawberry dairy-free yogurt alternative
1 5.3- ounce Silk blueberry dairy-free yogurt alternative
1 cup Simple Truth Organic Pomegranate Blueberry Chia Granola Clusters
1 cup Simple Truth Honey Almond Flax Cereal
1 cup chopped fresh strawberries
1 cup fresh blueberries
6 ounce container fresh raspberries
½ cup Simple Truth sliced almonds
Instructions
Place a small amount of the Silk strawberry dairy-free yogurt alternative on the bottom of a dessert dish or decorative serving bowl.

Add a some fresh strawberries and blueberries to the bowl.

Cover the fruit with a couple tablespoons of the Simple Truth Honey Almond Flax Cereal.

Place the remaining Silk into the bowl and cover with more cereal and fruit and serve.

Repeat process with the blueberry SIlk, and the Simple Truth Organic Pomegranate Blueberry Chia Granola Clusters, fruit and almonds.
Notes
Feel free to add or omit any fruit, grains or nuts you think will be the best fit for your family.
Did you make this recipe?
Share it with me on Instagram and make sure to follow me on Pinterest for more recipes.
I rate everything I make on a scale of 1 – 4 and this Breakfast Parfait Bar earned 4 rolling pins! I love that everyone can make their own parfait according to their tastes. When you set this up on the table, take a step back and see what they decide to include instead of directing them to put more of this or that in.
I think you'll be pleasantly surprised how well you've already instilled good food choices.
Breakfast is a must in this household! That's why these recipes are my go-to…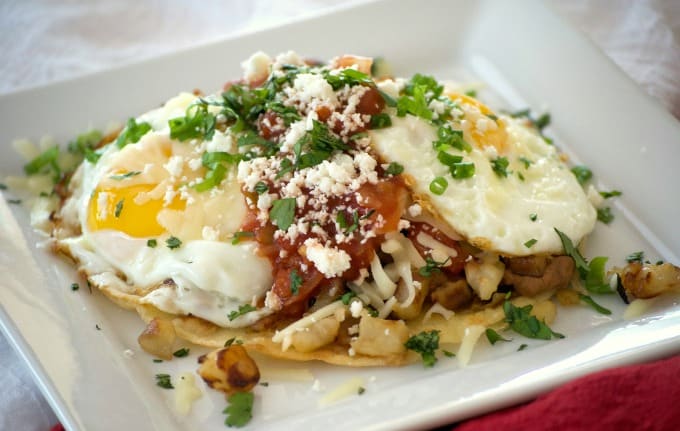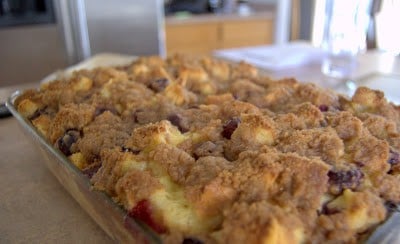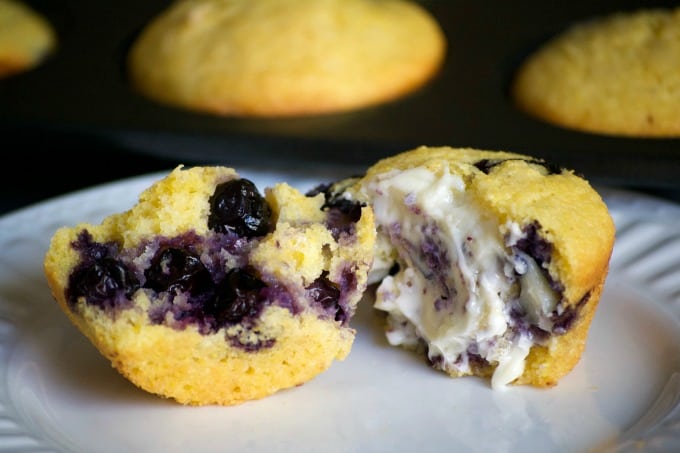 Be sure to visit Kroger Inspired Gatherings You'll find lots of delicious recipes, tips on decorating, cleaning and wonderful ideas for all of your celebrations! They're also sharing a coupon with you, too! I'd love to hear what foods you'll be including when you set up your Breakfast Parfait Bar and how you'll keep your family healthy while heading back to school!
This conversation is sponsored by WhiteWave Foods. The opinions and text are all mine.