This delicious and easy Couscous Chicken Salad is made with pearl couscous, chicken, lots of veggies, and a bunch of flavor! It's great to eat warm for dinner and again the next day cold for lunch.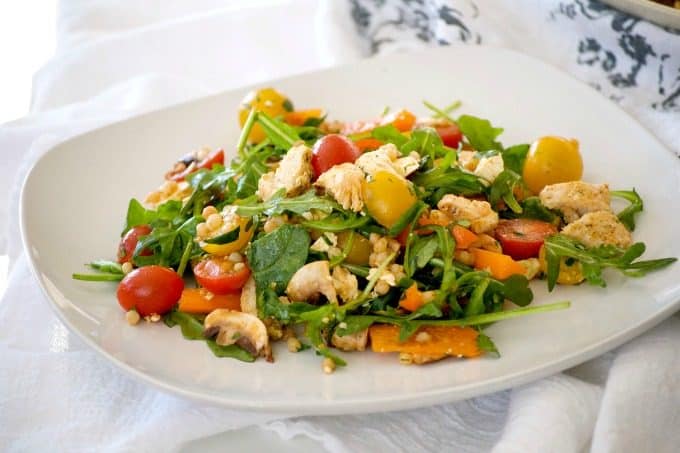 I made this
INCREDIBLE
Israeli Couscous Chicken Salad for dinner last night, if I do say so myself, but it wasn't like I didn't have any help.
And Mr. 365 said this was "the best dinner you've made in a long time."
Hm… REALLY??
I have a blog.
Cooking and baking for the family is what I now do.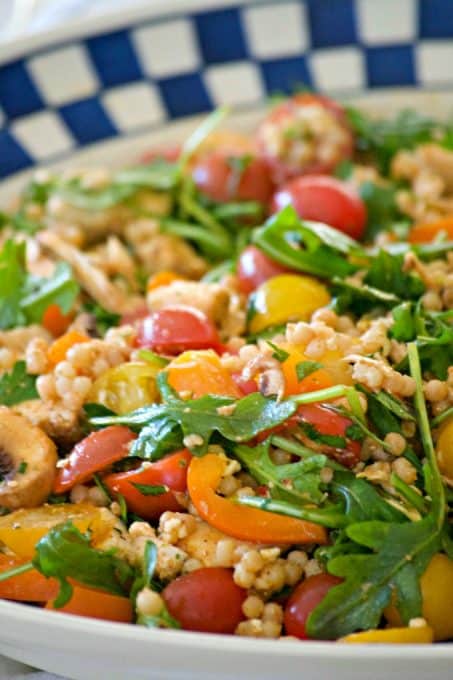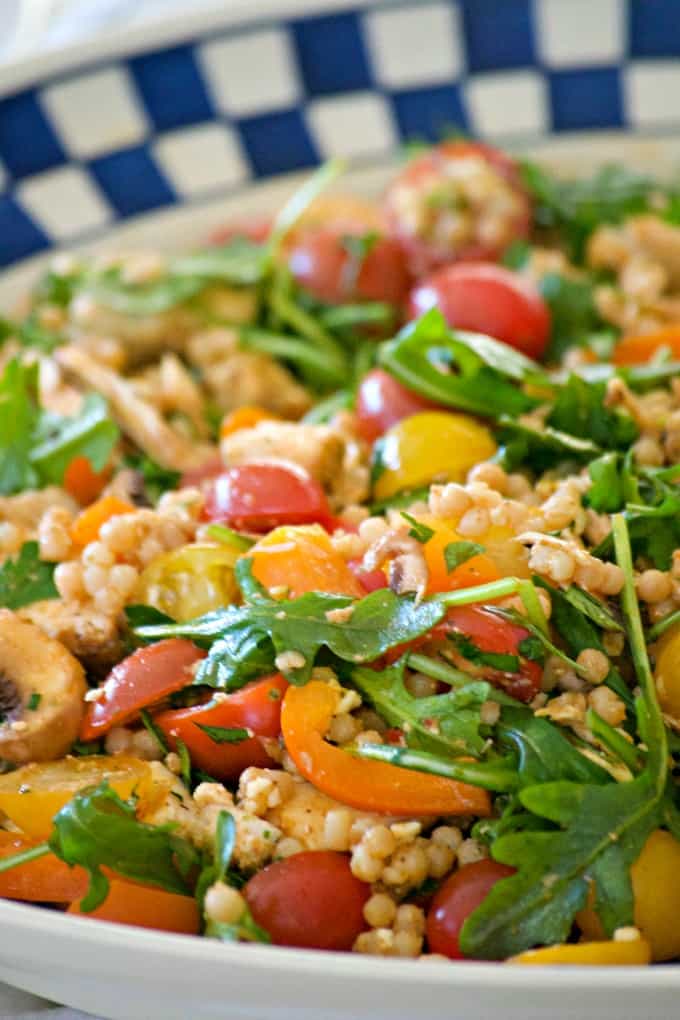 This is the "best dinner in a long time".
Maybe I should have asked him to clarify because I have been cooking dinner quite regularly and he has been eating and hasn't been complaining about them.
I don't know, he's funny like that.
My daughters and I were watching 'Giada at Home' on the Food Network channel when my oldest asked if I could make one of the recipes for dinner.
It was this Israeli Couscous Salad with Smoked Paprika and it looked so incredibly yummy!
So, here's my version of Giada's ~ healthy, some added protein to make it a full course dinner and pretty easy to boot!
Summer Israeli Couscous Chicken Salad
This delicious and easy Couscous Chicken Salad is made with pearl couscous, chicken, lots of veggies, and a bunch of flavor! It's great to eat warm for dinner and again the next day cold for lunch.
Ingredients
Dressing

1/3 cup extra-virgin olive oil
2 tablespoons white balsamic vinegar
1 1/2 teaspoons paprika
1 teaspoon salt
1/2 teaspoon freshly ground black pepper

Salad

2 large boneless, skinless chicken breast, cooked and sliced into 1-inch pieces
1 1/3 cups whole wheat Israeli couscous, also known as pearl couscous
1 tablespoon extra-virgin olive oil
2 cups water
1/2 teaspoon salt
2 cup packed spinach, coarsely chopped or torn
2 cup packed arugula, coarsely chopped or torn
18 ounces (about 3 cups) grape tomatoes, cherry tomatoes or baby heirloom tomatoes, red and yellow, halved
1 red bell pepper, seeded and sliced thin
1/2 cup chopped flat leaf parsley
6 button mushrooms, sliced
4 ounces crumbled Mediterranean Seasoned Feta cheese
Instructions
Dressing

Whisk together the olive oil, white balsamic vinegar, paprika, salt and black pepper in a small bowl. S

Salad

In a large saucepan over medium-high heat, place the tablespoon of olive oil.
Add the couscous, stirring frequently, and cook till lightly golden, about 4-5 minutes.
Add the water and the salt and bring to a boil.
Reduce to medium-low, cover and simmer until water is absorbed, about 10 minutes.
In a large bowl, combine the spinach, arugula, tomatoes, red pepper, parsley, and mushrooms.
Add the Feta cheese, but do not yet mix.
Add the couscous.
Whisk the dressing to thoroughly combine the ingredients again and pour over the couscous.
NOW mix everything together, allowing the heat of the couscous to warm the dressing and slightly melt the cheese.
Notes
I sliced the chicken breast in half the long way so that I had two thinner breasts, seasoned both with a tablespoon of Montreal Chicken seasoning and grilled it on my George Foreman Grill, but you can cook it however you choose. It was really tasty this way and I'll be preparing it the same way again.
https://www.365daysofbakingandmore.com/israeli-couscous-chicken-salad/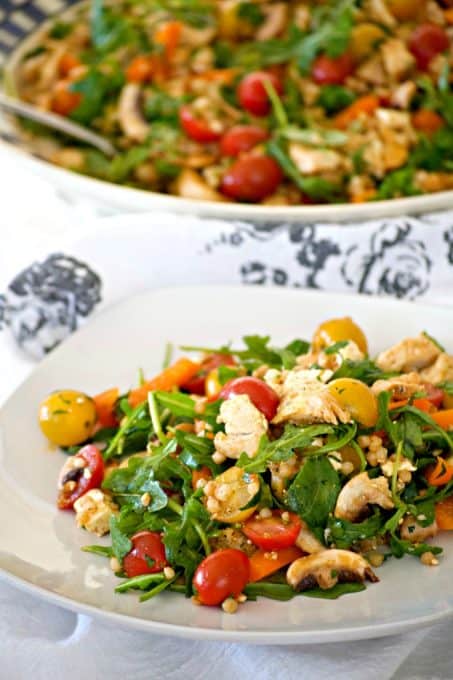 I rate everything I make on a scale of 1-4 with 4 being the best and this Summer Israeli Couscous Chicken Salad earned a whopping 4 rolling pins!
The family LOVED it and definitely want me to add it to our regular menu.
It was so incredibly tasty that I really couldn't stop eating it and was really bummed when my daughter and the Mr. got to it before I did for lunch the next day.
I'm really thinking I'm going to have to make this again next week, but I'm actually wanting some right now.
*sigh*
I'll try it with quinoa when i make it next and see how it goes.  I'll let you know.
I shared this recipe over at This and That and Foodie Friends Friday!!  Be sure to go on over to those pages and see what delicious morsels other bloggers have shared!!
If you like this recipe, then you'll love…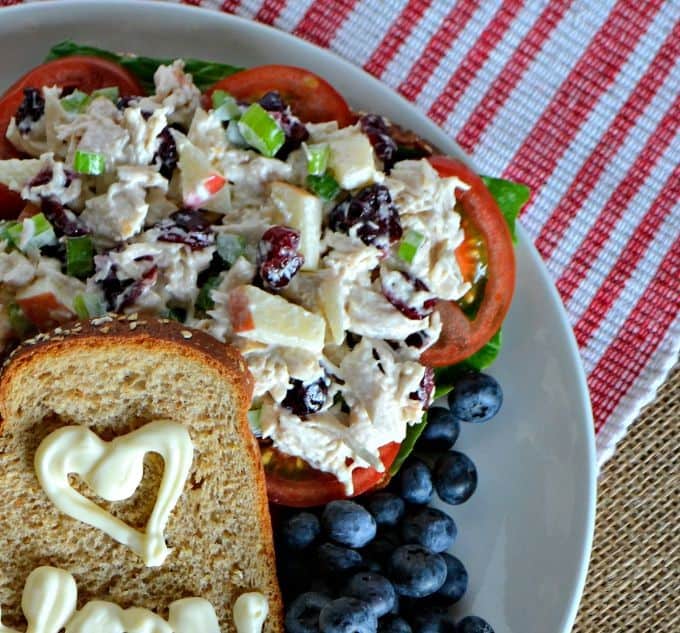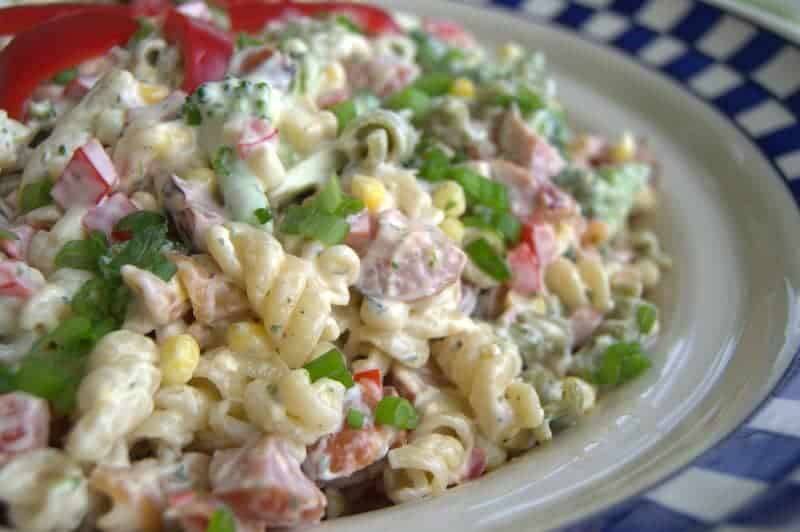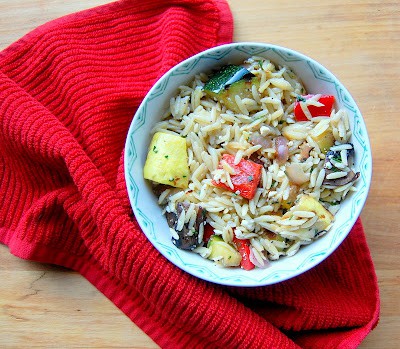 You'll also love these salads from other bloggers –
BBQ Chicken Salad from Damn Delicious
Cranberry Avocado Spinach Salad with Chicken and Orange Poppy Seed Dressing from Cooking Classy
Chicken Salad with Apples and Celery from PinkWhen
Autumn Couscous Salad from FoodieCrush
Quinoa Salad with Asparagus, Peas, Avocado & Lemon Basil Dressing from Two Peas & Their Pod
Learn how to make a vinaigrette for your salads here:
I give you BIG baking hugs and muffins!!