If it ain't broke, don't fix it, right?
Today I went with tomatoes.
No, unfortunately they're not from our garden. We were extremely disappointed in the tomato crop this year.
I guess Arizona summers are too dang hot to grow these red beauties unless they're well shaded.
Go figure.
Oh well, you live and learn. We're hoping to obtain better results in the Fall.
Imagine, fresh garden tomatoes at Christmas!
There'll be a
stuffed tomato
on Santa's plate this year instead of some cookies.
I bought the tomatoes for this dish at the store the other day, of course didn't use them that day, so stuck them in the fridge. They were pushed to the back of the shelf and when I went to retrieve them, this is what I found: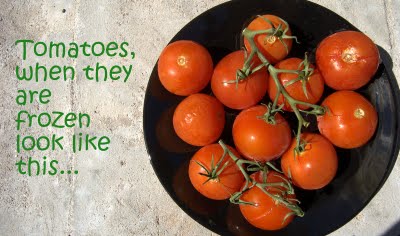 They were nice, round, hard, frozen tomatoes.
This sometimes happen in the back of our fridge. Not that I've ever frozen tomatoes before, but if I put a leftover bowl of salad in the fridge, the next day it's literally "iceberg" lettuce and it's not edible.
SO…
I put the plate of tomatoes in the sun because here in Arizona they'll be thawed in like a minute flat since we're still a bit over 100ºF.
Oh, and they thawed themselves out alright.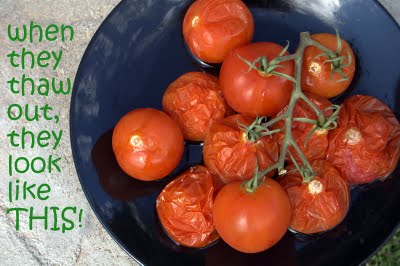 Not exactly what I wanted to see, but we went with it anyway.
The shriveled up dudes were extremely uncooperative when I was attempting to slice them.
Apparently at this point, slicing the blobs into neat rounds is not an option; they would rather squirt all over the kitchen.
Go figure.
This is what I was able to salvage and place on the baking sheet. It didn't look too pretty, but it still worked, and I had baking to do, darn it!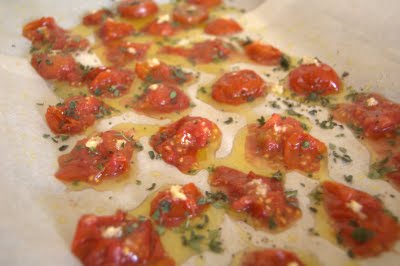 Roasted Tomato Tartlets – makes 4 4-inch tartlets (use tartlet pans with removable bottoms)
Tart Pastry – from The Fannie Farmer Cookbook Thirteenth Editionpp. 640; author, Marion Cunningham; publisher, Alfred A. Knopf, Inc., a division of Random House, Inc.; ISBN 0-394-56788-9.
1 cup flour
1/4 teaspoon salt
1/4 pound cold butter, in small pieces
1 egg yolk
2 tablespoons ice water (I ended up using three).
Mix flour and salt in a bowl.
Cut in the butter with a pastry cutter until mixture resembles coarse meal.
Blend until the pastry is smooth and holds together in a ball.
(This is where I added that 3rd tablespoon of ice water and it still wasn't completely smooth and was not completely holding together, but I moved on anyway.)
Wrap in plastic wrap and refrigerate for 20 minutes.
Preheat oven to 425ºF.
Pull pieces of dough from the ball and press them over the bottom and sides of the tartlet pans, using fingers.
The dough should be thick enough to hold the filling, but be careful that it is not too thick around the bottom edge or the finished tart will seem coarse.
Prick the sides and bottoms with a fork and bake unfilled for 12 minutes or until lightly golden.
Transfer to a wire rack and remove from pans to cool completely before filling.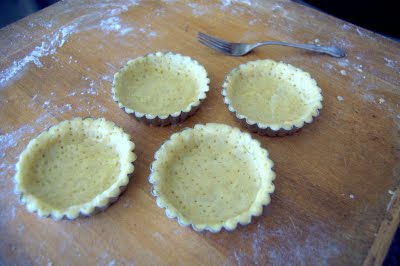 Tomato Filling
1 lb. Campari tomatoes (This variety is known for its' juiciness, high sugar level, low acidity, and lack of mealiness. They are larger than a cherry tomato, but smaller and rounder than a plum tomato.) I chose to use them thinking the nicely rounded slices would look great when placed in the tart shells, and they probably would, just don't freeze them first!
1 teaspoon fresh marjoram, chopped
2 teaspoons fresh oregano, chopped and divided
1 clove garlic, minced
1/4 teaspoon salt
freshly ground pepper
1/4 cup olive oil, divided
1/2 cup Gruyere cheese, grated
2 teaspoons Parmesan cheese, freshly grated
fresh basil for garnish, if desired
Preheat oven to 400ºF.
Prepare a rimmed baking sheet by lining it with parchment paper and spraying it generously with olive oil.
Slice tomatoes to about 1/4-inch thickness and place them on the prepared baking sheet.
Drizzle (I love that word, drizzle!) 3 tablespoons of olive oil over slices.
Sprinkle each slice with marjoram, oregano, garlic, salt and pepper.
Bake for 45-50 minutes.
Assembly
Place 1 tablespoon Gruyere cheese in bottom of each tart shell.
Cover with a layer of tomatoes.
Sprinkle remaining Gruyere over tomatoes.
Place another layer of tomatoes on top of cheese.
Divide Parmesan cheese evenly among the four tarts, covering the tomatoes.
Sprinkle with remaining oregano.
Drizzle (there's THAT word AGAIN!) each tart with olive oil.
Place tarts on a rimmed baking sheet and place into oven. This will prevent the oil from dripping onto the bottom of the oven thus saving you from a smoke fest when you open your oven door. :-/ SURPRISE!
Bake for 15-20 minutes.
Remove from pans and serve warm.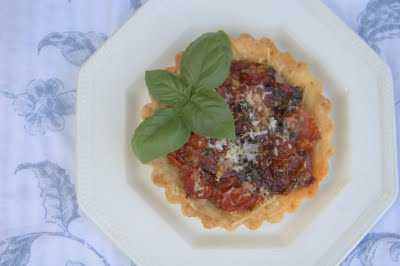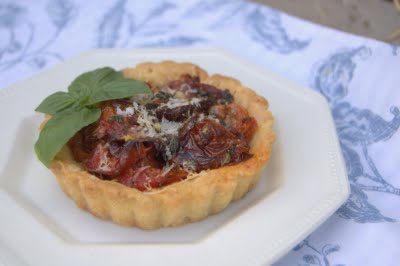 I rate everything I bake on a scale of 1-10.
WAIT, NO I DON'T!!!!
1-10??!! It's on a scale of 1-4.
And, I really have NO idea why I did it from 1-4, why not to 5?
I dunno – shoulda, coulda, woulda.
Whatever.
1 – 4, that's what it is. These Roasted Tomato Tartlets earned 2 rolling pins.
Let me tell you about this.
First, it only made TWO complete tarts. I think it may have been because I didn't actually have slices of tomatoes. Would have been much easier with slices.
I really think that if you don't freeze your tomatoes, you should have plenty for each tart.
Oh alright! We were eating some of the tomatoes after they came out of the oven, too.
OK, happy now?
GEEZ!
HAD to taste test them, of course!!
They were actually so delicious that I wanted to serve them that way in pasta with some fresh mozzarella and basil, garlic and olive oil, but…
"There was baking to be done, darn it!"
Um, what else?
Oh yeah, I didn't like the taste of the Gruyere cheese and think I'll use mozzarella next time. I know the Gruyere has a nutty taste, and have used it before in a
quiche
, with
chicken
, in the popular
macaroni & cheese
, and those dishes were all quite good.
This one, the cheese gave me a funny aftertaste.
What else? I thought there was something else.
Think, think, think.
Makes me want to watch Winnie the Pooh.
He's my favorite.
I digress. Yet again. 😉
I can't remember what else. I'm done. I'm going to bed. Night night.
Happy baking!