Alright, from the directions here this recipe looks way more complicated than it actually was.
And I may have made it sound too complicated, but if you've made a lasagna in the past, you'll know what you're doing.
I'm going to tell you before I actually give you the recipe that it was well worth it and Mr. 365 said that I could definitely make this dish again.
It was a definite winner.
Roasted Vegetable Chicken Lasagna – serves 4
roasted vegetables (to follow)
1 cup cooked chicken (I used leftover rotisserie chicken since it was already seasoned)
Bechamel Sauce (to follow)
Ricotta Filling (to follow)
8 No Bake lasagna noodles
2 cups shredded mozzarella
grated Parmesan cheese for top
Roasted Vegetables

1 Chinese eggplant
1 butternut squash, on the small side
1/4 cup olive oil
2 teaspoons fresh marjoram
2 teaspoons fresh oregano
1 clove garlic, minced
1/2 teaspoon salt
1/4 teaspoon freshly ground pepper
Preheat oven to 400ºF.
Prepare two rimmed baking sheets by lining them with parchment paper.
Peel butternut squash and cut into slices less than 1/4 inch thick and place into a large bowl.
Peel the eggplant and cut into slices 1/4 inch thick; place into bowl with squash.
Add olive oil, marjoram, oregano, garlic, salt and pepper.
Toss to coat.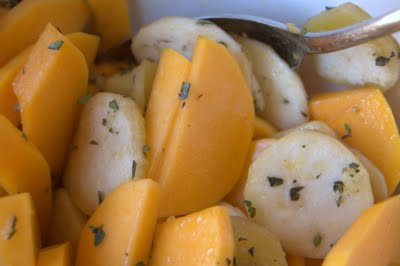 Place squash and eggplant onto prepared baking sheets.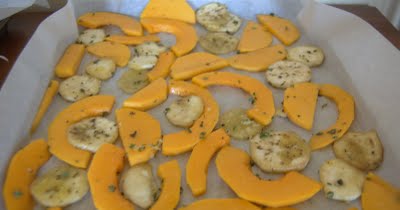 Bake for 50 minutes, stirring once about halfway through.
Make sure you to keep an eye on the eggplant because it may brown and then burn before the squash does and might need to be removed sooner.
While vegetables are roasting, prepare the…

Bechamel Sauce
3 1/2 tablespoons unsalted butter
1/4 cup plus 2 tablespoons all-purpose flour
3 cups warm whole milk
1/2 teaspoon salt, plus more to taste
1/8 teaspoon ground white pepper, plus more to taste
1/8 teaspoon freshly ground nutmeg, plus more to taste
In a 2-quart saucepan, melt the butter over medium heat.
Add the flour and whisk until smooth, about 2 minutes.
Gradually add the warm milk, whisking constantly to prevent any lumps from forming.
Simmer over medium heat, whisking constantly, until the sauce is thick, smooth and creamy, about 10 minutes (do not allow sauce to boil).
Remove from heat and stir in salt, white pepper and nutmeg.
Season the sauce with more salt, pepper, and nutmeg to taste.
If making sauce up to 3 days ahead, cool, then cover and refrigerate. Otherwise, leave in pan while assembling lasagna.
Ricotta Filling

1 egg
1 15oz. container part skim ricotta cheese
2 teaspoons parsley
1/2 cup grated Parmesan cheese
In a small bowl, beat egg.
Add ricotta cheese, parsley, and Parmesan cheese.
Mix well.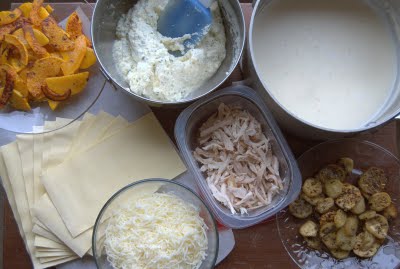 Assembly
Once vegetables are done roasting, lower oven temperature to 375ºF.
Prepare an 8 X 8-inch baking dish by coating it with cooking spray.
Pour or ladle 1/2 cup of sauce into the bottom of the baking dish.
Place two noodles on top of sauce.
Spread 1/3 of the ricotta filling over the noodles.
Arrange 1/2 of butternut squash in one layer on top of ricotta.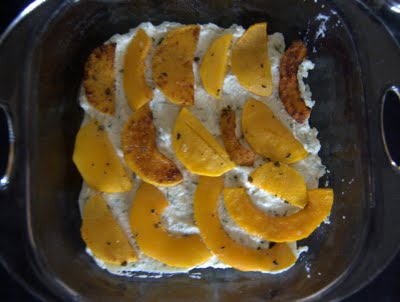 Place 1/3 of the chicken over the squash.
Ladle 1/3 cup of sauce then sprinkle with 1/4 cup mozzarella cheese.
Cover with 2 no bake noodles.
Spread 1/3 of the ricotta mixture over the noodles.
Put the eggplant in one layer over the ricotta.
Cover with 1/3 chicken and then with 1/4 cup mozzarella.
Ladle with 1/3 cup of the sauce.
Place 2 noodles, spread remaining ricotta, squash, and chicken.
Sprinkle with 1/4 cup mozzarella.
Add another 1/3 cup of Bechamel.
Place remaining 2 noodles in dish.
Cover with remaining sauce, mozzarella and sprinkle with grated Parmesan cheese.
Bake for 45-50 minutes until golden and bubbly.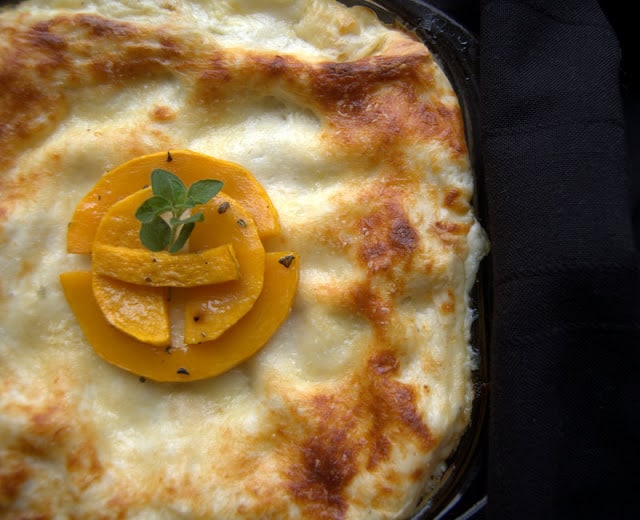 I rate everything I bake on a scale of 1-4 with 4 being the best and this Roasted Vegetable Chicken Lasagna earned 3 1/2 rolling pins.
It was quite delicious and the flavors from the roasted veggies, the chicken, and the sauce were incredible .
Everything came together very nicely.
And it reminded me of butternut squash ravioli I've had at restaurants in the past.
As I said, I may have made this sound more complicated than it really was, but it was well worth it and I definitely recommend that you give it a try.
Also, it doesn't matter if while assembling you don't put enough sauce/chicken/squash or ricotta in the layers because while it bakes, it all comes together quite nicely.
You won't even be able to tell when you're eating it that there's more or less of one thing somewhere.
Good grief, I feel like I rambled in this recipe.
Seriously, if you have any questions, don't hesitate to comment or e-mail me at lafbaker@gmail.com. I'll be happy to help you out with it in any way that I can.
To save yourself some time, I think you could use a jar of the pre-made Alfredo sauce and it would turn out just as good.
Seriously, give this a shot. I really don't think you'll be disappointed.
Oh, and I did only use about 1/2 of the total squash that I roasted. The other half we were snacking on as I was making dinner. It was THAT good! I had planned on making a roasted butternut squash soup with it, but that will have to be done another time.
Thank you all for reading!
Happy baking!