Here at the 365 household we love chocolate chip cookies.
Here at the 365 household we love Oreo cookies, too, black or white!
And they BOTH go so well with a BIG glass of COLD milk!
Well, of course you'd drink it cold, room temperature just wouldn't do it I don't think.
Blech.
When I came home from my mini-vacation the beginning of August, these were sitting on our kitchen counter!!
No, not the galette, the cookies, silly!
My oldest daughter had made them and they were HUGE!! It was like you had to cut the cookie in half to eat it because they were SO huge and filling. And it goes without saying that they were absolutely delicious!
So today I decided to modify them and make them the size of a regular chocolate chip cookie.
Adapted from The Fannie Farmer Cookbook Thirteenth Edition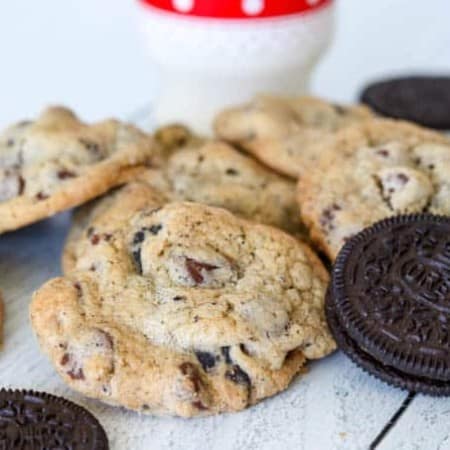 Oreo Chocolate Chip Cookies
These Oreo Chocolate Chip Cookies combining two long time favorites - Oreos and Chocolate Chip Cookies are delicious alone, but even better dunked in milk!




Ingredients
1 cup flour
½ teaspoon baking soda
½ teaspoon salt
¼ cup unsalted butter room temperature
¼ cup shortening
¼ cup granulated sugar
⅓ cup packed light brown sugar
1 teaspoon vanilla
1 egg
1 cup semi-sweet chocolate chips
3.5 ounces mini Oreos about 1 cup
Instructions
Preheat oven to 350 degrees F.

Place Oreos in a plastic bag and coarsely crush.

Sift flour with baking soda and salt; set aside.

Cream butter and shortening together. Add both sugars and vanilla, and beat until light and fluffy, about two minutes.

Beat in egg until incorporated.

Mix in dry ingredients.

Add chocolate chips and Oreos and mix until combined.

Drop by rounded tablespoonfuls onto baking sheet about 2 inches apart.

Bake for 10-12 minutes or until edges are lightly golden.

Transfer to a wire rack immediately to cool. Store in an airtight container.
Nutrition
Serving: 1g | Calories: 112kcal | Carbohydrates: 13g | Protein: 1g | Fat: 6g | Saturated Fat: 3g | Cholesterol: 10mg | Sodium: 76mg | Potassium: 51mg | Fiber: 1g | Sugar: 8g | Vitamin A: 58IU | Calcium: 8mg | Iron: 1mg
Did you make this recipe?
Share it with me on Instagram and make sure to follow me on Pinterest for more recipes.
I rate everything I bake on a scale of 1-4 with 4 being the best and these Chocolate Chip Oreo Cookies earned 3 1/2 rolling pins.
I believe the recipe made between 3 and 4 dozen and there's less than 1/2 that left.
It was great because you could taste Oreo in every bite and then Oreo AND chocolate chips in others.
My only reason for not giving them 4 rolling pins was that they were much flatter than I wanted them to be.
Next time I think I'll add a teaspoon of baking powder and add another 1/2 cup of chocolate chips for more chocolate OR I use the Toll House Cookie recipe we all love so much.
I also think I'll leave the mini Oreos whole and see how they are that way.
The fun part of cooking and baking is the experimenting! It can also be the most frustrating part, but these cookies turned out really well.
They were delicious, enjoy them!
Happy Baking!
Reader Interactions