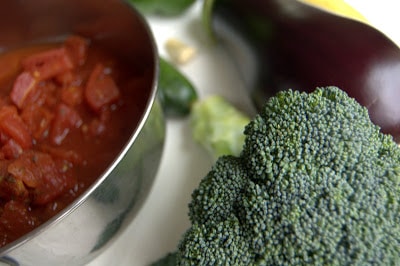 My daughter, who is now eating healthier, requested that we have more vegetables in the house.
My first thought for dinner tonight was ratatouille. No silly, not the movie, the actual dish.
But knowing I have a fourteen year old son who probably won't eat a dinner made completely of vegetables and who would eat pasta every day of his life if he could, I decided to please everyone and bake a dish with both.
What about pleasing Mr. 365, you ask? Don't worry, he's good eating just about anything I put in front of him, so he's the least of my worries.
I made enough to feed a small army tonight, but no worries, some of us will be eating it for lunch tomorrow (not the son who has his daily staple of Fluffernutters (peanut butter and marshmallow fluff).
Baked Orzo Ratatouille – serves 8-10
1 green pepper, coarsely chopped
1 bunch broccoli, chopped
1 small eggplant, peeled and diced
1 small zucchini, sliced thin
1 small yellow squash, sliced thin
1 cup onion, chopped
1 clove garlic, minced
1 tablespoon fresh oregano, chopped
2 teaspoons fresh thyme, chopped
2 teaspoons fresh basil, chopped
2 tablespoons olive oil
2 14.5 oz. cans tomatoes (I used ones seasoned with garlic, basil and olive oil)
1/2 teaspoon salt
1/4 teaspoon freshly ground pepper
1/2 lb. orzo pasta
2 cups shredded mozzarella cheese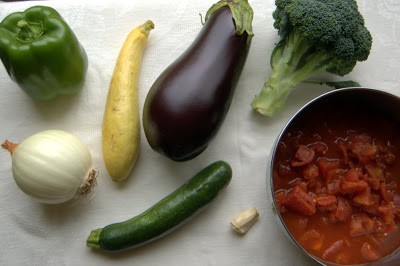 Preheat oven to 350ºF.
Prepare a 9 X 13-inch baking dish by spraying it with cooking spray.
In a large bowl, combine green pepper, broccoli, eggplant, zucchini, yellow squash, onion, garlic, oregano, thyme, and basil. Mix well.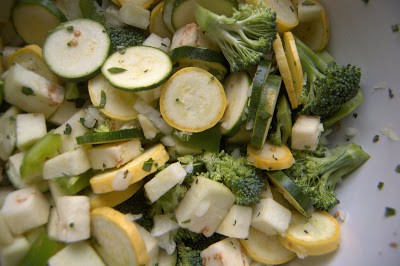 Place orzo in pot of boiling water and cook two minutes less than directed on package. Pasta will continue to cook in oven. Drain and set aside.
In a large skillet over medium-high heat, pour olive oil.
Add vegetables and sautée for 10 minutes.
Put tomatoes, salt and ground pepper into skillet and stir. Cook for 5 minutes.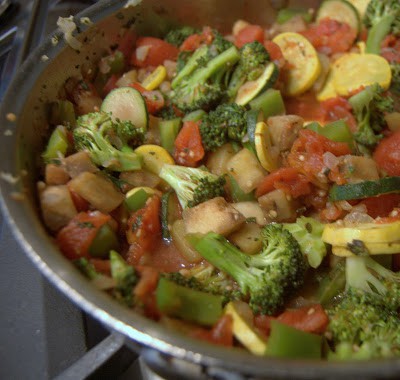 The eggplant will brown, but not a problem. Don't freak out on me.
It's ALL good!
Pour orzo into skillet and thoroughly combine.
Transfer mixture to prepared baking dish.
Sprinkle mozzarella entirely over top.
Bake for 20 minutes.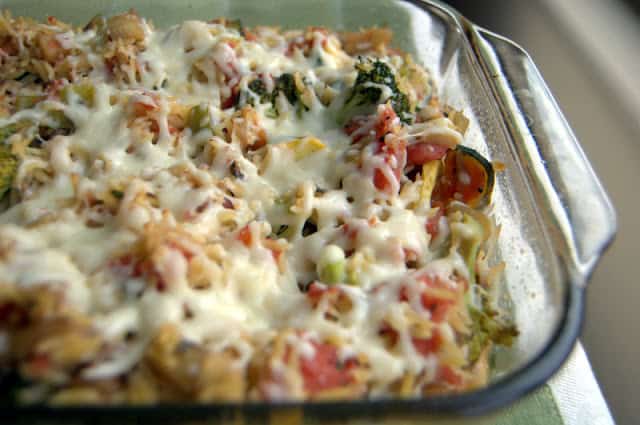 I almost served this from the skillet because I was thinking it probably didn't need to be baked.
BUT…
This is a baking blog, so that's what I do, I bake.
You could serve this either way though, from the skillet or from the oven.
I was glad I baked it because I really liked the addition of the mozzarella on the top, but you could put that on in the skillet, too and just let it melt.
I only baked it for 20 minutes because I wasn't sure if it would dry out being left in any longer.
Penne is the pasta of choice for the 365 men, but if I had used that I never would have been able to fit everything in the skillet and completely mix it.
I made much more food than I thought, hence the 9 X 13-inch pan, but I had really wanted to use an 8 X 8. Just thought we wouldn't eat it all and would have too much left over.
No worries though. This dinner was really good and the orzo was a nice addition, especially since I had never used it before.
I rate everything I bake on a scale of 1-4 with 4 being the best and this Baked Ratatouille Orzo earned 3 rolling pins.
It was a healthy meal with a hearty dose of vegetables.
The flavors of the herbs and the veggies combined quite nicely and I thought the orzo was the perfect pasta choice. Of course, the men didn't agree, but I think if I'd used penne, it may have been too dry and blah. The orzo was soft and just moist enough.
I will definitely be making this again, but to feed only four people, I'll cut back on the amount. Yet everything tasted so good together that I really have no idea what I'd leave out and I hate to use just 1/2 of a zucchini or 1/2 of a yellow squash. We'll see what I come up with.
Happy baking!