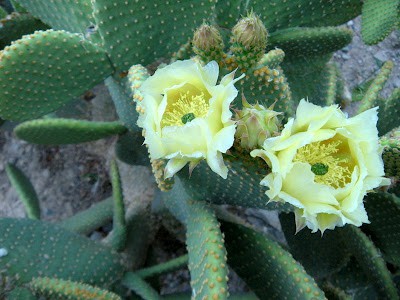 I thought I'd share the beautiful flowers that are blooming on one of our cacti in our backyard.
So pretty, isn't it?
Yes, that's the clearest picture you'll see on this post here today because apparently, I just keep taking blurry pictures of FOOD!
Yes, I'm yelling. I'm selling. I REALLY the camera I had been using, my daughter's Nikon D40.
It's back at Nikon waiting for me to give them the go-ahead on a $275 repair to fix the shutter release.
I don't know whether it's better to put that money towards a new camera or get that one fixed. My fear is that they'll fix it again and it will have to be repaired for the same thing sometime down the line.
Ok, I don't want to bore you with my camera saga.
Instead, let us go over a side dish that I created for dinner last night.
And no, it wasn't nearly as mouth-watering as that unbelievable shredded chicken sandwich I recently ate.
Man, I think I could eat one of those every day for the rest of my life!
With a good dose of chocolate each day, of course.
Mushroom & Onion Stuffed Zucchini – serves 6
3 medium zucchini (I chose ones that were on the smaller side of medium since we aren't big eaters.)
2 tablespoons butter
6 button mushrooms, diced
1 large clove garlic, minced
1/4 cup chopped onion
1/4 cup grated Parmesan cheese
1/4 cup Italian style seasoned bread crumbs
1/2 teaspoon Cajun seasoning
Preheat oven to 350 degrees F. Prepare a 9 X 13-inch baking dish by spraying it with cooking spray.
Bring a large pot of salted water to a boil.
Rinse zucchini and cut ends off.
Place in boiling water to cook for 5 minutes. Drain and cool enough so that they can be handled.
Cut each zucchini in half lengthwise.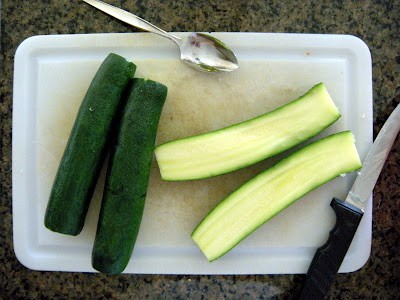 Scoop out the pulp, leaving a sturdy shell; chop and reserve the pulp.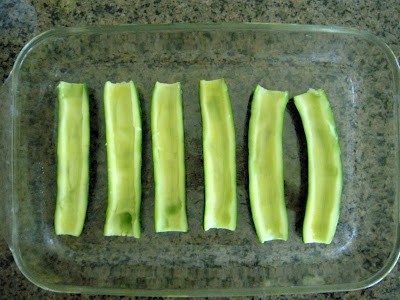 In a large skillet over medium-high heat, melt butter.
Add garlic, onion, mushrooms and zucchini pulp. Cook for about 5-7 minutes until tender.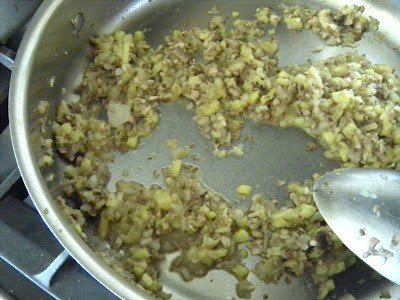 In a small bowl, mix together the Parmesan cheese, bread crumbs, and Cajun seasoning.
Add contents of skillet and thoroughly combine.
Place stuffing into each zucchini half.
Place into prepared baking dish.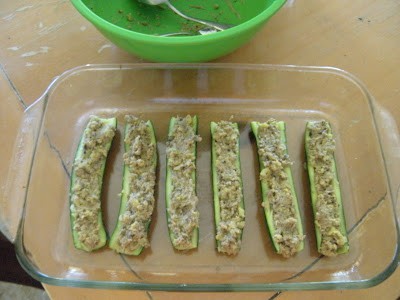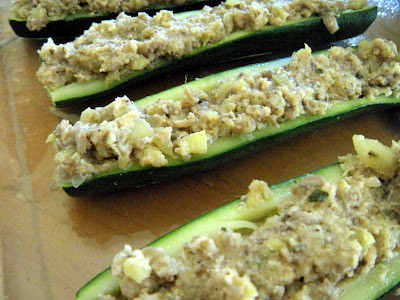 Bake for 30 minutes.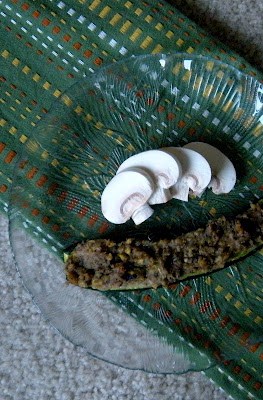 I rate everything I bake on a scale of 1-4 with 4 being the best and these Mushroom & Onion Stuffed Zucchini earned 2 1/2 rolling pins.
They were ok, they just really weren't anything to "write home about".
The Cajun seasoning was a nice addition and gave it that extra little kick.
I don't think I'd make them again because if I were to have zucchini as a side, I'd rather make the Parmesan Crusted Zucchini Sticks.
Yeah, those I need to make very soon. They were delicious and it's been too long since we've had them.
My problem is that as I used to make the same recipes for dinner week in and week out, I now find myself making the same side dishes like steamed broccoli, salad, steamed peas, carrot sticks and cucumbers, and steamed broccoli.
Yes, we eat a lot of steamed broccoli. It's good for us, but it gets old after a while since I keep preparing it the same way.
It's time for new side dish creations!
As I did with the 365 endeavor, I am going to continue to post recipes that may not work, so you can still see what I'm doing here in the kitchen.
I've heard various comments that some people view it as a challenge to take some of the recipes that I haven't had success with and recreate them. I say, go for it!
Besides, what I may rate as a 2 may be someone else's 4, and vice versa.
That's what makes everyone so great, we all have different tastes and views. Life would be boring otherwise!
I give you BIG baking hugs and muffins!