Chocolate Peanut Butter Rice Krispie Treats are a decadent take on a classic rice cereal dessert. You'll love the rich chocolate, creamy peanut butter and crispy texture in every bite!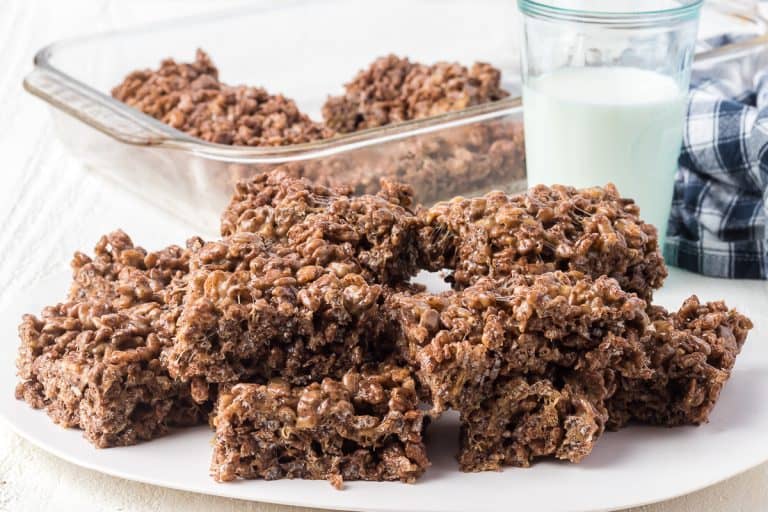 Who can resist a rice krispie treat? The gooey marshmallow ribbons, crisp bite of the cereal and sweet buttery taste bring back childhood memories of bake sales, school parties and sleepovers.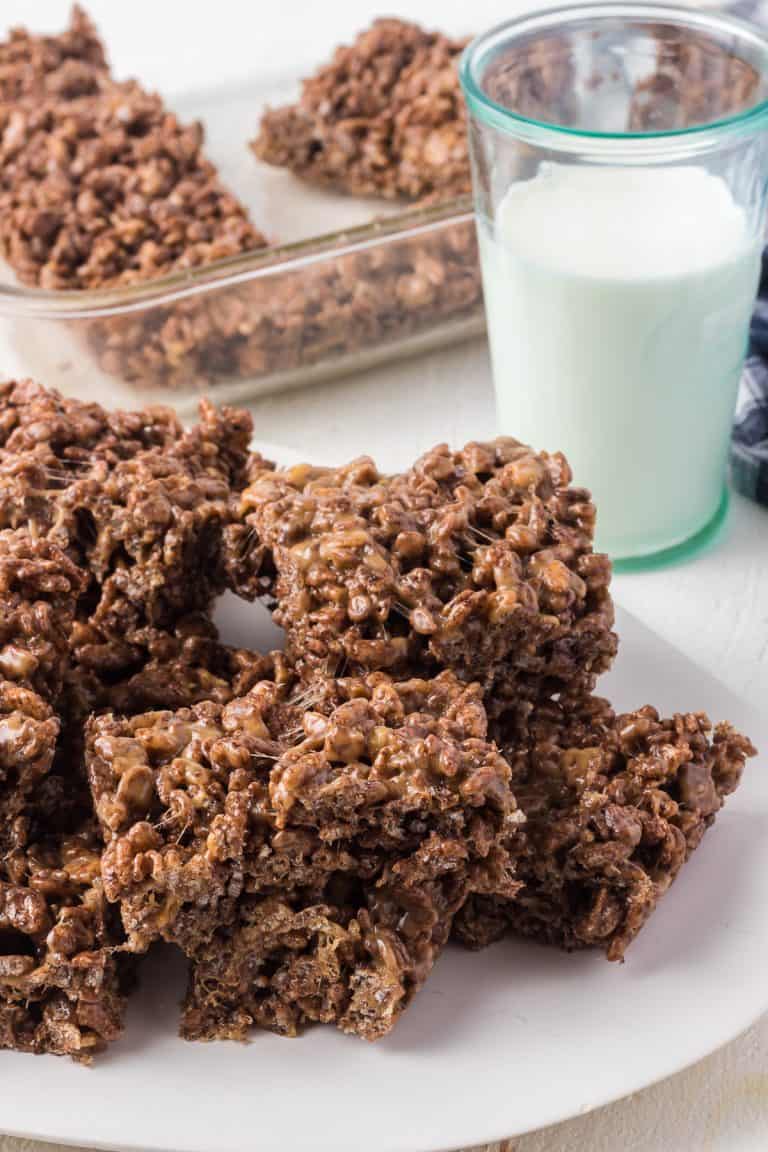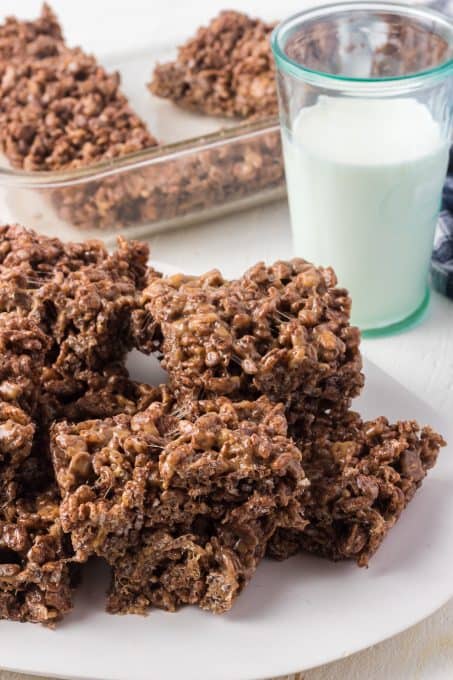 Once you know the basic formula for rice krispie treats — marshmallows, cereal, butter — you can use them as a blank canvas for all kinds of creations. The simplicity of krispie treats means they pair well with dozens of mix-ins, flavor additions and toppings. They're like the vanilla ice cream of the dessert bar world in that way.
If you liked my Reese's Peanut Butter Rice Krispies Treats, there's more where that came from. These Chocolate Peanut Butter Rice Krispie Treats are even easier to make with MORE chocolatey goodness.
Why You'll Love This Recipe
Only 4 ingredients needed!
10 minutes of prep time.
NO corn syrup!
Rich chocolate and nutty peanut butter flavor.
Perfect blend of crisp cereal and soft, gooey marshmallow.
Ready to make a batch of the best chocolate krispie treats ever? Let's go!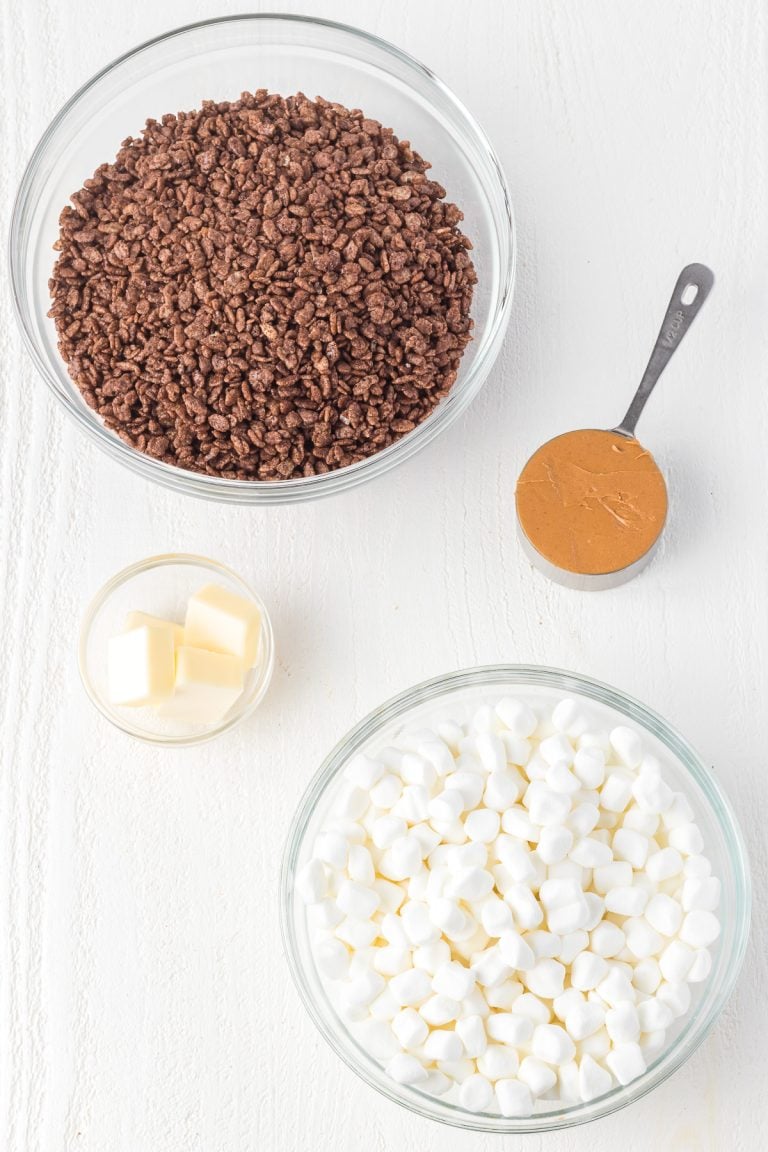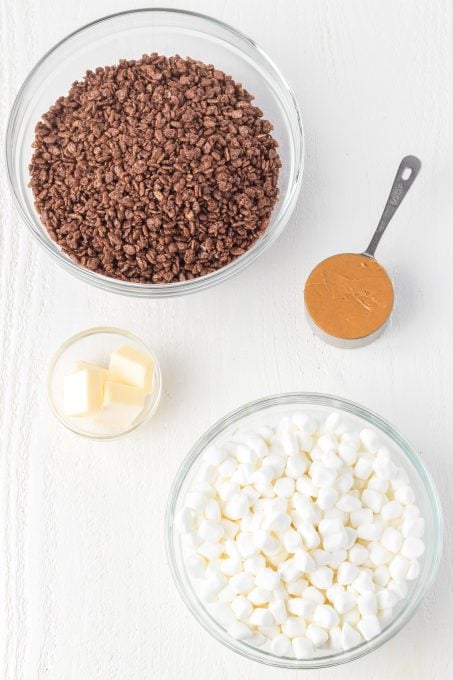 What ingredients do I need for chocolate rice krispie treats?
We keep things simple with this recipe. All you need are:
Cocoa Rice Krispies cereal
Creamy peanut butter
Mini marshmallows
Unsalted butter
The peanut butter serves two purposes in this recipe. Most importantly, it adds that irresistible sweet peanut flavor we love. It also helps bind the other ingredients together eliminating the need for corn syrup used in most recipes!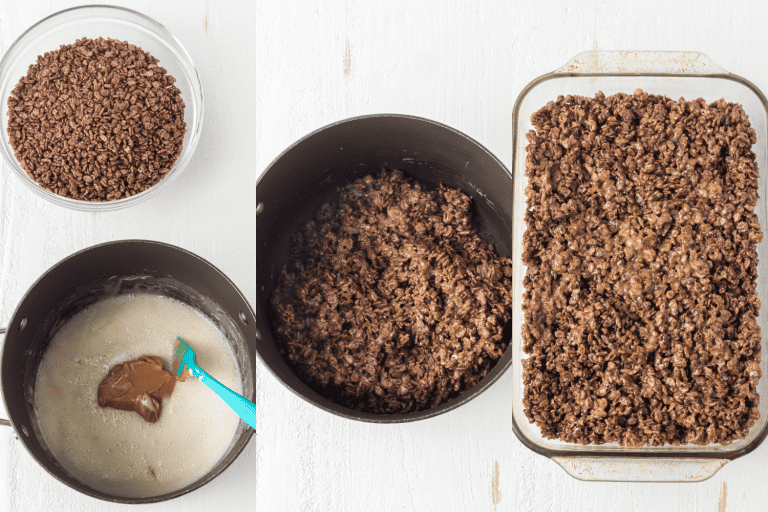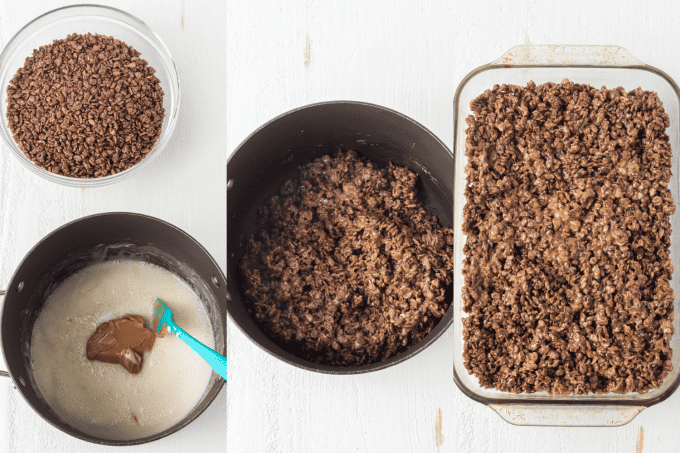 How do I make peanut butter rice krispie treats?
This recipe follows the process used for almost all rice krispie treat recipes.
Melt the butter and marshmallows together.
Mix in peanut butter and rice cereal.
Press mixture into a greased pan.
Let cool until firm, then cut into bars!
It's a simple method that just about anyone can follow with success. However, I have messed up my fair share of cereal dessert bars over the years, when I wasn't being careful. Learn from my mistakes and read on for my BEST tips on making memorably good rice krispie treats!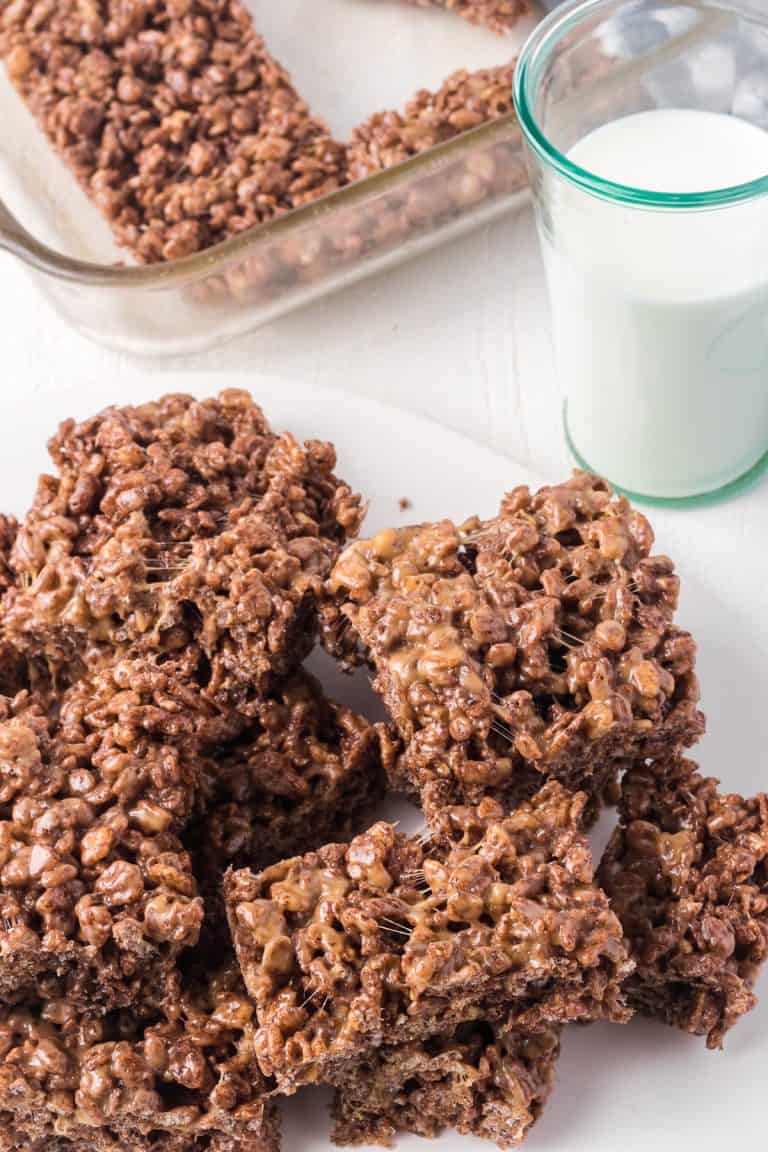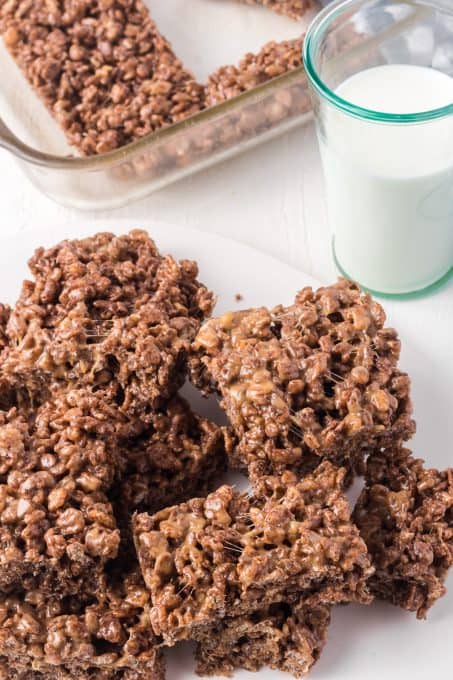 How do I keep rice krispie treats soft?
Have you ever bitten into a rice krispie treat only to find out it's solid as a rock? To avoid that tooth breaking texture, make sure to PRESS SOFTLY when you add the mixture to the pan. The harder you press, the denser and firmer the bars will set.
Use the flat side of a greased spatula and press gently for bars that hold together but keep a perfectly chewy consistency.
Why are my krispie treats sticking?
Chocolate peanut butter rice krispie treats are sticky. There's no way around it. You CAN keep them from sticking to the pan by using plenty of baking spray. Spray the pan generously before making the rice cereal mixture. Don't skimp!
If you don't have baking spray, use the butter wrapper method. Take the paper wrapper of your butter stick and rub the inside all around the bottom and sides of the pan. For an extra layer of "stick" protection, line the bottom of your pan with parchment paper, too. Spray the parchment paper with baking spray and your treats will slide right out.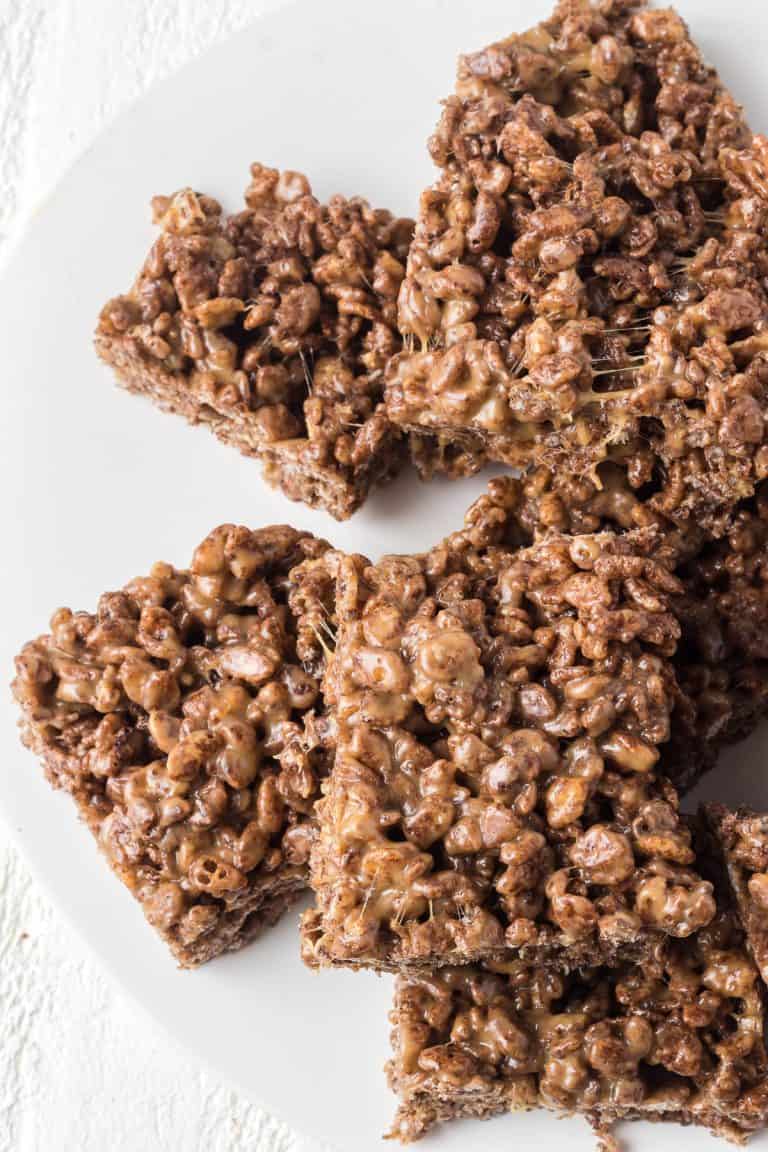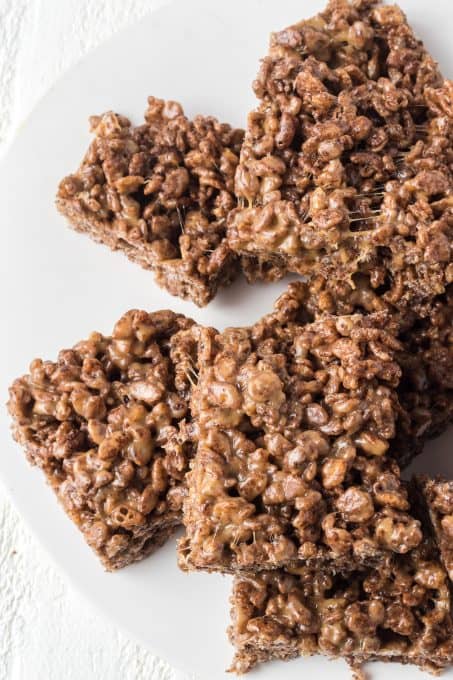 Can I make these treats with other kinds of cereal?
You can absolutely use other chocolate cereals in place of the cocoa rice krispies. Cocoa puffs and chocolate cheerios would both work to maintain that chocolatey taste. The texture will be different depending on what kind of cereal you use.
If you don't want the chocolate flavor, just use plain rice krispie treats. I can't imagine NOT wanting chocolate, but to each their own.
Rice Krispie Treat Variations
Why did rice krispie treats became the default dessert for kid events? It's a no brainer: You can feed a crowd with one full sheet pan, they take almost no time to prepare and, most importantly, almost everyone loves them! There will never be a time when a tray of rice krispie treats will go unappreciated.
Add a little variety to the rice krispies routine with these Lemon Meringue Rice Krispie Treats! Classic rice krispie treats topped with lemon curd and fluffy meringue are heaven on earth. These Cinnamon Rice Krispies Treats have a sweet, warm flavor similar to snickerdoodle cookies or churros!
We have a rice krispie treat recipe perfect for every holiday. Grab a cookie cutter and try these Patriotic Rice Krispie Treat Stars next 4th of July. When Halloween rolls around, a plate of Frankenstein Rice Krispies Treats brings spooky sweetness to the party! Oreo Peppermint Rice Krispies Treats are my number one rice krispie treat pick for the holiday season!
Need a healthier option? No-Bake Rice Krispies Granola Bars are made with orange blossom honey, hearty oats and protein-packed peanut butter! We love them for a quick snack on the road or an easy morning treat.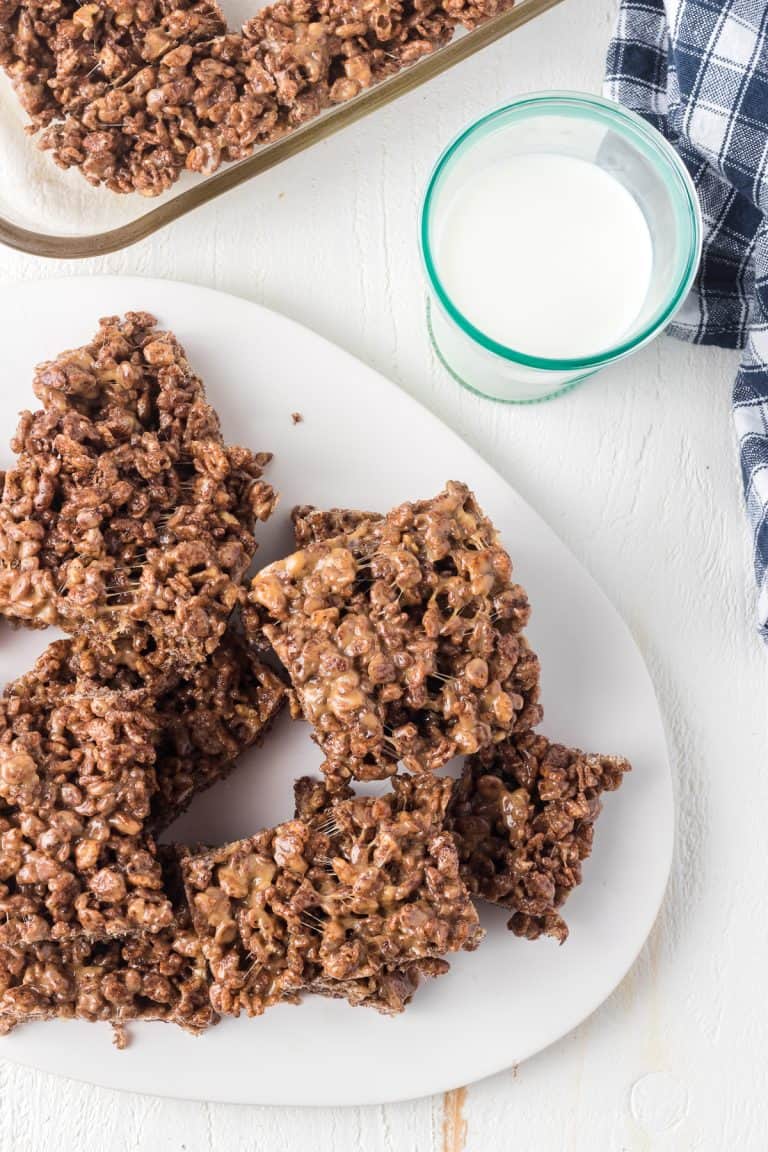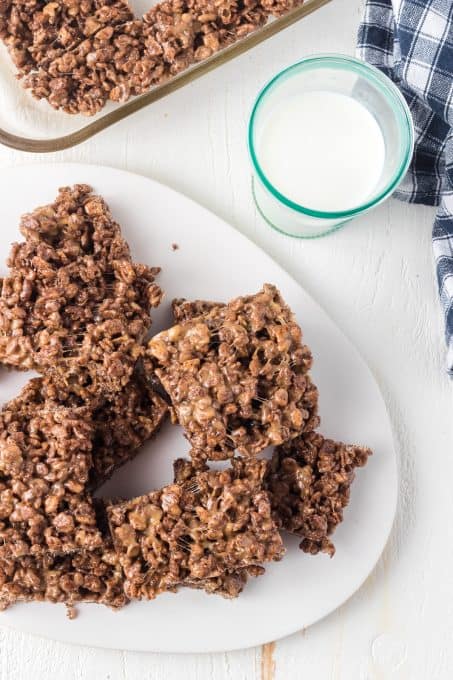 Chocolate and Peanut Butter Dessert Ideas
Satisfy your peanut butter chocolate cravings with more easy, mouthwatering dessert recipes featuring those two star ingredients.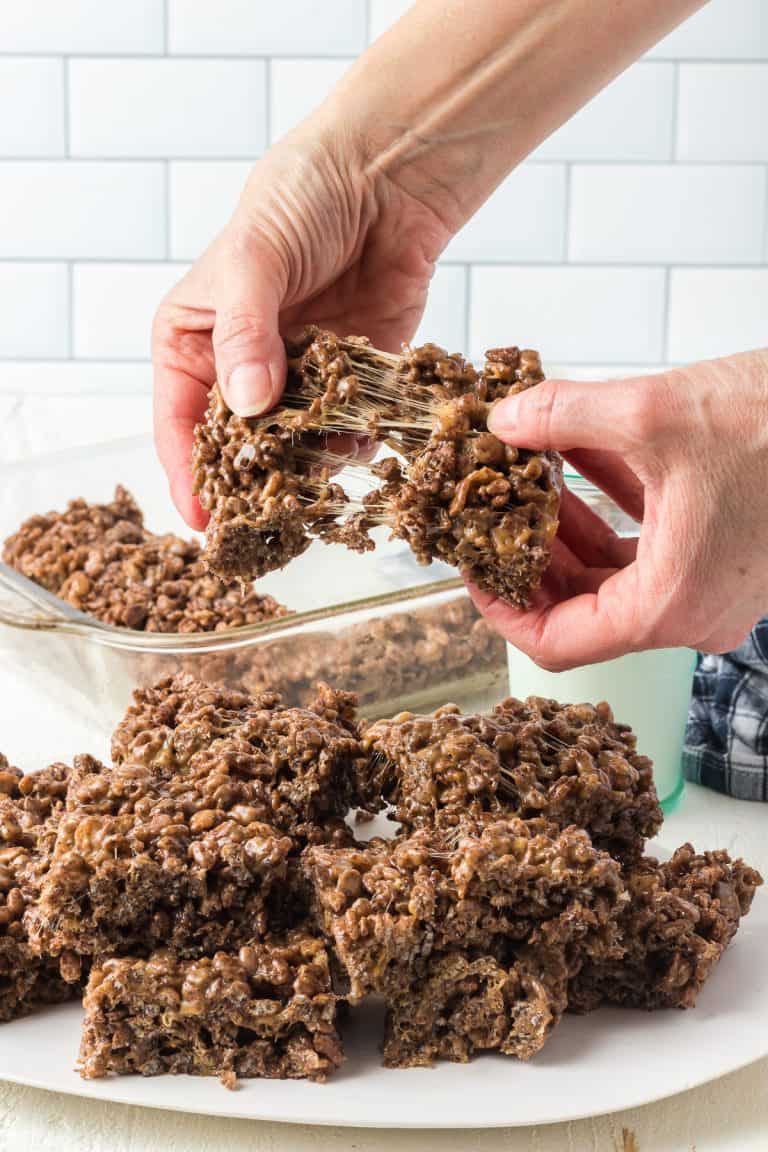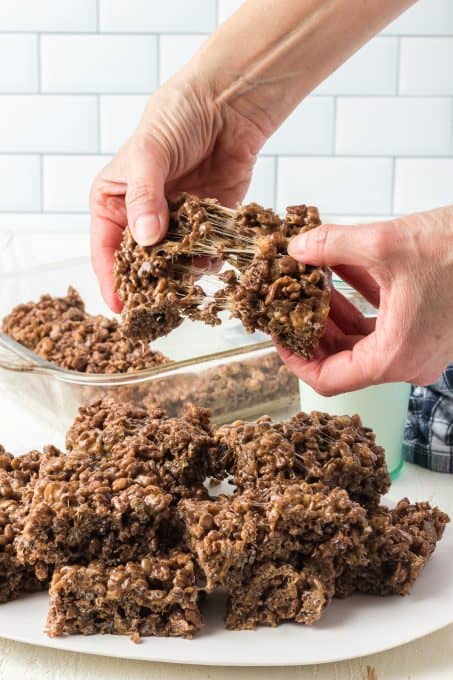 ~ FOLLOW ME ~
Keep an eye out for more of my easy recipes each week!
What's your favorite chocolate and peanut butter dessert? These Chocolate and Peanut Butter Rice Krispie Treats deserve spot on the top of your list!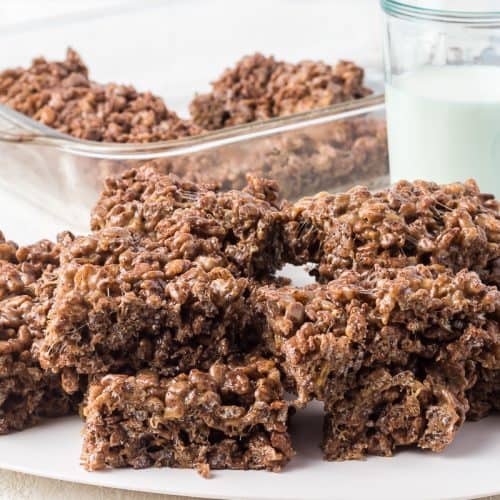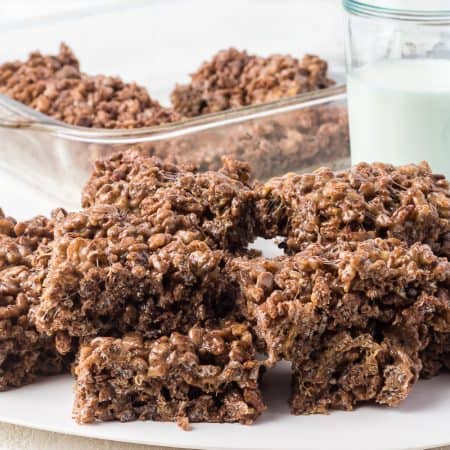 Chocolate Peanut Butter Rice Krispie Treats
Chocolate Peanut Butter Rice Krispie Treats are a decadent take on a classic rice cereal dessert. You'll love the rich chocolate, creamy peanut butter and crispy texture in every bite!
Ingredients
¼ cup unsalted butter
10.5 ounces mini marshmallows
½ cup creamy peanut butter
6 cups Cocoa Rice Krispies cereal
Instructions
Prepare a 9 X 13-inch baking dish by spraying it with cooking spray.

In a large non-stick pot over medium heat melt the butter. Add marshmallows and stir until melted.

Remove from heat and add the peanut butter, stirring constantly until it has melted and is thoroughly mixed.

Add the Cocoa Rice Krispies and mix completely.

Pour contents into the prepared pan and spread evenly with a greased rubber spatula.

Allow bars to cool completely before cutting, about an hour.
Nutrition
Serving: 1serving | Calories: 133kcal | Carbohydrates: 26g | Protein: 1g | Fat: 3g | Saturated Fat: 2g | Polyunsaturated Fat: 0.2g | Monounsaturated Fat: 1g | Trans Fat: 0.1g | Cholesterol: 8mg | Sodium: 75mg | Potassium: 16mg | Fiber: 0.1g | Sugar: 13g | Vitamin A: 840IU | Vitamin C: 7mg | Calcium: 2mg | Iron: 3mg
Did you make this recipe?
Share it with me on Instagram and make sure to follow me on Pinterest for more recipes.
Reader Interactions