Churro Cream Puffs – a simple Pâte à Choux filled with a sweetened cinnamon whipped cream and sprinkled with some cinnamon sugar to top them off. Your guests will think you spent hours creating this easy and gorgeous dessert.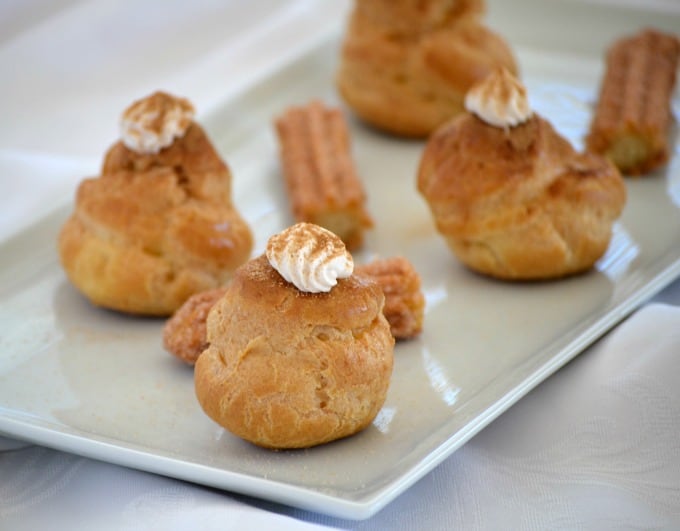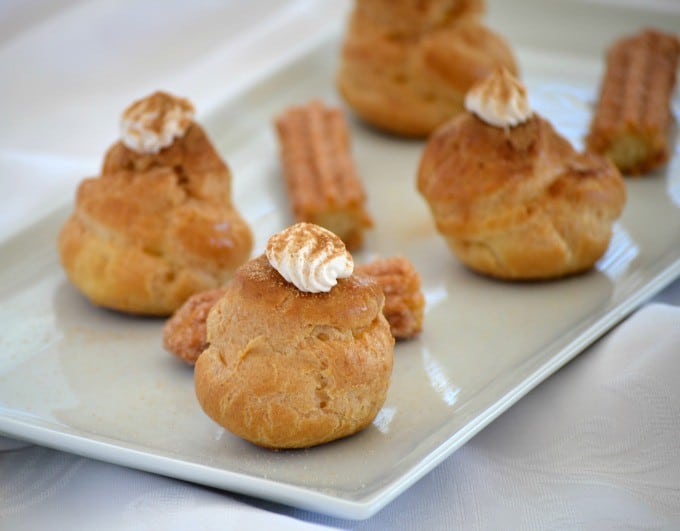 French desserts are one of my favorite things to eat.
Ok, I'm not gonna lie.
I'll eat most any dessert. I'm not partial.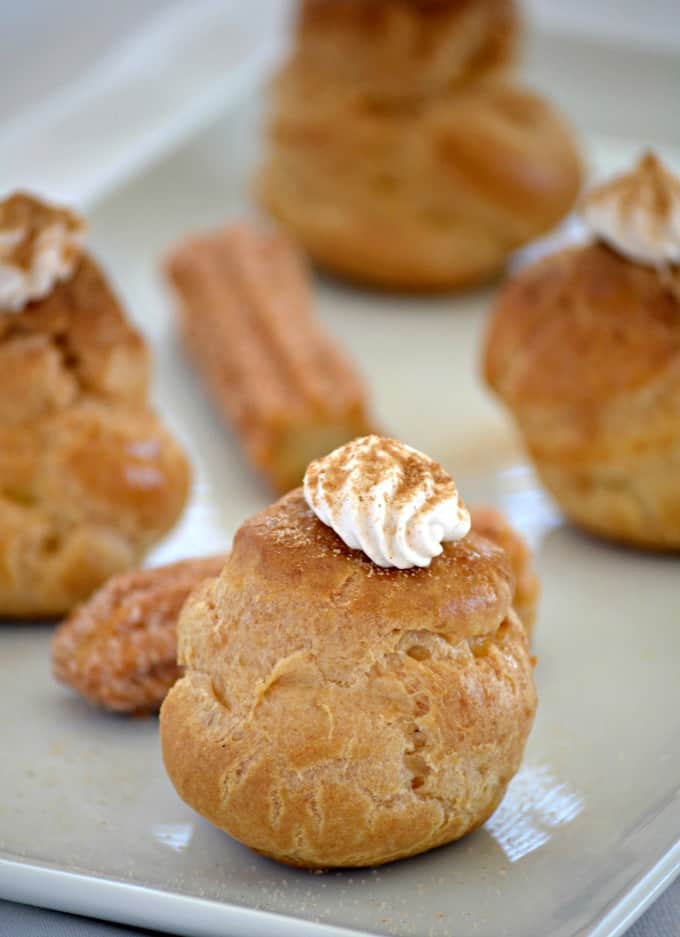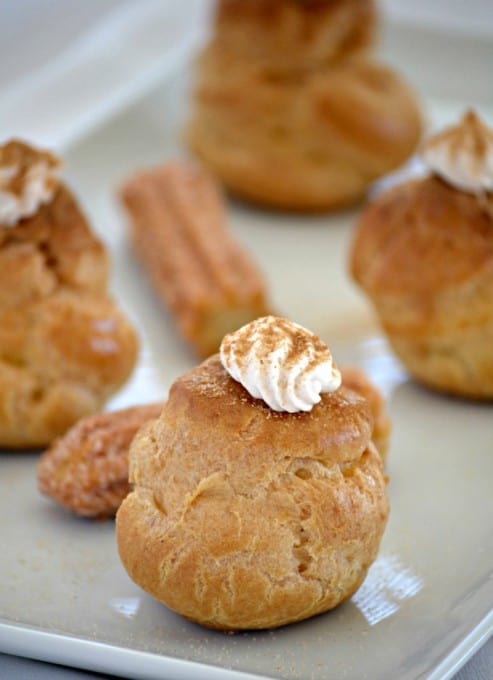 BUT the French really do have it going on when it comes to food. And those pastries??
YOWZA!
Staying in to watch a movie? Here's some delicious Cinnamon Sugar Popcorn to make for your date night!

Now with the help of my wonderful friend, Barbara from Barbara Bakes and Pressure Cooking Today you can make your very own cream puffs, éclairs, and profiteroles right at home! Barbara has come out with a wonderful new cookbook called Simply Sweet Dream Puffs.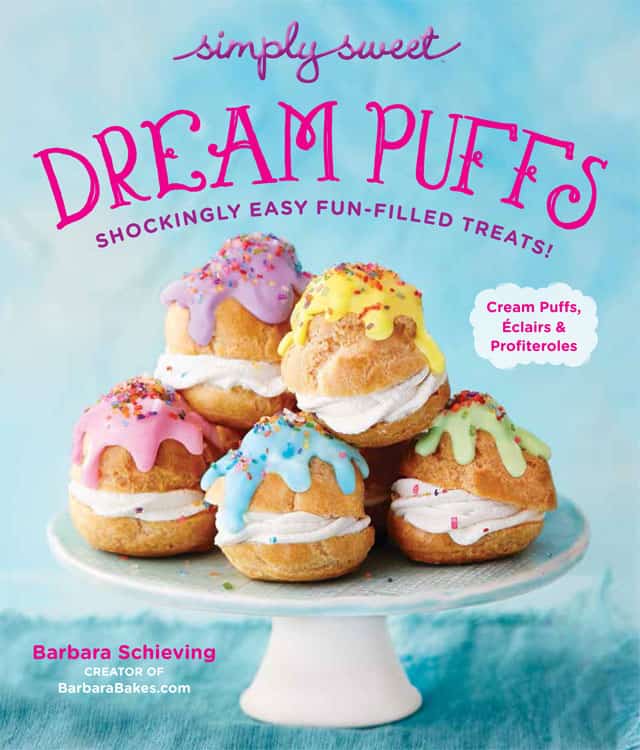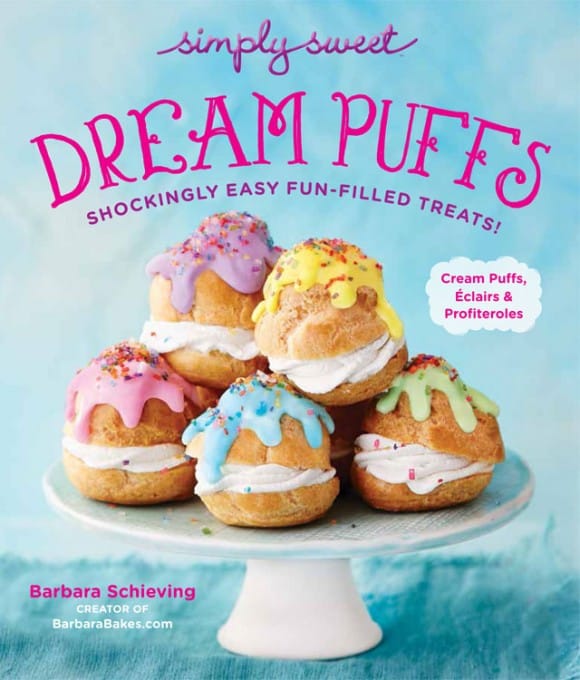 In this book, Barbara gives you delicious and easy recipes, step-by-step instructions with pictures, notes on the items and ingredients you'll need to make them and she's even included a troubleshooting guide!
I love that there are so many different variations of each dessert. I've always thought of cream puffs, éclairs and profiteroles as having the one standard filling, never did I think outside the box.
Barbara has so many wonderful recipes that I can't wait to make them all, especially the Lemon Meringue Éclairs and the Peanut Butter Cup Cream Puffs. They all sound SO delicious!
And the great thing is, you don't need to be intimidated. Making a Pâte à Choux is much easier than you think and in addition to the simple instructions, Barbara also has a video. Just when you didn't think things could get any easier, she has templates included in the book to help you pipe them to the right size. This woman thought of everything!!
When I saw the Churro Cream Puffs in the book, I knew I just had to make them since my son loves Churros.
I've made cream puffs before and each time I make them, I remember how easy they are and wonder why I don't make them more often. Seriously.
Now that I have different recipes, I can't wait to make them for family and friends!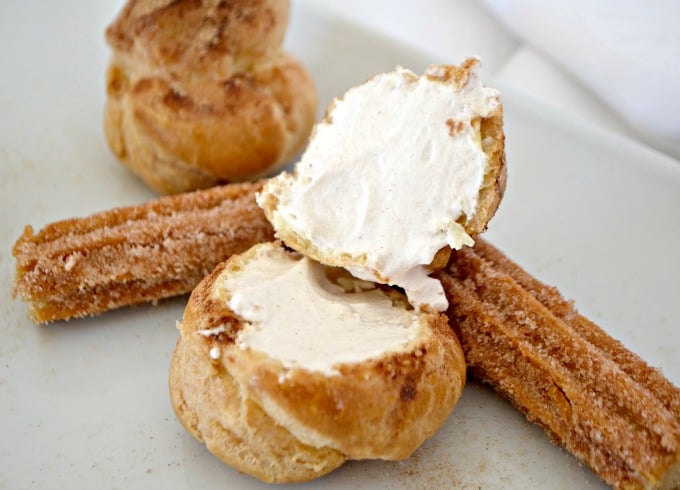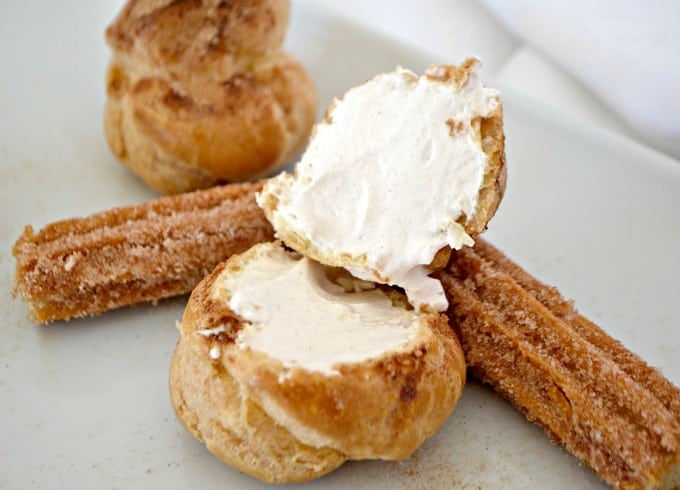 You can go here to order Barbara's ebook. It will make a great Valentine's Day gift or present for Mom on Mother's Day!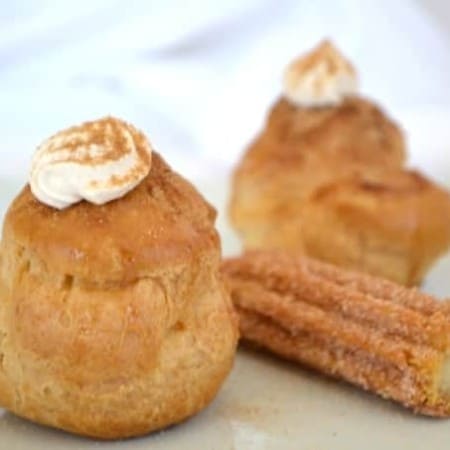 These Churro Cream Puffs are a simple Pâte à Choux filled with a sweetened cinnamon whipped cream and sprinkled with some cinnamon sugar to top them off.
Ingredients
Churro Cream Puffs
2 tsp. ground cinnamon divided
1 Tbsp. granulated sugar
2 Tbsp. honey
one recipe for Simple Pâte à Choux See Below
1 ½ cups heavy cream
Pinch of table salt
⅓ cup powdered sugar
Simple Pâte à Choux
¾ cup all-purpose flour
6 Tbsp. unsalted butter cut into 6 pieces
1 tsp. sugar
¼ tsp. table salt
4 large eggs at room temperature, divided
Instructions
Simple Pâte à Choux
Preheat oven to 425°. Lightly grease or line baking sheets with parchment paper. Measure flour and set aside.

Bring butter, sugar, salt, and 3/4 cup water to a boil in a large saucepan over medium-high heat, stirring occasionally. Immediately remove from heat, and quickly stir in flour all at once. Return to heat, and stir with a wooden spoon for 1 to 2 minutes, or until dough is smooth and forms a ball. Transfer dough to the bowl of an electric mixer, and let cool 5 minutes.

Add 3 eggs, 1 at a time, beating until mixture is smooth and glossy. Spoon dough into a pastry bag fitted with a tip. (Use a 5/8-inch plain tip)

Pipe dough onto prepared pans into 11/2-inch rounds (11/2 inches high). Smooth out peaks and round tops with a moistened finger.

Whisk together remaining 1 egg and 1 tsp. water. Brush tops of dough with egg mixture.

Bake at 425° for 5 minutes; reduce oven temperature to 375°, and bake 30 minutes or until puffy and golden brown. Turn oven off; let shells stand in closed oven 10 minutes.

Remove from baking sheets to wire racks, and cool completely.
Churro Cream Puffs
Preheat oven to 350°. Combine 1 tsp. cinnamon and granulated sugar in a small bowl. Set aside.

Microwave honey in a small microwave-safe bowl at HIGH 20 seconds or just until it starts to boil. Brush tops of cream puffs with honey, and sprinkle with cinnamon-sugar mixture. Place cream puffs in a single layer on a parchment paper–lined baking sheet. Bake at 350° for 5 minutes. Let stand 30 minutes.

Whisk together cream and salt in a large bowl. Beat cream mixture at medium-high speed with an electric mixer until foamy; gradually add powdered sugar and remaining 1 tsp. cinnamon, and beat until stiff peaks form. Cover and chill until ready to serve.

Spoon whipped cream into a pastry bag fitted with a small round tip. Pierce the top of each cream puff with a knife to create a small hole. Insert the pastry tip, and fill with whipped cream.

Excerpt From: Barbara Schieving. "Simply Sweet Dream Puffs." iBooks. https://itun.es/us/4cMo9.l
Did you make this recipe?
Share it with me on Instagram and make sure to follow me on Pinterest for more recipes.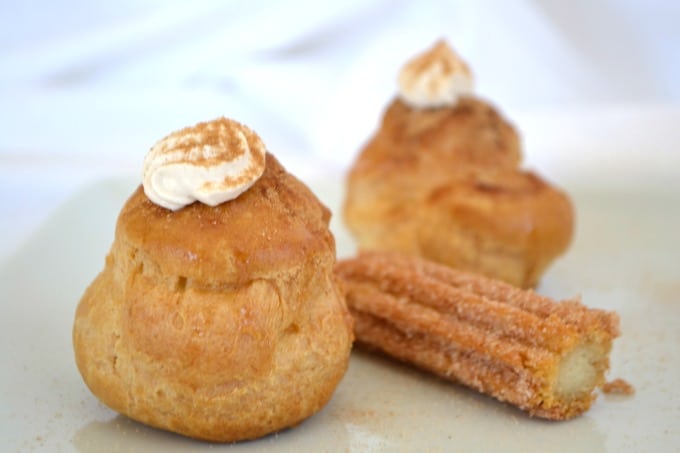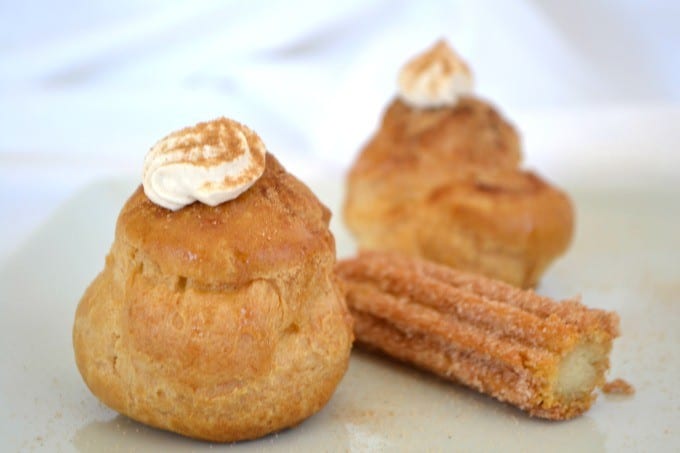 If you like this Churro Cream Puff recipe, then you'll love…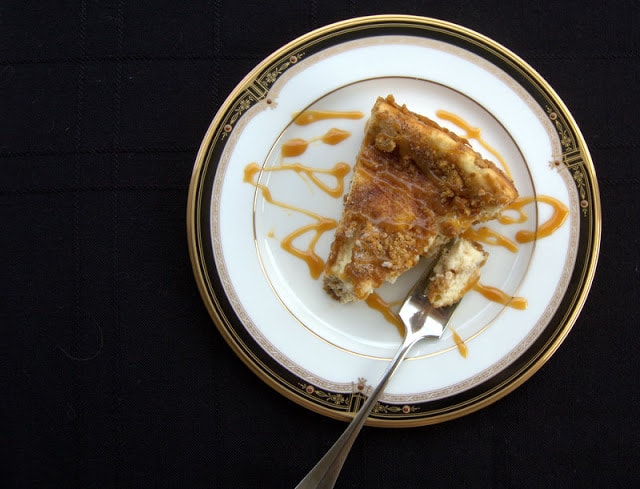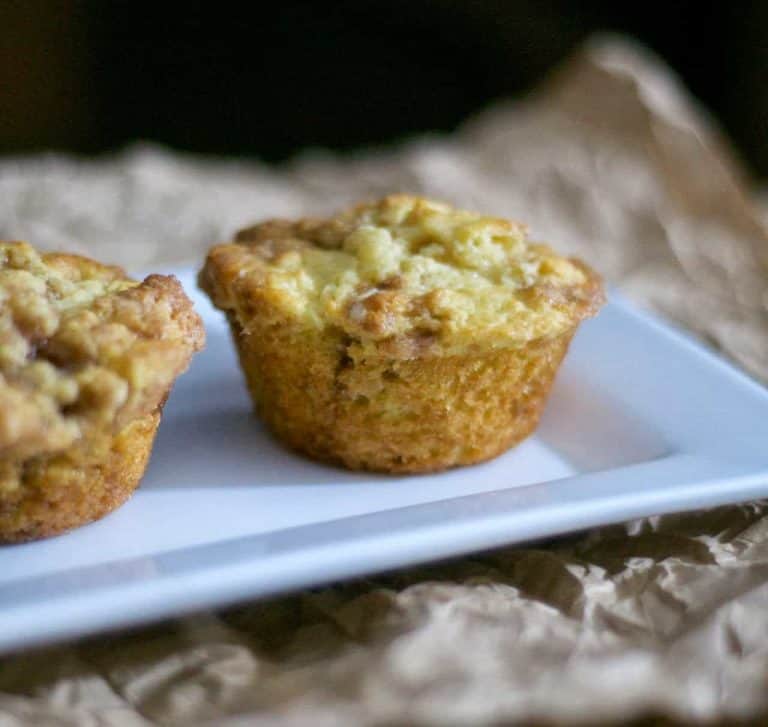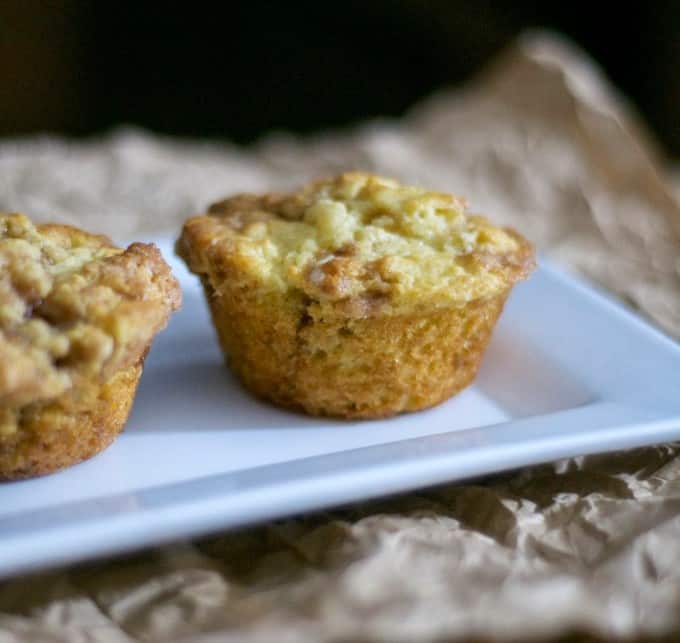 I appreciate you reading and thank you for supporting the brands and products I bring to you. You make 365 Days of Baking and More possible and I'm excited to bring you more great recipes that you and your family will enjoy.
I was given a copy of Barbara's book to help her promote it, but as always, all opinions are 100 % my own.
Reader Interactions