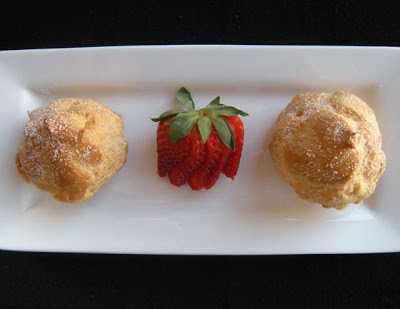 THE GIVEAWAY IS NOW CLOSED
*Sniffle*
It's finally here.
"My little baby's all growns up."
First and foremost, I want to say a HUGE
THANK YOU
to every single one of you for stopping by and reading. Many, many of you have been faithful from the beginning and yes, I know who you are, and so many of you have come by along the way.
YOU are what keep me going. I so enjoy reading your comments, your e-mails and even receiving your feedback in person.
I am overjoyed and very humbled that you all think so much of 365.
It truly amazes me and I am so very grateful!
I love you!!! Can I just say that again?
I! LOVE! YOU!!!!!!
Yes, the motivation to feed my family when I started this blog was huge, but it has definitely grown into something so much more than that.
I have enjoyed meeting new people both fellow bloggers and my wonderful readers. I have made many wonderful friendships along the way and I so look forward to meeting many of you in person one day. I know that will happen. I don't know when, but it WILL.
The final weigh-in I am posting here and will add it to the weigh-in page, but thought it would be appropriate to list it here first. I began this 365 weighing 124 lbs. When I stepped on the scale two days ago for the final read, the scale said 121. I think it's pretty remarkable considering everything I've eaten over the past year. I didn't gorge, but there were definitely time when I ate more than I should have. Knowing that my weight really could have increased I did make a conscious effort to not overindulge. That certainly wasn't easy when some of the goodies turned out to be 4's or even 3's and 3 1/2's in the rolling pin department.
I'll take the weight loss. It's certainly better than ending it with a weight gain!
I have to tell you that my most wonderful husband was SO sweet and bought me an ice cream cake to celebrate! You have to know that this in itself was
monumental
. He's never been one to bring home flowers "just because", go out and purchase a card for a special occasion or shower me with gifts as you may well remember from
Valentine's Day
.
BUT,…
being the sweetheart that he is, he said today is a big accomplishment and is very proud of me.
Awww…..
I will DEFINITELY keep him!! I know this past year has been a wee bit stressful on our marriage at times with me focusing on the task at hand, neglecting household chores and some family time.
Yet on the other hand, it has also allowed me to focus on how important our family is.
It isn't like I didn't already know that, there were times over the course of this 365 where it was definitely put into perspective for me which was this became 365 Days + and additional 41.
Yes, there were days I didn't bake EVERY single day straight for 365 days as I said I would in the beginning.
DO YOU HAVE ANY IDEA HOW DIFFICULT THAT WOULD BE?!
I tried and believe me, it really isn't as easy as it may seem.
And I don't even have a full-time job!
But there is that husband of mine and those three wonderful teenagers who needed my attention more than this blog did.
Yes, I am disappointed that I didn't do what I initially set out to do, but DANG, I did actually finish it though which in and of itself is a HUGE accomplishment for me! *patting herself on the back*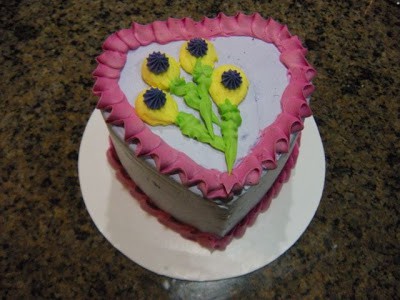 I was hoping that the 365th recipe would be a good one and turn out ok. I don't think there would be anything worse than to complete such a milestone and end it on a recipe that only earned a rolling pin rating of 1 or 2.
Well, let me tell you, that WASN'T the case. Don't worry, as always, the review will be at the end of the page.
Recipe taken from my New Doubleday Cookbook, pp.769, 790, 823, and 824; authors, Jean Anderson and Elaine Hanna; publisher, Bantam Doubleday Dell Publishing Group, Inc., an imprint of Random House, Inc.; ISBN 0-385-19577-X.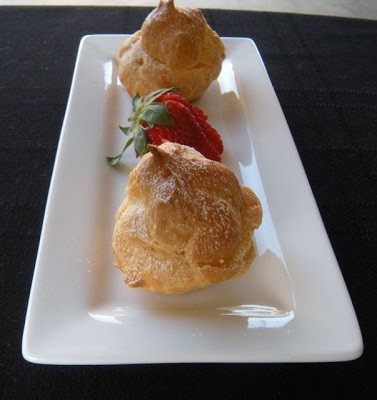 Cream Puffs – makes approximately 50 (I doubled the recipe in the book and that is what follows.)
Pastry Cream – I made this first and put it in the fridge to chill
1 cup sifted flour
1 cup sugar
1/4 teaspoon salt
4 cups milk
4 eggs + 4 egg yolks, lightly beaten
2 teaspoons vanilla
Mix flour, sugar and salt in the top of a double broiler.
Slowly add milk, whisking until smooth.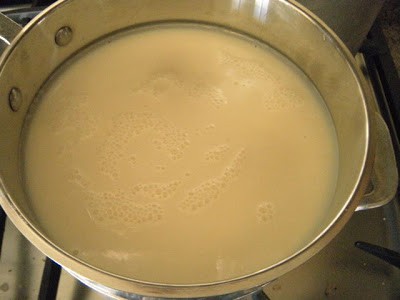 Heat and continue stirring over direct moderate heat until thickened and smooth.
Mix about 1 cup of the hot mixture into the eggs and then return to pan.
Set the pan over simmering water, cooking and stirring 2-3 minutes until thick.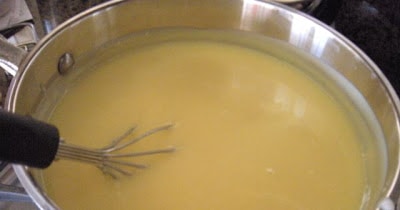 Remove from heat and thoroughly mix in the vanilla.
Place a piece of wax paper flat on top of the cream to prevent a skin from forming.
Place in the refrigerator to cool until ready to use as filling.
Choux Pastry
2 cups water
1 cup (2 sticks) butter
1/2 teaspoon salt
2 cups sifted flour
8 eggs, room temperature
Preheat oven to 400 degrees F.
Quickly bring the water, butter and salt to boiling.
Pull pan almost off burner and turn heat to moderate.
Add flour all at once and stir quickly with a wooden spoon until mixture forms a ball.
Set pan on a damp cloth.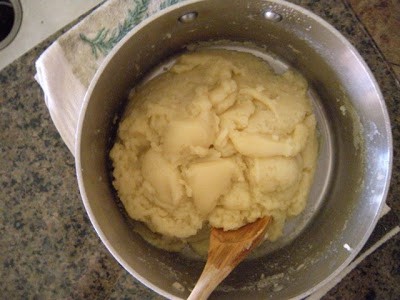 Break an egg into a cup and slide it into the flour mixture.
Beat hard with a wooden spoon to blend.
Add remaining eggs, one at a time, beating well. Each egg MUST be blended in fully before the next is added. The mixture will look odd at first, almost curdled, but as you beat it, it will become smooth.
You're really going to get a GREAT arm workout here, too. I would suggest cutting this recipe in half. It was totally tiring vigorously mixing 8 eggs into the flour.
After 4 eggs…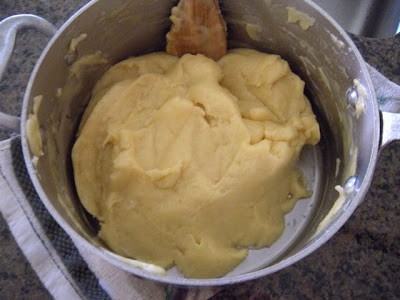 After all 8 eggs…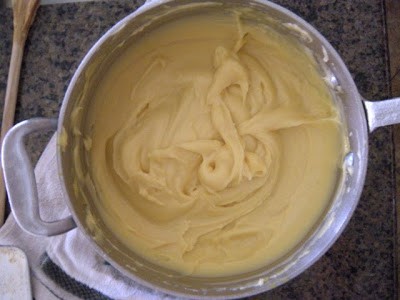 Pastry is now ready to be made into cream puffs.
Cream Puffs
Choux Pastry above
2 egg yolks with 2 tablespoons cold water (glaze)
Pastry Cream recipe to follow
1/2 cup sifted confectioners' sugar
Oven has been preheated to 400 degrees F.
Drop pastry batter by rounded tablespoonfuls 2 inches apart on an ungreased baking sheet.
Brush the tops with the glaze.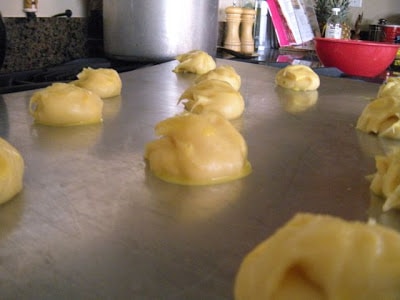 Bake 45-50 minutes until puffed, golden brown, and hollow sounding when tapped.
Do NOT open the oven door during the first 1/4 hour of baking.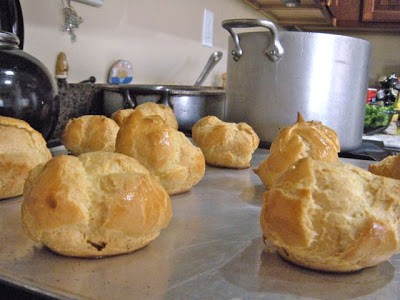 Cool puffs on wire racks away from any drafts.
To fill, cut a 3/4 slice off the top of each puff and pull out any soft dough which may be inside.
Fill with about 2 tablespoons pastry cream, replace tops, cover and chill until serving.
Dust with confectioners' sugar.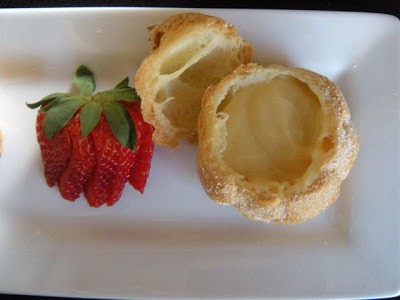 I rate everything I bake (haha – I'm going to have to change that word to MAKE from now on!!) on a scale of 1-4 with 4 being the best and these cream puffs earned 3 1/2 rolling pins.
I LOVED them and I CANNOT tell you how excited I was that this recipe turned out so well!!!
Lynne is dancing, and dancing, and DANCING, throwing flour around the kitchen because she's SSOOO very happy!!!
I was extremely excited to see the pastries puffing up in the oven when I turned the light on.
They were SO pretty, I actually clapped my hands in excitement like a little girl!!
The pastry was the perfect texture, hard enough on the outside and tender inside making it the perfect vessel for that DELICIOUS pastry cream.
And yes, it was delicious.
Everyone in the 365 family really enjoyed these and voted unanimously to give them a 3 1/2.
And we all agreed that a chocolate glaze would boost it to a 4.
I didn't have time to make the glaze, but maybe tomorrow because I'm really wanting that now.
If I make it, I'll post the recipe in the next few days.
Ha ha, because I CAN NOW. I don't HAVE TO BAKE!!!!
WOO HOO!!!
People have been concerned that after today I was going to stop blogging altogether.
No such luck, people.
I'm here to stay. This creating recipes, rating them, and blogging, not to mention meeting all of these wonderful people is just too darn addicting!
I AM NOT GOING ANYWHERE!!!
No, I will not be baking every day, and I may not even be posting a recipe every day, but I don't plan on going more than three days without doing so, and if I do, I'll let you know.
There will be more recipes, such as salads, no-bake recipes (what a NOVEL idea!), candy, and skillet dinners. I also plan on doing "Smoothie Saturdays" where I will give you a different smoothie recipe every Saturday and we'll start that next week. And I WILL be baking, don't worry. I'll be continuing the Tuesdays with Dorie which will be twice a month and will possibly be baking at least twice a week.
We'll see, but the possibilities are ENDLESS.
I cannot tell you how EXCITED I am!!
The giveaway is now closed. Thank you to all who entered!!
We will announce our winner shortly!


Ok, now for the part you've ALL been waiting for…
You have all been so very wonderful reading each day, commenting, e-mailing, sending virtual hugs, Pinning, and spreading the word amongst your friends that I would absolutely LOVE to give each and everyone of you something to say thank you, but alas, I wasn't the Powerball winner in Rhode Island and I can't even claim that I'm related to her (although we say that we're all related because the state is so small (yeah, listen to me, I don't even live there anymore, but still think like I do.).
But for one lucky reader, I have TWO things I would like to present to you.
AND I am opening this up to EVERYONE, nationally AND internationally!!! I have so many wonderful readers around the world that it just wouldn't be fair to exclude you.
The first is a $75 gift card to Amazon.com
you can purchase cookbooks, kitchen utensils, toys, games, linens, anything you'd like actually. I'm not going to tell you what you have to buy.
The second gift, you ready for this??!!
The second gift is a BRAND SPANKING NEW cookbook from
Joy the Baker
herself!!!
If you've never been to her website, you HAVE to see it, she is so funny and real.
She is also an incredibly talented woman in the kitchen!
This is her just-released cookbook and let me tell you, it. is.
FABULOUS!!!
It has100 wonderful recipes, beautiful pictures taken by Joy, and it is written in
She has even AUTOGRAPHED it!!!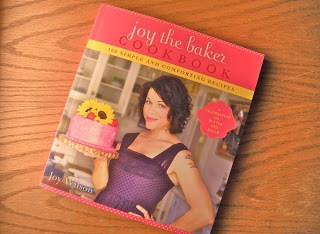 To be eligible for the giveaway, please leave me a comment telling me what your favorite recipe was during the course of 365 and what recipes you'd like to see me add in the future.


You can also earn up to 6 additional entries by doing the following, just make sure you leave a separate comment for each thing that you do. And if you already do any of these things, leave me a comment telling me so:
Subscribe to 365 Days of Baking by signing up to receive posts through e-mail.
Subscribe to 365 Days of Baking by receiving posts through RSS.
Become a Fan of 365 Days of Baking on FaceBook.
Follow 365 Days of Baking on Twitter.
Tweet the following, "I'm celebrating 365 Days of Baking's final Bake by entering the giveaway here: http://bit.ly/y9gaDU #365DaysofBaking"
Pin one of the pictures from the post to Pinterest.
I will be randomly selecting a winner from all of the entries. You will have until Tuesday, 3/13/12 at 10 pm, MST. Giveaway is now closed.
Winner will be notified by e-mail, so please make sure you have a google account when you leave your comment(s), and will have 72 hours to respond. If I do not receive a response, I will do another drawing.
GOOD LUCK!!
Again, I thank you ALL! This experience has been incredible thanks to YOU!
Oh, and I'll be taking the weekend off. I am needing me some good quality family time and a REST!
I give you all BIG baking hugs and muffins!!